Gay Cabo San Lucas – Ultimate Travel Guide, Hotels, Restaurants, Bars & Activities (Updated 2023)
Gay Cabo San Lucas, or simply Cabo is a resort city in the Mexican state of Baja California Sur, near the southern tip of the Baja California Peninsula, with an estimated population of 202 thousand people.

"Los Cabos" is the combined name for Cabo San Lucas and San José del Cabo that form a metropolitan area with a population of approximately 350 thousand people.

Seaside resorts, local traditions, surfing, nightlife, golfing, and magnificent whale and dolphin encounters make this section of Mexico a must-visit.

You can have a good time and dance, shop in the cheery Gay Cabo San Lucas, or have a more traditional experience walking down the old streets of San José del Cabo.

After you've had your fill of the wonders on land, take advantage of Los Cabos' proximity to the Pacific Ocean and the sheltered Sea of Cortez, which divides the peninsula from mainland Mexico.

Spend a few days at a luxury spa resort or an afternoon at the Marina Cabo San Lucas after driving down The Corridor to Gay Cabo San Lucas. Charter a luxury yacht, book a whale-watching tour or have shrimp tacos.

With a low-key but welcoming gay culture, Cabo is an excellent destination for singles and couples to spend their holiday.

It's a new kind of LGBTQ+ friendly location where you can blend in with the crowd while still feeling completely at ease.

If you are thinking of other Mexican locations such as Playa Del Carmen and Cancun then we have you covered there.

If you are thinking about going somewhere else you can try other Gay Travel Guides.

Remember to always check out the latest rules and restrictions before you leave.
Gay Scene in Gay Cabo San Lucas
Gay Los Cabos is a welcoming destination that should be on everyone's list of places to visit for fun, sun, and world-class entertainment for gay and lesbian couples.

Both Gay Cabo San Lucas and Gay San José del Cabo have a lot to offer to LGBTQ+ travellers in terms of quality accommodations and memorable Mexican culture.

For LGBTQ+ travellers, Gay Los Cabos has a wide range of beachfront resorts and private luxury villa rentals.

A luxurious vacation hideaway unlike any other, with top-of-the-line amenities, private swimming pools, and breathtaking views.

Gay Cabo San Lucas's LGBTQ+ scene is understated, but it is undeniably warm and welcoming.

In recent years, many gay travellers to Gay Mexico have been pulled away from some of the more popular adjacent resorts, such as Gay Cancun and Gay Puerto Vallarta, in favor of Gay Cabo San Lucas.

Gay Cabo San Lucas sets itself apart from other Mexican vacation spots with a diverse range of top-notch activities such as world-class cuisine, traditional eateries, beautiful golf courses, calm surf, spectacular sport fishing, every water sport imaginable, and a wild-as-you-wish nightlife.
How to Find a Gay-Friendly Hotel


Is Gay Cabo San Lucas Safe?
Every year, people from all over the world visit Gay Cabo San Lucas in safety.

We can't deny the fact that there are still places where we don't feel at ease enough to have a good time, but Gay Cabo San Lucas is never one of them, when traveling as an individual or a couple.

The majority of crimes do not impact tourists if they take the necessary precautions.

Take basic steps to avoid being a victim, just as you would anywhere else in the world.

There are many tourist sites in Gay Cabo San Lucas that are nearby each other. It's extremely unusual that you'll need to take a taxi from one end of town to the other, but if you do, be sure it's a legitimate one.

Be sure to negotiate the cab fare ahead of time. Pickpockets are a common occurrence on public transportation. As a traveler, you could become a target in this location, especially if you wear flashy items.

It is advised to avoid taking public transportation in this area.

Traveling to Gay Cabo San Lucas is relatively safe, with a low danger of being mugged or harmed, however, it's always a good idea to remain mindful of your surroundings and avoid walking alone in remote destinations late at night.
Best Time to Visit Gay Cabo San Lucas
Cabo is best visited between May and June when the winter tourists have dispersed and the summer storms have yet to arrive.

Early bookers will be rewarded with some of the best deals during this brief shoulder season. It is recommended that you start your hotel search before late winter to get the best offer.

The weather in the spring is pleasant, with temperatures in the mid-80s. October and November are also pleasant months for a trip, but if you want to save money, you'll need to start looking for a hotel as early as possible.

If you're not into the beach or if you're interested in whale watching, visit Cabo between mid-December and mid-April. If you enjoy fishing, visit in the late summer or fall.

Keep in mind that the storm season in the Pacific spans from May to November. Cabo has seen hurricanes make landfall in the region, despite the fact that the city usually only sees tropical storms during hurricane season.
Best Gay-Friendly Hotels in Gay Cabo San Lucas


Hard Rock Hotel Los Cabos All Inclusive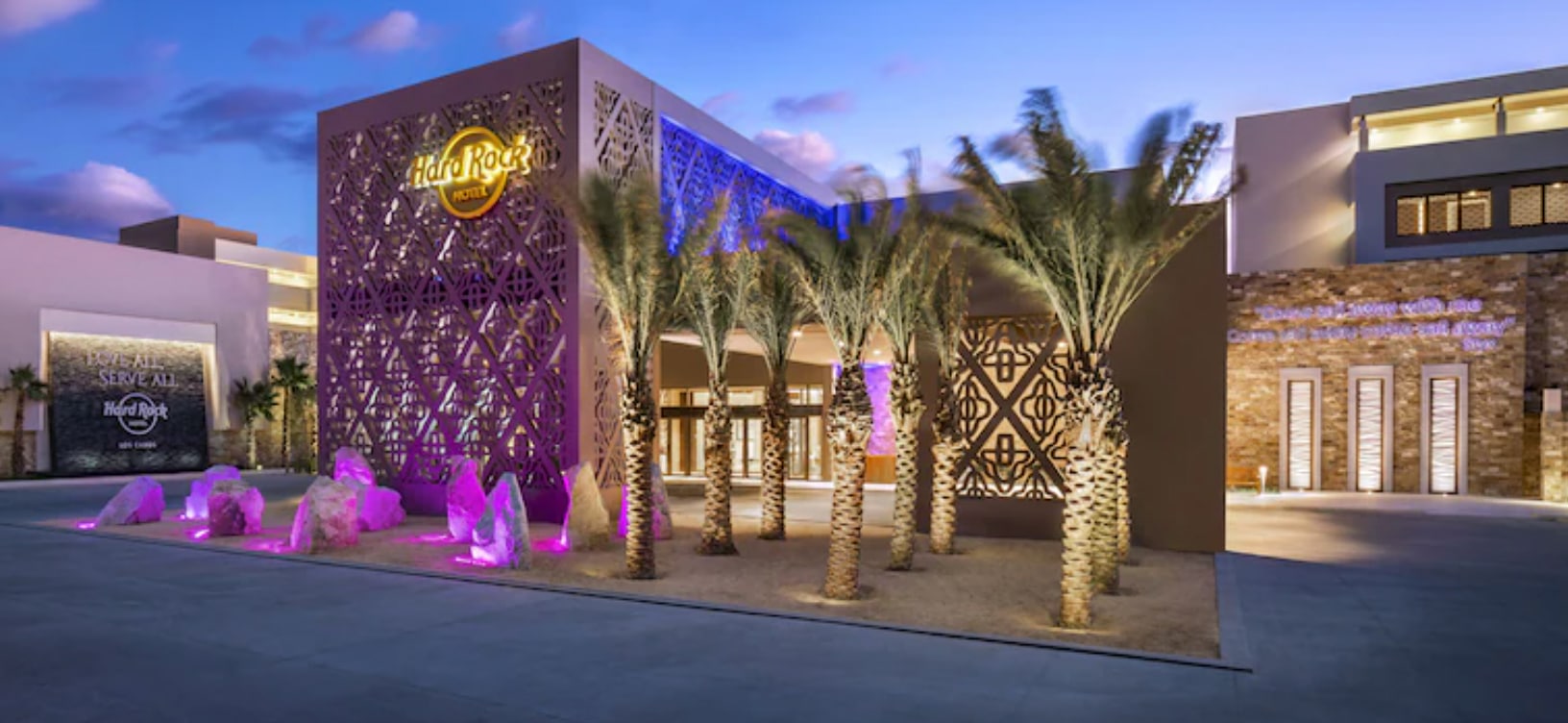 Get ready for a mix of rhythm and relaxation with breathtaking views at the all-inclusive Hard Rock Hotel Los Cabos, located on the southern tip of Mexico's Baja Peninsula.

Enjoy the picturesque beach and soak up the sun at one of the five refreshing pools or experience endless activities and unbridled entertainment. Perfect for both adventure seekers and relaxation enthusiasts.
Grand Fiesta Americana Los Cabos All Inclusive Golf & Spa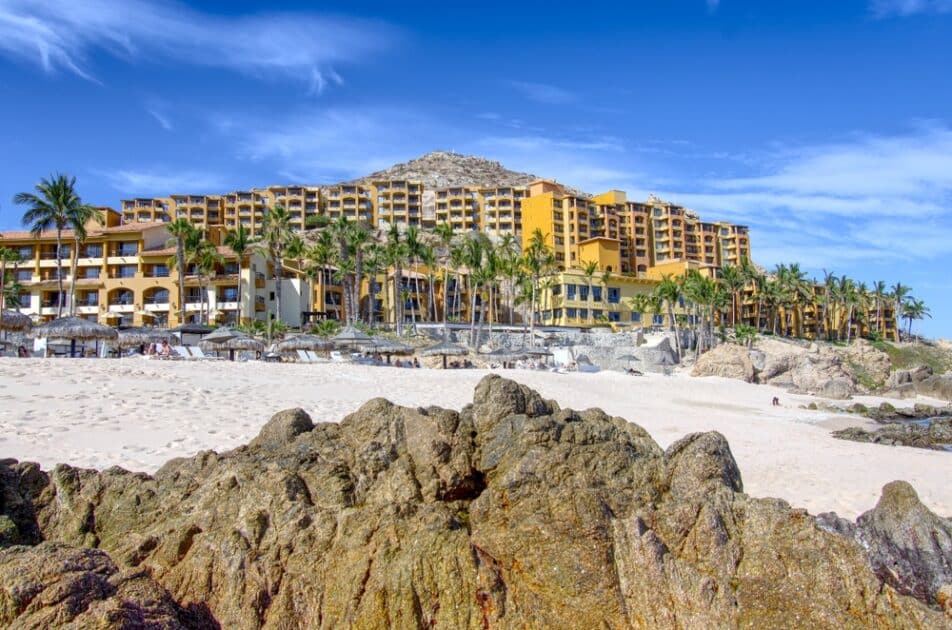 Indulge in luxury at Grand Fiesta Americana Los Cabos All Inclusive Golf & Spa, where majestic views and spacious, family-friendly rooms await.

Delight your taste buds with a vast culinary selection of classic Mexican cuisine, Italian favorites, and Asian specialties. Perfect your golf swing, unwind with a spa treatment, take a cooking class, or explore the breathtaking natural beauty that surrounds the resort.

Located on the Baja California peninsula, near the famous Arch of Cabo San Lucas, this luxurious resort offers endless possibilities for an unforgettable stay.
Pueblo Bonito Pacifica Golf & Spa Resort – All Inclusive-Adult Only


Pueblo Bonito Pacifica Golf & Spa Resort is a luxurious all-inclusive resort located in the exclusive Quivira Los Cabos development in Mexico.

The resort caters exclusively to adults seeking a romantic and tranquil oceanfront hideaway just steps from the beach and minutes from downtown Gay Cabo San Lucas.

The property features a modern and elegant design and architecture, creating a romantic setting for relaxation and self-renewal.

The resort has 201 rooms, superb dining options, a wellness-inspired Armonia Spa, private beach privileges, and exclusive access to the Jack Nicklaus Signature course at Quivira Golf Club, which offers more oceanfront exposure than any other course in Los Cabos.
Chileno Bay Resort & Residences, Auberge Resorts Collection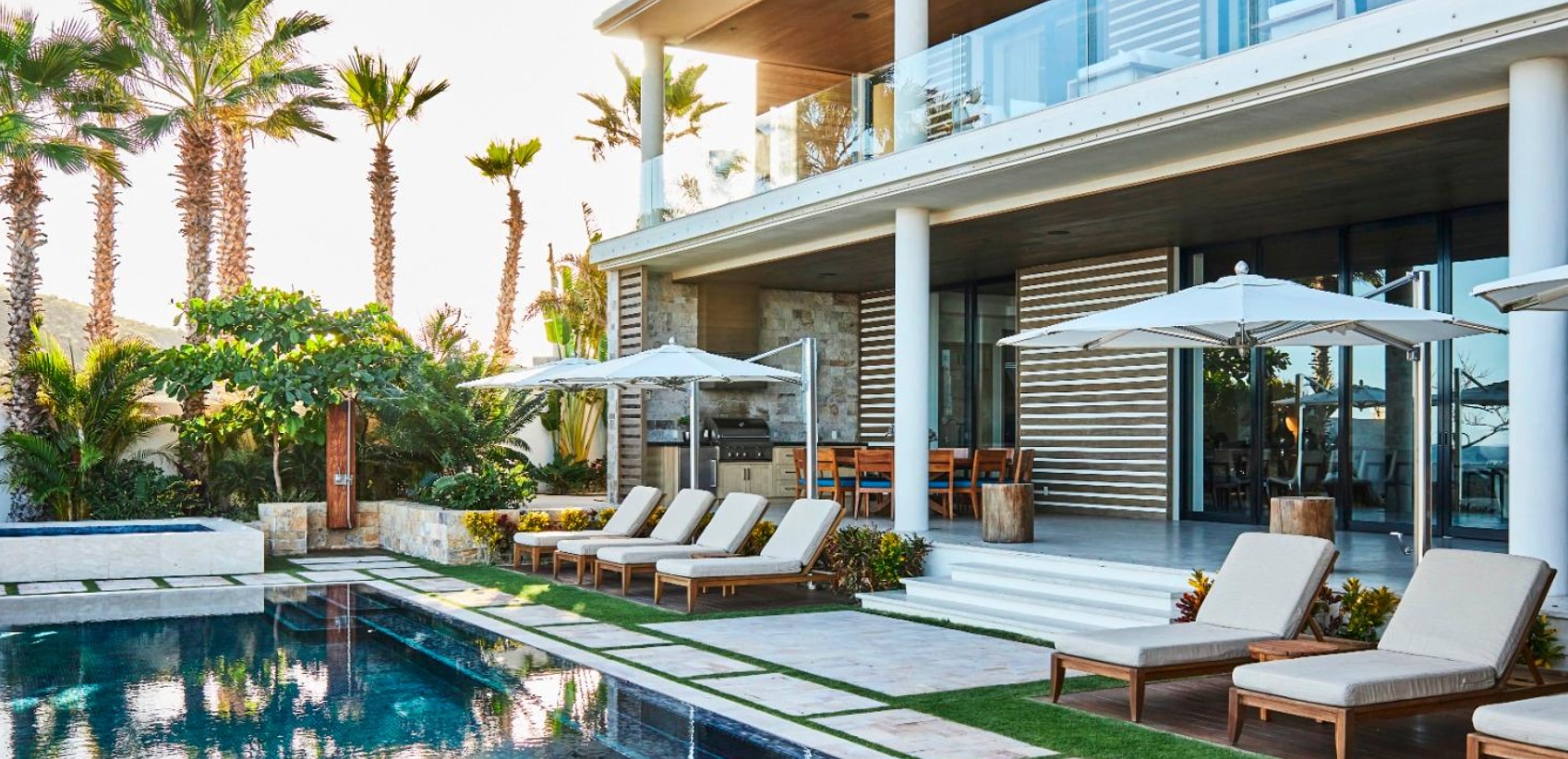 Chileno Bay Resort & Residences, Auberge Resorts Collection is a stunning property located in Cabo San Lucas, just steps away from El Chileno Beach.

The resort boasts a beautiful outdoor swimming pool, a fitness center, a lush garden, a fantastic restaurant, a shared lounge, and room service.

The property features free WiFi throughout, and free private parking for guests.

The resort offers a 24-hour front desk, as well as a concierge service to assist guests with any needs they may have during their stay.

Some of the rooms are equipped with a kitchen and minibar, adding an extra level of convenience and luxury for guests.
Recommended:

Gay Massage in Cabo San Lucas
Gay-Friendly Dining in Gay Cabo San Lucas
Gay Cabo San Lucas entices visitors with its natural beauty, breathtaking sunsets, and active nightlife, as well as a diverse range of restaurants that will please foodies from all over the world.
1. La Galería Restaurant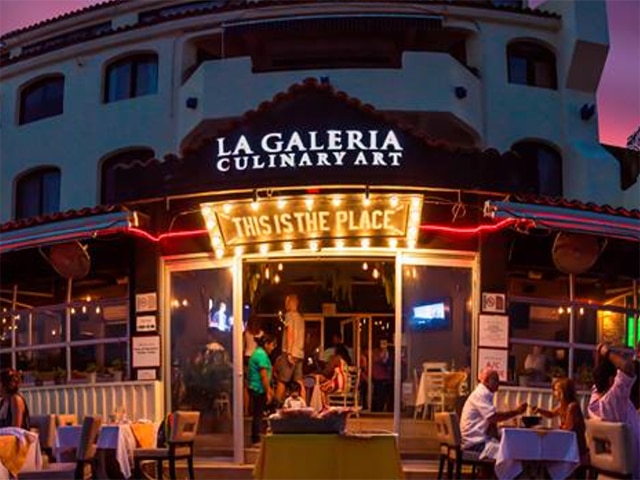 La Galeria is located at Plaza Bonita, Marina Cabo San Lucas. Celebrity chef Rodrigo Cabeza de Vaca's La Galeria serves superb Mexican, Italian, and Mediterranean cuisine as well as moderately priced drinks.

Lobster, steaks, shrimp, and fish, as well as sophisticated cuisine, are among their specialties. This gay-friendly restaurant is ideal for a date night or a get-together with friends.
2. Asi Y Asado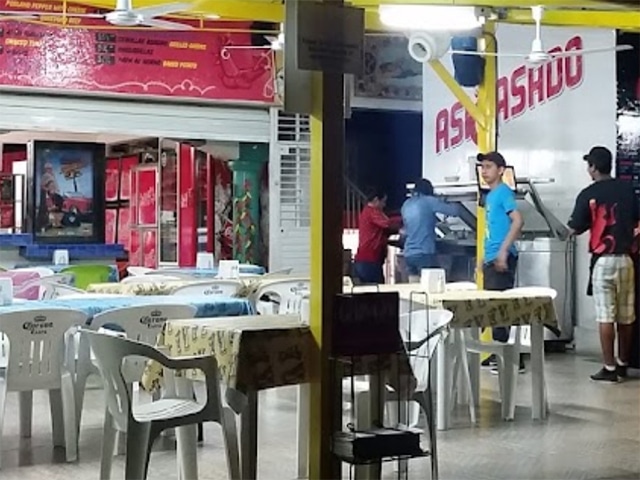 Every day, they greet you with a hot comal, the finest steaks, and the freshest fish. At Asi y Asado, eating tacos is like eating them for the first time.

This roadside café serves modest local meals that are ideal for budget visitors or anyone looking for a casual taste of the area.
| | |
| --- | --- |
| Types of Food | Comal, Steaks, Tacos, Fish |
| Price | $ |
| Location | Carretera Transpeninsular, Colonia El Tezal, 23454 Cabo San Lucas |
| More Information | Español | mysite (asiyasado.com) |
3. The Office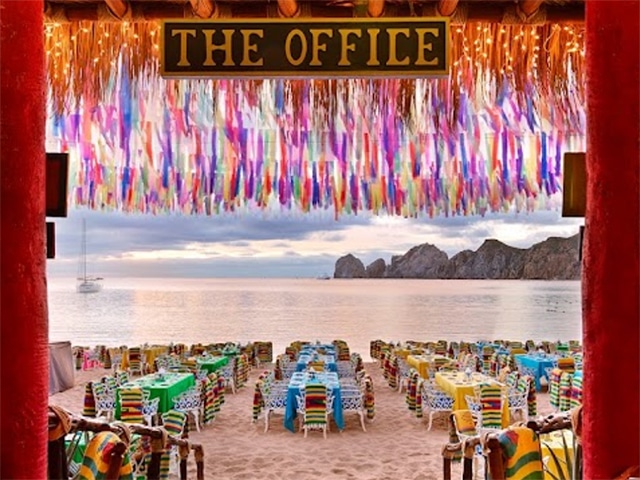 If you're craving Mexican food, The Office on the Beach is a great place to go with chorizo and eggs, corn tortillas and chips, and guacamole on the menu, along with delicious banana pancakes, corn cakes, and banana cakes.

There's a comprehensive wine list or you can sip a cup of delicious Mexican coffee, a fruit smoothie, or an Americano.
4. Romeo Y Julieta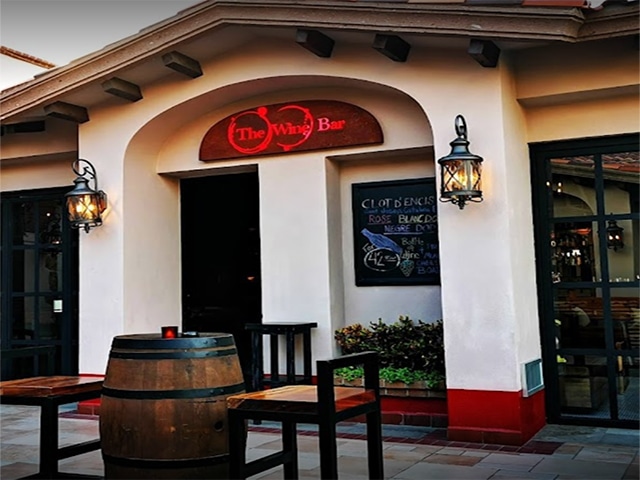 The restaurant Romeo y Julieta serves a wide variety of Italian food.

Not only is the food creative, but the restaurant is also intriguing and romantic, with a variety of dining rooms to accommodate any occasion.

From the arched entrance to the several alcoves and different dining rooms, the beauty and character of the restaurant are enhanced with comfy upholstered chairs, exposed rock walls, and vaulted brick ceilings.
Gay-Friendly Bars and Clubs in Gay Cabo San Lucas
Apart from the regular nightlife attractions, Cabo San Lucas has a plethora of exciting things to do to keep you occupied throughout your journey. It's a city where the water is only a block away no matter where you are.

This is a destination where you may participate in a variety of outdoor sports, shop till you drop, drink and dance the night away, and party all night long.
1. Purple VIP Rooftop Lounge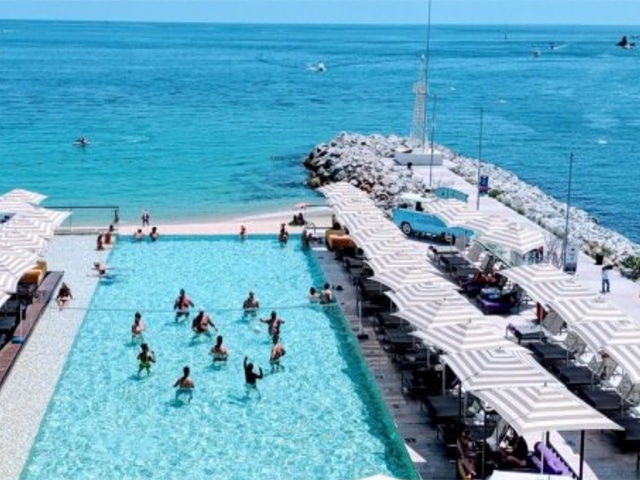 Breathless, an adults-only all-inclusive that opened in December 2015 on the corner of Médano Beach and the Cabo San Lucas Marina is where the purple VIP rooftop lounge is situated. Breathless' popularity is largely based on festive activities and theme nights.

Locals have already expressed interest in purchasing tickets to daytime pool parties and nocturnal party permits that entitle consumers to enjoy the high-energy atmosphere and tropical seaside breezes at the resort's onsite clubs and restaurants.

Purple offers a range of weekly events, including toga parties, pajama parties, and DJ events.
2. Mixology Fusion Bar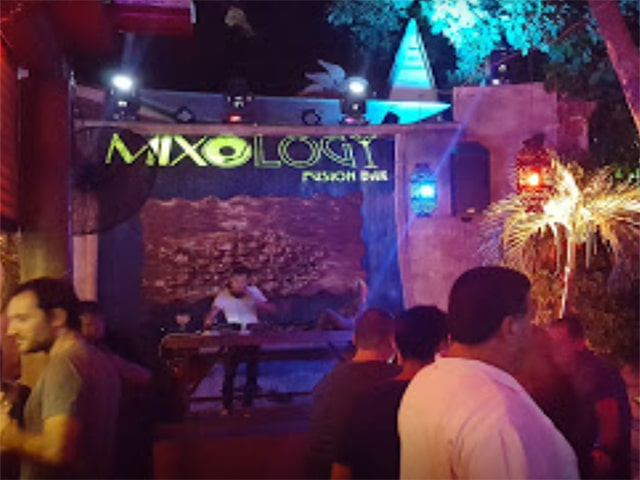 On the Cabo party circuit, this bar is considered a favorite hangout. Mixology is one of Cabo's most popular bars. It is not a gay bar, but it is gay-friendly.

Beautiful folks dance the night away as DJs spin the decks. Saturday night events with specialty cocktails and DJs pushing the boundaries of high-performance audio and lighting systems with deep house music have become a landmark fixture of Mixology.
| | |
| --- | --- |
| Price | $$-$$$ |
| Food and Drinks | Both Offered |
| Location | Calle Ignacio Zaragoza 20, 23400 San Jose del Cabo |
| Contact | +52 624 150 5539 |
| Website | No Website |
3. Pink Kitty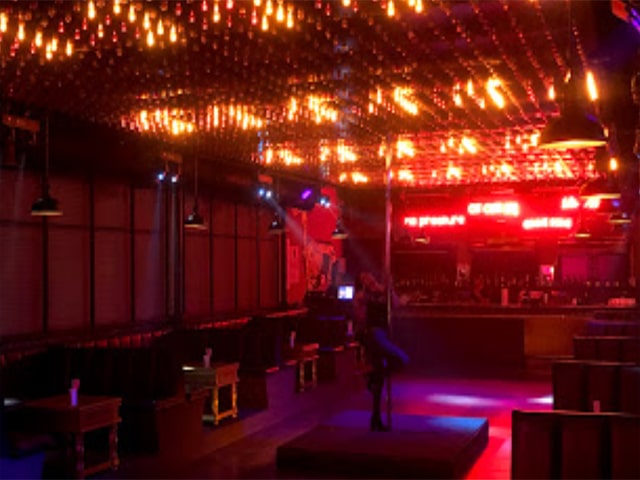 Pink Kitty is not a gay club, yet it is quite popular with gay men. Expect to hear pounding EDM music, see smoke machines, and be in a party mood.

Like a Las Vegas club, it also offers high-end bottle service. It's not cheap, but it's entertaining. Celebrities may congregate around massive bottles of champagne, while inebriated individuals may spin around the stripper pole.
| | |
| --- | --- |
| Price | $$-$$$ |
| Food and Drinks | Both Offered |
| Location | Marina Blvd, Cabo San Lucas 23450, Mexico |
| Contact | Call (+52)6241824914 |
| Website | No Website |


Gay-Friendly Activities and Attractions in Gay Cabo San Lucas
Cabo has become a flourishing city with spectacular coastal vistas, thriving nightlife, and a richness of old-world charm that stretches across the map. There's enough to do in Los Cabos if you enjoy water sports.

Sand waterfalls and a never-ending waterfall pattern are popular with scuba divers and snorkelers. In the underground seascape, you may also see a variety of bright and unusual tropical fish species.

Gay Cabo San Lucas has something for everyone, no matter what your interests are.

Here are some of the lists of gay-friendly activities and attractions that you might want to check out during your stay in Gay Cabo San Lucas:


1. Marina Cabo San Lucas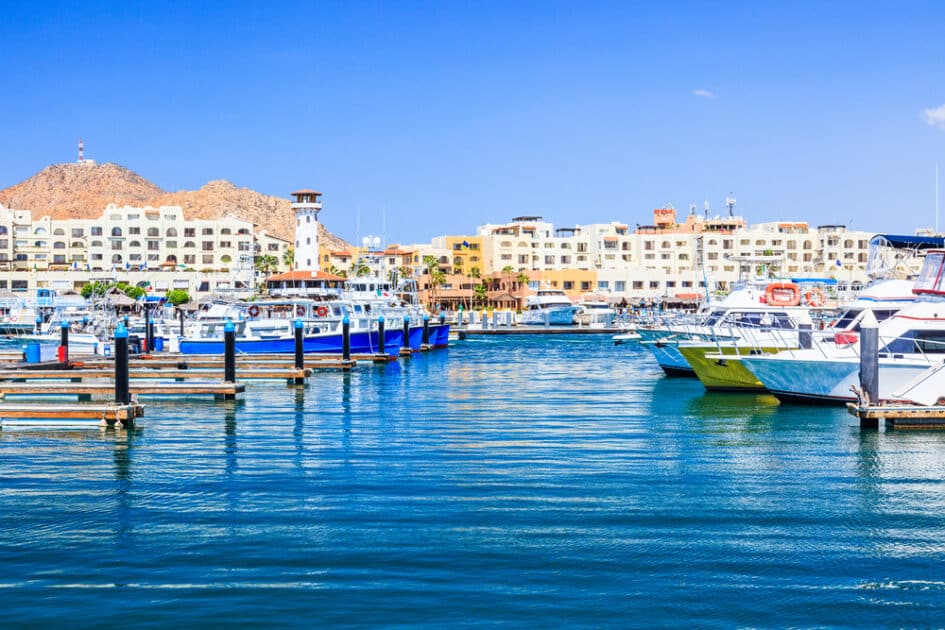 Marina Cabo San Lucas is known for its luxury yachting, exquisite dining, and sports fishing. The marina is in a protected bay and is conveniently located on several major yachting routes.

If you dock your yacht here, the marina has everything you need to enjoy a vacation onboard. During your stay in Los Cabos or after a boat ride, you can also see the harbour's attractions.
| | |
| --- | --- |
| Activities | Boat Ride, Sightseeing, Cruise Ships |
| Location | Avenida Lázaro Cárdenas, 23450 Los Cabos, Baja California Sur |
| Price | $$-$$$ |
| Availability | All Year Round |
| More Information | Marina Del Rey Cabo |
2. Outback Camel Safari and Eco-Farm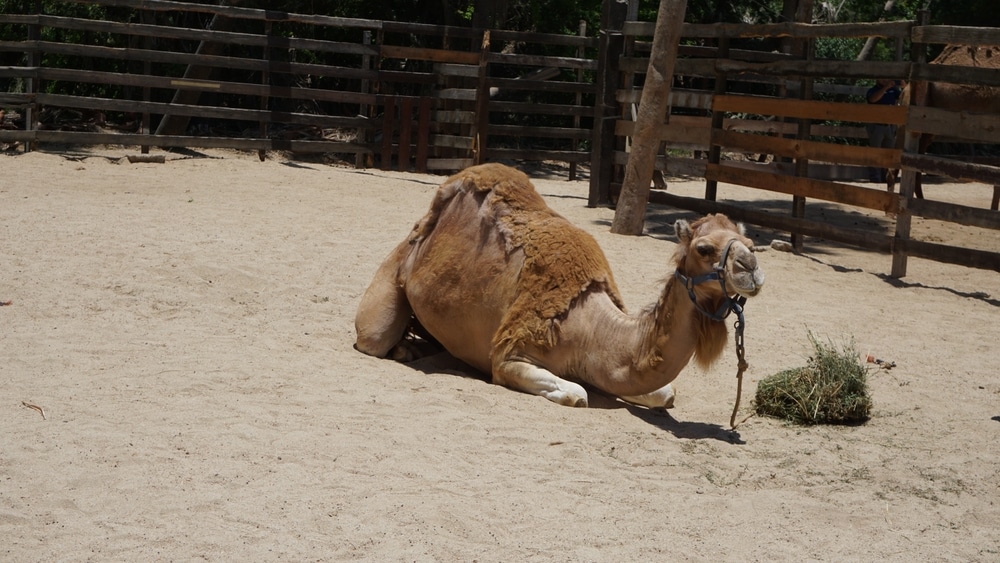 Although a camel may not be the first animal that springs to mind when thinking of a Mexican vacation, these tough dromedaries are the ideal way to explore the Baja desert and its interesting environment.

Visit Rancho Tierra Sagrada, where you'll be led on a magnificent nature walk through the desert's intriguing and distinctive vegetation while learning about the area's native flora and wildlife from your friendly local guides.

Keep an eye out for caracaras, foxes, deer, and chipmunks that call this hard and desert area home, as well as gigantic, ancient cactus extending their spiky limbs aloft.
3. ATV Desert and Beach Expedition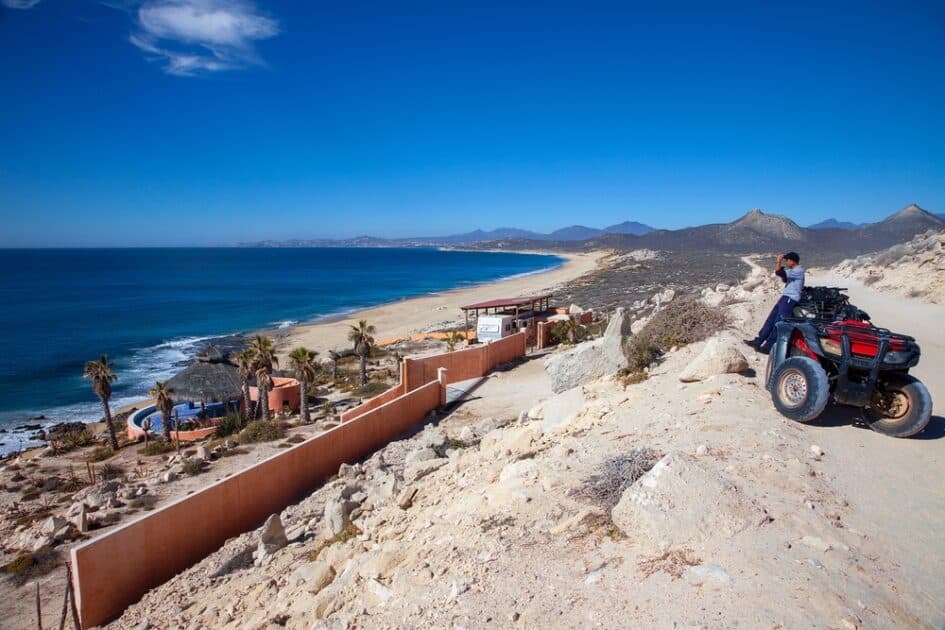 On a journey through canyon trails and along the Pacific coast in a powerful Honda TRX 2019 all-terrain vehicle, explore the breathtaking splendor of Baja California.

Prepare to hit the dusty desert roads after a journey from your accommodation to the lovely Rancho Carisuva.

Navigate your way along beautiful beaches and past towering ocean cliffs. Take in the beautiful surroundings, which are dominated by towering cacti.

During your journey, you might even see some of the wild animals that live in the harsh landscape around you.

Before returning to your hotel, you can tour the ranch's stalls, which contain more than 40 colts, as well as the traditional cabin and a freshwater well.
4. Cabo Escape Snorkeling Fun Cruise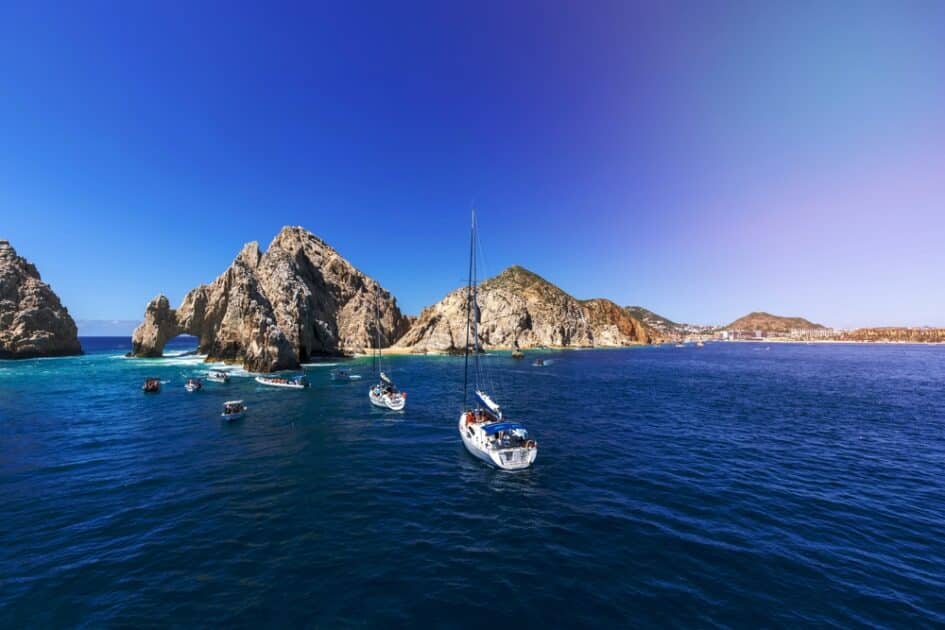 Take a picturesque cruise on the Sea of Cortez, which is famed for its abundant marine life. At Land's End, you can see Cabo's renowned Arch and take a cruise to Chileno Bay, one of the top snorkeling spots in the world.

Get a close look at the sea life by jumping into the water. Snorkeling equipment and instruction are provided in a designated snorkeling area where you will have plenty of opportunities to explore Chileno Bay's aquatic life.

While cruising back to Gay Cabo San Lucas, tropical music such as reggae, Latin, and light dance music will be played, with the crew organizing games until the cruise ship arrives at the dock.
5. Monster Zip Lines & Water-Slides

Cabo's longest and most exhilarating zip lines take you over the parched canyons and oasis of the Baja California desert. The Wild Canyon Monster Zip-lines, with a length of about 9 football fields and a height of more than 300 feet, provide an outstanding adventure.

Put on your helmet and harness after receiving your safety instructions and prepare for an exciting flight over the canyons and rock formations that dominate the park below. To share the fantastic ride, you can fly solo, tandem, or even with your family or friends.

The excursion includes an entrance to both the park's spectacular hanging canyon bridge and the Animal Kingdom. After your activities, relax in a hammock or on the waterslides.
Top 10 Things to Do in Cabo San Lucas
Whale Watching – Thousands of gray, humpback and other whales migrate from their Arctic feeding areas to the warm seas off the Baja Peninsula every year between mid-December and early April to mate and give birth.

Humpback whales are the most common sightings in Cabo. They're the most active and entertaining to observe.


Santa Maria Bay Snorkeling – Santa Maria Bay is one of Cabo's top three snorkeling spots. You might even see whales. A snorkeling boat excursion or kayaking are two common ways to get there.


Cabo Wabo – Cabo Wabo is a must-see for anyone in Cabo looking to party. It's a gigantic complex owned by Sammy Hagar with giant pubs and stages where bands perform, frequently with Hagar himself.

Some of rock & roll's most beloved icons frequent the Delta Tau Chi on a regular basis, either for gigs or just to hang out with a crowd that always thinks it's Saturday night.


Have a Good Day at Medano Beach -Medano Beach is ideal for swimming, and it is one of the few beaches in Los Cabos where you can really swim. Jet skiing and parasailing are among the water activities available here.


Surfing or Spectate at Zippers – Zippers, located at Mile 17 on the Cabo Corridor, is one of the top sites for surfing. If you want to paddle out and glide on the waves, this is the perfect place to go.


Coral Reef Exploration at Cabo Pulmo – Cabo Pulmo, a Mexican National Marine Park, is home to one of Baja's most stunning coral reefs as well as a diverse array of marine life, making it a long but rewarding day excursion from Cabo.

Try snorkeling at Los Arbolitos Beach or hiking to the strange rock formations of Las Sirenitas.


Ziplining – Whizzing through the air like a bird on a wire is one of the most adrenaline-pumping activities in Cabo San Lucas.

Ziplining in Los Cabos is not only thrilling, but it also allows you to view a side of the city that is not visible from the beach; the stark, dramatic beauty of the desert mountains and canyons.


Enjoy an Art Walk -A free cultural art walk will take you through the streets of San Jose del Cabo. In the town's art quarter, dozens of art galleries stay open until 9:00 p.m. Some host talks and wine dinners where you can meet the artists.

During this weekly evening event, many streets are car-free. Over the years, the Art Walk has grown in popularity. You won't want to miss this exciting event.


Lover's Beach -Lover's Beach is a piece of unspoiled beach that can only be reached by panga. Stretch out among wave-washed boulders that resemble gray bread dough and soak up the sun.

Bring a meal or make plans with the boatman to be picked up after a few hours.


Admire Nature at El Arco – Take a panga — some with glass bottoms — out to Cabo's most famous natural feature, the Arch, for something majestic.

"El Arco" is part of the Three Friars formation, which forms the peninsula's southernmost southern extremity, Land's End. On one hand, the Pacific Ocean is magnificent; on the other, the Sea of Cortez begins.

Despite the crowds and cruise ships, it doesn't take much to gaze at these gorgeous rocks, squint, and imagine how this place may have appeared centuries ago. Pelicans and sea lions should also be seen.


How to get to Cabo San Lucas?
From Canada
The only way to get to Cabo San Lucas from Canada is by plane. A valid passport is required to fly to Cabo, and it is strongly recommended that the passport be valid for at least six months following the date of departure.

Canucks do not require a visa if their visit to Cabo is for tourism and does not exceed 180 days.

Air Canada can help you book a flight. Some of Air Canada's most popular routes are Toronto-Cabo San Lucas, Vancouver-Cabo San Lucas, Ottawa, ON-Cabo San Lucas, Montreal-Cabo San Lucas, and Calgary-Cabo San Lucas.
From the United States
A passport is required for people coming to Mexico from the United States who intend to visit Cabo San Lucas. Passport holders from the United States must just have a valid passport at the time of entrance.

The Bureau of Consular Affairs of the Department of State provides information on how to apply for the document, including the paperwork and documentation for those who do not have a passport. Los Cabos International Airport (SJD) is the most popular airport servicing Cabo San Lucas.

Aeroméxico, Air Canada, AirTran, AirTransat, Alaska Airlines, American Airlines, Southwest, Delta, Frontier, Interjet, Spirit, Sun Country, Sunwing, United Airlines, US Airways, Virgin America, VivaAerobus, Volaris, and WestJet are among the airlines that fly into Los Cabos International Airport.
From the United Kingdom
The best way to get to Cabo from the United Kingdom is to fly from London. Since London was the cheapest destination to fly from, you should have a fair chance of getting the best fare to San José del Cabo Los Cabos Airport.
From Australia
If you are coming from Australia, there are various flights available to Cabo San Lucas. Airlines offer flights with two or more stops to San José del Cabo Los Cabos Airport, but there are no direct flights.

Some of the airlines that fly to SJD include Virgin Australia, Qantas Airways, and American Airlines. When booking your travel, think about American Airlines, Delta, or Qantas Airways, as these are the most popular airlines.

Sydney Kingsford Smith-San José del Cabo Los Cabos is the most popular route from Australia to Cabo San Lucas. Melbourne-San José del Cabo Los Cabos and Perth-San José del Cabo Los Cabos are two other options.


FAQ
Is there a gay area in Cabo?
In Cabo San Lucas, the main focus of the local LGBTQ scene is on the bigger dance clubs, such as Pink Kitty and Mandala, which are known for their welcoming atmosphere and diversity. However, there is one gay bar that stands out from the rest: Chandeliers.
It serves as a beacon for the LGBTQ community and is a must-visit spot for those on vacation in Cabo San Lucas who are looking for a fun and inclusive club experience.
Is Los Cabos gay-friendly?
Yes, Los Cabos, a region located at the southern tip of Mexico's Baja California Peninsula, is known for being gay-friendly.
The area consists of two main towns, Cabo San Lucas and San José del Cabo, which both welcome LGBTQ+ visitors. There are a number of gay-friendly hotels, bars, clubs, and other entertainment options catering to the LGBTQ+ community.
Additionally, there are annual events such as LGBTQ+ pride celebrations that further highlight the region's commitment to inclusivity.
Does Cabo have a party scene?
Yes, Cabo, particularly Cabo San Lucas, is well-known for its vibrant party scene. The town is famous for its lively nightlife, with numerous bars, clubs, and restaurants that cater to a diverse range of interests and age groups.
Are there gay clubs in Cabo San Lucas?
Yes, there are gay-friendly clubs and bars in Cabo. While the town might not have a large number of exclusively gay clubs, many of the popular nightlife spots are welcoming to the LGBTQ+ community.
Some venues host special gay-themed nights or events, and others are known for their inclusive and open-minded atmosphere.
---
Featured Image: Wirestock Creators/Shutterstock
Featured Image: SCStock/Shutterstock
Featured Image: FOTOADICTA/Shutterstock
Featured Image: Ruth Peterkin/Shutterstock
Featured Image: vandadorescu/Shutterstock