Gay Bahamas, formally known as the Commonwealth of The Bahamas, is a sovereign republic located in the Atlantic Ocean, within the Lucayan Archipelago of the West Indies. It is a wonderful and popular vacation destination with 700 islands.

From the grit and bustle of trendy Nassau to the enormous mangroves of Andros, there's an incredible range of beaches, reefs, woods, and old villages to discover, all within an hour's flight.

Stay at one of the many resorts and walk on white and pink sand beaches; dive and snorkel in underground limestone caves; kayak in the ocean; swim with pigs; eat delicious seafood, or simply relax and take in the breathtaking sights.

The Gay Bahamas Islands are the ideal holiday spot for your wedding, fiesta, party, honeymoon, or family vacation. In one of the most popular sub-tropical regions, enjoy exquisite all-inclusive Bahamian resorts, Bahama fun-filled tours, and a range of Gay Bahamas vacation activities.

Wherever you go, there is enough to see and do in the Gay Bahamas.

I know what's on your mind – you're probably wondering if The Gay Bahamas is a good place to visit, especially if you're traveling as a gay couple or alone.

Although the Gay Bahamas does not yet have many laws against discrimination and provide protection for the LGBTQ+ population, the residents and the country are growing more open and welcoming.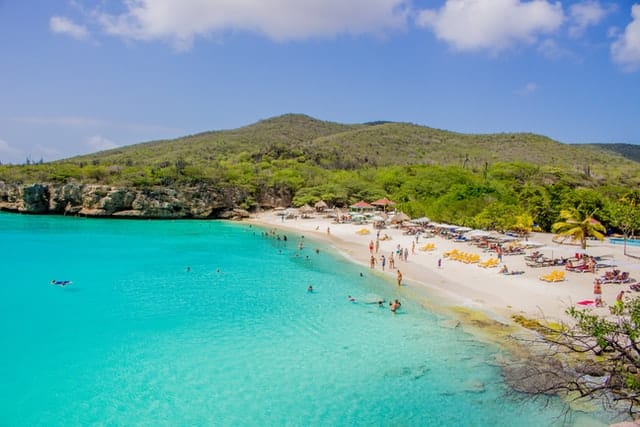 If you are thinking about going somewhere else you can try other Gay Travel Guides.

Remember to always check out the latest rules and restrictions before you leave.
Gay Bahamas – the Scene
Even though The Gay Bahamas is typically friendly to LGBTQ+ visitors, it's important to remember that this is a country with a history of anti-homosexuality laws and where full gay rights have yet to be implemented.

Many LGBTQ+ activists are pioneering the cause of equal rights for everybody, and things are progressing in the right direction, however, because the LGBTQ+ community is still stigmatised, you won't find any gay clubs or activities, and it's best to avoid public displays of affection.

On the bright side, gay couples are now welcome at all of the major resorts and hotels, so you may still have a relaxing island vacation if you take the proper measures.

The Gay Bahamas' white-sand beaches and natural environs have elevated it to one of the Caribbean's top LGBTQ+ vacation spots. The LGBTQ+ lifestyle may be unfamiliar to the locals, yet it is seldom noticed by visitors. Also, since the LGBTQ+ community in the Bahamas is still "hiding in the closet," gay-only establishments are concealed and difficult to find.

In Nassau, there is an underground "gay scene" that consists of gay-friendly establishments frequented by gay people. The beach at the Westend Esplanade is popular with LGBTQ+ visitors, and there is also an all-male Turkish bath on the premises, which is ideal for relaxing and refreshing times.

The Gay Bahamas is known for its breathtaking natural beauty, and the small gay scene is just an addition to it. Miles of white sand surround the nation, and the turquoise waters entice you just by looking at them.
Is The Gay Bahamas Safe?
We certainly wanted to safeguard our safety whenever we traveled. You're probably wondering if the Gay Bahamas are a safe destination to visit.

With its high murder rate, the Gay Bahamas isn't the safest place to visit, but if you use common sense and safety precautions, you should be fine. When taking public transportation, exercise extreme caution.

Since taxis in this country are not metered, taxi drivers may try to overcharge you. Always be on the lookout for pickpockets on public transportation.

Pickpockets are frequent, and this country is plagued by both petty and violent crime, with the emphasis this time on violent crime. Even so, you should never keep all of your money in one spot and always be aware of your surroundings at all times.
Best Time to Visit The Gay Bahamas
We always want to make the most out of it wherever we go, as long as it is a new place for us. As you plan your trip, you must be wondering when the best time to visit the Gay Bahamas is.

The Gay Bahamas' peak season, from mid-December to mid-April, is the best time to visit. The winter months are the busiest in the country, so many hotels and resorts, particularly popular ones like Atlantis and Paradise Island, are fully booked months in advance.

The season's moderate daytime temperatures, ranging in the high 70s to low 80s, and clear skies make these months excellent for snorkeling or diving, sunbathing on beautiful Bahamian beaches, and exploring outdoor oases like Lucayan National Park and The Glass Window Bridge.

Just keep in mind that crowds will be heavier during the Junkanoo Festival and around spring break, which is during March, so make sure to plan beforehand.

The best time to visit the Gay Bahamas is from late April to early December if you want to keep your travel expenses as low as possible. The finest hotel rates, which are up to 60% off, are available between late April and early December when crowds at top attractions are substantially thinner, however, many Bahamian homes schedule maintenance during these months, resulting in loud environments and decreased services.

The wettest months of the year are May through October, and storms may make landfall between June and November.
Gay-Friendly Activities and Attractions in The Gay Bahamas
Hundreds of land and marine activities are present, including several historic sites and attractions, island tours, art galleries, and activities for all ages. If you're looking for something more daring, try fishing, sailing, kayaking, jet skiing, snorkeling, scuba diving, banana boat rides, windsurfing, parasailing, or other water sports in the Gay Bahamas.

Here are some gay-friendly things to try during your visit to The Gay Bahamas:
1. Atlantis Paradise Island
This splashy, salmon-pink resort, which dominates the skyline on Paradise Island, imaginatively recreates the creation myth of Atlantis in a luxury hotel, entertainment complex, aquarium, and water park.

It is considered one of the best resorts in the Bahamas. Hammerhead sharks and swordfish swim through glittering open-air pools at the Atlantis Bahamas marine ecosystem.

There are also numerous shops, restaurants, and entertainment venues in this area. The fantasy sea motif is carried across all of the Atlantic attractions, captivating both young and old.
2. Lucaya Beach
Lucaya Beach is one of the Gay Bahamas' busiest beaches. This sandy beach, which stretches for miles, is a beautiful spot for long walks along the coast.

Enjoy exhilarating activities such as parasailing and snorkeling, or unwind with a refreshing drink at one of the beach's busy bars.
3. ATV Island Tour
This ATV tour of Nassau combines sightseeing and adventure. Drive your own ATV through the Bahamian capital in a guided convoy instead of walking, cabs, or buses.

Enjoy the fresh winds, stop at the Queen's Staircase, Fort Charlotte, and other attractions, and enjoy a Bahamian lunch on the beach, rum tasting at a distillery, and a "Bahama Mama" cocktail. A choice of departure times adds to the convenience.

The cost per person begins at $199
4. Exuma Cays Land and Sea Park
Exuma Cays Land & Sea Park is home to some of the Gay Bahamas' most beautiful seascapes. Electric blue water combines with bone-white sand to create a stunning setting for a variety of water sports.

The park is a no-take zone and marine protected area on the remote eastern tip of the Gay Bahamas, and it is the first of its kind in the Caribbean. Divers and boaters flock to the area for its excellent anchorages, abundant marine life, and crystal-clear waters.

Divers and snorkelers might expect visibility of 30 meters or more on a good day. The majority of visitors arrive by private boat or live-aboard dive charters. Within the park's limits, no fishing or shelling is permitted.
5. Harbour Island
Harbour Island, located northeast of Eleuthera, has long served as a haven for the wealthy and famous. It is one of the oldest communities in the Bahamas, as well as the site of the first Bahamian parliament, and is affectionately nicknamed by residents as "Briland."

More than charming cottages and a rich history can be found on Harbour Island. Its stunning pink-sand beaches are among the Caribbean's most attractive, and its stylish resorts attract discerning guests from all around the world. Diving, snorkeling, fishing, and sunbathing along the rosy-hued shoreline are all popular activities.

The Bahamas Fast Ferries Catamaran offers a delightful day cruise from Nassau to Harbour Island.
6. Treasure Cay Beach, Great Abaco Island
Treasure Cay Beach, which runs along the eastern shore of Great Abaco, is frequently voted one of the world's most beautiful beaches. Visitors who come to bask on its creamy, crescent-shaped shore are wowed by this beautiful stretch of flour-soft sand and aqua water.

The beach is located near Treasure Cay, an elite resort town that conducts one of the most popular fishing tournaments in the Bahamas.
Gay-Friendly Dining in The Bahamas
If white-sand beaches, swaying palms, and mysterious hidden cays aren't enough to tempt you to visit the Bahamas, perhaps Bahamian food will. You might expect that the only meals available in an island nation would be seafood-based, however, Bahamian food has a lot more to offer.

Here are some listings of gay-friendly restaurants you might want to check during your visit to The Bahamas:
1. The Palms
Spend the greatest portions of your day being soothed by palm breezes in this relaxed and stylish restaurant setting. The Palms Café is an excellent place to begin or end a quiet day outside, as well as a convenient pit stop on your way to or from the beach.

Expertly grilled burgers, seafood delights, fresh salads, and ceviche are among the savoury alternatives. Pair these delectable menu items with sweet and savoury tropical drinks and frozen cocktails for a true island experience.

This restaurant is located on the edge of the H20 pool at the Grand Hyatt Baha Mar.
2. Banana Bay
This seaside café serves local dishes, burgers, conch, seafood, and salads. It is open from 9:30 a.m. to 5:00 p.m., Monday through Friday. The atmosphere is calm and relaxed.

Banana Bay serves Caribbean, bar, seafood, and Bahamian cuisine. It is near Freeport on Grand Bahama Island, near Fortune Bay Drive.
3. Sapodilla Restaurant
Sapodilla's sophisticated Island-Style is situated among beautiful gardens and magnificent Bahamian artwork. As you begin your Sapodilla tour, have a glass of wine with one of their renowned pianists.

Dine-in one of the four beautiful rooms or outside under the stars. Relax in their Cigar Lounge while listening to live steel-pan music and drums, or enjoy specialty cocktails and hors d'oeuvres at the Kamalame Bar.

A walk into the wetlands, which are home to ducks, cranes, turtles, and a variety of freshwater fish, will complete your Sapodilla experience. Fine dining awaits your arrival.

This restaurant is located on West Bay Street in Nassau, New Providence, half a mile east of Cave Point.
Gay-Friendly Bars and Clubs in The Bahamas
The nightlife in the Bahamas is just incredible. The nightlife here is incredibly vibrant, with everything from beautiful nightclubs to bars and several pubs.

Due to the stigma associated with the LGBTQ+ community, there are no gay clubs or events in the Bahamas, however, Nassau is the Bahamas' main nightlife centre, and some of the places there are somewhat friendly. Tourists should still take precautions when exhibiting affection toward a partner of the same gender.

Here are several gay-friendly bars and clubs to visit during your vacation in The Bahamas:
1. Bon Vivants
Bon Vivants is The Bahamas' only authentic cocktail bar, dedicated entirely to the art and history of the handcrafted cocktail. During the day, they provide conventional café fares such as espresso-based beverages, fresh teas, and afternoon cocktails.

Freshly baked pastries are served as well during the day, while at night, light snacks and tapas are available. This tavern is located at 401 Seaskye Lane in Sandyport, New Providence Island.
2. Pirate Republic Brewing
The Bahamas' first production craft brewery is the Pirate Republic. The adventures of this bar started in their own kitchens, with a homemade 5-gallon brewing system and enough daring, zeal, and wild-eyed dreaming to make us scream with joy right now.

They are now ecstatic to be able to produce world-class beer and share it with their fans. This bar is located near the Woodes Rogers Walk in New Providence.
3. Bahama Barrels
Bahama Barrels is the Bahamas' first winery to combine wines from other countries, making it a truly unique Bahamian experience. It's in a beautiful 1937 church built by the Sisters of Charity.

Guests can taste wines from around the world, learn about the grape-growing season and the winemaking process, and blend and bottle their own bottle of wine as a souvenir of their visit.

This establishment is located on West Hill Street in Nassau, New Providence.
4. Nipper's Beach Bar and Grill
On Great Guana Cay in the Abacos, Nipper's Beach Bar and Grill is a legendary spot for drinking. The bar has a private swimming pool on a high sand dune just steps away from a lovely beach extension.

People from the neighbouring islands travel to Great Guana Cay solely to attend Nipper's exciting nights. On Bahamian and American holidays, the place is packed.

You can visit their restaurant, which is hidden inside, to reduce your wait time.
5. Big John's Bar and Grill
Big John's Bar and Grill is a modest establishment, and basketball legend Shaquille O'Neal has taken over as the island's most popular DJ. Big John's Bar and Grill in Alice Town, North Bimini, is one of the nicest places to visit.

This establishment is great for a beer and has a great atmosphere for hanging out with friends. The seating is great, with both indoor and outdoor options facing the sea.