Gay San Francisco – Ultimate Travel Guide, Hotels, Restaurants, Bars & Activities (Updated 2023)
Gay San Francisco is the cultural, commercial, and financial capital of the U.S. state of California. Gay San Francisco is the 17th largest city in the United States and the fourth in California.


The cable cars and the Golden Gate Bridge have made Gay San Francisco famous all over the world. The city, however, is more than meets the tourist's eye.

Gay San Francisco also has a unique combination of breaktaking oceanfront views, different dining options, counter-culture roots, eclectic music scene, innovative tech businesses, and ever-increasing immigration.

Whatever you choose to do, Gay San Francisco has plenty of options to suit your needs and preferences.

Gay San Francisco is not only a welcoming city for LGBTQ+ people, but it is also regarded as one of the best cities in the world to visit, as an individual or a couple.

There are good reasons why Gay San Francisco has been dubbed the 'gay capital of the world' and 'the original 'gay-friendly city'.

If you are thinking about going somewhere else you can try other Gay Travel Guides.

Remember to always check out the latest rules and restrictions before you leave.
Gay San Francisco – the Scene
The Gay San Francisco LGBTQ+ community is one of the country's largest and most visible, as well as one of the most important in the history of American LGBTQ+ rights and advocacy, alongside New York City.

Without a doubt, this is one of the most prominent LGBTQ+ cities in the United States, with an enormous list of bars, clubs, and similar nightlife options, as well as Bakers Beach and the Castro district – home to the majority of The Gay San Francisco LGBTQ+ community.

The Castro district is home to some of the Gay San Francisco top bars and nightclubs. The 440 Bar, Q-Bar, and Twin Peaks Tavern are all famous nighttime hangouts on Castro Street.

The Blackbird, the Café, and the Lookout Bar all have themed nights and live entertainment, such as karaoke nights, 'drag' racing, and themed Friday and Saturday party nights, on the intersecting Market Street.
Is Gay San Francisco Safe?
Despite being one of the most populated cities, Gay San Francisco is a relatively safe place to visit.

Even though it can be dangerous at times, and the concentration of homeless people and drug addicts on the streets may make you feel uncomfortable, criminal activity occurs only in risky areas of the city that are rarely visited by tourists.

Although public transportation in Gay San Francisco is safe and convenient, you should exercise extra cautious and avoid lingering around the bus, train, or metro stops.

Pickpocketing and purse snatching are common around Fisherman's Wharf, the F-Market Streetcar line, public transportation, and crowded areas.
Best Time to Visit Gay San Francisco
The months of September to November are ideal for visiting Gay San Francisco.

Fall however has some of the city's best weather all year, with fewer crowds than summer. Average temperatures hover in the low 70s, and beautiful skies tempt San Franciscans and visitors alike to the beach.

If you want to keep your travel costs to a minimum, the best time to visit San Francisco is during the winter, from December to February.

Hotels slash their rates during the cooler months, but make sure to book a few weeks ahead of time to get the best rooms and prices. Bring some warm clothing as well.

This is also the rainiest time of year in the Bay Area, so be sure to pack an umbrella.
How to Find a Gay-Friendly Hotel


Best Gay-Friendly Hotels in Gay San Francisco



Beck's Motor Lodge

Experience Gay San Francisco's most vibrant neighborhood at Beck's Motor Lodge. In the heart of the city, guests can step outside and immerse themselves in a thriving community filled with trendy cafes, chic shops, and buzzing nightlife.

After a day of adventure, guests can retreat to their spacious, modern room featuring updated amenities and stylish decor. Whether you're here to explore the city or simply relax, Beck's Motor Lodge is the perfect home base for your San Francisco journey.

Hotel Zelos San Francisco

Indulge in the perfect blend of business and leisure at Hotel Zelos, in the heart of the Gay San Francisco bustling shopping, dining, and entertainment district.

Whether you're in town for work or play, Hotel Zelos offers the perfect balance of sophistication and fun.

Harbor Court Hotel

The Harbor Court Hotel is a boutique hotel on the Gay San Francisco waterfront.

It offers views of the bay, Bay Bridge, and Treasure Island without any obstructions.

Parker's Guest House

Parker Guest House offers a luxurious stay in the beautiful city of Gay San Francisco.

Parker Guest House provides easy access to some of the city's most famous attractions, including beaches, museums, and theaters.
Recommended:

Gay Massage San Francisco


Gay-Friendly Dining in Gay San Francisco

Gay San Francisco is regarded as one of the country's top food centers. San Francisco's exquisite and diverse cuisine is a crucial component in attracting visitors.

The city provides a fantastic blend of excellent dining and breathtaking scenery.
1. Eiji Restaurant

Eiji is a Japanese sushi restaurant in Mission Dolores that offers a unique taste and decor of Japan.

Eiji is known for its artisan tofu, but the restaurant also offers a wide range of creative and excellent fresh fish meals, vegetarian dishes, handcrafted tofu, and wine.

Miso soup, ceviche roll, tuna belly streak, and Oboro tofu are some of the most popular dishes.
2. Suppenkuche

Suppenkuche serves simple, excellently cooked German cuisine. With a comprehensive German beer and wine menu served at shared tables, Suppenküche is a welcome respite from the stresses of everyday life.

Try the delectable potato soup, wiener schnitzels, venison, brezeln, pancakes, and Berliners.
3. Starbelly

Starbelly is in the Gay San Francisco Castro District. It is a casual and welcoming neighborhood restaurant.

The restaurant offers forward-thinking Californian comfort food, seasonal craft cocktails, beer, and wine.
4. Harvey's

Harvey's is a gay restaurant that opened in 1959 and offers a variety of dining alternatives to its patrons.

Burgers, Angus burgers with cheese, chicken sandwiches, hot dogs, and chicken strips are all on the menu.
5. Catch

Catch is a restaurant on the Gay San Francisco Market Street. Their menus are routinely rotated to accommodate seasonal products and new catches of locally sourced and sustainably sourced seafood.

Each meal highlights the delicacies while adding Mediterranean influences and a minimalist Californian composition and presentation.
Gay-Friendly Bars and Clubs in Gay San Francisco
Gay San Francisco has a world-renowned live music and club scene, with concerts and parties taking place every night of the week.

There are many well-known bars, lounges, and dance clubs, night tours, dinner cruises, late-night museums, rooftop bars, and other activities for visitors and locals alike.
1. Twin Peaks Tavern

Twin Peaks Tavern is one of the first gay bars in Gay San Francisco.

Due to its prominent location under the iconic rainbow arrow on the junction of Market and Castro, this SF gay club bills itself as the "Gateway to The Castro."
2. 440 Castro

Featuring Underwear Nights and the "Battle of the Bulges" 440 Castro is one of the most popular bars in Gay San Francisco.

The bar is busiest on weekends with men 21 and over.


3. The MIX Bar

The MIX is the friendliest gay pub in Gay San Francisco, featuring the greatest outside patio in the Castro. The MIX has gained the title of being a "Neighborhood Bar" thanks to its pleasant and laid-back staff.

Since 2000, MIX has been inviting gays, lesbians, and friends where you can play your favorite tunes on the pool table, terrace, and internet jukebox.
4. Midnight Sun

Midnight Sun, which first opened its doors on February 12, 1971, is the country's premier LGBTQIA+ video bar, located in the Castro. Recent renovations at 'The Sun' include a new street-facing terrace and stage.

On Friday and Saturday nights, there's RuPaul's Drag Race viewing, karaoke, and stunning go-go dancers, among other things.
5. Beaux

Beaux, French for boyfriend, is one of the Castro's most popular LGBTQIA+ hangouts. Open seven days a week with 2-for-1 drink Happy Hours Monday through Friday from 3 to 7 p.m.

During the day, Beaux is a specialty cocktail lounge, and by night, it changes into a complete dance club with revolving themed parties like Vamp Mondays, Pan Dulce Wednesdays, Manimal Fridays, and Big Top Sundays, which include RuPaul's Drag Race.
Gay-Friendly Activities and Attractions in Gay San Francisco
San Francisco offers a diverse selection of activities in the Bay Area of California, from coastal views and renowned bridges to shopping areas that retain a trace of their hippie roots.

You won't be short on exciting things to do in Gay San Francisco, whether you're visiting Golden Gate Park with your partner or just simply enjoying the sea breeze, the food, the culture, and the calm beauty that abounds.
1. Golden Gate Bridge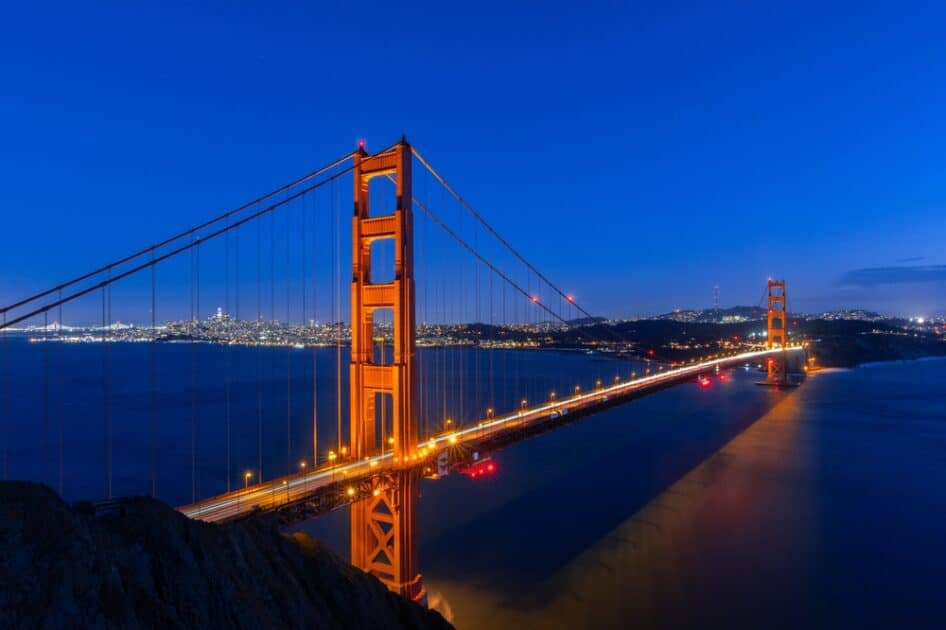 Despite being shrouded in mist for much of the year, one of the world's most photographed bridges is nonetheless a breathtaking sight and something of a spectacle to traverse. Its vastness, scale, and beauty evoke awe and pique the imagination.

This iconic piece of American architecture runs 1.7 miles across the "Golden Gate," the Pacific Ocean's entrance into Gay San Francisco Bay.
2. Pier 39

Pier 39 is a two-level complex featuring shopping, sideshows, entertainment, restaurants, rides, and other attractions. Step on board the "Neptune" for a 90-minute wine-tasting cruise on the bay if you need a break.

Alternatively, simply relax on a bench and take in the spectacular views of the Golden Gate Bridge, Bay Bridge, Alcatraz, Angel Island, and the city skyline. Pier 39 is directly adjacent to Fisherman's Wharf.

It is accessible by foot and by cable cars that operate up and down the Embarcadero, as well as downtown.
3. Palace of Fine Arts

This 1915 palace, inspired by the Roman era, is still a modern-day Renaissance center for the arts and sciences.

The Exploratorium, a fascinating voyage into the wonders and secrets of science with interactive displays and hands-on activities geared for children, is now housed there.

The palace, with its magnificent rotunda and 1,100-foot pergola, is surrounded by gardens and a swan-filled lagoon.
4. Lombard Street

This Gay San Francisco street, commonly referred to as the world's most crooked street, is a must to see, photograph, and drive-along.

As it descends from Hyde Street to Leavenworth Street, the red-brick road makes eight hairpin turns.

If you want to take a stroll, you can walk up or down the walkway stairs.
5. Alcatraz Island

Discover why 'The Rock' earned its reputation as a harsh and merciless place with an escape to the historic and abandoned island jail.

Alcatraz Island, in Gay San Francisco Bay, can be reached by a 15-minute ferry ride from Pier 33 at the Embarcadero, operated by Alcatraz Cruises.

The round-trip ticket price includes an educational audio tour of the cell house. Take a free tour with one of the National Park volunteers or guides on the island, or pick up a booklet for a self-guided tour at the ferry dock.


How to get to San Francisco?


From Canada

There are few direct flights from Canada, with Air Canada offering the only nonstop service from Montreal, which takes 6 hours and 15 minutes. Flying across the US expands your alternatives while also lowering your prices.

From the United Kingdom

There are few regular flights from the United Kingdom, with British Airways serving the only nonstop route, which takes 11 hours and 35 minutes and leaves from London. Traveling throughout the United States expands your options while also cutting your costs.

From Italy

There are several frequent flights from Italy, with Leonardo da Vinci International Airport operating the only nonstop route, which leaves from Rome and arrives at San Francisco International Airport in 14 hours and 50 minutes.


From Australia

Several flights are available from Australia, with Sydney International Airport running the only nonstop service between Sydney and San Francisco International Airport, which takes approximately 13 hours and 40 minutes.
---
Featured Image: Iuliia Serova/Shutterstock
Featured Image: LakedemonPhoto/Shutterstock
Featured Image: Chris MR/Shutterstock
Featured Image: Belyay/Shutterstock
Featured Image: Natalia Perez Wahlberg/Shutterstock
Featured Image: Maks Ershov/Shutterstock
Featured Image: f11photo/Shutterstock