Gay Rehoboth Beach – Ultimate Travel Guide, Hotels, Restaurants, Bars & Activities (Updated 2023)

Gay Rehoboth Beach is a city in eastern Sussex County, Delaware, United States, on the Atlantic Ocean and the Delaware Beaches. Gay Rehoboth Beach is one of the most important cities in Delaware's rapidly rising Cape Region.




This small community on the Mid-Atlantic coast is a popular weekend retreat for those stationed there. Gay Rehoboth Beach Public Beach, Gordons Pond, and Funland are among the area's popular attractions.

As one of the North East's most popular beach towns, you can cool off in clear water and savor some high-quality food and artisan beers.

Gay Rehoboth Beach, Delaware, has kept its small-town character, with a clean beach, quaint shopping strips and numerous walking routes, parks, and tourist attractions to explore.

Renting a sailboat, going fishing, taking surfing lessons, hopping on a roller coaster, sliding down a waterslide, and rock climbing are all options.

Although Gay Rehoboth Beach is a small town, the residents are friendly, inviting, and supportive of the LGBTQ+ community. The city is a fantastic example of a community that has successfully integrated a vibrant LGBTQ+ community into the fabric of its town.

If you are thinking about going somewhere else you can try other Gay Travel Guides.

Remember to always check out the latest rules and restrictions before you leave.
Gay Rehoboth Beach – the Scene

Gay Rehoboth Beach is a terrific LGBTQ+ destination all year round. The city has a lot to offer in terms of diversity.

Although Gay Rehoboth Beach does not have a specific "gayborhood", the entire city is warm and accepting. The LGBTQ+ oriented companies blend in beautifully with the more straight-themed businesses, creating a true community.

The Blue Moon is one of the most popular hangouts for the locals of Gay Rehoboth Beach. It's more than a nightclub and a restaurant; it has become a prominent entertainment source in Gay Rehoboth Beach, including drag shows in their purest form.

You might see a show at "the Moon," as Anne Steele did on her "The Mixtape of My Life" tour, and Broadway talents like Telly Leung and drag giants Sherry Vine and Joey Arias return year after year to delight crowded houses.

Aqua Grill is the best spot to see and be seen in Rehoboth Beach, and it's almost directly at the intersection of Baltimore Ave. Happy Hour at Aqua is the ideal way to cap off a spectacular beach day or to get a head start on a fantastic night.

A decent beach to set up your umbrella is crucial for every seaside town with a big LGBTQ+ community. Gay Rehoboth Beach has two.

Poodle Beach is dubbed the "gay beach" by many, and is unquestionably the spot to be seen. Both tourists and locals have no trouble making acquaintances on the water or land, and the sunnier the day, the more crowded Poodle becomes.

North Shores is a little less busy yet still sunny. North Shores caters to both the burly bear and lesbian populations, with a slightly more casual attitude.
Is Gay Rehoboth Beach Safe?

For its size, Gay Rehoboth Beach is less safe compared to the other cities. This does not mean though that Gay Rehoboth Beach is hostile toward the LGBTQ+ community.

Everywhere you travel, there's always the risk of crime or other undesirable events, so use common sense and be cautious to avoid any unfavorable situations.

Gay Rehoboth Beach is a melting pot, so visiting as a gay couple or individual you will be welcomed by the locals, who are kind, friendly, and accepting.
Best Time to Visit Gay Rehoboth Beach

The best time to visit Gay Rehoboth Beach is between May and August when the town shines brightest.

The summer months bring the most visitors and the hottest temperatures, perfect for enjoying the beach and boardwalk.

After Labor Day, you can expect fewer crowds and pleasant fall weather. Keep in mind that some attractions may have reduced hours or close after the summer season.

Remember to always check the latest rules and restrictions before you travel to Gay Rehoboth Beach to ensure a smooth and enjoyable trip.


Best Gay-Friendly Hotels in Gay Rehoboth Beach

The Avenue Inn & Spa

The Avenue Inn & Spa is a venerable, family-run hotel renowned for its first-rate amenities, beautifully kept rooms, kind hospitality, and ideal location — just a block from the beach and boardwalk.

The Avenue has thrived over four generations from its beginnings as a "tea room" in 1937 to become the preferred resort in Rehoboth Beach for family holidays, romantic getaways, spa outings, and events.




Hotel Rehoboth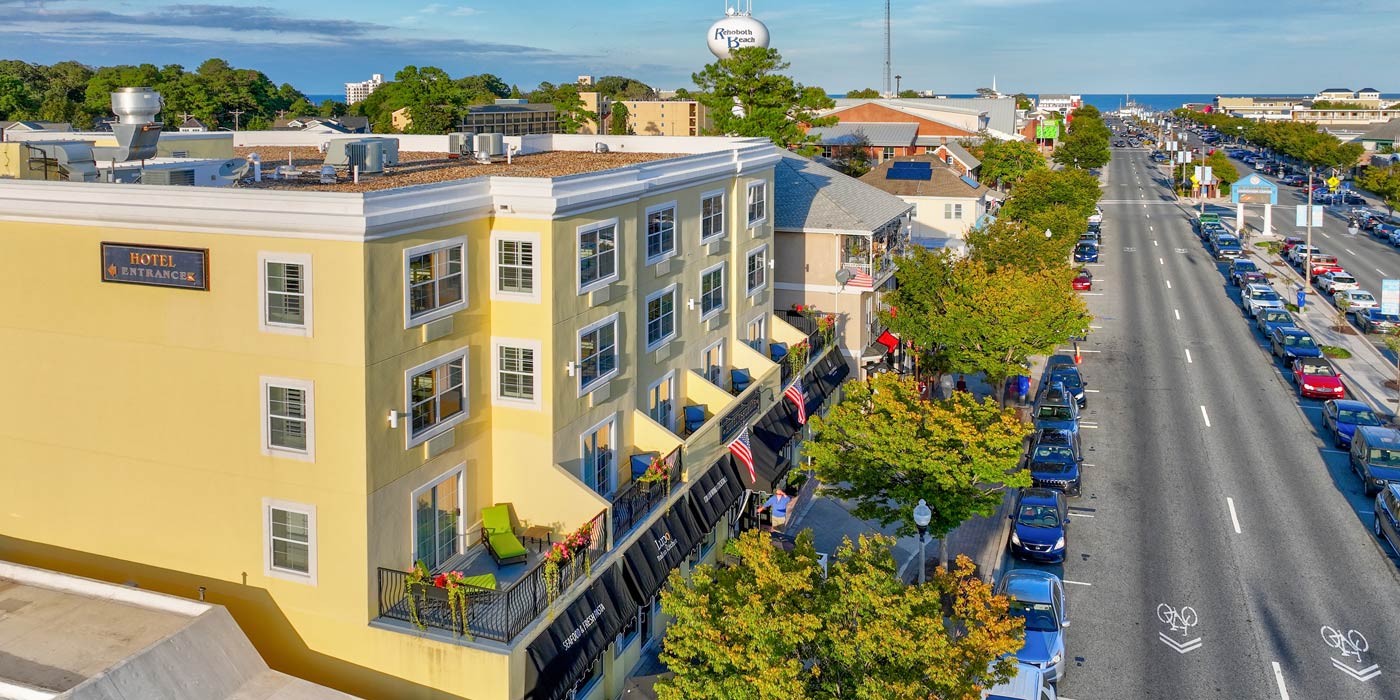 Discover the epitome of luxury and comfort at the brand-new Hotel Rehoboth, nestled in the heart of downtown Rehoboth Beach, Delaware.

This boutique-style hotel offers a stunning collection of 52 guest rooms, studios, and suites, designed to provide an oasis of relaxation in hues reminiscent of the sea and sand.

With plush bedding and soft linens, guests are guaranteed a restful night's sleep, setting the stage for an unforgettable stay.


Boardwalk Plaza Hotel

Boardwalk Plaza is an oceanfront hotel with a Victorian-inspired design. Their rooms feature authentic antiques blended with modern amenities.

The onsite restaurant, Victoria's, offers fine dining with stunning views of the Atlantic Ocean. A glass-enclosed ocean-view elevator provides access to custom-designed rooms, some of which are wheelchair accessible.
Rehoboth Guest House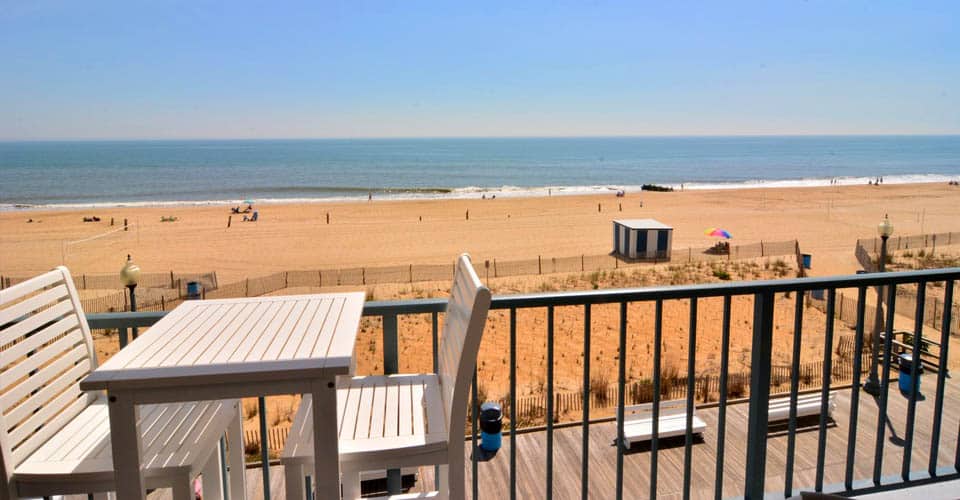 For over 40 years, the Rehoboth Guest House has been a charming, gay-owned and operated Victorian bed and breakfast, exclusively for adults (18+) only.

Perfectly situated in the heart of Gay Rehoboth Beach, this delightful B&B is just a stone's throw away from the Atlantic Ocean, the mile-long boardwalk, and the main street of Rehoboth with its array of excellent restaurants, tax-free shops, and art galleries.



Recommended:

Gay Massage in Rehoboth Beach
Gay-Friendly Dining in Gay Rehoboth Beach

Rehoboth Beach not only has beautiful scenery and beaches, but it also has amazing cuisine that will appeal to even the most sophisticated palates. Restaurants in Rehoboth Beach specialize in farm-to-table, locally sourced fare.
1. Blue Moon

The Blue Moon provides an unforgettable dining and entertainment experience in a magnificently renovated Victorian home that is a work of art in and of itself.

The Blue Moon is consistently ranked among Delaware's best restaurants, making it a great spot for a romantic dinner or a fun night out with friends.

You'll have a wonderful dining experience just two blocks from the Atlantic Ocean, in a location that people have grown to love over the last 30 years.

You haven't visited Rehoboth Beach unless you've visited the Blue Moon!



2. Aqua Grill

Aqua Grill is a gay-owned and operated business that embraces everyone and attracts a diverse crowd of regulars, locals, loving admirers, and weekly tourists from Washington, D.C., Virginia, New York, Philadelphia, and as far as California and Canada.

This is the beach's "place to be seen." The hottest bodies of the summer are serving you some of the best American seafood cuisines with a twist in Rehoboth Beach.

Their daily drink and food deals, video bar, themed costume tea dances, DJ remixes, and Drag Brunch are all available.



3. The Pines Rehoboth Beach

The Pines combines stunning interior design, a lively ambiance, innovative American food, inventive cocktails, and first-rate customer service to create a winning mix.

The dining room offers a full farm-to-table cuisine, while the lounge upstairs offers a smartly created light fare menu.
4. Salt Air

Salt Air is in the heart of Rehoboth Beach's downtown district. Salt Air features farm-to-table cuisine, an elegant environment, and excellent service.

Fresh seasonal produce, sustainable fishing, organic meats, and poultry are included in the menu, which is inspired by the surrounding area.

Salt Air is dedicated to offering the best food, hospitality, and atmosphere possible.



5. DiFebo's Restaurant

DiFebo's Restaurant offers Italian cuisine. Calamari, cheese ravioli, and well-cooked chicken marsala might just be what you need.

This establishment's success is due to its delicious gelato, tiramisu, and cannolis. It's fun to sample tasty marsala, martinis, or prosecco.

The most popular drinks at this restaurant are a good bread drink or a terrific espresso. This restaurant is ideal for an anniversary celebration.


Gay-Friendly Bars and Clubs in Gay Rehoboth Beach

Drinking throughout the day is just as prevalent as drinking after dark, and it's not unusual here at Rehoboth Beach. Restaurants and bars are frequently interchanged.

There isn't a single restaurant in town that doesn't serve margaritas.
1. Purple Parrot Grill

Rehoboth Beach's gay hotspot is Purple Parrot Grill. There are frequent special events and a friendly crowd.

In this typical gay beach bar, the bartender will pour your beer while wearing a swimsuit. The open-air dining area of Purple Parrot Grill is a bustling spot for an afternoon drink or a late dinner.

Tara Austin and the Birdcage Bad Girls, who perform in drag on Sunday nights, are a highlight. Karaoke is available on Fridays and Saturdays.



2. Blue Moon

This casually sophisticated restaurant is a true star among foodies of all stripes.

Since its start in 1981, Blue Moon has been a popular hangout among LGBTQ+ people.

It's an excellent idea to make reservations, especially on Friday and Saturday nights.
3. The Pond Bar & Grill

The Pond Bar & Grill, among the many popular bars and eateries in downtown Rehoboth, has possibly the largest LGBTQ+ following, while it also attracts straight customers.

The Pond is known for its no-attitude, welcoming atmosphere, which is ideal for regulars and visitors alike.

It hosts themed evenings such as Speed Bingo Wednesdays, Trivia Challenge Thursdays, and live music on many nights, especially during weekends.



Gay-Friendly Activities and Attractions in Gay Rehoboth Beach

Gay Rehoboth Beach, popularly known as the "Nation's Summer Capital," is a resort city on Delaware Bay that attracts people of all ages throughout the year because of its silky sands and calm Atlantic waves.

Visit the enticing beaches or relax with your partner in one of Rehoboth's lovely parks.

Delicious oysters, fresh seafood, and nostalgic boardwalk fare are available to foodies, while a thriving craft beer industry caters to brew enthusiasts with discerning palates.
1. Funland

Funland is a family amusement park in Rehoboth Beach, Delaware, located on the boardwalk.

Funland, a family-owned and run business since 1962, offers affordable family enjoyment to people who visit us each summer.

The park has 19 rides, 14 midway games, a redemption centre, Skeeball, and an arcade, providing fun for the whole family.
2. Rehoboth Beach Public Beach

Rehoboth Beach Public Beach is a sandy beach that offers a variety of organized sporting activities every evening during the summer. You can also find designated places for surfing and fishing.



3. Gordons Pond

The Gordons Pond Trail is one of the most picturesque bike, hiking, and jogging pathways in Southern Delaware.

It passes along Gordons Pond, through peaceful woodlands and wetlands, and over rocky sand dunes.

An elevated boardwalk runs for nearly half a mile of the trail, including two lookout points.



4. Jungle Jim's

Delaware's Largest Waterpark and the #1 Family Fun Destination! Jungle Jim's is located on Route 1 Coastal Highway. A waterpark featuring big water slides, a lazy river, a wave pool spray ground, a kiddie pool, and an activity pool.

There are also two go-kart tracks, batting cages, mini-golf, and bumper boats at Jungle Jim's.

From Memorial Day to Labor Day, Jungle Jim's is open most days. Tuesday through Thursday are usually their busiest days of the week.




5. Midway Speedway Park

Midway Speedway Park, Rehoboth Beach, Delaware's top family entertainment destination, awaits you. Midway Speedway Park offers four times the thrills for a fraction of the price.

Midway Speedway is your place to race with four circuits that offer fun for everyone.

White Water Mountain offers six slides, a lazy river, an Olympic-size pool, a kiddie pool, and a sunbathing deck where you can get a tan.

Alternatively, you can play 18 holes at Fire Mountain Mini Golf. You can also enjoy one of their three attractions while you're there!



How to get to Rehoboth Beach?


From Canada:

Since you can't fly directly to Rehoboth Beach, it's best to fly to Philadelphia Airport and then hire a car or take a taxi to Rehoboth Beach.


American Airlines, Air Canada, and Austrian Airlines fly the most to Philadelphia Airport from Canada, although you might prefer to schedule a flight with American Airlines, Qatar Airways, or Air Canada, which all have flexible cancellation policies.


Flights from Halifax take 2 hours and 2 minutes, while flights from Montreal take 1 hour and 42 minutes.


From the United Kingdom:

If you are traveling to Rehoboth Beach from the United Kingdom, the best and only option is to fly. American Airlines, Finnair, and British Airways are among the many airlines that fly to Philadelphia Airport.


From Italy:

Flying is the best and most pleasant way to arrive at Rehoboth Beach in the United States if you are from Italy. You can fly with American Airlines from Fiumicino-Leonardo da Vinci Airport in about 14 hours and 33 minutes, but you can also fly with Finnair or Iberia, all of which have the same flexible cancellation policy as American Airlines.



From Australia:

This summer, visiting Rehoboth Beach in the United States is a great idea. For Australian nationals who want to visit Rehoboth Beach, riding in a plane is the best and fastest way to get there.


American Airlines offers a one-stop flight from Sydney International Airport to Salisbury-Ocean City- Regional Airport or any nearby airport.


---
Featured Image: Brandon Hirt/Shutterstock