Gay Puerto Rico – Ultimate Travel Guide, Hotels, Restaurants, Bars & Activities (Updated 2023)
Gay Puerto Rico – a Caribbean island and an unincorporated territory of the United States about 1,000 miles southeast of Miami, Florida, on the northeastern shore of the Caribbean Sea.

Gay Puerto Rico is a place where the old and new world collides on a small island offering a vast array of one-of-a-kind experiences.


It is also considered the world's oldest colony. History, culture, cuisine, beaches, mountains, relaxation, and adventure is all there.

The island, also known as "La Isla del Encanto," is full of welcoming locals who make you feel like a member of the family.

Gay Puerto Rico has long been regarded as one of the Caribbean's most gay-friendly islands, making it a popular LGBTQ+ travel destination year-round.

Gay visitors may enjoy a quiet vacation soaking up the sun, hot city evening club-hopping, or an exciting day visiting all the magnificent sights.

If you're looking for somewhere to go out at night, San Juan has plenty of options, particularly in the popular gay beach neighbourhood of Condado.

If you are thinking about going somewhere else you can try other Gay Travel Guides.

Remember to always check out the latest rules and restrictions before you leave.
Gay Scene in Gay Puerto Rico
Gay travellers to Gay Puerto Rico will find a plethora of gay and lesbian events, bars, and attractions. Every year, the island hosts two massive Pride parades.

Gay Puerto Rico's capital San Juan is home to the majority of gay clubs and LGBTQ+ activities and has a tropical environment to enjoy beach weather all year round.

There's enough to do and see in San Juan that it's worth spending at least a few days there before exploring the rest of the island. Old San Juan, Isla Verde, Condado, and Ocean Park are also popular neighbourhoods.

In gay-friendly San Juan, there is no specific gay neighbourhood; the city's LGBTQ+ bars and clubs are scattered across the city.

You may want to spend a half-day wandering Old San Juan, featuring blue cobblestone streets, open plazas, and a variety of Spanish styled boutique shops.

You can check out San Juan's most popular gay bar, Circo Bar. It is a popular hangout for both tourists and locals. It holds RuPaul's Drag Race viewing parties and is known for late-night dancing with some of the city's best DJs on weekends.

You might also find yourself wandering around the Eleanor Roosevelt district. It is a little further south than the other gay neighbourhoods of Condado, Santurce, and Ocean Park in San Juan, but it comes alive every Thursday night with the city's LGBTQ+ population.

Since 2003, same-sex relationships have been legalised in Gay Puerto Rico, while same-sex marriage and adoptions have been permitted and legalised since 2015.
Gay Puerto Rico Safety
With a few exceptions, Gay Puerto Rico is generally considered to be safe.

Although certain areas are more dangerous than others, the most serious threat is theft, such as pickpocketing or carjacking. Pickpockets are more prevalent in tourist locations and on public transportation.

Travellers and people walking alone are common targets for muggings and fraud in urban areas. Taxi drivers, like those in major cities around the United States, have a reputation for overcharging customers.

When visiting Gay Puerto Rico, keep in mind which parts of the island are safe to visit and which should be avoided.

Exercise common sense and be cautious enough to avoid such an unpleasant situation, just as you would in any other part of the world.
Best Time to Visit Gay Puerto Rico
The best time to visit Gay Puerto Rico is between mid-April and mid-June, just after the bustling Winter season and before the rainy Summer season. Spring is also very pleasant and you can enjoy most of the days throughout your stay on the island.

If you want to interact with a lot of gay travellers and travellers in general, you might want to consider visiting during Winter. Winter on the island has the ideal weather, which is partially why it is the most crowded and expensive time to come.

If you'd like to keep travel costs down, plan a fun and inexpensive trip during the fall season when you can find hotel accommodations for as low as $80/night.

Keep in mind that visiting in the fall exposes you to the dangers of the Atlantic hurricane season.
Best Gay-Friendly Hotels in Puerto Rico
Hotel El Convento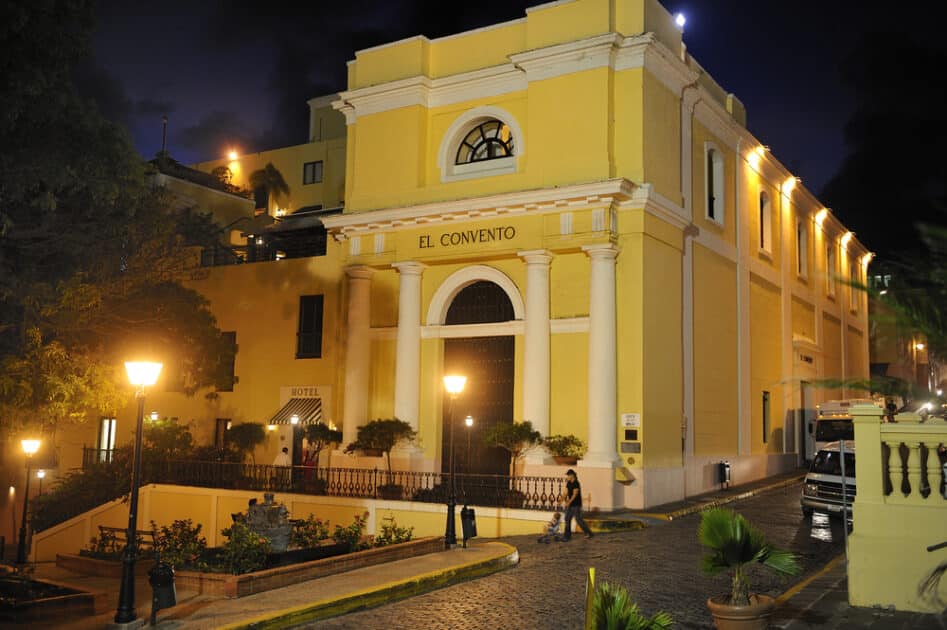 Just steps from the cruise port in Old San Juan, El Convento is an LGBTQ-friendly boutique hotel with historical charm.

Originally a convent for 250 years, it has been converted into a luxury hotel complete with a rooftop dip pool and several gourmet restaurants to choose from.

The staff is welcoming and many are part of the LGBTQ+ community. The bar and restaurant surrounding the open-air courtyard is a must-visit spot for cocktails or dinner.
O:live Boutique
Immerse yourself in a full Mediterranean-style experience at this boutique hotel, boasting 15 modern and eclectically decorated rooms and a rustic Mediterranean restaurant on site.


Just a short walk from the beach, the hotel is a member of the "Small Luxury Hotels" and offers preferred rates and upgrade eligibility to its free club members.
Caribe Hilton Hotel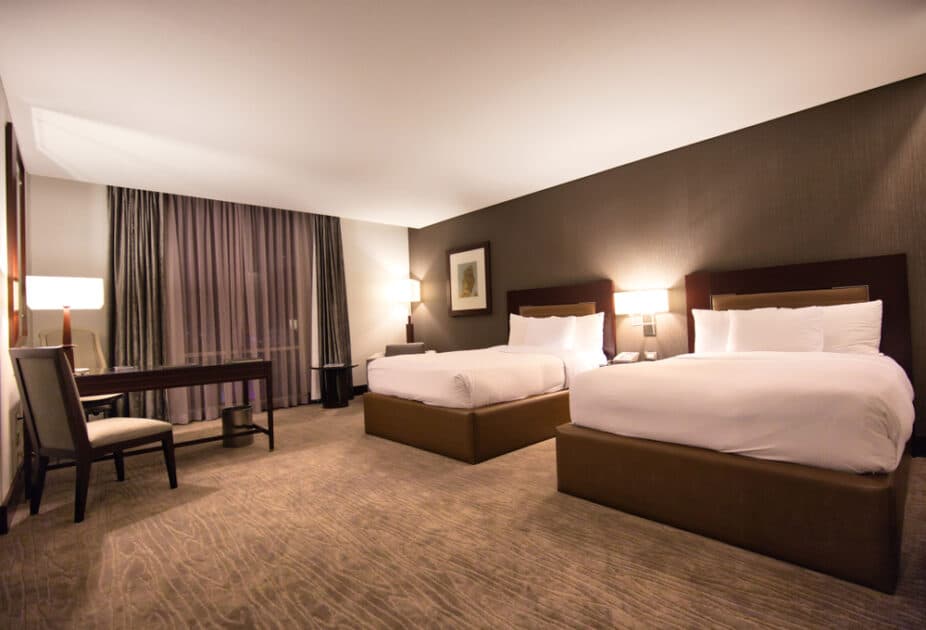 Experience a full resort experience in a unique location between Old San Juan and Condado at this historic resort.


After a comprehensive renovation, the resort reopened in Spring 2019 and offers 17 lush acres of irresistible charm, perfect for families and popular with groups.


Enjoy a classic Piña Colada at the hotel bar, which is one of two locations on the island that claim to have invented that legendary drink.
Activities
Spa
Tennis Court
Modern Fitness Center
Pool
Garden
Price
$$$
Location
Caribe Hilton Hotel
1 San Geronimo Street
San Juan, Puerto Rico 00901
Contact
Call 787-721-0303
info.caribe@hilton.com
Website
Caribe Hilton
Gay-Friendly Dining in Gay Puerto Rico
In the island's culinary revolution, traditional cuisine and local ingredients were combined with international techniques and flavors.

Chefs from around the island constantly reinvent and elevate locally-made dishes while staying true to the spirit of the island's cuisine.

While there is a wide range of food available, several local restaurants are noted for serving local specialties.

On Gay Puerto Rico there is no specific gay restaurant but here are some of the gay-friendly restaurants where you can dine in and experience the island's food:
1. Musa Puerto Rico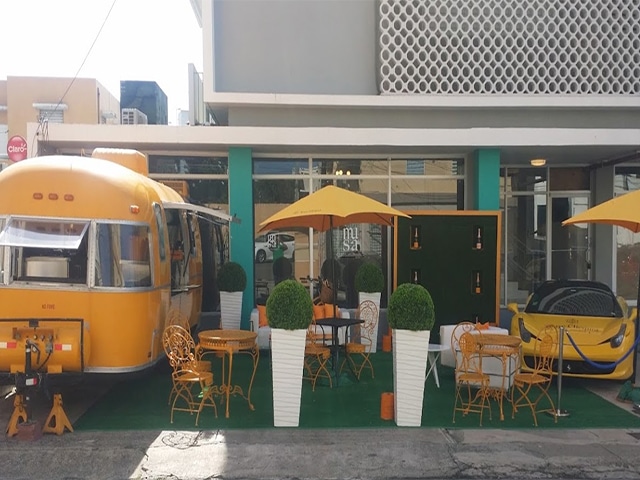 Located in San Juan's Art District, Musa Puerto Rico offers a unique blend of food, art, and music.

Indulge in their menu inspired by the chef's life experiences, combining Italian, French, and Asian techniques with local ingredients.
| | |
| --- | --- |
| Types of Food | Mac & Cheese, Salmon, Chicken, Vegetables, Meat |
| Price | $$-$$$ |
| Location | 613 Calle Cerra, 00907 San Juan |
| More Information | MUSA | San Juan | Facebook |
2. Casa Vieja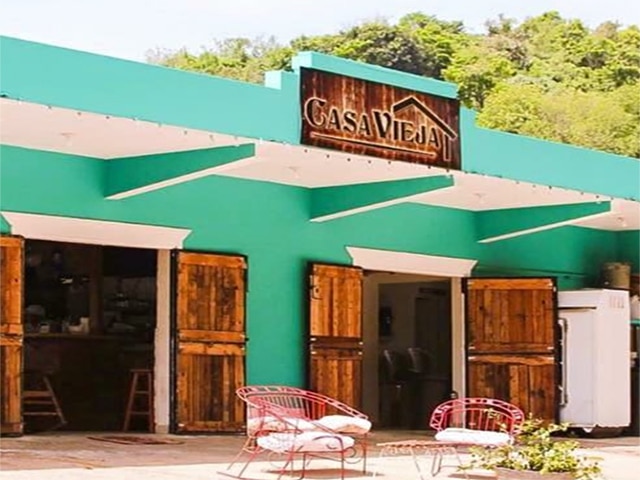 This family-owned restaurant in Ciales specializes in traditional Puerto Rican food.

Try their longaniza sausage, beef stew, pasteles, and other authentic dishes while enjoying the ambiance of an old-fashioned Puerto Rican jíbaro house.
3. Serafina San Juan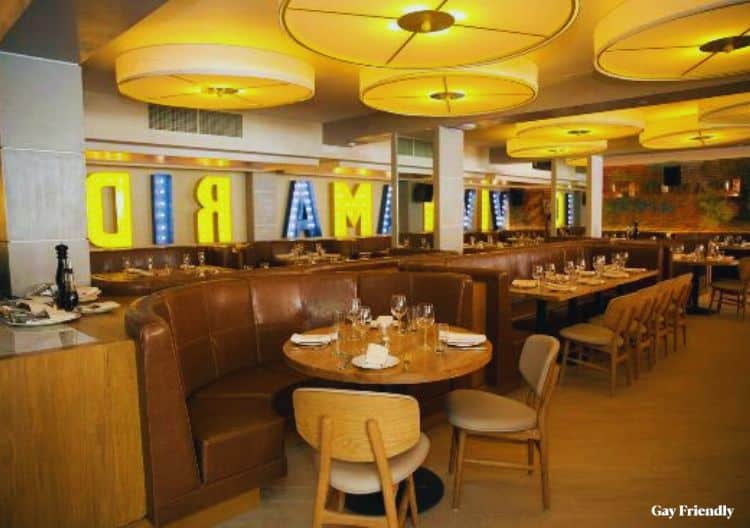 Situated in the La Concha Resort & Hotel in Condado, Serafina serves traditional Italian cuisine with a twist.

Dine with breathtaking ocean views and savor classic antipasti, pizzas, meats, and fresh seafood.


4. La Casita Blanca


It is one of the most classic fine dining experiences in the metropolitan area of San Juan.

They offer delicacies like stewed beef with rice and beans, codfish and mashed root vegetables, and crabmeat gazpacho, ready to satisfy your appetite.
5. Marmalade Restaurant and Wine Bar

This restaurant serves a fusion of modern French, Caribbean, and Spanish cuisine.

With a tasting selection, you can create your feast from the a la carte menu, with wine pairings from Marmalade's well-stocked cellar.
| | |
| --- | --- |
| Types of Food | Soups, Salads Pastas, Risotto, Ceviche, Shrimp, Vegetable, Desserts |
| Price | $$-$$$ |
| Location | 317 Fortaleza Street, Old San Juan, PR 00901 |
| More Information | Home | MarmaladePR |
Gay-Friendly Bars & Clubs in Gay Puerto Rico
There's always a place to go dancing, enjoy a drink, and experience Gay Puerto Rico's famed nightlife, no matter which part of the island you're on.

Gay Puerto Rican nightlife is vibrant: from bustling hotel nightclubs and rooftop hangouts to low-key beachside pubs.

Here are some of the gay-friendly bars and clubs that you might want to check out during your stay on the island:
1. Tia Maria Jose de Diego

This well-known local gay club is located in Santurce, San Juan's popular gay district.

This bar, once known as Tia Maria's Liquor Store, is a great place to meet locals and get a true taste of Puerto Rico.

This bar is recognized for serving the strongest drinks on the island, and it attracts large crowds of locals regularly.
Price
$-$$
Food and Drinks
Both Offered
Location
Av. de Diego 326
San Juan, Puerto Rico 00907
Contact
No Phone Number
Website
No Website
2. Oasis Tapas & Lounge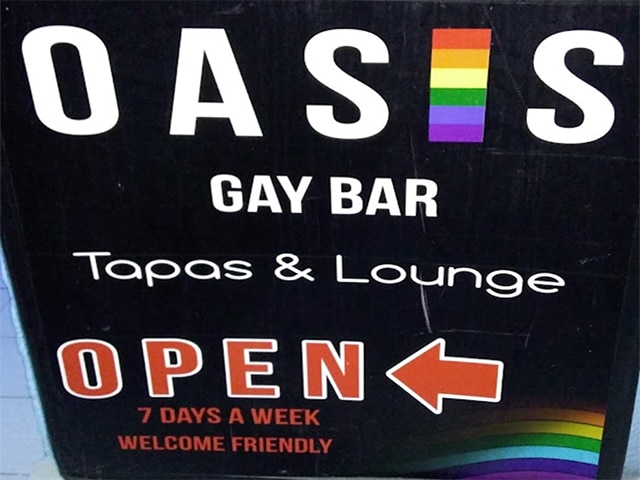 Oasis Tapas & Lounge is a popular gay bar in Puerto Rico's unofficial gay hub, Condado & Santurce.

Originally known as Splash Lounge, it is the ideal place to start your night out. It's open all day til late at night, with happy hour and go-go dancers headlining Monday nights.
| | |
| --- | --- |
| Price | $-$$ |
| Food and Drinks | Both Offered |
| Location | 6 Avenida Condado, 00907 San Juan, Puerto Rico, 00907 San Juan |
| Contact | 917-570-4787 |
| Website | No Website |
Gay-Friendly Activities & Attractions in Gay Puerto Rico
Gay Puerto Rico enjoys the same LGBTQ+ rights and protections as the rest of the United States, making it one of the Caribbean's most welcoming and LGBTQ+ friendly islands.

Gay Puerto Rico is known as the "Island of Enchantment" for a reason.

It's easy to fall in love with this island, where you can do everything from laying on the beach to zip-lining through the mountains; from enjoying your coffee to exploring museums and galleries.

There's no shortage of activities that you can enjoy throughout your stay. Here are some of the gay-friendly activities and attractions that you might want to check out during your stay on this island:
LGBT+ Romantic Getaways


1. Puerto Rico's Pride Parades


San Juan Pride, an annual Pride festival held the first weekend of June, is a weekend of parties, special events, and shows.

The gay bars along Calle Condado throw their parties and events, and the beach clubs around Condado Beach also throw after-parties.

The second Pride parade takes place on the second weekend of June, and rolls through the town of Boquerón in Cabo Rojo.


| | |
| --- | --- |
| Activities | Sightseeing, Afterparty Events |
| Location | San Juan, Puerto Rico |
| Price | Free |
| Availability | June |
| More Information | PRIDE Puerto Rico | COA |
2. Old San Juan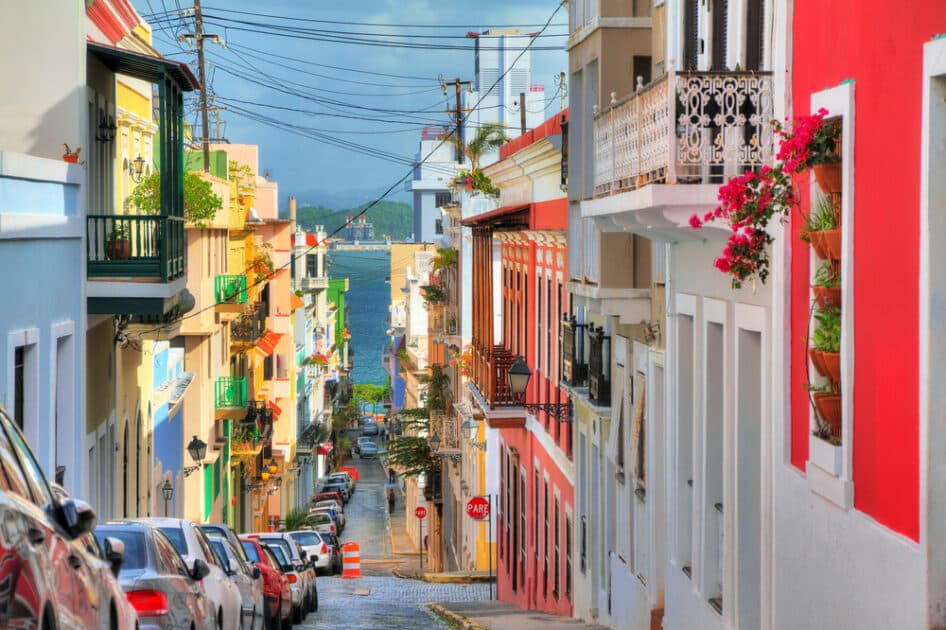 Wander through Old San Juan's blue cobblestone streets, where the elegance of the Old World meets the conveniences of modern living.

The magnificent fortresses, hued houses, stunning museums and galleries, and wonderful restaurants and bars will all leave you speechless.

Almost every weekend, the "Walled City" comes alive with festivities and cultural events, as well as concerts by local bands and traditional dance and music in the squares.

Everyone can have a good time in Old San Juan, whether they want to go sightseeing, dance, dine, drink, or even shop.




3. El Yunque Rainforest, Waterslide, Beach Dine, and Shop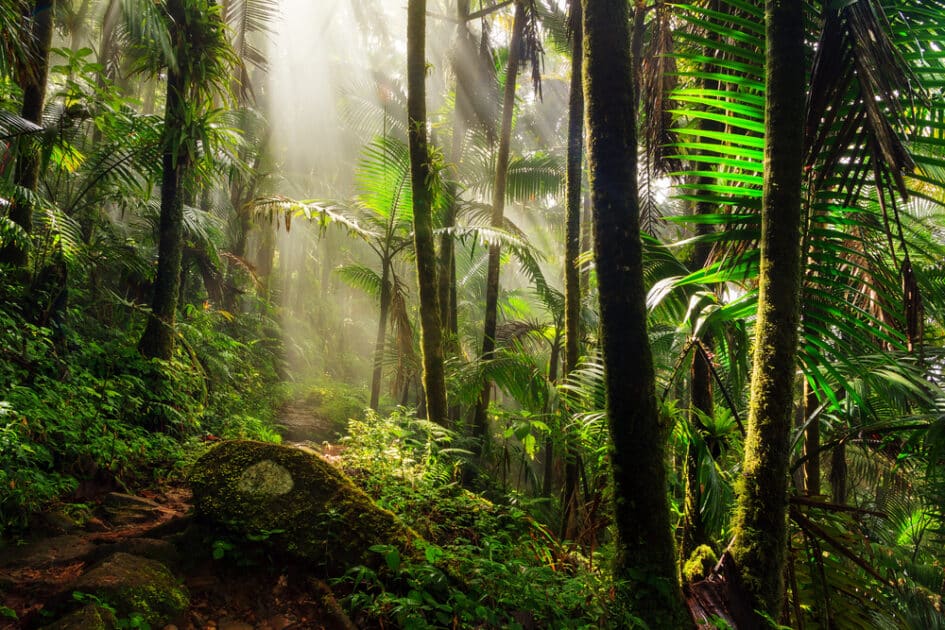 You might want to explore El Yunque and Luquillo like a local. Discover what makes Puerto Rico an enchanted island.

Upon entering El Yunque, you can have a moderate walk through the lush canopy and natural landscape, making your way to the calm waters of La Barrigona.

You will be able to swim, relax, or enjoy the breathtaking view of El Yunque. You can also enjoy a magnificent waterfall and a natural waterslide hidden on this island.


4. Bio Bay Kayak Tour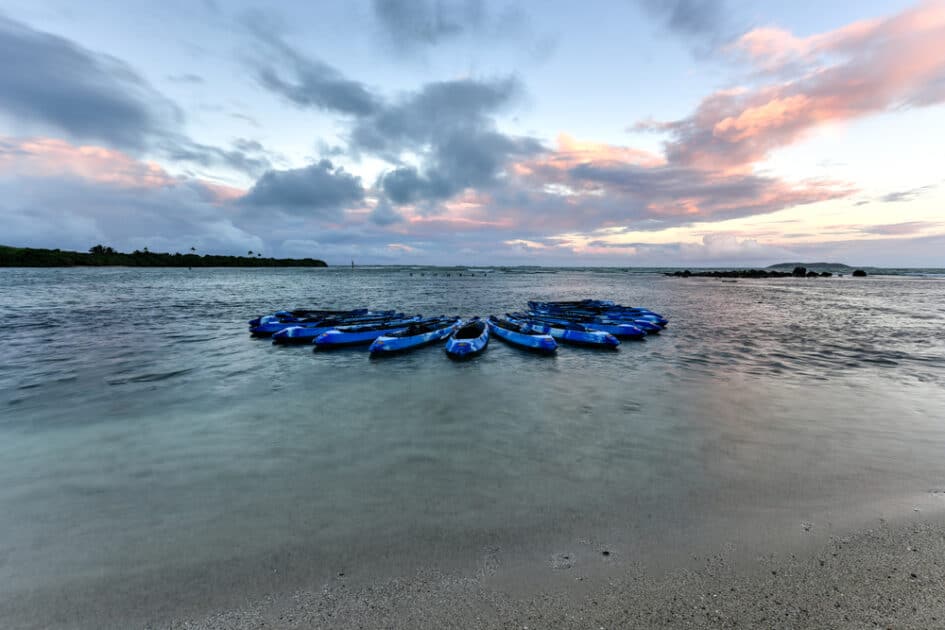 If you want to have a sparkling and unforgettable night, you might want to check out and try the Bio Bay Kayak Tour.

The tour takes you along a canal that runs through a nature reserve and is flanked by several types of mangroves. This shields you from high gusts and allows you to paddle freely in calm waters.

The coolest part of this excursion is seeing the 'Big Lagoon's' amazing shimmering water. This natural wonder is the result of tiny bioluminescent organisms known as 'pyrodiniums bahamenses'.

When you contact or move the water with your kayak, it emits blue-green light from the top to the bottom of the bay.


5. Bacardi Distillery Trip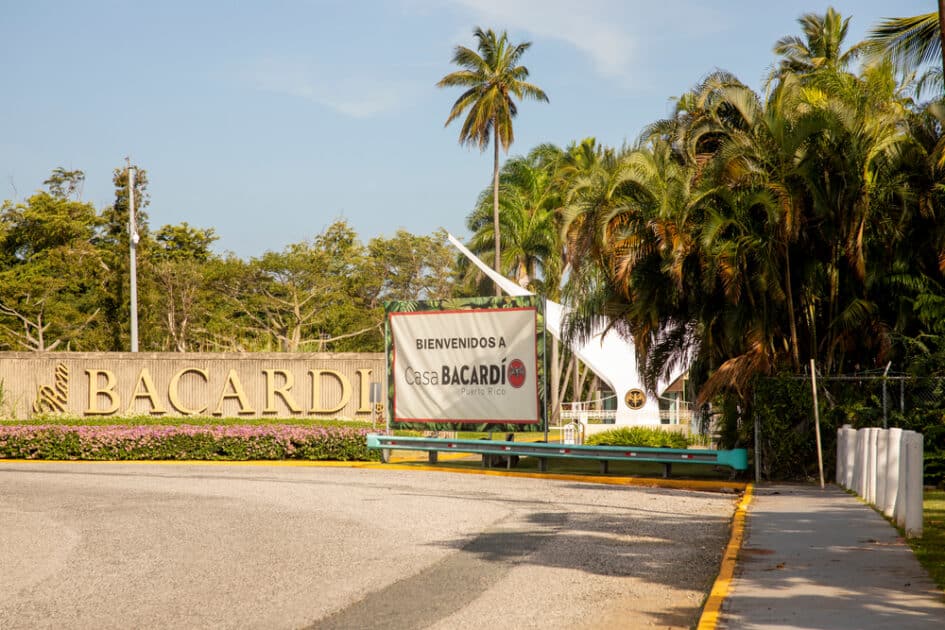 A visit to the Bacardi Distillery for a tour of the famous rum-making facility is a must.

A classic rum-tasting tour or a mixology-style event where you learn to prepare mojitos and piña coladas for only $75.



Puerto Rico is one

Where Can I Travel Without a Passport? 10 Destinations


Top 10 Things To do in Gay Puerto Rico


Old San Juan -The cobblestone alleyways of Puerto Rico's Old San Juan, adorned with vividly coloured Spanish colonial residences, invite aimless but inspiring wandering – but don't miss the neighbourhood's highlights. Old San Juan fascinates visitors at every turn, from the UNESCO World Heritage listed forts of Castillo San Felipe del Morro (El Morro) and Castillo San Cristobal to restaurants serving aromatic rice and fried plantains.


El Yunque National Park Tours – El Yunque National Park is the only tropical rainforest protected by the US Forest Service, as well as the island's largest environmental reserve.

The uncommon Puerto Rican parrot and the Coqui frog, whose characteristic croak provides El Yunque's soundtrack, live in the mist-wreathed Luquillo Mountains, where year-round precipitation supports lush, green landscapes and rich diversity of animal life.


Bioluminescent Bay Tour – On the island of Vieques, Bioluminescent Bay (also known as Mosquito Bay or Puerto Mosquito) is one of Puerto Rico's three bioluminescent bays. This bay is by far the brightest, making it a popular destination for nocturnal boat trips.

Pyrodinium bahamense dinoflagellates, small microorganisms that glow when touched, brighten the water.


Luquillo Beach – Luquillo Beach (Playa Luquillo), also known as Balneario Monserrate in Puerto Rico, is a serene crescent with coconut palm trees and a long expanse of powdery white sand.

The tranquil waters here are ideal for swimming, wading, kayaking, and other water sports, making it one of the island's best public beaches.


Icacos Island – Icacos Island (Cayo Icacos) is a small, deserted island in the Cordillera Keys Nature Reserve, about a 15-minute boat journey from the Puerto Rican municipality of Fajardo (Reserva Natural los Cayos de la Cordillera).

It is a popular day-trip destination for snorkeling and diving due to its white-sand beaches, pure waters, and colourful reefs.


Laguna Grande – Laguna Grande in Fajardo appears like any other bay along the tropical Puerto Rican coast during the day. The bioluminescent lagoon, however, lights fluorescently at night, courtesy of pyridinium bahamense, a minute plankton that thrives in the shallow Caribbean waters and glows when disturbed.


San Juan Gate Tour – San Juan Gate (Puerta de San Juan) was originally one of five city gates used to secure the city's streets from invaders, and each gate serves a different purpose.

Today, a very stunning way to enter and explore Puerto Rico's capital city is through this towering red and white doorway set into the city's encircling stonewall. Along the walkways leading to the historic old town, travellers passing through this historic gate will discover enthusiastic merchants selling traditional delicacies and ice-cold piragua.

On romantic strolls, ancient trees extend high into the sky, providing soothing shade. The attractiveness of this town is enhanced by narrow cobblestone lanes lined with restored Spanish colonial buildings and elegant balconies.


San Juan Cathedral – San Juan Cathedral (Catedral de San Juan Bautista) is one of the centrepieces of Old San Juan, having been built in 1521. This landmark in the heart of Old San Juan houses the second-oldest cathedral in the Americas, as well as an outstanding collection of religious and historical relics.

The church is still open for business, with services held every week.


Cueva Del Indio – To get to some of the most stunning views in the region, visitors must struggle over steep ledges, hazardous cliffs, and ancient wooden staircases.

These stunning caves, located 700 feet above the Puerto Rican landscape, are one of Arecibo's most famous attractions and provide a unique flavour of the Taino cultural past.

While the climb to the top is strenuous, the breathtaking views and ancient rock art is known as petroglyphs make the effort worthwhile. Relaxing beaches, gentler treks, and off-shore fishing are all feasible ways to spend an afternoon here for less-skilled visitors.


Pinones – A lovely boardwalk, stunning beaches, and an amazing local culinary scene are just a few of the reasons why a visit to Pinones is ideal for gringos looking for a true Puerto Rican experience. Rent bikes and cruise along the gorgeous coast, or venture off the beaten path to see the various ecosystems that line pathways down to shallow coasts.

The variety of plant life available is remarkable, whether it's sky-high palm trees or low-lying sea brush. Traditional island fare such as alcapuria, papa rellenas, and pinchos, as well as strong, cold cocktails, are popular with visitors.

Pinones is one of the top cuisine destinations in the world, with a variety of beachside kiosks serving unique regional specialties produced fresh to request.


How to get to Puerto Rico?
From Canada
There are few direct flights from Canada, with Air Canada providing the only nonstop service, which takes 4 hours and 35 minutes from Toronto. Flying through the United States broadens your options and significantly reduces your costs.
From the United Kingdom and Ireland
One of the main reasons for the island receiving only one to two percent of European tourists to the Caribbean is the lack of charter and direct flights between Europe and Puerto Rico.

With British Airways and Virgin Atlantic now offering seasonal direct flights to San Juan through Antigua, things are looking up.

Otherwise, you'll have to change planes at least once, usually in the United States, if you're flying from the United Kingdom or Ireland.

The cheapest flight from London to New York is normally with American Airlines, although travel websites will also show other combinations of British Airways and American carriers through Miami and Washington DC.
From the United States
There are numerous daily nonstop flights connecting Puerto Rico to locations around the United States, although the cheapest and most frequent departures are from "gateway" cities in the south and east, most notably Miami and New York (JFK and Newark).

Since San Juan is American Airlines' Caribbean hub, it's no surprise that the airline operates the most flights and has the cheapest pricing, however, all of the major US carriers, including Continental and Spirit Airlines, as well as US Airways, offer services.

Flying time is about 3 hours 45 minutes from New York, 2 hours 30 minutes from Miami, 4 hours 30 minutes from Chicago, and slightly over 4 hours from Dallas and Houston.

---
Featured Image: T photography/Shutterstock
Featured Image: eskystudio/Shutterstock
Featured Image: Dennis van de Water/Shutterstock
Featured Image: Felix Lipov/Shutterstock
Featured Image: karenfoleyphotography/Shutterstock