Gay Miami – The Gay Friendly Ultimate Travel Guide (Updated 2023)
Gay Miami – a coastal metropolis in Miami-Dade County in southeastern Florida. It is one of the most popular holiday destinations in the world, as well as the United States' largest and most well-known resort city.

Miami is a famous tourist destination for travelers from all over the world, including those from the United States. The city offers a diverse range of culture and cuisine, as well as pristine white beaches, colourful Art Deco hotels, and a thriving nightlife.

Miami has infinite entertainment to offer, whether you're a traveler or a long-time resident. Everyone comes to play in Miami. It is a lively and cosmopolitan city known for cruises, South Beach, Cuban food, gorgeous people, and wild clubs and parties. It's where you go to have a good time in the sun.

If you're traveling as a gay couple or as an individual, you're probably wondering if Miami is a decent destination to visit. There's nothing to worry about – Miami is a fantastic place to go!

Miami is one of the most popular holiday locations for LGBTQ+ travelers, with beautiful weather, beaches, and a thriving gay lifestyle. It also hosts one of the best White Party events in the world.

Greater Miami and Miami Beach are both welcoming to LGBTQ+ travelers, with annual gay festivals and a strong family-friendly queer scene.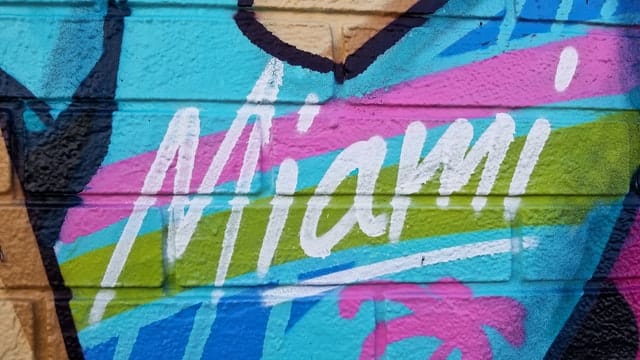 If you are thinking about going somewhere else you can try other Gay Travel Guides.

Remember to always check out the latest rules and restrictions before you leave.
Gay Miami – the Scene
Miami boasts one of the world's largest and most influential LGBTQ+ communities. Since the 1930s, there has been a gay nightlife culture in Miami.

It is now known as a gay mecca, with over 1 million LGBTQ+ visitors each year. The Miami area as a whole has long been gay-friendly, and the Miami-Dade Gay and Lesbian Chamber of Business is one of the few locales where the LGBTQ+ community has its very own chamber of commerce (MDGLCC).

The LGBTQ+ culture in Miami Beach is centred around the South Beach district. It is the South Atlantic's hub of LGBTQ+ culture and entertainment, with gay dance clubs, pubs, restaurants, and beaches dotting the gorgeous beachfront.

In Downtown Miami, you'll be surrounded by art galleries and museums for LGBTQ+ logicians, as well as iconic nightlife spots. If you enjoy the beach, go to the beach between 11th and 12th streets, which is known to be a popular gay hangout.

AxelBeach Miami and Hôtel Gaythering are two notable gay hotels in the area. In the evening, visit Twist, a South Beach gay nightlife staple, and Nathan's Bar, a newer addition.

You can also check out the must-see Palace Bar and Restaurant, which is most renowned for its crazy weekend drag brunches. Every April, Miami Beach Pride, a multi-day celebration and Miami's largest LGBTQ+ event, attracts tourists from all over the world.

Miami has a diverse range of neighbourhoods that will appeal to LGBTQ+ travellers of all ages. The Haus of YAS comedy act can be seen at the Villain Theatre in Little Haiti.

The Wynwood Walls outdoor museum and the Museum of Graffiti, both in nearby Wynwood, are home to art galleries and colourful street art. Don't miss the "Double Stubble" party at Gramps Pub on Thursday nights, which features stunning LGBTQ+ performances.

Every year, the neighbourhood holds Wynwood Pride, an LGBTQ+ music and entertainment festival that draws thousands of people. The annual Gay8 Festival, a celebration that is considered the largest Hispanic LGBTQ+ festival in the country, also takes place in Little Havana ( Center of Cuban food and culture).
Is Miami Safe?
Miami is a safe city in general, especially for travellers. There are some risky spots to avoid, but they are far from the usual tourist attractions.

Pickpocketing and purse snatching are the most common sorts of petty crimes on Miami Beach and in the congested downtown streets. Use common sense and safety precautions such as holding handbags tightly and carrying them carefully, putting wallets in front pockets, and being aware of one's surroundings.

This should be sufficient to prevent these occurrences. You should be cautious near tourist attractions because pickpockets are common there, and keep an eye out for suspicious activity wherever you go.
Best Time to Visit Miami
As you plan your trip, you must be wondering when the best time to visit Miami is? Between March and May is the best time to visit Miami.

While the rest of the country is still defrosting, you'll be able to enjoy daily pleasant weather and temperatures at non-peak rates during these months.

Due to the year-round tropical environment and partying habits of neighbouring Miami Beach, tourists from the northern states, South America, Europe, Asia, and everywhere else flock to the city. When exceptional events occur, the city experiences an influx of guests, and you can expect higher accommodation rates.

If you want to keep your travel expenses as low as possible, you should come between June and August. Miami's summer temperatures are often hot and humid. In addition, the dreadful hurricane season has begun.

Whether there is a storm or not, this is Miami's rainy season. On the bright side, hotel rates will be at an all-time low.
Best Gay-Friendly Hotels in Gay Miami
Here are some Gay-Friendly Hotels to try during your visit to Gay Miami:
AxelBeach Miami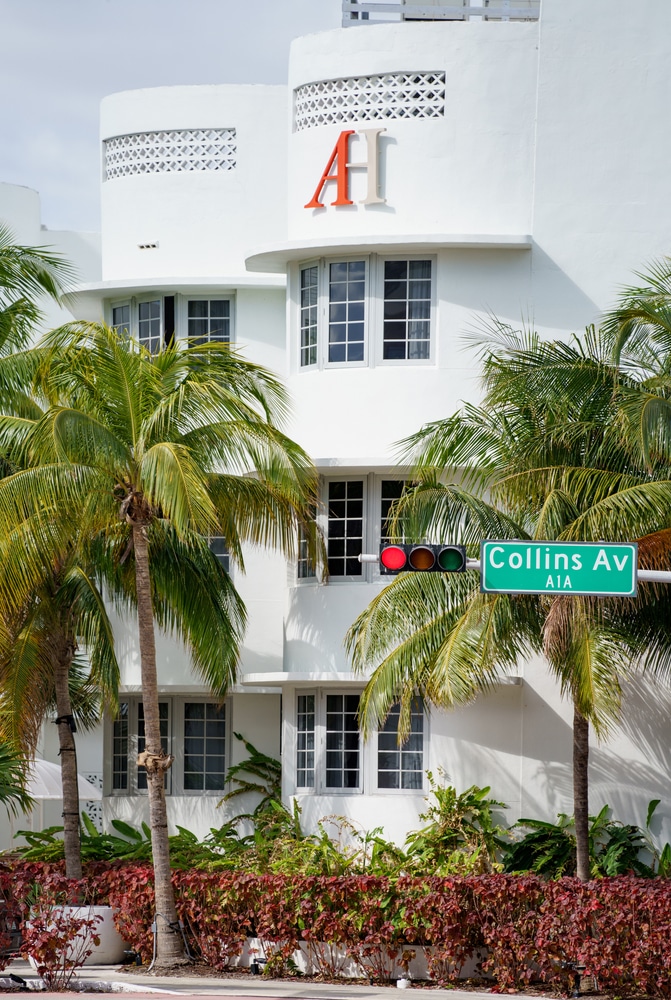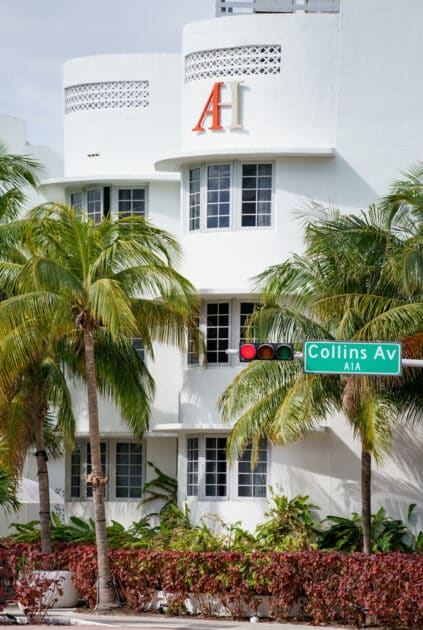 AxelBeach Miami is the latest addition to the renowned Axel Hotels group. This tropical oasis combines modern amenities with classic Art Deco charm, offering 160 stylishly renovated rooms, a terrace pool, and a Sky Bar surrounded by swaying palms.
Enjoy Barcelona-inspired tapas at the poolside restaurant or work up a sweat in the state-of-the-art gym. And when you're ready for some fun, hit the dancefloor at the outdoor Ground Bar. Plus, with South Beach just a stone's throw away, you'll have easy access to all the excitement and energy of this vibrant city.
Activities
Swimming
Spa
Bar
Restaurant
Fitness Center
Price
$$$
Location
Axel Beach Miami
1500 Collins Ave
Miami Beach, FL 33139
Contact
Call +1 (786) 628 6362
miami@axelhotels.com
Blanc Kara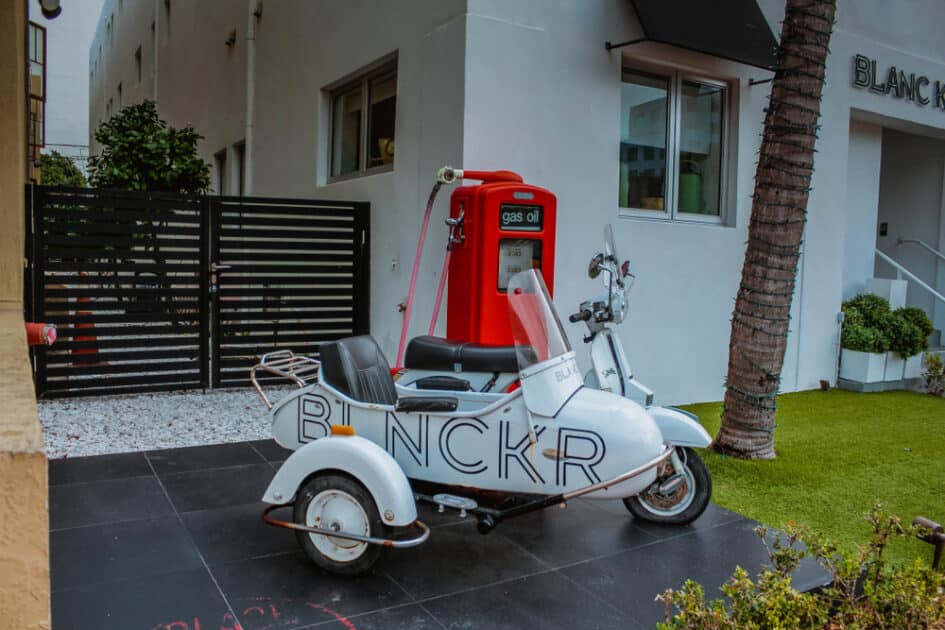 Experience the ultimate LGBTQ+ friendly getaway at Blanc Kara, a boutique hotel nestled in the heart of South Beach.
This stunning property offers 25 beautifully designed suites, each with its own unique personality and style. From the warm and friendly welcome at check-in to the thoughtful amenities and personalized service, every detail is designed to make your stay comfortable and enjoyable.
Relax by the pool, explore the vibrant nightlife of South Beach, or simply enjoy the company of your loved ones in this welcoming and inclusive environment. Blanc Kara is the perfect destination for your next LGBTQ+-friendly escape.
Activities
Bar
Restaurant
Coffee shop
Gift Shop
Breakfast Buffet
Price
$$$
Location
Blanc Kara
205 Collins Ave, Miami Beach
Contact
Call 786-216-7205
reservations@blanckara.com
Dream South Beach Miami
With 107 stylishly designed guest rooms and suites, each with its own unique personality, you'll feel right at home. Lounge by the rooftop pool at Highbar with a cocktail in hand, indulge in delicious Mexican-inspired cuisine at the on-site restaurant Naked Taco and dance the night away with the hotel's prime location.
At Dream South Beach Miami, you're free to be yourself and celebrate who you are. Whether you're there to party, relax, or explore the city, you'll find everything you need for an unforgettable stay.
Activities
Pool
Bar
Lounge
Rooftop Terrace
Poolside Bar
Rooftop Bar
Concierge
Infinity pool
Heated Pool
Restaurant
Price
$$$
Location
Dream South Beach Miami
1111 Collins Avenue Miami Beach
Contact
Call 305 673-4747
reservations@dreamsouthbeach.com
Eden Roc Miami Beach Resort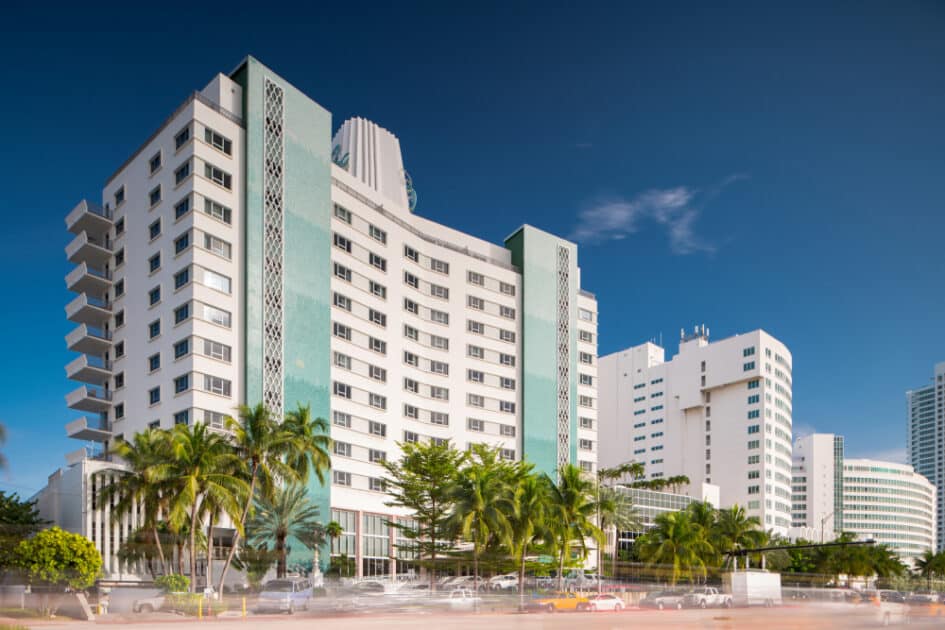 This premier resort boasts unparalleled oceanfront views and easy access to Miami Beach's top attractions. From elegant accommodations to world-class dining and spa options, every detail has been thoughtfully designed to provide guests with the ultimate relaxation experience.
What sets Eden Roc Miami Beach Resort apart is its commitment to exceptional service, creating an atmosphere of warmth, comfort, and inclusivity.
Whether you're seeking a romantic getaway or a family vacation, the resort's staff will make sure that every guest feels welcome and valued. With luxurious amenities and a prime location, the Eden Roc Miami Beach Resort is the perfect destination for an unforgettable vacation.
Activities
Hot Tub/Spa
Fitness Center
Lounge/Bar
Beachfront
Pool
Restaurant
Concierge
Price
$$$
Location
Eden Roc Miami Beach Resort
4525 Collins Ave, Miami Beach, FL
Contact
Call 305-704-7605
Reservations@nobuedenroc.com
Hôtel Gaythering
Located in the heart of Miami Beach's gayborhood, this unique property offers a welcoming and inclusive environment for all.
With 23 beautifully appointed guest rooms and suites, guests can enjoy a variety of amenities, including a sauna, gym, and library lounge.
What really sets Hôtel Gaythering apart is its vibrant social scene, with weekly trivia nights, karaoke parties, and monthly drag queen bingo. Plus, with its prime location just steps away from the beach, shopping, dining, and nightlife of South Beach, you'll have everything you need for a unique and fun getaway.
Activities
Sauna
Bar
Restaurant
Price
$$$
Location
Hotel Gaythering
1409 Lincoln Road, Miami Beach, FL
Contact
Call +1 786-284-1176
info@gaythering.com
Gay-Friendly Dining in Miami
From Little Havana to Little Haiti, Miami is a diverse feast of flavours. Multiculturalism is integrated into many parts of life in the Magic City, and culinary destinations' menus reflect this.

Some of these extraordinary dishes have proven popular among locals and have contributed to the development of Miami's distinct culture.

From modest snacks to delicacies that grab the hearts, souls, and stomachs of the city's residents, practically every area has something to offer, whether it's a corner snack restaurant or a fine dining establishment.

Here are several listings of gay-friendly restaurants in the city that you might want to visit during your stay:
1. Versailles Restaurant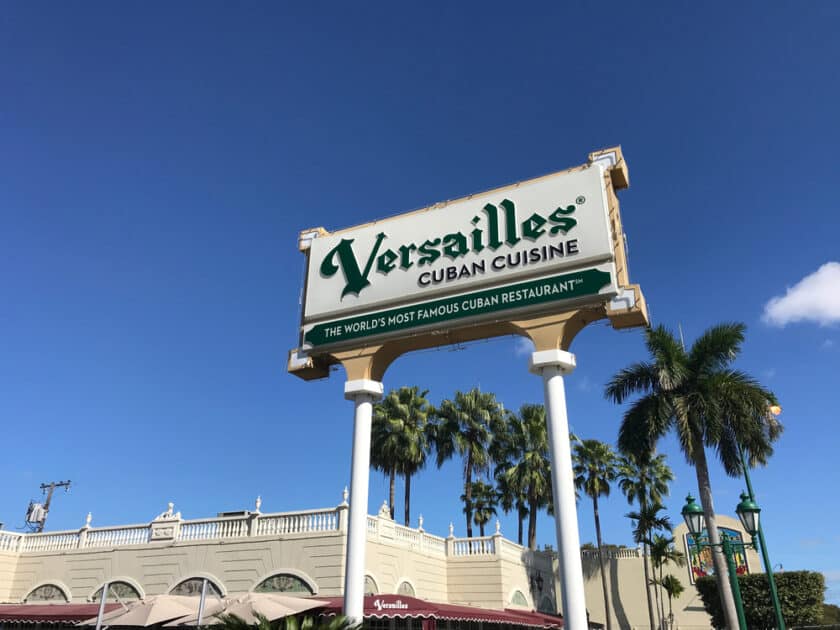 For four decades, Versailles Restaurant, The World's Most Famous Cuban Restaurant, has served delectable Cuban cuisine and culture to the South Florida community and visitors from all over the world.

Versailles rapidly became the gathering spot and unofficial town square for Miami's Cuban exiles after it opened its doors in 1971.
Types of Food
Soups and Salads, Seafood and Fish, Desserts, Chicken, Pork
Price
$$-$$$
Location
3555 Southwest 8th Street
Miami, Florida
2. Blue Matisse
The Chef's Table concept at Blue Matisse is full of exotic flavours and sensations. It will take you on a culinary adventure every day of the week, with new menu selections added every month.

Live interactive stations, hand-carved meats, ceviches, tiraditos, salads, hot and cold tapas, specialty entrees, and bite-size desserts are all available at the restaurant's chef tables.
| | |
| --- | --- |
| Types of Food | Soups and Salads, Seafood and Fish, Desserts, Chicken, Pork, Grills, Pasta |
| Price | $-$$ |
| Location | 2505 Northwest 87 Avenue, Doral, FL |
3. Taco Rico
Taco Rico has been refining their exceptional menu creations since its start in 1992. The many awards that southwest cuisine has received over the years attest to the quality of its flavours.

Taco Rico is more than just a taco restaurant. Burritos, quesadillas, enchiladas, fajitas, chimichangas, salads, a range of lunch and dinner specials, a dedicated salsa bar, and vegan options are all on the menu. There's something for everyone at Taco Rico.

They seek to be quick, convenient, and, most importantly, tasty.
| | |
| --- | --- |
| Types of Food | Burritos, Quesadillas, Enchiladas, Fajitas, Chimichangas, Salads, and Vegetables |
| Price | $-$$ |
| Location | 409 15th St, Miami Beach, FL |
4. Manolo's 

Manolo's is one of Miami's most popular eating spots. Although it is not a fine dining restaurant, it is a great place to visit with friends, family, or by yourself at any time.

Breakfasts, sandwiches, brick oven pizzas, burgers, empanadas, and freshly baked pastries are just a few of the items on the menu.
| | |
| --- | --- |
| Types of Food | Burger, Sandwiches, Steak, Salads |
| Price | $-$$ |
| Location | 7300 Collins Av. Miami Beach, FL |
5. Morton's The Steakhouse
Morton's The Steakhouse is the go-to dining destination for locals, as it is perfectly located between the up-and-coming city of Aventura and Miami's most gorgeous beaches.

The exhibition-style kitchen, timeless main dining area, and lively Bar 12-21 make this venue the ideal place to indulge and celebrate. In their modern dining room, guests can enjoy a delicious bottle of wine, a bite from the Bar Bites menu, or an excellent dinner.

Private dining spaces are available at Morton's for both business and pleasure special events. With an extensive wine collection, prime-aged meat, luscious seafood, signature steakhouse sides, and a delectable array of desserts, Morton's located in North Miami Beach upholds the classic Morton's dining experience.
| | |
| --- | --- |
| Types of Food | Soups and Salads, Steaks and Chops, Kinds of seafood, |
| Price | $-$$ |
| Location | 7300 Collins Av. Miami Beach, FL |
Gay-Friendly Bars and Clubs in Miami
Greater Miami and Miami Beach are world-class nightlife hotspots with something for everyone. You'll find it under the moonlight here, whether you want to check out nightclubs in South Beach, go salsa dancing in Little Havana, or relax in an artistic cocktail bar.

Greater Miami and Miami Beach are among the top places in the world to experience spectacular nightlife. A whole new world emerges after the sun sets and the stars shine.

Here are some lists of gay-friendly bars and clubs you might want to check out and enjoy a night out while you're in town:
1. Twist
Twist is a very popular gay bar and nightclub in South Beach, Miami. It features seven bars and three dance floors, allowing you to dance the night away – or even go bar-hopping while staying in the same place.

Their happy hour is until 9 p.m. "Never A Cover, Always A Groove" is their motto, which means there are no cover charges.

TWIST also conducts themed events with drag shows regularly.
2. Palace Bar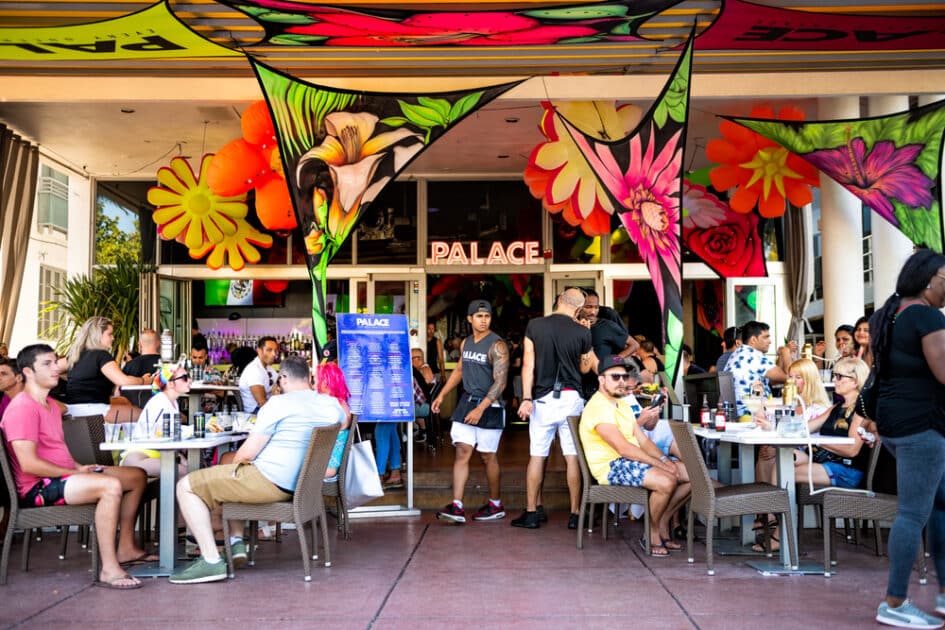 Palace Bar is a popular gay bar on Ocean Drive and Miami's number one LGBTQ+ destination. Palace Bar is a terrific location to have a drink, see drag queens, and hot males.

It's a no-brainer, especially because Palace is located across the street from the beach and offers half-priced cocktails during happy hour. Weekend brunches are a local and tourist favourite, but you must make a reservation well in advance. 
3. Gramps
Gramps is a bar in Miami's Wynwood neighbourhood that offers live music, stand-up comedy, DJs, cultural events, and merriment. Gramps isn't exclusively a gay club, but it does hold LGBTQ+ events regularly.

Double Stubble is one of Miami's top drag shows, and it's held every week. Here you'll find some of Miami's wildest drag shows.
| | |
| --- | --- |
| Price | $-$$ |
| Food and Drinks | Both Offered |
| Location | 176 NW 24th St, Miami, FL |
| Contact | 305 531-7234 |
| Website | No Website |
4. Bar Gaythering at Hotel Gaythering
The hotel's self-proclaimed gayest bar, Bar Gaythering. Cocktails with a twist served in a hotel setting complete with games, lounge, and high-top seating, and eccentric design features can be found in this bar.

Happy hour is from 5 to 7 p.m. daily. The bar also hosts unique events most nights. Every Monday night, Hôtel Gaythering's bar organises karaoke with local queen CC Glitzer.
5. Nathan's Bar
Since 2020, Nathan's Bar has been offering up an atmosphere of inclusiveness for everybody in the heart of Miami Beach. They have an outdoor terrace as well as six private indoor spaces where travellers and adventurers can share a drink.

Sex in the City, Friends, Big Bang Theory, Black-ish, The Brady Bunch, and Stranger Things are just a few of the fantastic themed areas. At Nathan's Bar, you're sure to have a good time.
| | |
| --- | --- |
| Price | $-$$ |
| Food and Drinks | Both Offered |
| Location | 1216 Washington Ave, Miami Beach, FL |
| Contact | 786 284-1176 |
| Website | No Website |
Gay-Friendly Activities and Attractions in Miami
Miami is known for its sun and surf, inspiring visions of neon lights, beach umbrellas, and streets lined with convertibles.

While it's true that many visitors come to Miami to sunbathe in the sun and party at night, the reality is that there's something for everyone in this Florida city. The environment of this south Florida metropolis also includes fine cuisine, ballet, art deco museums, and a lot more.

Here are some gay-friendly activities and attractions that you might want to check out during your visit to Miami:
1. Adrenaline Junkie Ride
It will depart from Sea Isle Marina and proceed directly to the playground for an adrenaline-filled journey. You can experience a rush of adrenaline with 360 twists, 180 spins, drifting, and high-speed cruising.

It will then travel to Memorial Island, Star Island, and Hibiscus Island for another jolt of adrenaline and a different view of the homes of the rich and famous. The journey concludes with a high-speed return to Sea Isle Marina.
| | |
| --- | --- |
| Activities | Water Sports, Jet Ski, Banana Vessel, Speedboat |
| Location | Collins Ave. Miami Beach, FL |
| Price | $$-$$$ |
| Availability | All Year Round |
2. Thriller Speedboat Ride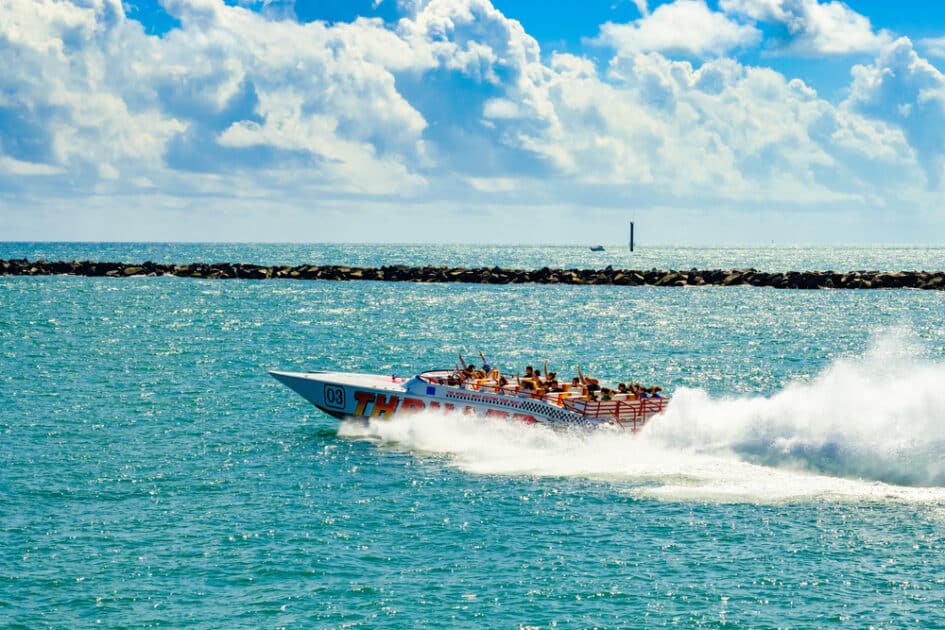 Begin your water adventure by speeding through the Port of Miami. Cruise around Biscayne Bay, past Monument Island, and on to Star Island for a gentler ride, seeing celebrity mansions like Shaquille O'Neil's, Elizabeth Taylor's, and Ricky Martin's.

The cost for each individual begins at $45.
| | |
| --- | --- |
| Activities | Speedboat Tour, Sightseeing |
| Location | 401 Biscayne Blvd, Miami, FL |
| Price | $$ |
| Availability | All Year Round |
3. Tidal Cove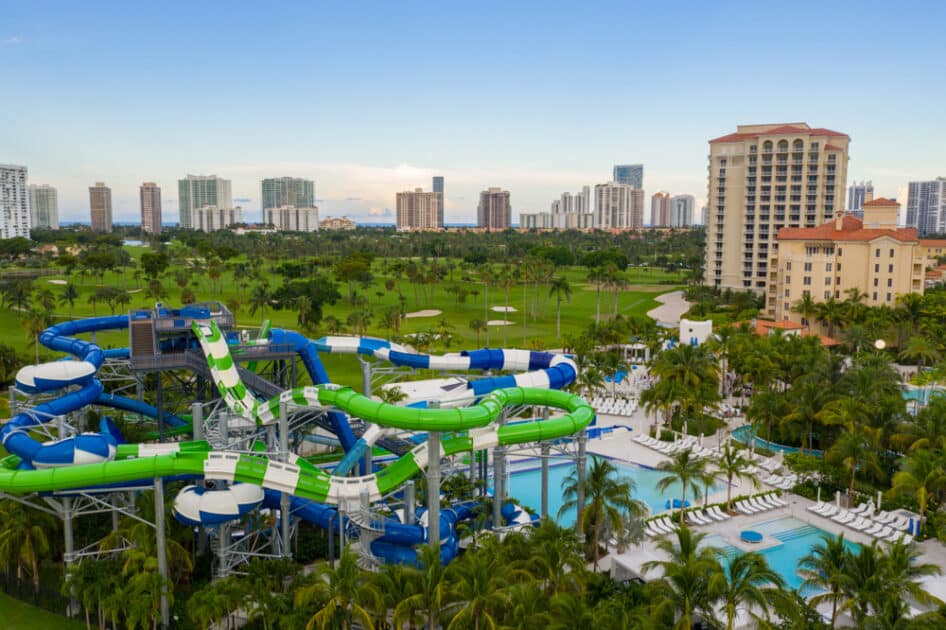 When you make a splash at Tidal Cove, you can expect daring dips, turns, and twisting spirals. Take a gravity-defying raft ride, experience the thrill of a free-fall loop, and stroll down a lazy river.

You'll find it at Tidal Cove, whether you're relaxing beneath one of 25 airy cabanas, having a bite to eat, or experiencing the ride of your life.

The cost is $95 on Saturdays and Sundays and $250 on weekdays.
| | |
| --- | --- |
| Activities | Swimming, Waterpark Rides |
| Location | 19999 West Country Club Drive, Aventura, FL |
| Price | $$-$$$ |
| Availability | All Year Round |
4. Miami Parasail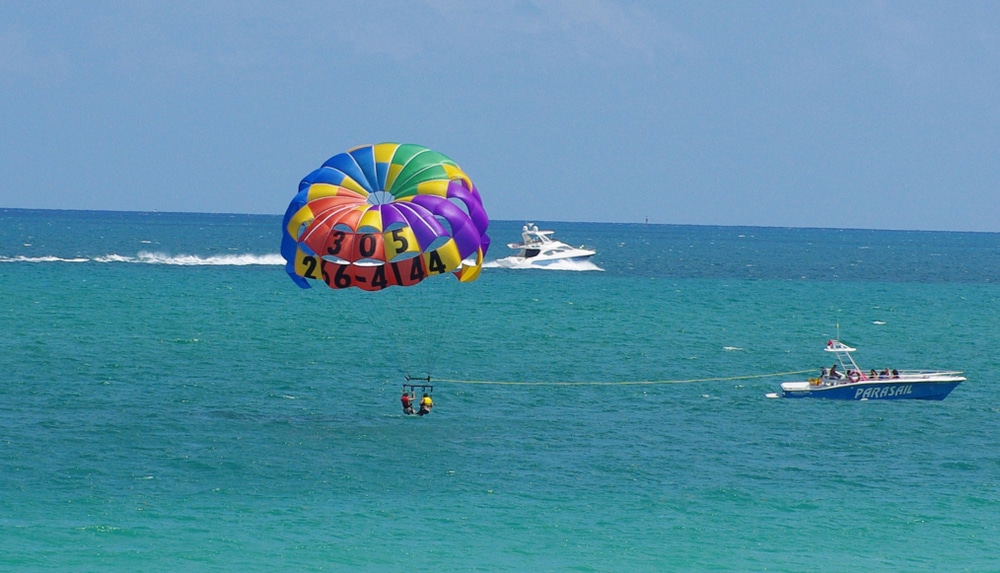 With this thrilling parasailing excursion, you can add an extreme twist to your Miami sightseeing. Take off from the boat for a spectacular flight 400 feet above the sea with 360-degree views of Miami's skyline.

Choose whether to take a dip in the water or land immediately back on the boat without getting wet before returning to the boat.

The cost starts at $1299 per person.
| | |
| --- | --- |
| Activities | Swimming, Parasail |
| Location | 3400 Pan American Dr, Miami, FL |
| Price | $$-$$$ |
| Availability | All Year Round |
5. Jetski Ride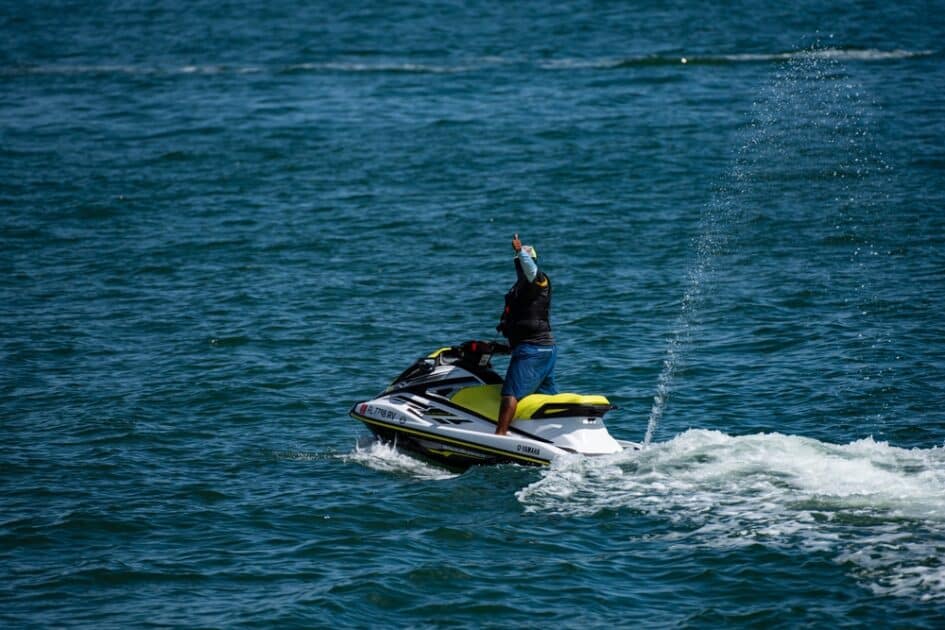 Enjoy the freedom of riding your Jet Ski through Miami's beautiful waters! For all levels of experience, the new Sea-Doo GTI 130 pro is quick and incredibly stable.

Miami Water sports operates in a peaceful, protected harbour, which is ideal for honing your skills and improving your riding abilities. Your expert Jet Ski instructors will demonstrate how to operate the equipment as well as the necessary safety precautions.

They will then lead you to a large designated riding area where you are free to go as fast as you like as long as you keep inside the borders.

It costs $65 for a 30-minute jet ski ride and $99 for a one-hour jet ski ride.
| | |
| --- | --- |
| Activities | Jetski riding, Sightseeing |
| Location | Bayside Marina, Miami Beach, FL |
| Price | $$-$$$ |
| Availability | All Year Round |
6. Paddle Sports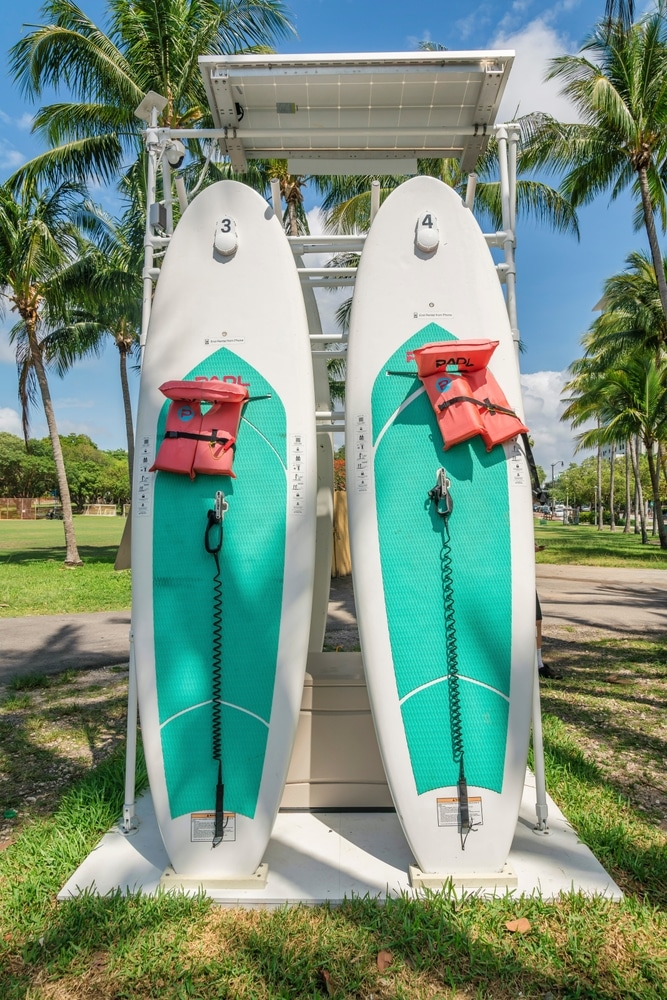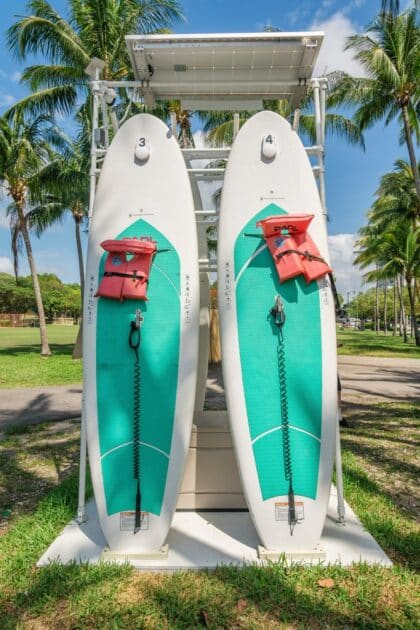 With this smooth and soothing experience, you may discover Miami's natural beauty. As you sail through small tropical islands, look for wildlife such as manatees, sea turtles, spotted eagle rays, and dolphins.

Paddle to one of the neighbouring Picnic Islands and disembark your kayak or paddle board for a nature ramble on one of the gorgeous secluded beaches. It's a haven from the hustle and bustle of city life in Miami, yet it's only a few minutes from the city's centre.

The cost begins at $35.
| | |
| --- | --- |
| Activities | Kayaking, Paddling |
| Location | Bayside Marina, Miami Beach, FL |
| Price | $$-$$$ |
| Availability | All Year Round |
7. Windsurfing
There's no better place than Miami to experience the excitement of sailing. The city's protected harbours and warm tropical waters are well-known.

This gorgeous Biscayne Bay sailing expedition is ideal for both experienced sailors and those learning to sail. The bay is protected from the rough seas by a series of shallow flats.

You can choose between two boat types: the HobieWave and the Hobie Getaway. The HobieWave is a small catamaran that is ideal for beginners due to its ease of maneuverability, whereas the HobieGetaway is a longer catamaran that is a much better boat overall for anyone with a basic understanding of sailing.

The cost starts at $60 per person.
| | |
| --- | --- |
| Activities | Windsurfing |
| Location | Key Biscayne, Miami Beach, FL |
| Price | $$ |
| Availability | All Year Round |
---
Featured Image: Felix Mizioznikov/Shutterstock
Featured Image: JuliaDorian/Shutterstock
Featured Image: america365/Shutterstock
Featured Image: Andriy Blokhin/Shutterstock
Featured Image: Fotoluminate LLC/Shutterstock
Featured Iamge: Dominick Corrado/Shutterstock
Featured Image: Tverdokhlib/Shutterstock
Featured Image: Jason Finn/Shutterstock
Featured Image: meunierd/Shutterstock