Gay London – the capital and largest city in England and the United Kingdom. The city has an estimated population of 8 million people, making it Europe's second-largest metropolis.

It is located in southeastern England, extending across the River Thames and 50 miles upstream from its estuary on the North Sea. Gay London is rich in history, with medieval and Victorian structures merging with a thriving modern world.

The Tower of London and Westminster are surrounded by local taverns and markets. It's a place where travellers can visit through time and, when they're tired, they can grab a "cuppa" tea, as locals do.

The arts, theatre, and music scenes in Gay London are vibrant. Just keep in mind that some countless world-famous bands and musicians originated from Gay London, such as the Rolling Stones, Queen with Freddie Mercury, Coldplay, the Spice Girls, The Who, The Sex Pistols, Culture Club, and a lot more.

Punk rock is a music genre that has also originated from Gay London.

It's easy to see why Gay London consistently ranks first among the greatest LGBTQ+ destinations.

The city provides infinite possibilities, from the bustling pubs and restaurants of Soho, the city's gay stronghold, to Vauxhall's iconic party scene and the East End's trendy hangouts.

You will enjoy your stay and have a blast in this city. You can find cafes, bars, shops and a lot more in the Soho district of Central London, mainly in the area around Old Compton Street.

Whatever your interests are, there's a place in Gay London that can gratify them.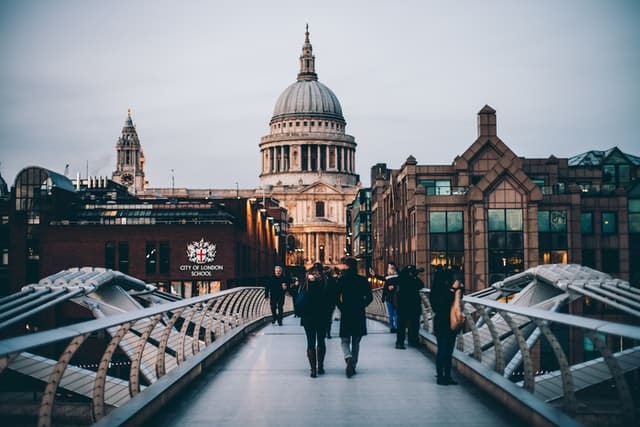 If you are thinking about going somewhere else you can try other Gay Travel Guides.


Remember to always check out the latest rules and restrictions before you leave.
Gay Scene in London
There is no other metropolis that compares to Gay London in terms of diversity. The city has one of the highest numbers of Grindr users in the world, making it one of the gayest cities. 

If you're part of the LGBTQ+ community, you'll find that there's more action here than anywhere else. Many partygoers frequent themselves into the massive party places in Vauxhall's railway arches or the trendy East End clubs.

Not to mention the various traditional gay bars and neighbourhood clubs strewn across Gay London.


Soho is an area in the City of Westminster in London's West End.

Since the 19th century, it has been one of the capital's prominent entertainment districts, and now, it is also considered the main gay district in the city. Soho connects four underground stations, such as Tottenham Court Road, Piccadilly Circus, Oxford Circus, and Leicester Square.

All of the gay action takes place on Old Compton Street, which is located in the heart of the city. There are countless gay bars and gay clubs in the area, as well as many shops and fabulous restaurants.

Some gay pubs in Soho are open during the day, while the famous G-A-Y Late is open till the wee hours of the morning.

From young, international LGBTQ+ travellers and buddies enjoying cheap cocktails at G-A-Y Bar to regular locals at Comptons of Soho, which is a great old gay bar that's been around for almost 30 years, it seems that everyone under the rainbow gravitates to this vibrant area and you will for sure have a gay old time in Soho round the clock.


You might also find yourself in Vauxhall. It has a significantly longer gay history than Soho and even the entire West End, and it has just as many pubs, clubs, and cocktail bars.

Despite all of this, Vauxhall comes second. It's popular with gays who want to cruise and party all night, much like New York's downtown area. Vauxhall is packed with after-hours and after-after-hours clubs where you can enjoy a night out.


You can also go to Camden Lock, which can be found a short walk north of Soho. Camden is a great blend of Soho and Vauxhall, although it caters to the young and active.

It's filled with students, artists, and young folks, making a magnificent mess of noise and fun. The gay-friendly atmosphere is especially obvious in places like Electric, Proud, and the Block Bar in Camden.

Every weekend in Camden, young gay emo-style scenesters shop at vintage clothing shops and hang out merely to be seen.

Wherever you go, London has a lot to offer that will satisfy your stay in this lovely city.
Is Gay London Safe? 
Regardless of where you are from, Gay London is the top tourist destination that everyone wants to visit at least once in their lives.

It is a global centre for music, culture, universities, fashion, business, and finance, as well as the place to visit if you are looking for new experiences and a different perspective on Europe.

While it is a relatively safe city, it should be noted that it is highly packed with tourists, making it an ideal location for pickpockets and con artists.

As aforementioned, Gay London is considered a generally safe city. Even though some areas should be avoided, most parts of the city are safe to travel to, and your trip should go seamlessly if you practice being vigilant and cautious.
When to Visit Gay London?
You must be thinking about when is the best time to visit Gay London. From March to May is the ideal time to visit London since the weather is moderate and the city's parks are lush and blossoming.

Late spring and summer, on the other hand, are peak tourist seasons, and hotel and airfare prices reflect this accordingly. If you want to keep the cost of travel as low as possible, visit Gay London during the fall and winter seasons.

You'll have a better chance of finding cheap flights and accommodations, but keep in mind that you may also encounter chilly temperatures.

Expect the streets to be crowded with both local and international tourists during December in Gay London, as it is a very popular city to visit during the holidays.

Do not forget to also bring an umbrella with you no matter when you go, Gay London is known for having misty days and showers throughout the year. Another thing to keep in mind is that in Gay London, avoiding crowds is practically impossible.

Gay London is not only one of the largest cities in Europe, but it is also one of the most popular tourist destinations in the world, so no matter when you visit, you will undoubtedly encounter a large number of people.


Gay-Friendly Activities and Attractions in Gay London
1. The View from The Shard
With views spanning up to 40 miles, soar far above London and take in the city's famed skyline from a new viewpoint (64 km).

From The View from The Shard's observation deck, which is 800 feet (244 meters) above western Europe's highest structure, you can see the London Eye, St Paul's Cathedral, and Wembley Stadium.

The price starts at £45.00.
2. The London Eye
Climb aboard one of the London Eye's 32 glass capsules for breathtaking views of some of the city's most famous landmarks. As the capsule slowly rotates over the Thames, you and your partner can enjoy and take in breathtaking 360-degree views.

The price starts at £24.50.
3. Hop-on Hop-off Bus Tour
A hop-on, a hop-off bus tour is a great way to make the most of your trip to London. You may see iconic places and jump on and off sightseeing buses as frequently as you wish.

Buckingham Palace, the London Eye, and St. Paul's Cathedral are among the famous sights you'll see along the way.

The cost begins at £28.00.
4. Emirates Airline Cable Car
Glide far above the Thames on the Emirates Air Line cable car, which departs every 30 seconds from the Greenwich Peninsula and the Royal Docks and offers breathtaking views of the city.

On a five-to ten-minute trip, depending on the time of day, you can see the attractions by day or admire the city as it twinkles at night.

The cost begins at £8.00.
Gay-Friendly Dining in Gay London
London today has an astounding number of award-winning restaurants and chefs who have earned critical praise.

With its world-class restaurants, multicultural food scene, lively markets, street food, pop-ups, and supper clubs, the city has risen to the top of the heap of the world's great gastronomic capitals.

Here are some of the lists of gay-friendly dining in London:
1. Balan's Soho Society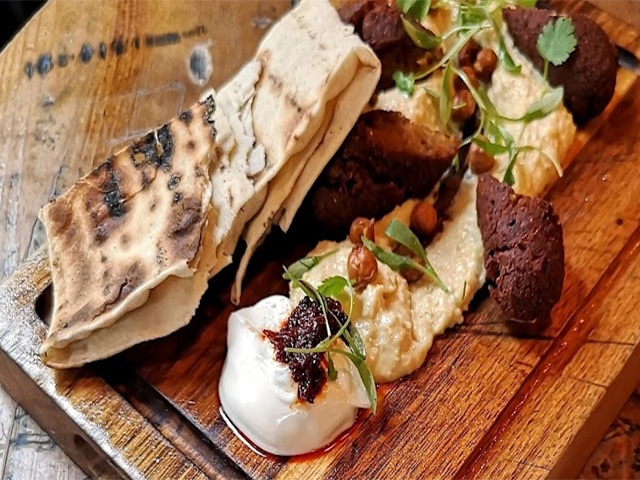 This restaurant, which is located on Old Compton Street, first opened its doors in 1987.

Balans is open 24 hours a day and serves breakfast, lunch, and dinner. It is larger on the inside than the front entrance would lead you to believe.

Along with its popular all-day brunch menu, it offers trendy dishes inspired by places all around the world.
2. Wagamama Soho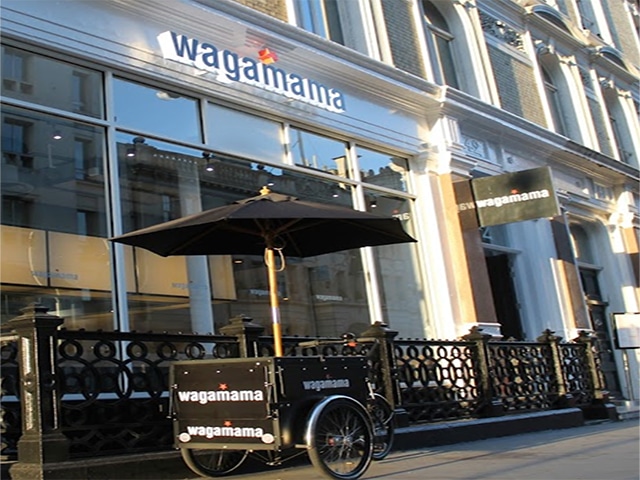 Wagamama's first location, near the British Museum in Central London, began in 1992 and was an instant hit.

It is now a Japanese restaurant chain with locations around the UK and around the world, known for its healthy cuisine and modern, minimalistic interior design.

The Soho branch of Wagamama draws a health-conscious gay clientele due to its proximity to the gay town in Soho.

There's a good chance you'll see some of the guys from last night's party here.
3. Randall and Aubin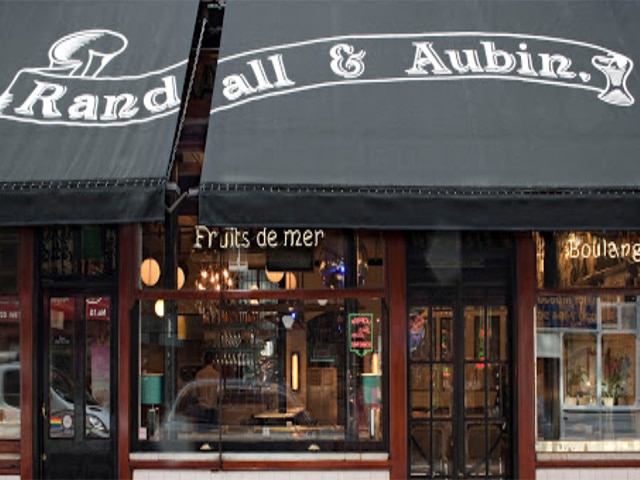 Randall & Aubin is a popular champagne and oyster bar that specialises in seafood, notably an amazing seafood platter.

It was formerly a butcher's, and the white tiling on the floor remains. The ambiance is fantastic, warm, and inviting.

At Randall & Aubin, you may have a great time and meet new people.
4. Tayyabs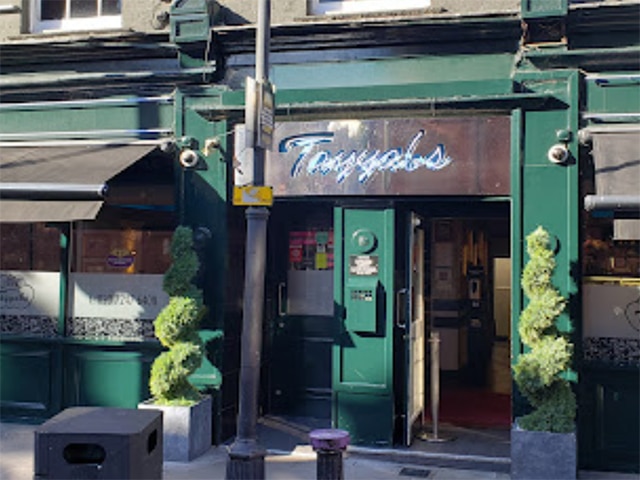 This family-run restaurant in ancient Whitechapel was founded by Mohammad Tayyab over 30 years ago and has grown in size and renown since then.

It serves delectable Indian cuisine and is also the largest and busiest restaurant.
5. Profile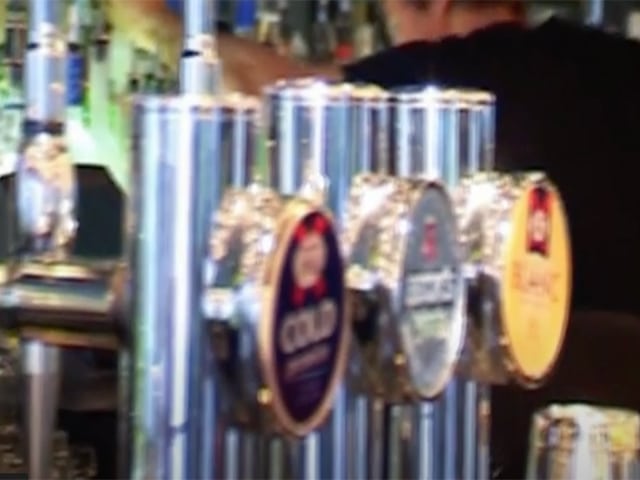 Profile, a restaurant by day and a bar by night located in the heart of bustling Soho, has raised the bar with everything it has to offer.

From their fantastic meals cooked with the finest, freshest ingredients to their vast range of premium brand drinks, which they have adapted into a unique range of very popular cocktails, they have something for everyone.
Gay-Friendly Bars & Clubs in Gay London
The LGBTQ+ scene in London is one of the most vibrant and glamorous in the world. The city has much to keep your nightlife occupied, and gay scenes are primarily centred on bars and clubs.

Here are some of the lists of gay-friendly bars and clubs that you might want to check out during your stay in the city:
1. G-A-Y Bar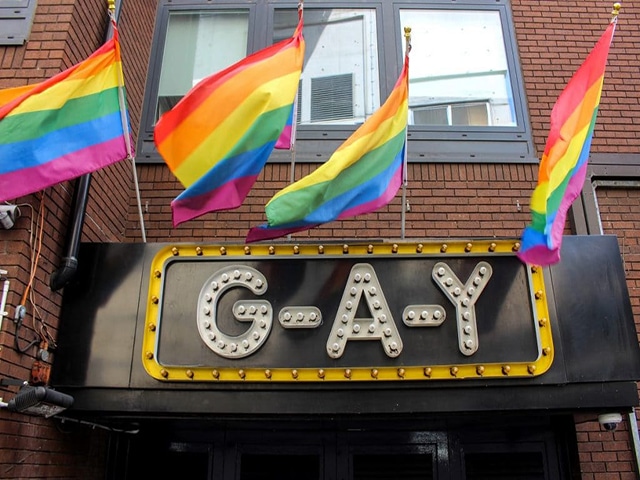 G-A-Y Bar in Soho has everything you'd expect, such as cheap drinks on weekdays, a young crowd, and a lot more.

It's three stories high, with a designated girls' room on the first floor, and it never appears to be empty. It also boasts music videos on plasma screens and is a popular pre-club venue with a buzzing atmosphere.
2. Comptons of Soho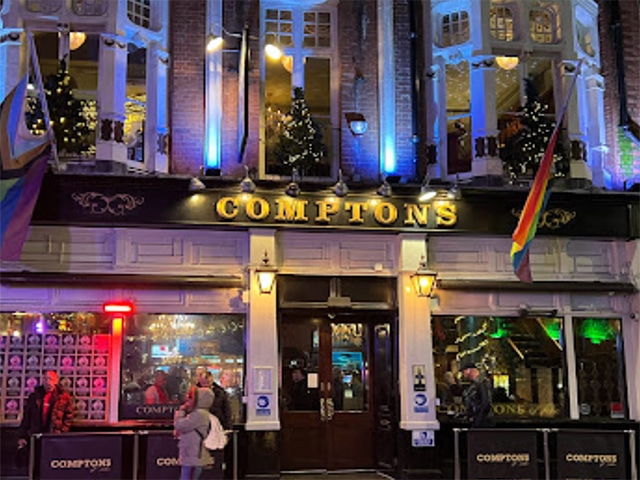 Comptons of Soho is a popular gay bar in London.

The bar has been a part of London's gay scene since June 1986, and is located at 51–53 Old Compton Street in the heart of Soho's 'Gay neighbourhood'.

It has a wide selection of beers as well as cooked cuisine.
3. Rupert Street Bar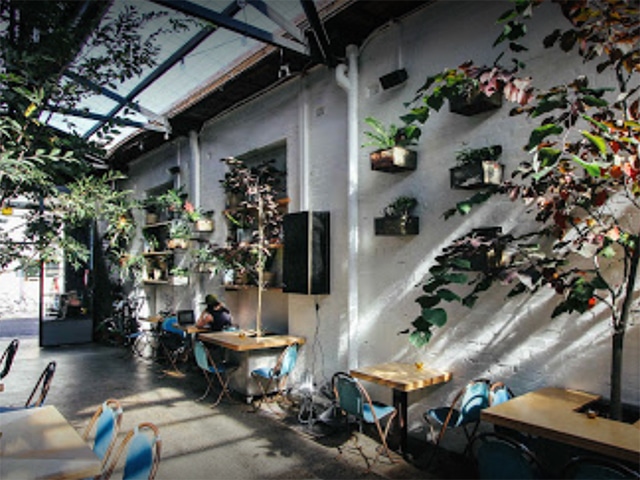 Soho's fanciest LGBTQ+ bar is Rupert Street.

The stunning atmosphere of the bar is the ideal setting for fabulous celebrations, mouthwatering cocktails, or people-watching while sipping Champagne.

You can feel the epic weekend vibes as some of London's top gay DJs and entertainers present stunning shows.

Their kind staff is always ready to welcome you to one of London's most prestigious gay establishments.
4. The Yard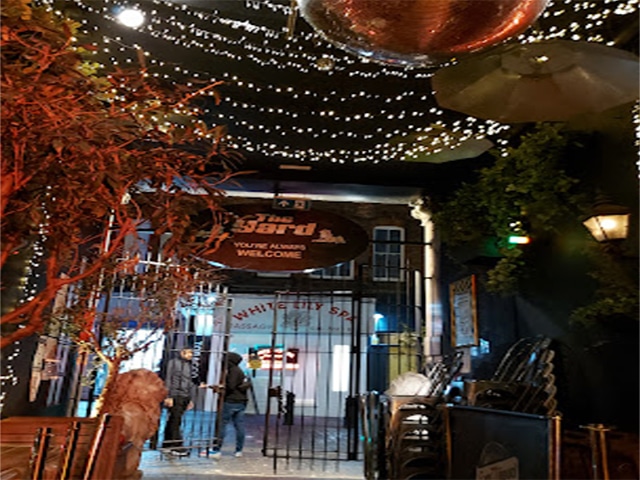 The Yard Bar is a friendly traditional gay pub that has DJs playing a host of tunes every Friday, Saturday, Sunday, and Monday.

It's a patio and loft pub on a popular Soho street with a diverse LGBTQ+ clientele. The downstairs alfresco area has subdued lighting and wooden banquettes.

The loft bar on the second floor offers stylish leather sofas and a smoking terrace. Although there is a limited food selection, the majority of visitors come to drink and mingle.
5. Ku Bar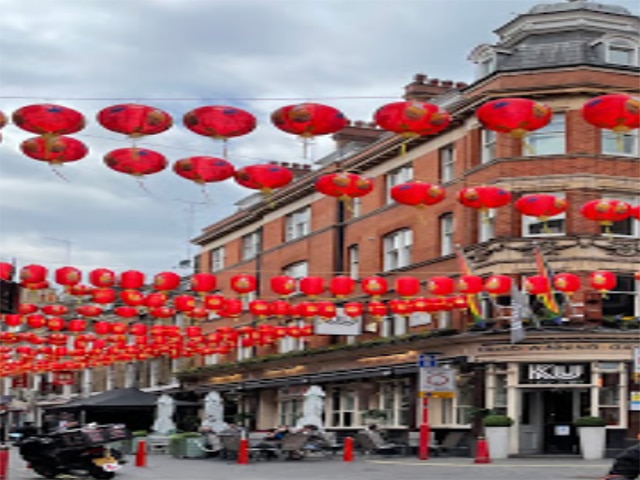 This huge LGBTQ+ venue, located on the outskirts of Soho's Chinatown, is consistently rated London's best.

Ku is a little more upscale than local rival G-A-Y, but it draws a similar clientele and has the same upbeat, energetic atmosphere.

Please pop in and say hi to Gary Henshaw and his team – tell him GayFriendly.com sent you (CEO Brett Hayhoe).
How to get to Gay London?
Knowing how to get to your destination is a must information travellers should know, here's how to get to London:
From Canada:
From its excellent meals to traditional activities, London is one of the top tourist attractions in the world. If you want to visit London from Canada, you can take an AirCanada aircraft from Montreal to London, which will take 6 hours and 30 minutes, making it a very long voyage.
From Australia:
London is one of the top tourist destinations in the world, with fantastic food and traditional activities. If you wish to visit London from Australia, you may fly from Sydney Airport to London, but it will take 23 hours and 30 minutes, making it a long journey.
From Italy:
With amazing food and traditional activities, London is one of the popular tourist places around the globe. If you want to visit London from Italy, you may fly from Rome Fiumicino Airport to London for 2 hours and 35 minutes, which is a rather quick flight.
From the United States:
London is a renowned tourist destination due to its delicious food and traditional activities. If you wish to visit London from the United States, you can fly for 7 hours and 25 minutes from Washington Dulles International Airport to London, which is a long flight.