29 Best Gay Movies of All Time – LGBT Films to Watch Next
The best men on men movies you can see
As time has progressed, so too has people's acceptance of LGBT and gay characters in mainstream movies and television series and even anime.

Over the last two and a half decades though, in the wake of such 90s films as Priscilla, Queen of the Desert, gay films have been released by the bucketload.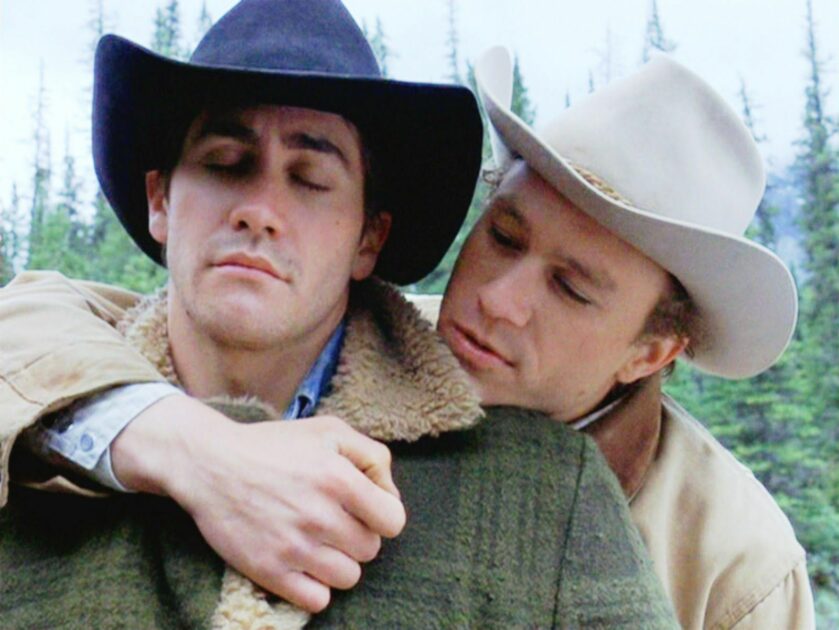 We've come a long way in fifty years, from the self-loathing middle-aged men of The Boys In The Band to the peppy teens of Love, Simon. Call Me By Your Name cemented its actors as movie stars.

While gay characters tended, until much too recently, to be one-dimensional, in 2018 Barry Jenkins won a Best Picture Oscar telling the hopeful story of a gay Black man in Moonlight.

Diversity is the key, and there's a lot of history to explore. As the world comes out of the past two year's, there's never been a better time to do yourself a favour and dive head first into the wonderful, escapism world of film – especially the gay genre.

While some are touching, romantic or confronting, others garner their favour from over-the-top humour, or have solidified their standing as a cult classic from little more than their level of tackiness.

You can find and watch many of these on Netflix, Hulu and even on Youtube. Though we did our best to include the Free Trial Links for streaming where possible and if not the best value price going for rental!

So log out of the dating apps, get comfy settle down and get ready to enjoy!

Here is a growing list of the Best Gay Movies out there:

29. Mambo Italiano [2003]
Angelo Barberini (Luke Kirby) is the oddball son of Italian immigrants Gino (NYPD's Paul Sorvino) and Maria (Ginette Rino), who inadvertently ended up in Canada rather than the United States.

Angelo shocks his parents and his sister Anna (Claudia Ferri, by moving out on his own without getting married, and, shortly after that, shocks them further still when he reveals he is gay.

But his boyfriend and childhood best friend and policeman Nino Paventi (Pete Miller), isn't as ready to come out of the closet, especially not to his busybody Sicilian mother, Lina (Mary Walsh).
Mambo Italiano is a gay movie based on a play by Steve Galluccio, based on his own experiences growing up in an immigrant community in Montreal.

It goes to show how quickly the attitudes of fixing up your son with a beautiful young woman can change when you find out he swings the other way.

First the shock, thinking he just hasn't found the right woman, and secondly, trying to fix him up with the first eligible male bachelor that walks along. A light-hearted romp that'll make you chuckle.

Romance: 3/5 · Plot: 2/5 · Visuals: 3/5 · Sex Appeal: 2/5

Total Score: 10/20

Watch it Now

28. Eating out [2004]
Another gay movie that fits into the "pure tack" category, this film is so bad it's kind of good.

It follows the story of a straight guy, Caleb (Scott Lunsford), who pretends to be gay, even going as far as to date a guy, Marc (Ryan Carnes), to try to get to Marc's housemate, Gwen (Emily Stiles).

Although clearly not knowing how to do things in a gay relationship, Caleb is guided by both Gwen and Caleb's gay housemate, Kyle (Jim Verraros), but things don't really work out to plan.

This film spawned four sequels, each as terrible as the last, but if you're in the mood for a cringe-worthy tack-fest, take them into consideration.

Romance: 3/5 · Plot: 2/5 · Visuals: 2/5 · Sex Appeal: 4/5

Total Score: 11/20

Watch it Now

27. Make the Yuletide Gay [2009]
Okay, so another gay movie that fits into the slightly tacky box, but I can't help watching it every Christmas, or any time of the year, come to think of it. It's a simple film, with a simple (if not a little predictable) plot formula.

This heart-warming film revolves around Olaf "Gunn" Gunnunderson (Keith Jordan), who heads home from college to spend Christmas with his parents, who are unaware that their son is gay, with Gunn changing his clothing and mannerisms to maintain his secret.

After his college roommate, and boyfriend, Nathan (Adamo Ruggiero) goes home only to find his parents are going on a cruise for Christmas, he travels across the country to surprise Gunn at his parents' home, unaware Gunn isn't out to his parents.

Nathan is welcomed with open arms by Gunn's over-the-top happy-go-lucky mother Anya (Kelly Keaton), and quirky, forgetful, pot-smoking professor father, Sven (Derek Long). Gunn's parents try to set Gunn up with his high-school friend Abby (Hallee Hirsh), who unlike Gunn's parents, easily sees through the whole façade.

After a week of Christmas frivolities and parties, Gunn and Nathan come to blows about Gunn's choice to be dishonest to his parents, and not openly show his affection to Nathan, culminating in Nathan decision to go back home.

Sven runs into Nathan leaving town, and the two chat about love and life, and Nathan returns back to the Gunnunderson's, and on Christmas Day, Gunn has something he needs to tell his parents…

The gay movie is full of cheap puns and cute jokes, which makes the film only more enjoyable.

Romance: 4/5 · Plot: 3/5 · Visuals: 2/5 · Sex Appeal: 2/5

Total Score: 11/20

Watch it Now

26. All Over the Guy [2001]
Although a little dated, this romantic comedy is a cringe-worthy cutefest. All over the guy focuses on the relationship between Eli (Dan Bucatinsky) and Tom (Two Guys and a Girl's Richard Ruccolo).

The gay movie is told mostly in flashback; Eli explaining his side to Esther (Everybody Loves Raymond's Doris Roberts), an HIV clinic worker, as he awaits test results and Tom recounting his experience to a man he meets at an AA meeting.

Tom and Eli are set up on a blind date by their respective best friends, Jackie (NCIS' Sasha Alexander) and Brett (Adam Goldberg). After a few awkward dates and encounters, the two start to form a relationship, despite Tom's fear of becoming emotionally close and Eli's own insecurities.

Through learning where each of the characters neuroses stem, we're better able to understand the idiosyncrasies of the dynamic. By the end of the gay movie, Eli and Tom realise that they have to overcome their own families' dysfunction and their own fears.

A stellar comedy performance from Sasha Alexander makes this film light-hearted and easy-watching.

Romance: 3/5 · Plot: 3/5 · Visuals: 2/5 · Sex Appeal: 3/5

Total Score: 11/20

Watch it Now

25. Tan Lines [2005]
Another Australian film, Tan Lines depicts the young Midget (Jack Backster) wanders through life riding big waves and partying with surfer boys. When his best friend's gay brother Cass (Daniel O'Leary) arrives on the scene, the two quickly dive head first into a surf of sexual awakening.

When his romance with Cass is soon discovered, both Midget and Cass have to navigate between their friends' and families' reactions and their newfound love all while growing up during a hot Australian summer.

The gay movie also explores the social expectation of heterosexuality of someone coming to terms with their teenagerhood, and the internal conflict of those raised in a more religiously influenced setting.

A low budget gay movie, the cinematography leaves a bit to be desired and the cohesion of the plot is a little lax, but allows you to focus more intently on the nuances of the characters, and the honest imagining of young gay men in Australia, as well as some steamy (if not a little awkward) sex.

Romance: 3/5 · Plot: 2/5 · Visuals: 2/5 · Sex Appeal: 5/5

Total Score: 12/20

Watch it Now

24. Moonlight [2016]
This well-known cinematic masterpiece documents the story of Chiron through three distinct stages of his life: his childhood, his adolescence, and early adulthood, split into three separate chapters, the characters being played by different actors, part of a stellar black cast.

The first of the three chapters follows Chiron (Alex Hibbert), going by the name "Little" and the relationship he forms with his mentor, and crack dealer to Chiron's mother (recent James Bond adaptations' Naomie Harris), Juan (Mahershala Ali).

The second chapter focuses on Chiron (now Ashton Sanders) and his relationship with not only school bullies, but also Juan's widow Teresa (singer and Rapper Janelle Monae), and his now more focused-upon friendship and romantic entanglement with childhood friend Kevin (Jharrel Jerome).

Now an adult going by the name "Black," Chiron (finally, Trevante Rhodes) has now come full circle, dealing drugs in Atlanta. He takes time to reconcile with his mother, and visits Kevin (now André Holland) in Miami where they reconnect and reminisce.

The whole of moonlight is an emotional rollercoaster showcasing the struggles experience by members of the African-American community in the United States, but also the amplification of these struggles due to developing sexuality and identity, coupled with physical and emotional abuse.

Moonlight was nominated for eight Oscars, winning three, for Best Picture, Best Adapted Screenplay and Best Supporting Actor for Mahershala Ali.

Romance: 3/5 · Plot: 3/5 · Visuals: 3/5 · Sex Appeal: 3/5

Total Score: 12/20

Watch it Now

23. Prayers for Bobby [2008]
Certainly a sad truth, this touching gay movie is based on the similarly named book written Leroy F. Aarons, which is, in turn, based on the true story of the life and legacy of Bobby Griffith, a gay teen who killed himself in 1983 due to his mother's homophobia.

Mary Griffith (Sigourney Weaver) is a devout Christian that raises her children, one of whom is Bobby (Ryan Kelley), according to the teachings of the bible, rejecting the possibility of her son being gay, still of the firm belief that he has been led astray, and that God can "cure" him of his "illness"

Payers for Bobby is strong juxtapose between a set-in-her-ways but ultimately loving mother and the struggles of a teen that is only just coming to terms with himself and his sexuality.

Romance: 2/5 · Plot: 5/5 · Visuals: 5/5 · Sex Appeal: 1/5

Total Score: 13/20

Watch it Now

22. Monster Pies [2013]
Adapted from a 1995 short story by director Lee Galea, Monster Pies is an Australian film featuring the blossoming relationship between two young students, Mike (Tristan Barr) and Will (Lucas Linehan).

Not the only film to feature Shakespeare as a plot point, the boys are asked to come up with a modern re-telling of Romeo & Juliet, and the boys decide to make a home video featuring Frankenstein's Monster and Wolfman as the misfit protagonists, acting as a metaphor for the two boys themselves.

Mike, living with his mother after his brother died, forcing the parents to divorce, and Will, living with an abusive drunk father and mother in a nursing home from a head injury, we can assume was a result of his father's violence.

The romance between the two becomes more and more emotional as the film goes on, cementing the viewer's desire to root for the boys. The twist at the end, however, may leave you scratching your head in bittersweetness.

Romance: 4/5 · Plot: 4/5 · Visuals: 3/5 · Sex Appeal: 2/5

Total Score: 13/20

Watch it Now

21. Is it Just Me? [2010]
The story is centred around the life of a young man, Blaine (Nicholas Downs) as he searches for true love. Things become awkward when Xander, (David Loren) a gorgeous Texan musician who he meets online, shows interest in him.

However, Blaine soon realized that this is not the perfect situation that he thought it was when it is revealed that he had accidentally used his more athletic roommate's online account to talk to Xander.

Cameron (Adam Huss), his roommate and a go-go dancer, agrees to pose as Blaine on a date with Xander. Their friendship is pushed to its limits by Blaine as he asks many absurd favours from his friend in order to maintain the lie.

The effects of a low self-esteem are apparent in Blaine's life as he is unsure of himself to the extent of meeting a date through online profiles, but is forced to face them in the end.

A cutesy romantic comedy that's well worth a watch if you've got a spare rainy afternoon, or need a bit of a light love story with a happy ending.

Romance: 4/5 · Plot: 3/5 · Visuals: 3/5 · Sex Appeal: 3/5

Total Score: 13/20

Watch it Now

20. G.B.F. [2017]
Think of this film as a classic, trashy chick flick, but gayer. The films centres on Tanner Daniels (Michael J. Willett) and Brent Van Camp (Paul Iacono), two closeted teenage high school students in suburban New Jersey.

North Gateway High is dominated by three feuding cliques respectively led by the three most popular girls in school: Fawcett Brooks (Sasha Peiterse), Caprice Winters (Xosha Roquemore), and 'Shley Osgood (Andrea Bowen).

Brent hatches a plan to out himself at prom, which will make him the most popular boy at school since the latest trend, according to teen girl magazines, is a GBF a gay best friend. After tracking down and outing Tanner in front of the entire school, hijinks ensue.

This film is a comedy romp that also inspects the aspects of coming out, and the difficulties faced by those who are forced out of the closet by others. A little cheesy, but a light-hearted comedy for all. A cameo role by Will and Grace's Megan Mullally is sure to entertain.

Romance: 4/5 · Plot: 3/5 · Visuals: 4/5 · Sex Appeal: 2/5

Total Score: 13/20

Watch it Now

19. Another Gay Movie [2006]
This very tongue-in-cheek spoof of films such as American Pie centres around four gay teens. Andy (Michael Carbonaro), an awkward, sex-crazed character who frequently masturbates with his mother's fruits and vegetables.

Jarod (Jonathan Chase), a handsome and fit jock who is quite insecure; Griff (Mitch Morris), a nerdy, well-dressed guy who is secretly in love with Jarod.

And Nico (Jonah Blechman), the most flamboyant, outgoing, and effeminate of the group. The four make a vow on losing their "anal virginity" before their friends Labor Day party.

Touted as a "parody that felt necessary," the film draws humour from the awkwardness of the boys in the ways of romance, and their naivety when it comes to sex. Also with appearances of Graham Norton as "Mr. Puckov," this gay romp is sure to entertain.

Romance: 3/5 Plot: 4/5 Visuals: 3/5 Sex Appeal: 4/5

Total Score: 14/20

Watch it Now

18. Mysterious Skin [2005]
This coming-of-age dram film is based around two teens who were both molested by their little league coach as children while growing up in Hutchinson, Kansas.

While one, Neil (Joseph Gordon-Levitt), remembers the experience clearly, and has since become a sexually adventurous and reckless gay prostitute in New York, the other, Brian (Brady Corbet), has dreams of odd hands touching him, leading him to believe he was abducted by aliens.

After being savagely assaulted and raped by a client, Neil returns home to spend Christmas with his mother, during which time he encounters Brian for the first time since they were children.

After breaking into the house that was previously owned by the little league coach, Neil tells Brian what happened that night, helping Brian to remember what happened that fateful summer, and to come to terms with who he was and what had happened to them both.

While not exactly the most "feel-good" movie of any selection of gay films, Mysterious Skin is a thought-provoking, honest portrayal of the long-term effects of child abuse, and how those who may have experienced it deal with that situation.

Romance: 2/5 · Plot: 5/5 · Visuals: 5/5 · Sex Appeal: 2/5

Total Score: 14/20

Watch it Now

17. Funny Boy [2020]
A recent addition to this list is Funny Boy, a 2020 film, based on the 1994 novel by Shyam Selvadurai. Set in the late 1970s and early '80s, the film centres on the young Arjie Chelvaratnam (Arush Nand/Brandon Ingram).

A boy regarded as "funny" because he's more interested in playing dress-up and wearing makeup, rather than focusing on more male-oriented activities such as sport.

Arjie is also Tamil, part of Sri Lanka's ethnic minority, who are in an increasingly bitter struggle with the Sinhalese majority.

As he soon realises his homosexuality, Arjie is encouraged by a cool aunt, Radha (Agam Darshi), who helps cultivate his interest in theatre and teaches him to put nail polish on his toes where no one can see.

When the film shifts in timeline, we see Arjie older, and see him, like his aunt, falling for a Sinhalese boy, Shehan (Rehan Mudannayake), who shows him his collection of David Bowie posters and tells him that "people like us exist."

This film is a confronting view of the atrocities of the Sri Lankan civil war, and the battle between ethnicities all while tackling the issue of the illegality of homosexuality in Sri Lanka.

Romance: 3/5 · Plot: 5/5 · Visuals: 4/5 · Sex Appeal: 2/5

Total Score: 14/20

16. Pride [2014]
Based on a true story, Pride depicts the group that become "Lesbians and Gays Support the Miners," a group of activists that helped to raise money for the families affected by the British miners' strike in 1984.

Upon seeing the news about the miners' strike, gay activist Mark Ashton (Ben Schnetzer) notices that the police have stopped harassing the gay community because their focus is elsewhere.

He arranges a bucket collection during the Gay Pride Parade in London. LGSM faces opposition on two fronts: from the mining community who do not wish to be associated with homosexuals, and from the gay community who feels miners have mistreated them in the past.

Upon donating the money raised to a small mining village in Wales, the LGSM members are invited to Wales as a "thank you."

While originally met with hesitation, after the release of many illegally detained miners following a conversation drawing parallels between the gay community and the miners.

When it comes to harassment laws and abuse of police power, a positive relationship starts to grow between the two groups, culminating in a fundraising concert at the Electric Ballroom in London.

And an unprecedented show of solidarity from dozens of groups of miners at the 1985 Gay Pride Parade in London.

Nominated for a Golden Globe and three BAFTAs, this film is a touching story about community and solidarity, and with stunning performances from Imelda Staunton and Bill Nighy, this tear-jerking true story is definitely worth the time.

Romance: 2/5 Plot: 6/5 Visuals: 5/5 Sex Appeal: 1/5

Total Score: 14/20

Watch it Now

15. Truth [2013]
This gay thriller follows the events between Caleb (Sean Paul Lockhart) and Jeremy (Rob Moretti), that lead to Caleb's arrest and institutionalisation. Told through accounts given to a social worker, it focuses on the relationship between the two that developed from an online hookup.

While the relationship seems to be going well, and there is clearly love between them, Caleb's discovery of a secret that Jeremy is withholding, coupled with Caleb's borderline personality disorder, makes for an intense culmination of love, lies, torture and murder.

Certainly not an easy watch, and the plot and dialogue leave a fair bit to be desired, it's an interesting look at how secrets and lies can affect those they hurt.

Romance: 4/5 · Plot: 2/5 · Visuals: 4/5 · Sex Appeal: 4/5

Total Score: 14/20

Watch it Now

14. The Thing About Harry [2018]
This 2020 film follows Sam (Jake Borelli), a young gay man who, during a trip to his friends' engagement party, is reunited with his former high school bully Harry (Niko Terho) in adulthood, only to discover that Harry now identifies as pansexual, and has even dated and slept with men.

A year later, Harry runs into Sam on a few serendipitous occasions, and the two become friends. With Sam stating to Harry that he doesn't date friends.

Harry, feeling rejected, ends up sleeping with and later dating Sam's roommate Stasia (Britt Baron). At a brunch, Sam gets drunk, and insults Stasia and Harry by predicting their relationship won't last, after which he loses contact with both.

Sam's roommate, Casey (writer/director and Queer as Folk's Peter Paige), encourages Sam to try online dating; his dates do not go well.

Some time later, Sam and Stasia reconnect, where Sam discovers that Harry and Stasia broke up, leaving Sam thinking about Harry again…

A truly romantic film in a modern setting, the film constantly has you asking yourself "will they, wont they," with an ending that will give you butterflies.

Romance: 5/5 · Plot: 4/5 · Visuals: 4/5 · Sex Appeal: 2/5

Total Score: 15/20

Watch it Now

13. Latter Days [2003]
Set in Los Angeles, this romantic comedy/drama focuses on the relationship between a closeted Mormon missionary (hence the title) from Idaho and his openly gay neighbour. The neighbour, Christian (Wes Ramsey) is a restaurant worker who believes in one-night stands and making bets.

When a group of Mormon missionaries move in next door, he and his co-workers make a bet that he can't convince one of them to sleep with him. Just when you think it's going to be as easy as that, with one of the Mormons, Aaron (Steve Sandvoss), he's rebuffed, upset with Christian's comments that "sex doesn't have to mean anything."

After one of the Mormons returns to find Christian and Aaron kissing, Aaron is sent home in shame. Wanting to go after him, and with a newfound attitude towards love, he confides in one of the fellow Mormons, Ryder (Joseph Gordon-Levitt), that, originally, he just wanted to win a bet, but it was "not about that" anymore.

The to-and-fro between the two characters, and the change in the characters' views on sex, love and life creates a tear-jerking film sure to pull on your heartstrings.

Romance: 5/5 · Plot: 4/5 · Visuals: 3/5 · Sex Appeal: 3/5

Watch it Now

Total Score: 15/20


12. Jongens [2014]
'Boys' is a 2014 coming-of-age Dutch romantic drama centred around a group of teenage boys that form a local athletics relay team.

Sieger (Gijs Blom) is fifteen and lives with his widowed father and brother Theo, which, in itself creates tension that sets the tone for some of the film.

The rest of the time is spent exploring the relationship with Sieger's best friend, Stef (Stijn Taverne), and the sexual chemistry, interaction and hesitation between Sieger and his teammate Marc (Ko Zandvliet).

The push-and-pull contrast between a secret romance and community expectations of the boys, both socially and in regard to their sporting lives, is set against a cinematically marvellous backdrop, making this film touching yet not too heavy-handed.

Romance: 4/5 · Plot: 4/5 · Visuals: 5/5 · Sex Appeal: 2/5

Total Score: 15/20

Watch it Now

11. Stranger by the Lake [2013]
While you may not expect to see a thriller on a list of top gay films, this French oddity fits that genre. The film centres around three main characters. Franck (Pierre Deladonchamps) is a regular visitor to a nude beach and its surrounding woods, both of which are popular cruising spots for gay men.

At the beach he meets Henri (Patrick d'Assumçao), and older man who seeks solitude at the beach after the breakdown of his heterosexual relationship.

He also develops an attraction to an attractive man, Michel (Christopher Paou). After the drowning murder of one of the beach-goers, strange circumstances come to light…

Please be warned: this film contains sexual content that surpasses what can be found in some pornography. Certainly not a light watch.

Romance: 2/5 · Plot: 3/5 · Visuals: 4/5 · Sex Appeal: 7/5

Total Score: 15/20

Watch it Now

10. Milk [2008]
Milk is an American biopic of gay rights activist Harvey Milk (Sean Penn), the first openly gay man to be elected to public office in California.

Told through a series of flashbacks coupled with IRL archival footage, it focuses on the events that led to his assassination in 1978.

It openly documents the process of Milk's attempts to become a gay activist, among a string of failed relationships attributed to Milk's devotion to change and political activism.

After finally being elected as a Supervisor for San Francisco's 5th district, the film shows the complex working relationship with fellow Supervisor Dan White (Marvel Cinematic Universe's Josh Brolin).

Who, through this adversarial relationship with Milk and resentment of his own possible homosexuality, decides to gun down not only Milk, but Mayor George Moscone (Titanic's Victor Garber) also.

Milk was a dramatic expansion on the Academy Award-winning documentary The Times of Harvey Milk, and garnered its own academy awards for Sean Penn's portrayal of Milk, and for Dustin Lance Black's original screenplay.

Romance: 3/5 · Plot: 5/5 · Visuals: 5/5 · Sex Appeal: 3/5

Total Score: 16/20

Watch it Now

9. Triple Crossed [2013]
Okay, so, you remember when I mentioned tack? This is certainly in this category, almost cringe-worthily so, but can be surprisingly gripping, as long as you don't take it too seriously.

Chris Jensen (Jack Brockett) is hired by Jackie Townsend (Laura Reilly), to kill her half-brother's gay lover, to inherit the entirety of her father's multi-million-dollar company.

Her half-brother however, was Chris' war-buddy in Afghanistan, the boyfriend of whom Chris swore to protect.

While Chris originally contemplates the offer of a large pay-packet for completing the project by taking out Andrew (Sean Paul Lockhart, known to some by his identity in another 'genre' of films, let's face it, porn, as Brent Corrigan).

The two concoct a plan to fake Andrew's death, take the money and run.

With enough twists to make your head spin, this low-budget sexual thriller is sure to keep the heartrate up, combined with the addition of some pretty graphic sex scenes thrown in for good measure.

Romance: 4/5 · Plot: 3/5 · Visuals: 3/5 · Sex Appeal: 6/5

Total Score: 16/20

Watch it Now

8. Handsome Devil [2017]
Handsome Devil centres around a misfit teenager, Ned (Fionn O'Shea), a student at an elite, rugby-obsessed boarding school outside of Dublin, whose new roommate, Conor (Nicholas Galitzine), is the school's new rugby star-player.

The two form an unlikely friendship until it is tested by those around them. The film features themes of homosexuality, while examining hypocrisy and snobbery in the Irish private school system.

While reviewing this film, I really had to examine my own definition of romance. It really does show some romantic themes, but not in a way that you would expect.

Handsome Devil received critical acclaim, garnering four nominations at the 2018 Irish Film and Television Academy Awards.

Romance: 5/5 Plot: 5/5 Visuals: 4/5 Sex Appeal: 2/5

Total Score: 16/20

Watch it Now

7. Love, Simon [2018]
Love, Simon, is an interesting look into the confusion, heartache and dread one can feel while going through the coming out process.

Simon (Nick Robinson) is a closeted gay high school student living in Atlanta, Georgia, with a close group of friends: Leah (Katherine Langford), Nick (Jorge Lendenborg, Jr.) and Abby (Alexandra Shipp).

Simon begins communicating online with a fellow closeted student who had recently made an anonymous online confession, and the two grow closer through messages about their lives, while Simon tries to discern Blue's identity by looking to his classmates.

After his messages are discovered by Martin (Logan Miller), Martin threatens to out Simon, and blackmails him into setting him up with Abby, even though Simon knows that Nick is infatuated with Abby.

When things go awry, Simon is outed by Martin, abandoned by his friends when they realise that they were being manipulated, and Blue disappears out of fear someone will discover his identity.

While the situation resolves itself over the course of the movie, giving us that "happy-cry" feeling we long for, the tenseness of the strained relationships within the movie will certainly keep you on the edge of your seat and is solidy one of the best gay movies out there.

Romance: 5/5 · Plot: 5/5 · Visuals: 5/5 · Sex Appeal: 2/5

Total Score: 17/20

Watch it Now

6. Were the World Mine [2008]
Another film featuring the works of Shakespeare, Were the World mine focuses on Timothy (Tanner Cohen), an openly gay student at a private boys' school.

Although a senior, he is still teased and harassed by the school rugby team, upon whose captain, Jonathon (Nathaniel David Becker), Timothy lives with his mother, Donna (Judy McLane), who is struggling with her son's sexuality and with getting a job, and his father who is not a part of his life.

Timothy is cast as Puck in the senior production of A Midsummer Night's Dream. While reading his script, he finds the recipe for creating the flower love-in-idleness. Timothy uses the flower to have the homophobic town take a walk in his shoes.

The entire town is thrown into chaos as previously heterosexual community members fall in love with their same-sex friends, bosses, and co-workers: whomever they first saw after being sprayed by the flower.

The school drama teacher, Ms. Tebbit (Wendy Robie), guides Timothy towards the question of whether his actions have caused more harm than good.

A twist waits for the audience in the wings, culminating in a feel-good if not a little cliché curtain call.

Romance: 4/5 · Plot: 5/5 · Visuals: 5/5 · Sex Appeal: 3/5

Total Score: 17/20

Watch it Now

5. Private Romeo [2011]
Private Romeo is an adaptation, by Alan Brown, of William Shakespeare's Romeo and Juliet. The film is a re-enactment of the play set in an all-male high school military academy.

Amidst this recitation is a love blossoming between the two cadets, Sam Singleton (Seth Numrich, who plays Romeo, and Glenn Mangan (Matt Doyle, who plays Juliet.

The film was Brown's take on Don't ask, don't tell," the official United States policy on gays in the military.

The cinematography during scenes of the cadet school and the lessons of the play the cadets are forced to learn are heaving-hitting and lack colour.

While the scenes depicting the actual Shakespearian scenes are brighter and warmer, showing a fullness of colour lacking in the other scenes.

The film, that won the Jury Award at Outfest, the Los Angeles Gay and Lesbian Film Festival, is mostly worded in excerpts of Shakespeare's manuscript.

So while a beautiful film, it's a film you may need to concentrate on, although, as with Baz Luhrmann's adaptation of the same play, the thematics do come through fairly easily.

Romance: 5/5 Plot: 4/5 Visuals: 6/5 Sex Appeal: 3/5

Total Score: 18/20

Watch it Now


4. God's Own Country [2017]
Somewhat akin to Brokeback Mountain, God's Own Country is an honest, touching tale of hesitant, secret love against a country backdrop.

Johnny (The Crown's John O'Connor) lives on a farm in Yorkshire with his father and grandmother. Due to his father having suffered and stroke and his grandmother's age, much of the running of the farm falls to Johnny.

The family hires Gheorghe (Alec Secăreanu), a Romanian migrant, to help throughout the lambing season. With the sheep moving away from the main part of the farm, it is decided the Johnny and Gheorghe will spend time camping out.

To be closer to the sheep, and to repair the farm's boundary wall. As time goes by the two grow closer, and also start to experience each other sexually, as well as emotionally, a foreign concept to Johnny.

The dialogue is minimal, characters only speaking when necessary. Much of the communication between the two boys is done through words unspoken and furtive glances, which adds to both the harmony and the discord of their blossoming yet strained relationship.

The film won the world cinema directing award at the 2017 Sundance Film Festival, an award of which it is certainly deserving – one of the best gay movies to sit down to.

Romance: 4/5 · Plot: 5/5 · Visuals: 4/5 · Sex Appeal: 5/5

Total Score: 18/20

Watch it Now

3. Beginners [2010]
Following the death of his father Hal [The Sound of Music's Christopher Plummer] from cancer, Oliver {Ewan MacGregor] reflects on their relationship during the five years following the death of Oliver's mother, Georgia [Mary Page Keller].

Shortly after her death, Hal came out to his son and began exploring life as a gay man, told from a contrast between current day and flashbacks of when his father was alive.

Hal becomes increasingly involved with the gay community, finds love with a much younger man and becomes more honest with himself and with his son.

As a result, Oliver and Hal become closer as father and son. Shortly after Hal's death, Oliver meets Anna (Mélanie Laurent), a French actress, at a party. Inspired by his father's attitude towards the end of his life.

Beginners is a touching and interesting look at late-blooming homosexuality and the loving relationship between a man and his son during the later stages of life, as well as the issues that one deals with when it comes to the death of a loved one.

It should also be noted that Plummer's role in the film earnt him a BAFTA, and Golden Globe and an Academy Award for best supporting actor.

Romance: 3/5 · Plot: 5/5 · Visuals: 5/5 · Sex Appeal: 5/5

Total Score: 18/20

Watch it Now

2. Call Me By Your Name [2017]
It would be an insult not to include this film on this list; it one of the greatest and best gay movies, most achingly beautiful gay male romance, based on André Aciman's novel.

Set in the summer of 1983 in Northern Italy, the film focuses on the precocious 17-year-old Elio (Timothée Chalamet), a teenager living in Italy who becomes infatuated with Oliver (Armie Hammer), a 24-year-old graduate-student assistant to Elio's father (Michael Stuhlbarg), an archaeology professor.

What begins as a contentious friendship turns into a full-blown love affair as the two young men spend their idle summer days in the lush Mediterranean locale, bracing themselves for an inevitable heartbreak at the end of the summer.

Call me by your name was nominated for over 100 accolades, and earnt James Ivory several awards for his adapted screenplay. The French and Italian dialogue is subtitled.

Romance: 5/5 · Plot: 4/5 · Visuals: 6/5 · Sex Appeal: 4/5

Total Score: 19/20

Watch it Now
1. Brokeback Mountain [2005]
Well, it would be a bit of a faux-pas not to mention Ang Lee's Americana gay masterpiece and one of the best gay movies ever made.

Set in Wyoming in 1963, Ennis Del Mar (Heath Ledger) and Jack Twist (Jake Gyllenhaal) are hired to herd sheep through the summer on grazing pastures on Brokeback Mountain. While doing so, a heavy night of drinking leads to a brief encounter in a tent, which sets into motion a passionate, sexual and emotional relationship.

When Ennis and Jack part ways after the summer, they each get married to women, though clearly haunted, if that's the word for it, by the feelings they have for each other.

Their marriages, as a result, deteriorate to divorce, all while Jack and Ennis continue to see each other, almost seeking to recreate the first magical summer they spent together.

Brokeback Mountain is a harrowing tale of a love forbidden by the times and society, that, despite the public views, in the mountains, away from critical eyes, a man's love for another man can be honest, passionate and true.

Romance: 5/5 · Plot: 5/5 · Visuals: 5/5 · Sex Appeal: 4/5

Total Score: 19/20

Watch it Now