30 Best Gay Anime of All Time
Men on men and bi anime that you have to see
Yaoi, otherwise known as boys' love (BL), is a genre of media originating in Japan that features homoerotic and romantic relationships between male characters.

Yaoi spans a wide range of media, including gay anime, manga, novels, television series and films.
Homosexuality is something which has been a part of anime shows for a long time. In most shows, we can find one or two characters who are homosexual.

Gay anime like lesbian anime can be quite realistic while other times they are usually more light hearted and more prone towards comic purposes

Here is a list of some of the best gay and bi anime. Watch these to be thrilled, teased, and lose yourself in the love or often lusty ride. You can find and watch many of these best gay anime on Crunchyroll, Netflix or Hulu.
30. Sekaiichi Hatsukoi (2011)

1 Season – 26 Episodes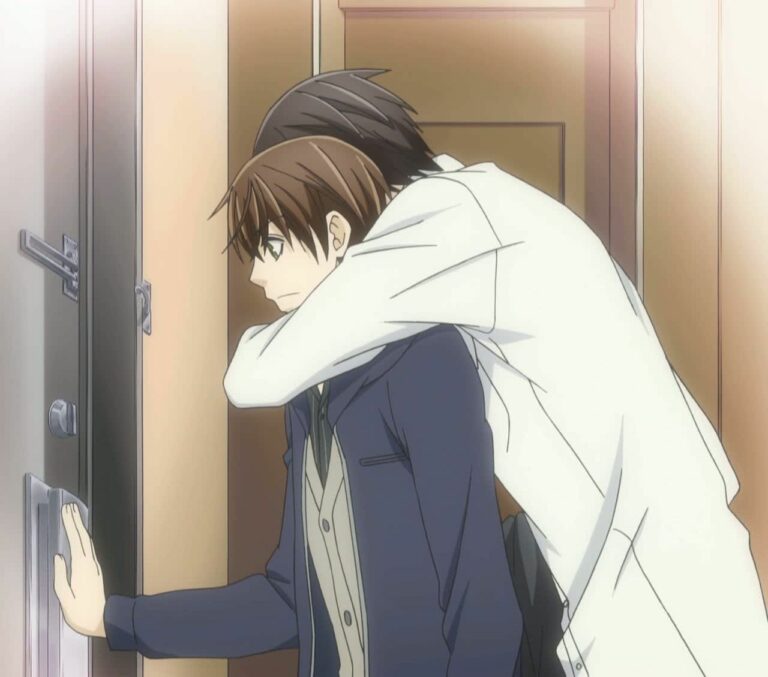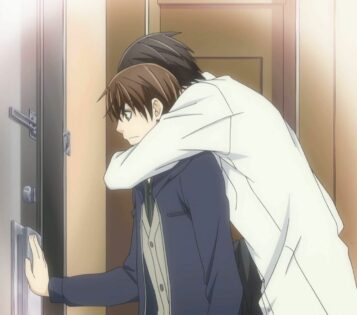 Sekaiichi Hatsukoi is based on a light novel which first came out in the year 2006. There have been four anime adaptations of the manga. Two are gay anime series, one is a film, and one is an Original Video Animation.

The protagonists of the anime are Ritsu Onodera and Masamune Takano. Ritsu works as an editor in his father's publishing company. He is quite good at his job but still, people think he only has the job because his father is the owner.

When he no longer could bear the jealous attitudes of his co-workers, he decides to quit his job and join another publishing company to prove his worth.

He applies for a job in Marukawa publishing company and hopes to get a position in the literary section. He does get a job at the literary section but turns out he has been put in the shoujo manga department.

Ritsu wants to resign but when his boss Masamune Takano calls him useless he stays to protect his pride.

Later Masamune finds that Ritsu is his old schoolmate who had confessed to him.

Now, that they are reunited, Masamune vows to make Ritsu fall in love with him again since the latter had become reluctant towards love due to the heartbreak he received at school.

You can watch the series on Funimation.

Romance: 3/5 · Plot: 4/5 · Visuals: 5/5 · Sex Appeal: 2/5

Total Score 12/20

Check out The Best Yaoi Manga
29. Gravitation (2000)


1 Season – 13 Episodes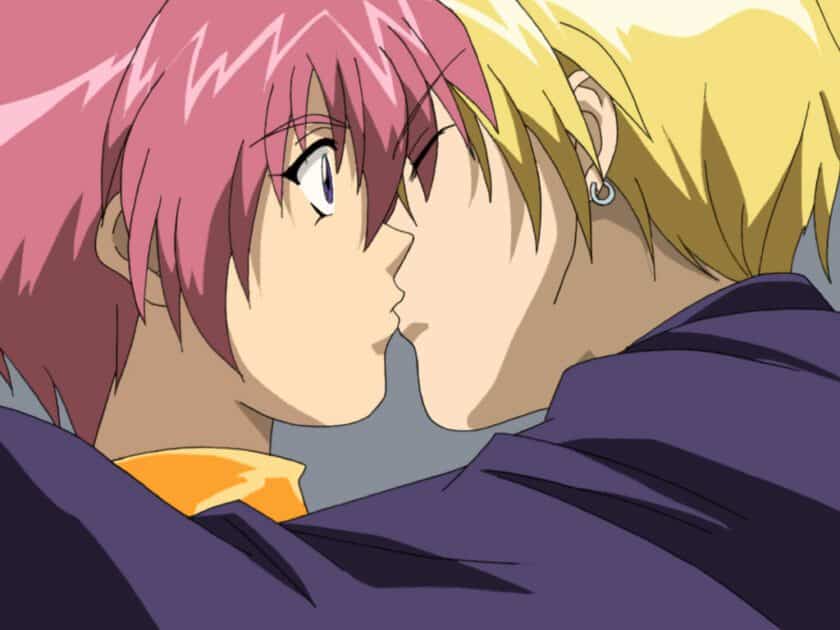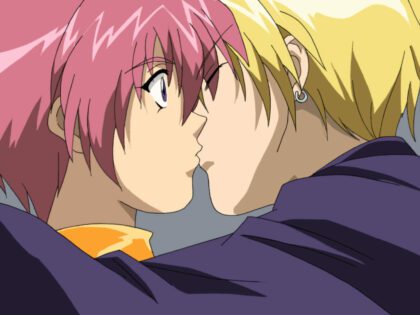 The story revolves around Suichi Shindo and Eiri Yuki. Shuichi is a singer in a band named bad luck. He has a dream of becoming the Japan's next big star.

One day while he is reading the lyrics of the song, his page is blown away by the wind and it lands on the feet of Eiri.

Eiri is portrayed as a rough and mean man, who disses Shuichi's work and calls it garbage. Even though his comment has hurt Shuichi, Shuichi gets intrigues to buy this man and later finds out that he is a romance novelist.

What happens next is an adorable ride.

Romance: 4/5 · Plot: 4/5 · Visuals: 3/5 · Sex Appeal: 2/5

Total Score 13/20
Check out The Cutest Gay Anime Boys
28. Doukyuusei (2016)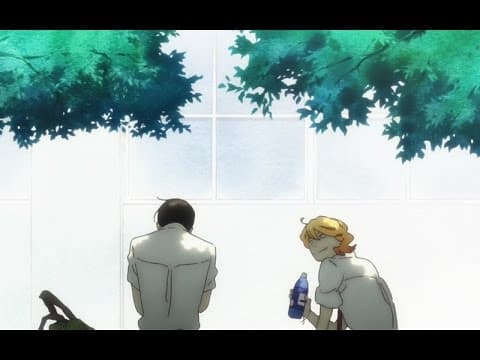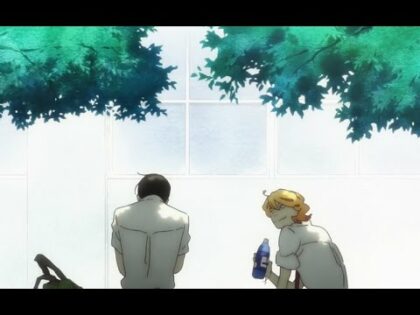 Rihito Sajou is a very hard-working honour student who got good grades in his high school entrance exams. One day he meets Hikaru Kusakabe. Hikaru is a guitar player and is also very popular among the girls.

Their high school is having a chorus festival soon, so Rihito asks Hikaru if he could help him practice for the festival.

As they meet up after school to practice, they slowly become friends and sing together. They certainly did not expect that their friendship would grow slowly to love.

The to-and-fro between the two lovers trying to fight their feelings is heart-wrenching.

This show is for rent on Amazon Prime.

Romance: 4/5 · Plot: 4/5 · Visuals: 2/5 · Sex Appeal: 2/5

Total Score 13/20
Check out The Best Gay Comics
27. Fake (1998)

OVA – 1 Episode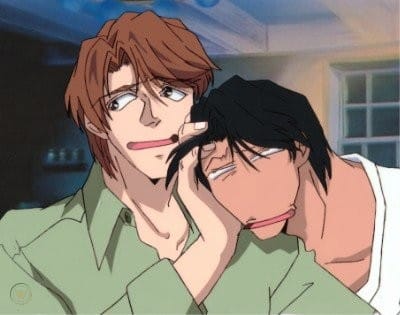 A bit of an older pick, 1998's Fake is an adaptation of a manga first released in 1994, which continued as a manga until 2011.

Dee Laytner and Randy "Ryo" MacLane are New York police detectives who have decided to take a vacation.

They travel to England in order to relax a little bit and take a break from solving murders. During the vacation, Dee sees his chance to seduce Ryo who he has very strong feelings for. However, Ryo is uncertain how he feels about his partner Dee.

Although everything was going well, while on the vacation, strange murders begin to happen. The murdered victims are all Japanese, and so Ryo and Dee set out to solve these cases in order to prevent Ryo (half-Japanese) from being the next victim.

A great murder detective gay anime for you to check out, even if the older animation is a bit clunky and the background music a touch cheesy.

Romance: 4/5 · Plot: 4/5 · Visuals: 2/5 · Sex Appeal: 3/5

Total Score 13/20
Check out the Best Gay Furry Art/Comics
26. Hybrid Child (2014)

OVA – 4 Episodes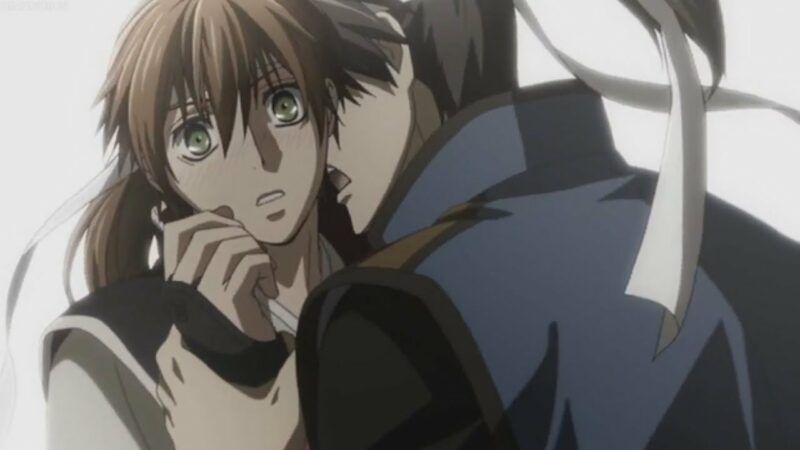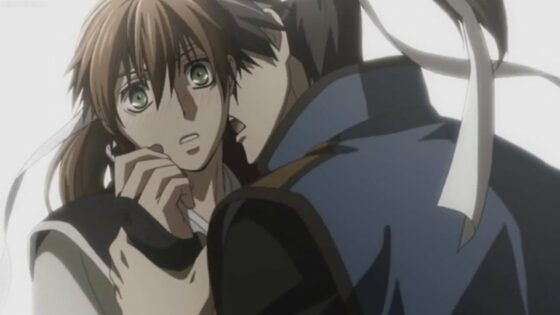 In this gay anime series, a skilled craftsman named Kuroda created artificial humans called Hybrid Children, beings who are neither fully machine nor fully humans, but rather a reflection of the love shown to them.

While they can feel human emotions and have their own consciousness, they are not real humans and require love to grow.

Kotarou Izumi is the young heir to the noble Izumi family, so it is frowned upon when he brings an abandoned Hybrid Child he found in the garbage into their household.

His family even attempts to throw away Hazuki multiple times when he is not paying attention.

Through overcoming these obstacles, their love and the bond connecting them grow stronger, however, ten years pass before a horrifying realisation dawns on them: a Hybrid Child might not have an endless life span.

Hybrid Child, over four love stories, continues to follow Hybrid Children, depicting the relationships between the artificial humans and their owners.

Romance: 3/5 · Plot: 4/5 · Visuals: 4/5 · Sex Appeal: 2/5

Total Score 13/20
25. Hitorijime My Hero (2017)

1 Season – 12 Episodes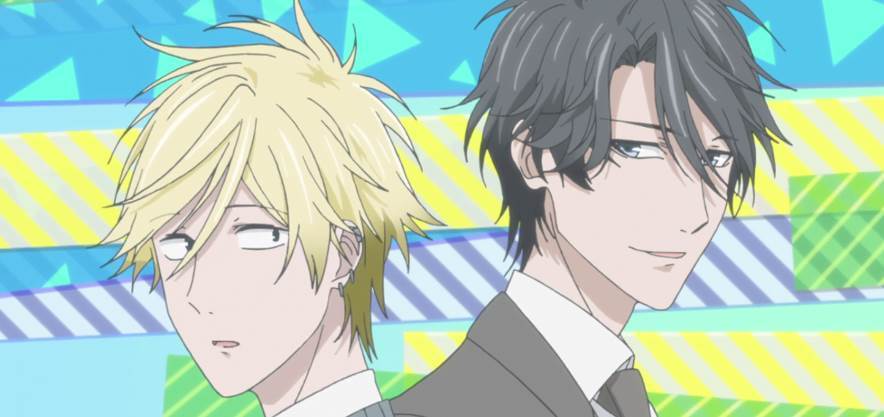 Masahiro Setagawa has stopped believing in heroes and gets into trouble frequently as he has been coerced into a gang. As soon as Kousuke Ooshiba saves him, however, he re-evaluates his lack of faith in heroes!

Masahiro realises that this guy is not only the brother of his best friend, but also his current homeroom teacher.

Now Kousuke has claimed Masahiro as his "underling" and promises to protect him, but their feelings for each other seem to be more than that of mentor and mentee.

Stream this series on Amazon Prime.

Romance: 3/5 · Plot: 4/5 · Visuals: 4/5 · Sex Appeal: 2/5

Total Score 13/20
24. Antique Bakery (2008)

1 Season – 12 Episodes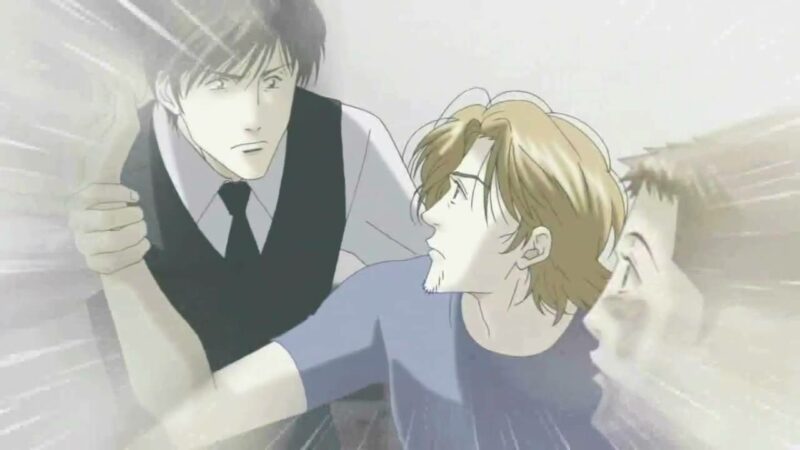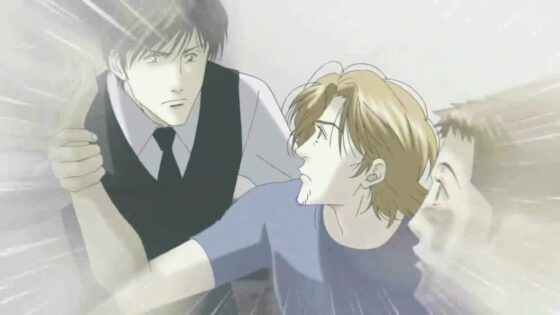 Antique Bakery follows the lives of the four workers at Antique, a patisserie in residential Tokyo: store owner and manager Keiichirō Tachibana, pastry chef Yusuke Ono, apprentice pastry chef Eiji Kanda, and waiter Chikage Kobayakawa.

Antique is so named because the patisserie is located in a former antique shop, and uses antique tableware and furniture in its café.

The series focuses on the men as they encounter a variety of comedic and dramatic scenarios, often focused around workplace comedy, the creation and development of pastries, or romantic intrigue.

Though the series largely proceeds as a slice of life story without an overarching plot, Tachibana's desire to find the man who kidnapped him as a child is a recurring storyline; the series climaxes with Tachibana working with the police to find a child kidnapper.

This is one of the best gay anime shows on Hulu.

Korea released a film, renamed simply "Antique" in 2008.

Romance: 3/5 · Plot: 4/5 · Visuals: 4/5 · Sex Appeal: 2/5

Total Score 13/20
23. Kirepapa (2008)

OVA – 2 Episodes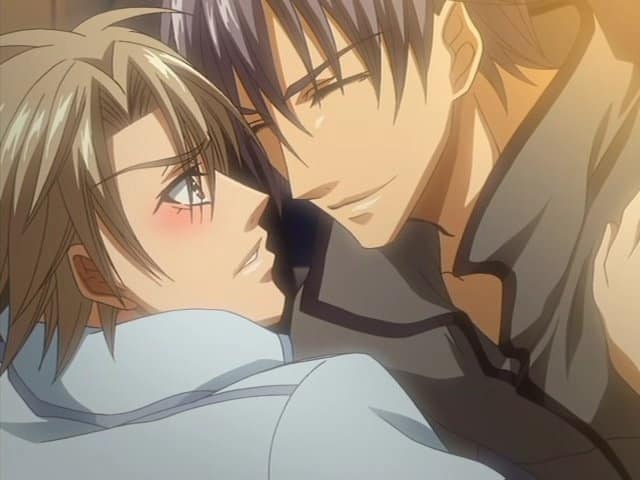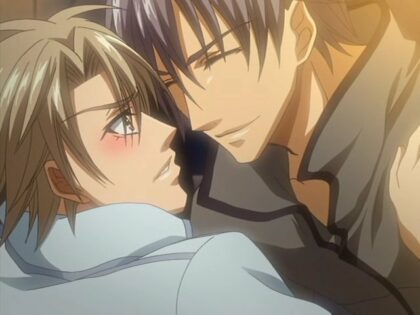 The story of this gay anime follows Chisato, a 35-year-old writer that certainly doesn't look his age. He has a 15-year-old son that he loves and cares for named Riju.

Riju has a lot of friends who come ove, however Chisato tries to drive away all of Riju's friends as he believes they want to take advantage of him.

So Chisato puts on a fake smile and treats Riju's friends well while poisoning the food that he serves them.

Until one day a guy named Shunsuke comes along and reads through Chisato's plans.

Romance: 4/5 · Plot: 2/5 · Visuals: 3/5 · Sex Appeal: 4/5

Total Score 13/20
22. DRAMAtical Murder (2012)

1 Season + OVA – 12 Episodes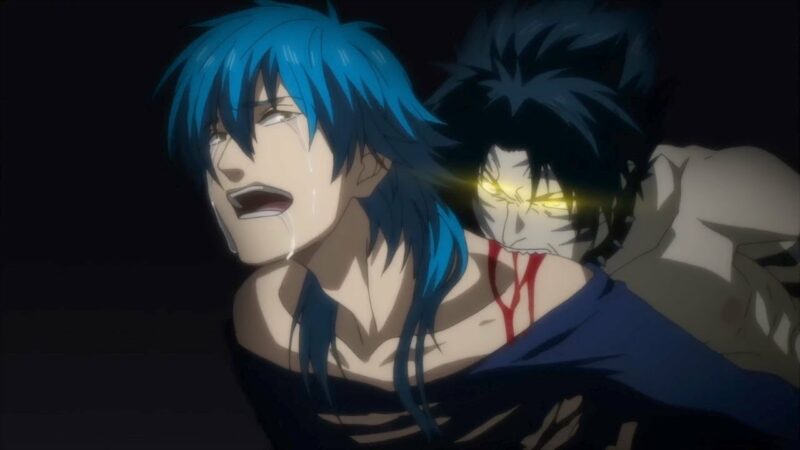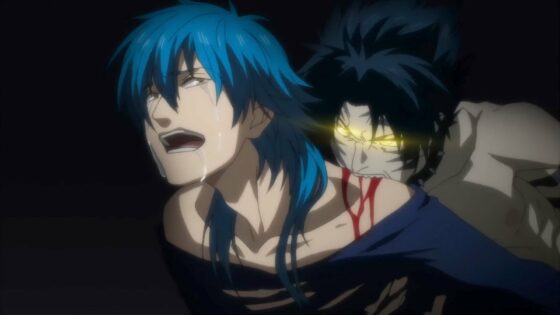 Another anime series based on a video game. The story follows Aoba Seragak who is a normal guy that wants to live a normal life. Until one day he gets dragged into a game called Rhythm.

Rhythm is a virtual reality game where you can battle your opponents

Upon getting roped into this game, Aoba finds out that there have been a lot of unexplained murders lately. After finding out about it he is slowly dragged deeper into the dangers of his town.

Unlike the video game, there isn't much BL sex depicted, but the story is engrossing and the boys are suuuper cute!

Check out the first season on Crunchyroll.

Romance: 3/5 · Plot: 4/5 · Visuals: 5/5 · Sex Appeal: 1/5

Total Score 13/20
21. Togainu no Chi (2010)

1 Season – 12 Episodes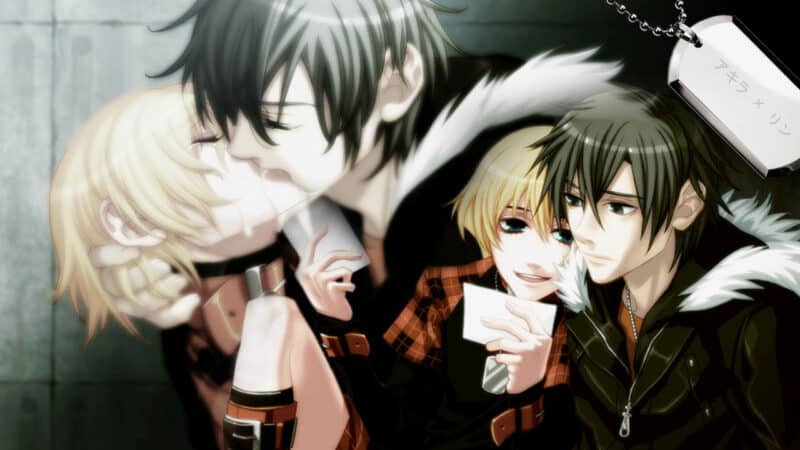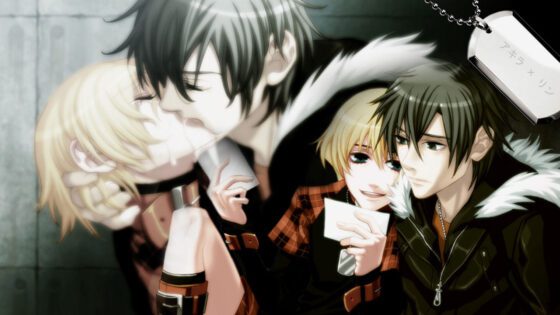 This one is an odd setup. Togainu no Chi was a video game released in 2005, which inspired two manga series, a novel and two sets of anime.

The story sets place in a post-war Tokyo. Tokyo has been overtaken by an organisation called Vischio. The organisation renamed Tokyo to Toshima. Vischio designs a game for the citizens to play called Igura.

Igura is a deadly game where the last man standing wins. It is not the only game, though. Another game, which prohibits murder and weapons, called Bl@ster rises.

The main character of this gay anime, Akira, is one of the top contenders of Bl@ster, until one day he is convicted of murder and forced to play the deadly Igura game in order to prove his innocence and survive.

Certainly not for the faint of heart, thematics dramatising murder and rape, still an edge-of-your-seat ride.

Romance: 2/5 · Plot: 3/5 · Visuals: 5/5 · Sex Appeal: 4/5

Total Score 14/20
20. Okane ga Nai (No Money) (2007)

OVA – 4 Episodes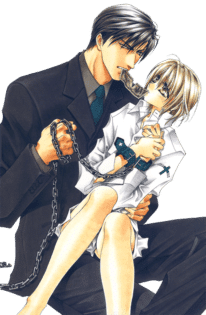 Yukiya Ayase is a gentle, kind hearted, and innocent university student. The only relative he has left, his cousin Tetsuo, betrays Ayase by selling him to the highest bidder in an auction with hopes of making an enormous profit to be able to pay off his debts.

Somuku Kanou, a bad-tempered (though very rich) loan shark, comes to Ayase's rescue and buys Ayase for an impressive 1.2 billion.

Kanou apparently knows Ayase from something that happened between them in the past, but Ayase cannot remember who Kanou is nor does he understand why he "saved" him.

In a desperate effort to keep Ayase close to him, Kanou demands the debt be repaid in full and suggests the perfect way to do it: by selling his body to Kanou for 500,000 each time.

Ayase is horrified in the beginning, but something soon begins to grow between them that can't be bought for any price.

Romance: 2/5 ·Plot: 4/5 · Visuals: 4/5 · Sex Appeal: 4/5

Total Score 14/20
19. Kiss in the Dark (2005)

OVA – 2 Episodes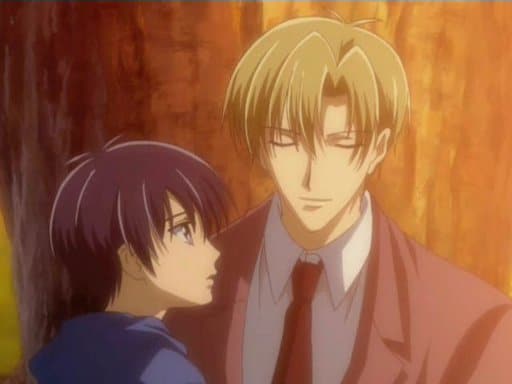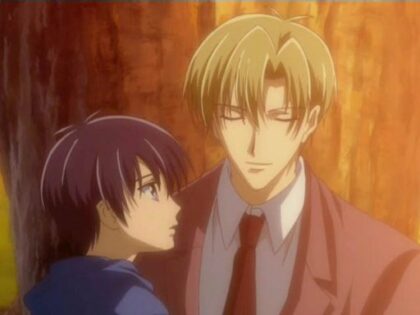 Kiss in the dark is a two-episode OVA based on a four-volume Japanese yaoi light novel written by Ken Nanbara and illustrated by Sae Momoki.

Mira Munakata is a first-year high school student involved in a romantic and sexual relationship with his father, a famous actor named Kyōsuke Munakata. When Kyōsuke begins acting strangely, Mira suspects that he is cheating on him.

After finding his adoption papers, Mira discovers that he and Kyōsuke may not be related at all, and he believes that Kyōsuke will eventually leave him for Mitsuki, an actress with whom Kyōsuke is rumoured to be in a relationship.

In the midst of this, Mira deals with romantic advances from his childhood friend, Kazuki, and a third-year student from his high school, Takayuki, both of whom are in love with him.

Although the OVA only covers the first volume in the Novel's series, and is only two episodes, it's still worth the watch.

Romance: 4/5 · Plot: 3/5 · Visuals: 4/5 · Sex Appeal: 3/5

Total Score 14/20
18. Yuri on Ice (2016)

1 Season – 12 Episodes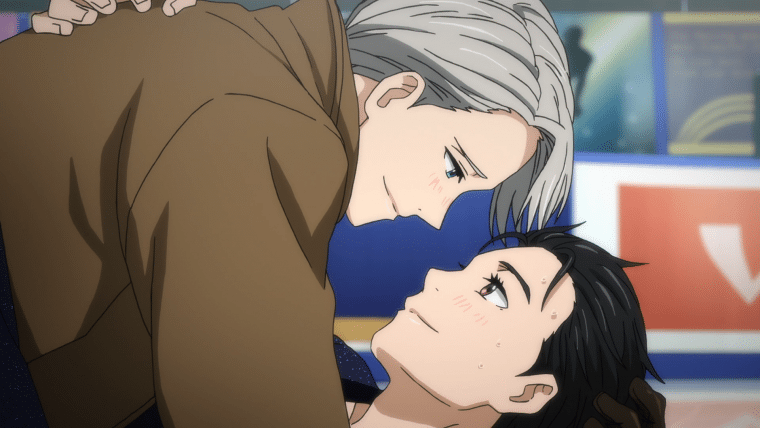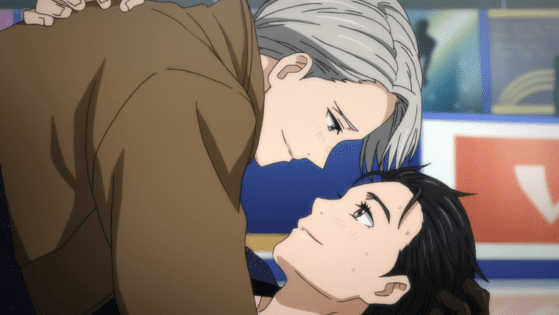 Yuri on Ice follows the story of a 23-year-old figure skater Yuri Katsuki who, after defeat in the Grand Prix Final, amongst other competition losses, becomes disenfranchised with figure skating and unofficially retires to return home to his family.

One of the most wholesome animes you will find.

After a video of him mimicking a routine performed by his idol, figure skater Victor Nikiforov, is leaked online, Victor travels to Yuri's hometown, Hasetsu in Kyushu, where he offers to be Yuri's coach.

Added to the mix is Yuri Plisetsky, a Russian figure skater to whom Victor made a promise to choreograph a routine.

He pits the two Yuri's against each other, forming a close bond with Yuri K. in the process.

Watch "Yuri on Ice " on Crunchyroll.

Romance: 5/5 · Plot: 4/5 · Visuals: 5/5 · Sex Appeal: 1/5

Total Score 15/20
17. Tight-Rope (2012

OVA – 2 Episodes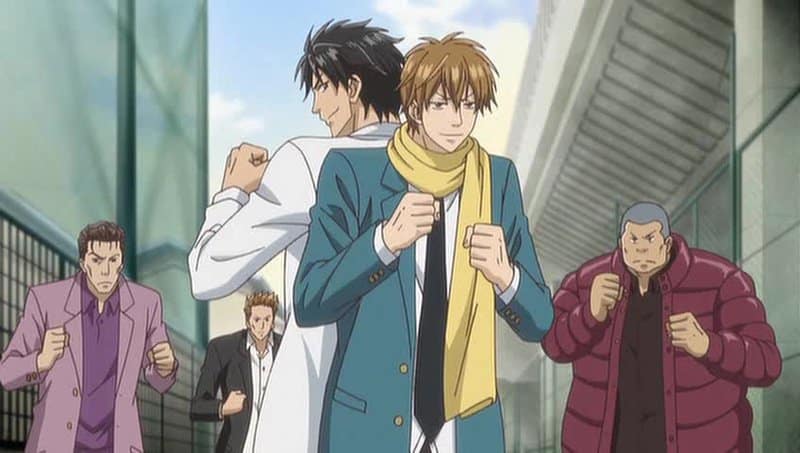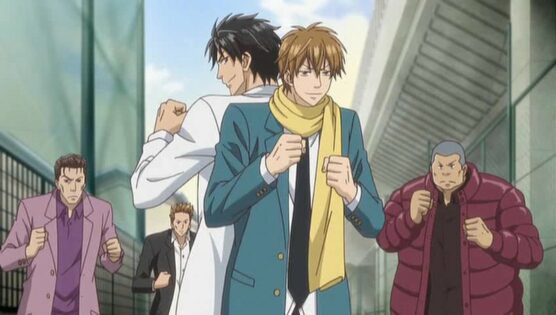 Tight-Rope follows the story of two young boys. One is Naoki Satoya who has been friends with Ryuunosuke Oohara since they were 5 years old, until one day Ryuunosuke fell in love with his best friend Naoki.

Although it would have been alright for them to be together, Ryuunoske is supposed to take over the Yakuza family as the fifth boss.

The Yakuza family he is in is one of the most influential in Japan.

This brief series shows the true battle between love and destiny.

Romance: 4/5 · Plot: 4/5 · Visuals: 4/5 · Sex Appeal: 3/5

Total Score 15/20
16. Super Lovers (2016)

1 Season – 10 Episodes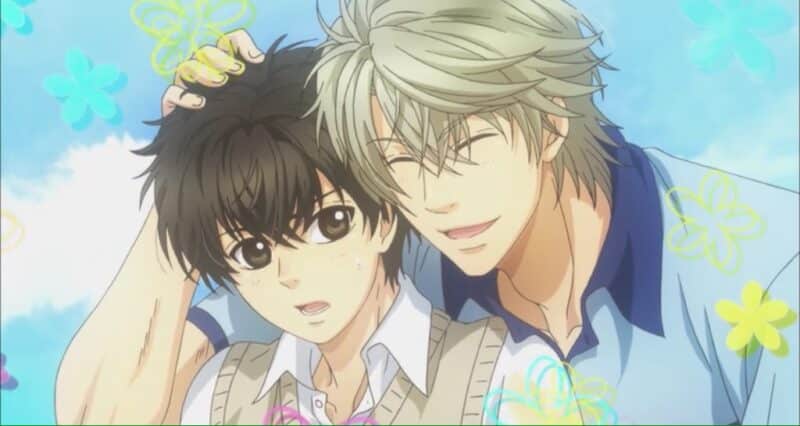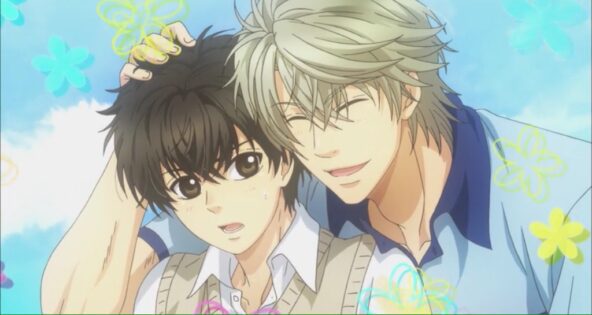 Haru Kaido goes to visit Canada and spends his vacation with his mother who said she was deathly ill. Fortunately, this was a ruse so that Kaido could baby sit and help "civilise" a small boy named Ren.

Eventually Ren and Kaido begin having an unexpectedly close brotherly relationship until the day Kaido returns to Japan.

On the way home, an accident occurs that causes the death of his father and step-mother and leaves Kaido with no memories from that summer. 5 years later Ren comes to Tokyo, finds Kaido and claims to be his brother!

Super Lovers follows the events after Ren has re-entered Kaido's life.

All the episodes of this gay anime are on VRV.

Romance: 4/5 · Plot: 5/5 · Visuals: 3/5 · Sex Appeal: 3/5

Total Score 15/20
15. Uragiri Wa Boku no Namae Wo Shitteiru (Betrayal Knows My Name) (2010)

1 Season – 24 Episodes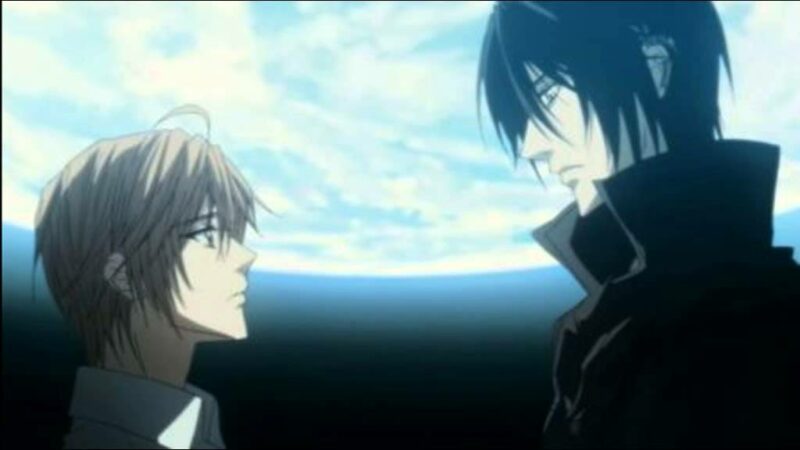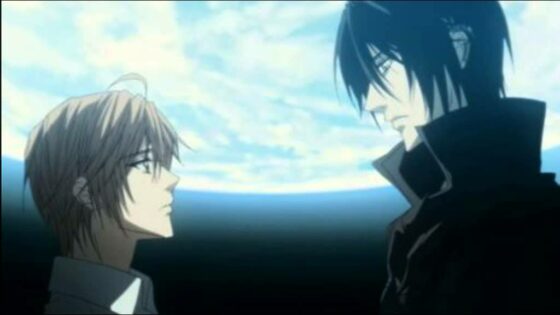 Yuki Sakurai is a person who does not remember his past however, he can see other people's painful memories by simply touching them. Yuki is questioning the reasons why he is alive and why he has this strange ability.

Without being aware of it, Yuki is being constantly watched by those who want to harm him, and those who want to save him.

One day, when his life is in danger, he is saved by a mysterious stranger.

Upon meeting the stranger Yuki's past is revealed and he realises his true reason for living.

You can check this anime out on Funimation.

Romance: 4/5 · Plot: 5/5 · Visuals: 3/5 · Sex Appeal: 3/5

Total Score 15/20
14. Junjou Romantica (2008)

3 Seasons – 36 Episodes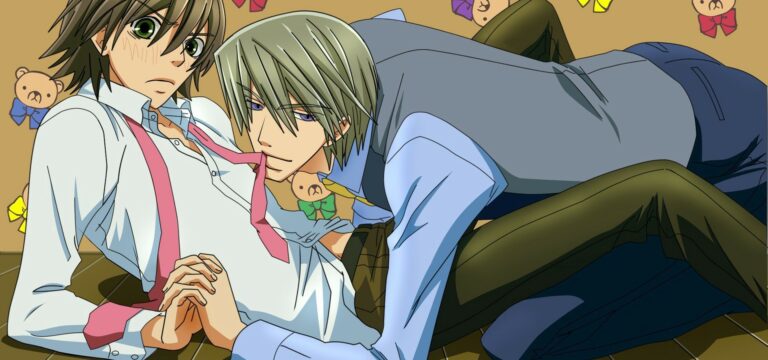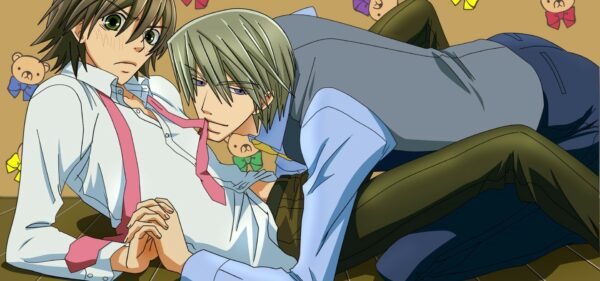 Misaki Takahashi is a regular high school student who is preparing for his university entrance exams. In order to reduce the stress of studying, or so he hopes, he accepts the help of his older brother's best friend, and famous author, Akihiko Usami.

Masaki is about to find out, however, that Usami's books are of a very naughty genre, and that there may be something naughty waking up inside Masaki as well.

This is an incredibly erotic gay anime that will leave you hot and sweaty and is also a gay anime show on Hulu!

This whole anime is filled with the inner and outer struggles of both Misaki and Usami. Misaki and Usami constantly fight, like any normal couple, but their true love for each other shines through.

Junjou Romantica has 4 seasons with two focused on different couples and has become a staple of gay anime known throughout the community.

This anime series is all on Crunchyroll.

Romance: 3/5 · Plot: 3/5 · Visuals: 4/5 · Sex Appeal: 5/5

Total Score 15/20
13. Papa Dattai, Shitai (2019)

1 Season – 8 Episodes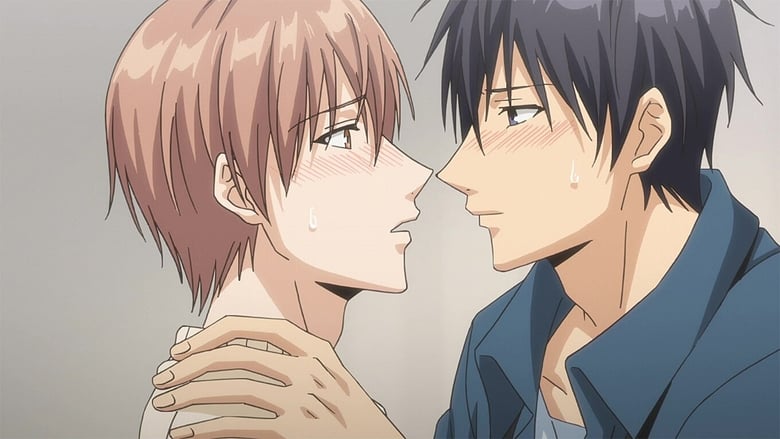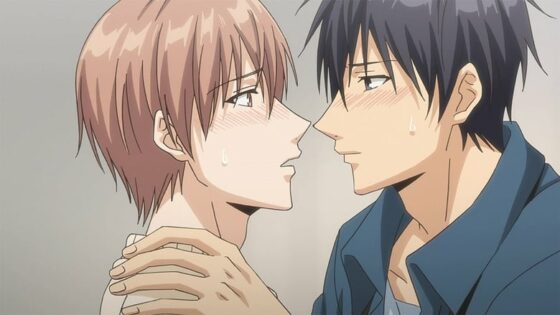 University student Asumi becomes a housekeeper for the Naruse household. The family consists of a single dad, Keiichi Naruse, and his young son Ichika. Keiichi is very attractive and catches the eye of Asumi.

This is one of the sexiest gay anime.

Even though Asumi is not gay, he unconsciously becomes attracted to Keiichi, and wants the dad to be his daddy!

Romance: 4/5 · Plot: 3/5 · Visuals: 3/5 · Sex Appeal: 5/5

Total Score 15/20
12. Yaricchin Bitch-bu (Yaricchin Bitch Club) (2018)

OVA – 2 Episodes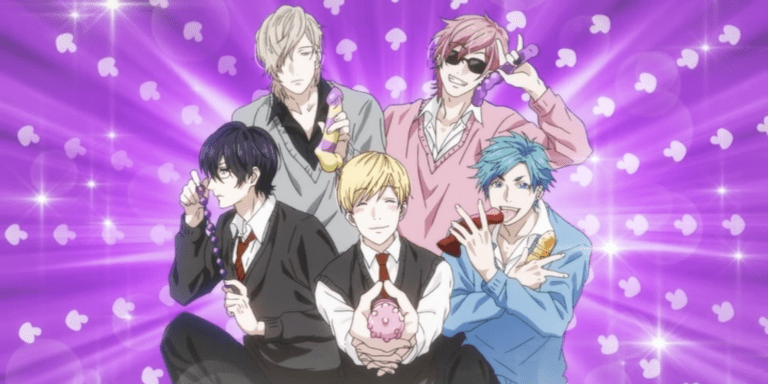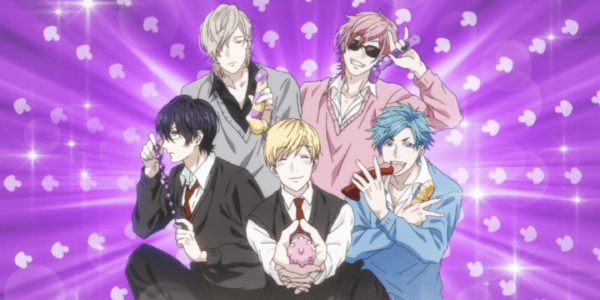 One of the most hyped anime/manga series, this webtoon became so popular the manga artist made a manga and anime adaptation! First year student Toono transfers to an all-male private school deep in the mountains.

After befriending a fellow first year, Yaguchi, the two decide to join the photography club instead of the soccer club.

The photography club, however, is actually known as the 'Yarichin Bitch Club' filled with colourful, and almost crazy, sex-charged seniors. Kaijima, another first year who joined, is un-phased and even confesses to Toono, who Yaguchi also likes!

This gay anime is cheeky and filled with humour and lots of BL!

Romance: 2/5 · Plot: 3/5 · Visuals: 4/5 · Sex Appeal: 6/5

Total Score 15/20
11. Love Stage (2014)

1 Season – 10 Episodes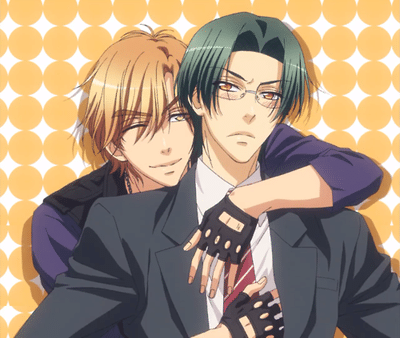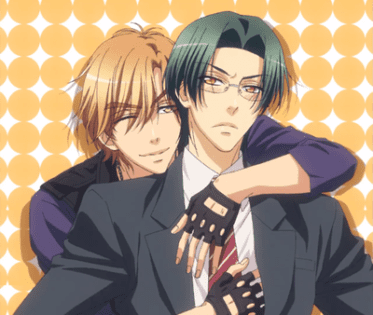 Based off a very popular manga, Love Stage is a gay anime that ran from July 9, 2014 to Sept. 10, 2014. Spanning 10 episodes, this anime focuses on Izumi Sena, an inspiring manga artist who comes from a line of famous family members in the entertainment industry.

When he was a kid, Izumi dressed as a girl for a commercial where he first met his co-star, famous child actor Ryoma Ichijo.

After botching a scene, Izumi suffered from stage fright and refused to ever act again.

Ryoma Ichijo had fallen in love with Izumi during the commercial, mistaking Izumi for a girl. For 10 years, Ryoma remembered Izumi and, when they meet again, his feelings for Izumi remained.

Despite learning Izumi's a guy, Ryoma's feelings don't change.

This series focuses on Izumi's life as he comes out of his shell and navigates this life of fame and love.

'Love Stage!!' is on Crunchyroll and is a gay anime show on Hulu.

Romance: 4/5 · Plot: 3/5 · Visuals: 5/5 · Sex Appeal: 4/5

Total Score 16/20
10. Close the Last Door (2007)

OVA – 1 Episode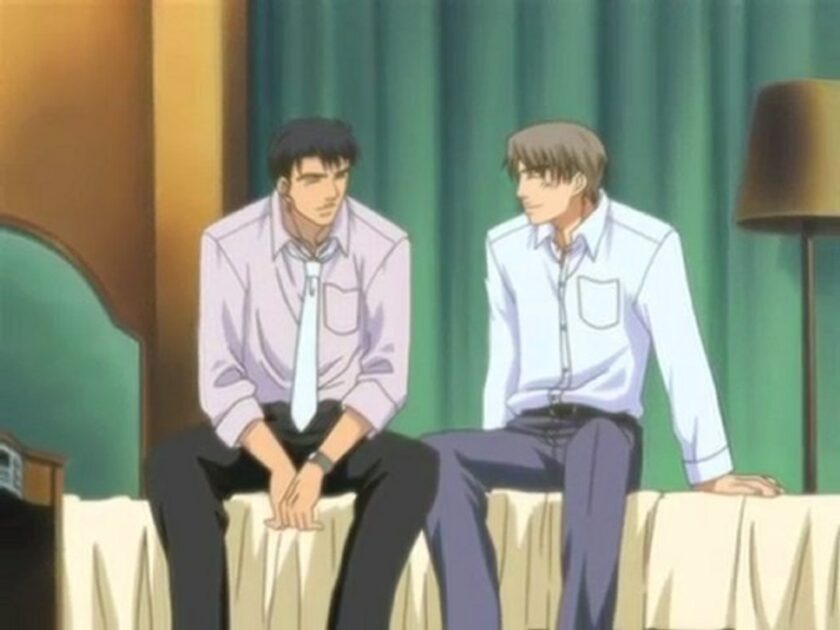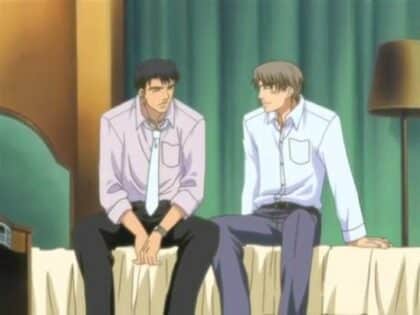 Yugi Namada's manga Close the Last Door, was adapted into a one-off anime in 2007.

After being best man at his best friend's Saitou's wedding, Nagai Atsushi realises that he might never be with the man he loves, Saitou. Nagai, drowning in his sorrows and hatred for the new bride then meets Honda Kenzou, another guest at the wedding, a friend of the bride's.

Honda takes care of Nagai after a heavy drinking session and Nagai develops a relationship with Honda.

Confused by having feelings for both men, the situation is only complicated by the fact that the bride runs off with another man, and Saitou starts to show an interest in Nagai…

Unlike some other gay anime that can quite easily lend itself to supernatural themes, the characters in this anime feel very realistic and the story is set well.

Romance: 4/5 · Plot: 5/5 · Visuals: 3/5 · Sex Appeal: 4/5

Total Score 16/20
9. Saezuru Tori wa Habatakanai: The Clouds Gather (2020)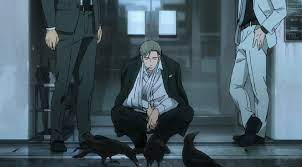 Saezuru Tori wa Habatakanai: The Clouds Gather follows the story of a young high-ranking yakuza boss and President of Shinsekai Enterprise, Yashiro. While Yashiro seemed cheerful on the outside, he leads a double-life of being a deviant and a masochist.

Enter Doumeki Chikara, Yashiro's new bodyguard, who, despite Yashiro's advances, continues to maintain distance, but there's something about Chikara that holds Yashiro's attention.

When he discovers Chikara's secret, things take a turn and thus starts a complicated sadomasochistic affair between the two of them.

Romance: 4/5 · Plot: 3/5 · Visuals: 5/5 · Sex Appeal: 5/5

Total Score 17/20
8. Haru wo Daiteita (Embracing Love) (2005)

1 Season – 2 Episodes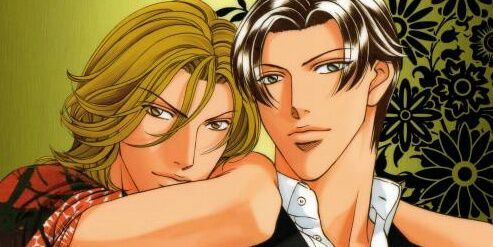 Life reflects art for Kyousuke Iwaki and Youji Katou, two adult film stars who are considering retirement from their sordid careers. When they're invited to audition for a new erotic film, they realise that this may be their last chance to achieve mainstream success.

Unfortunately, things sour quickly when the director asks them to make love to each other and determine who will get the lead role.

What follows next is romance, and passionate sex that will alter more than just their careers.

Romance: 4/5 · Plot: 3/5 · Visuals: 5/5 · Sex Appeal: 5/5

Total Score 17/20
7. Given (2019)

1 Season – 12 Episodes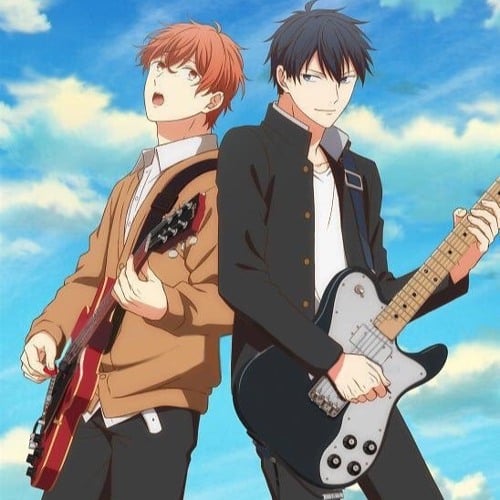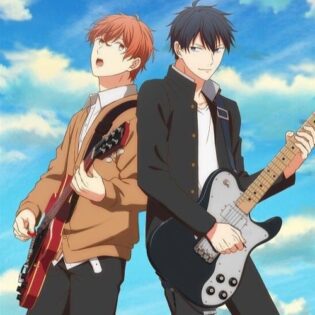 Based off a manga started in 2013, Given spawned an anime series, a film, an ultimately cancelled stage play, and a six-episode live-action drama adaption due in 2021.

The story revolves around the music and relationship of four boys in a band. Their band name, Given, is a tribute to a given guitar.

The earlier anime season focused much on the main pairing Mafuyu Sato and Ritsuka Uenoyama, the former trying to get over his lost love and the latter experiencing all his firsts on matters of love.

This time, the anime offers a view on another side of the coin, focusing on the other two members: Akihiko Kaji and Haruki Nakayama. Haruki has secret feelings for Akihiko, but the latter is still involved with his ex, Ugetsu.

Will their complicated relationship ever smooth out?

Watch the anime on Crunchyroll.

Romance: 5/5 · Plot: 4/5 · Visuals: 5/5 · Sex Appeal: 3/5

Total Score 17/20
6. Yes ka No ka Hanbun ka (Yes, No or Maybe?) (2020)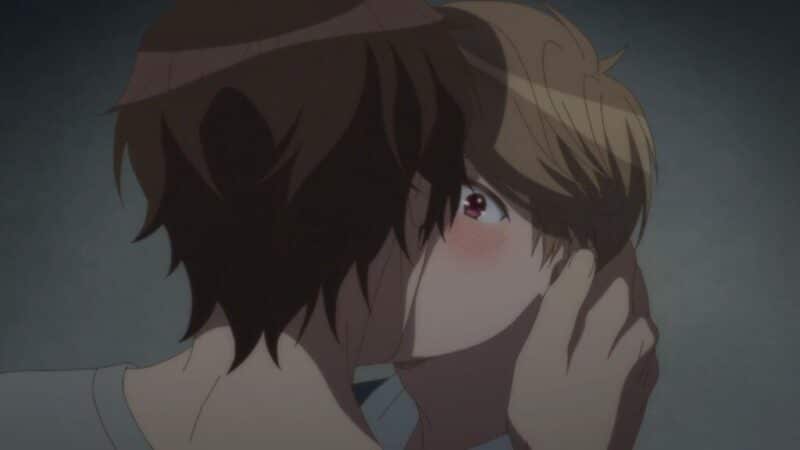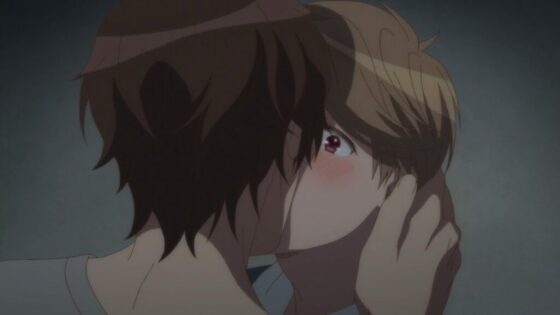 An odd situation: a film that was spawned as an original adaptation of a light novel, with no manga or OVA in between.

Kei Kunieda, a popular TV host, is known for his professional behaviour, but his behaviour is the opposite in private. One day, Ushio Tsuzuki, a stop-motion animator, discovers his off-camera personality.

When they run into each other at the grocery store, where a bicycle accident causes Ushio to injure his wrist. Kei is forced to help Ushio while he recovers, and in an attempt to prevent him from discovering his secret, he gives his name as "Owari."

Ushio, however, comes to love him for who he truly is, and Kei struggles with his own feelings as well as hiding the truth from him.

The occasional, classic anime pop-ups showing us what the characters are thinking are suuuper cute.

Romance: 4/5 · Plot: 5/5 · Visuals: 5/5 · Sex Appeal: 4/5

Total Score 18/20
5. Fuyu No Semi (2008)

OVA – 3 Episodes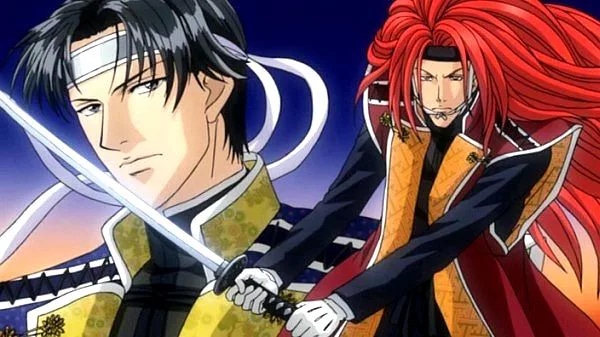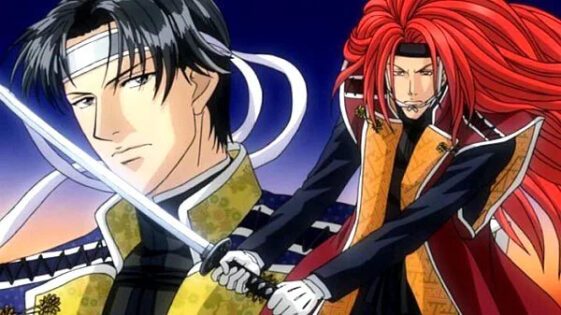 Very loosely based on Youka Nitta's "Embracing Love, mentioned earlier in this list, Fuyu no Semi is set in the Meiji period and follows the story of Akizuki Keiichirou and Kusaka Touma, who are two men in love separated due to their different political sides.

Their political sides forbid them from seeing each other.

They struggle to see each other and the story has a twist of romance, tragedy, sacrifice, and love.

You can say that this is the Romeo & Juliet in a Japanese Yaoi version.

Romance: 4/5 · Plot: 4/5 · Visuals: 5/5 · Sex Appeal: 5/5

Total Score 18/20
4. Gakuen Heaven (2016)

2 Seasons – 20 Episodes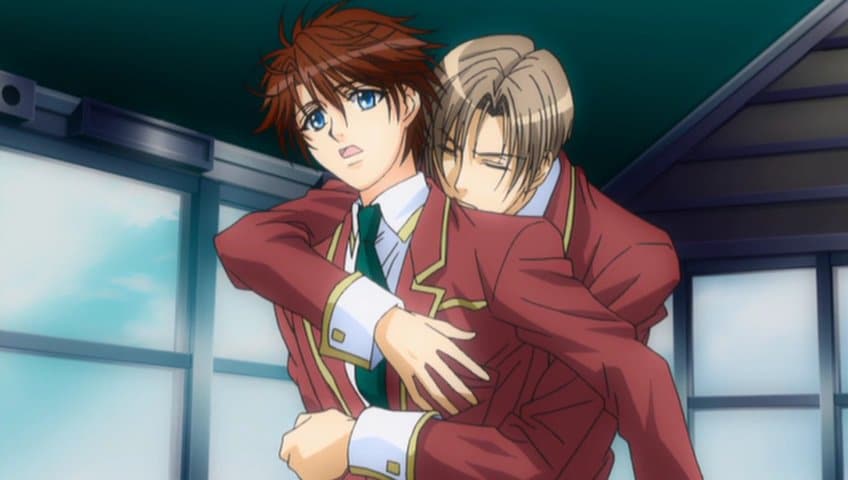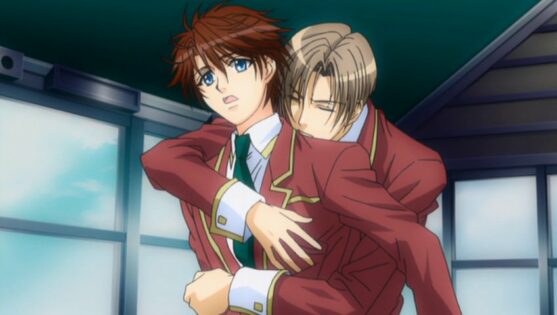 A romantic and sexy rollercoaster from the off, this yaoi anime series focuses on Itou Keita, an average high schooler who has suddenly received an invitation to an elite and prestigious school.

Upon arriving at the school Keita wonders why he was invited to this school full of talented and beautiful young man. Perplexed with finding a unique talent that he is good at, he develops intimate relationships with almost everyone at the school.

There is, however, one student who mysteriously attracts him and that is his classmate Kazuki Endou.

A gay anime full of hot guys, what more could you hope for?

Romance: 5/5 · Plot: 4/5 · Visuals: 5/5 · Sex Appeal: 4/5

Total Score 18/20
3. Hyperventilation (2019)

OVA – 6 Episodes + 1 Bonus Episode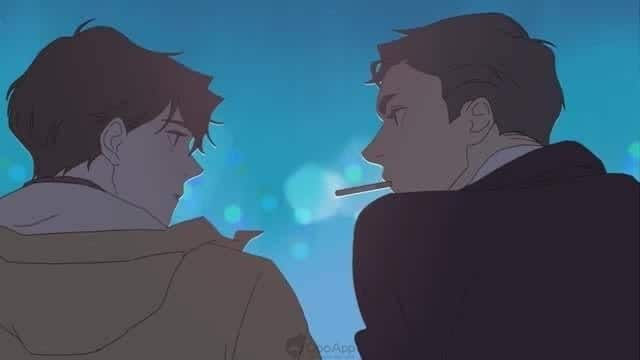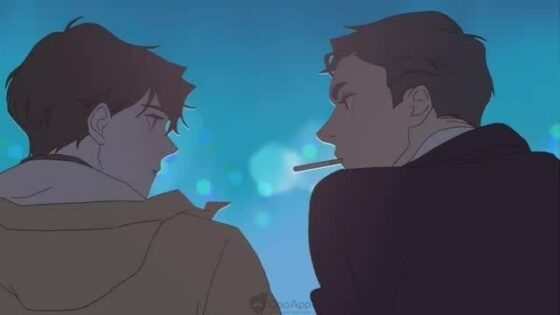 Hyperventilation is a short gay anime series that follows the story of two men, Myongi and Sunho, who are reunited with one another at a high school reunion.

It was adapted from a Korean manhwa (manga) series by Bboong Bbang Kkyu. Seeing each other after so long brought up old feelings from their high school days.

Myongi goes out for a smoke and Sunho follows him and the real love starts from there.

Some flashbacks to their high school days contrasting with the men they are now sets the story well, although the background music of Debussy's Clair de Lune is a bit tacky.

Romance: 5/5 · Plot: 4/5 · Visuals: 5/5 · Sex Appeal: 5/5

Total Score 18/20
2. Ikoku Irokoi Romantan (Foreign Love Affair) (2007)

OVA – 2 Episodes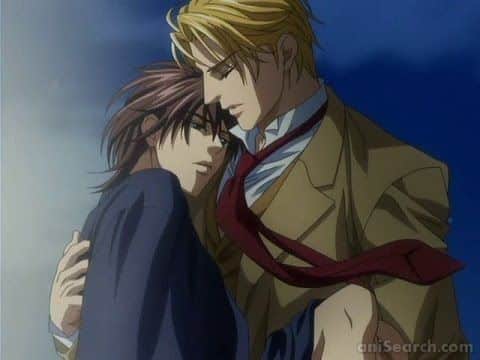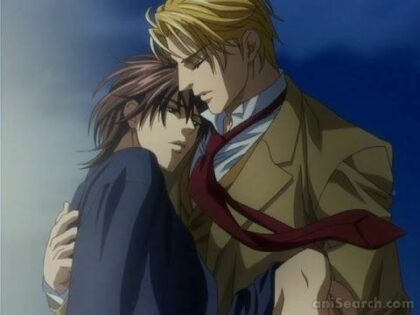 Japanese yakuza heir Ranmeru gets married on a cruise ship in this only two-episode gay anime series again derived from manga. The marriage, however, is just for show, and Ran ends up, after a fight, spending the night not with his new bride but with the captain of the ship.

When they meet in Italy some time later, their love story continues, in what can be described as a romantic comedy of the anime world, a bawdy comedy … with intermittent scenes of torrid sex.

Romance: 4/5 · Plot: 4/5 · Visuals: 5/5 · Sex Appeal: 5/5

Total Score 18/20
1. Umibe no Étranger (Stranger by the Shore) (2020)


Shun Hashimoto is a gay novelist living in Okinawa who meets Mio Chibana, an orphaned high school student living with his relatives after his mother's death.

Mio's reaction however towards Shun reaching out to him, reminds him of the estrangement from his parents after they discovered his sexual orientation.

As Shun and Mio grow closer, Mio confesses that he is moving to the city, but promises to keep in contact once there.

Three years later, Mio suddenly moves back and confesses he is in love with Shun, but Shun is overcome with guilt from depriving him of a "normal" life. Meanwhile, Shun's childhood friend and ex-fiancée, Sakurako, arrives at the island to persuade him to return to Hokkaido due to his father's poor health.

Shun is adamant on staying with Mio, but Mio urges him to return to reconcile with his family. Realising Mio is genuinely in love with him and sensing the truth in his words, Shun decides to return to Hokkaido and asks Mio to accompany him.

Check out "Stranger by the Shore" on Funimation.

Romance: 6/5 · Plot: 5/5 · Visuals: 4/5 · Sex Appeal: 4/5

Total Score 19/20