Gay Sauna Etiquette And First Time Gay Bathhouse Guide
A guide to gay saunas and advice on proper etiquette inside one
Gay Spa, Gay Steam Haven, Gay Onsen, or Gay Bathhouse – these terms all refer to an essential aspect of gay culture: a place where men gather to engage in intimate encounters with other men. It's a world of pure, sensual, steamy, and passionate experiences.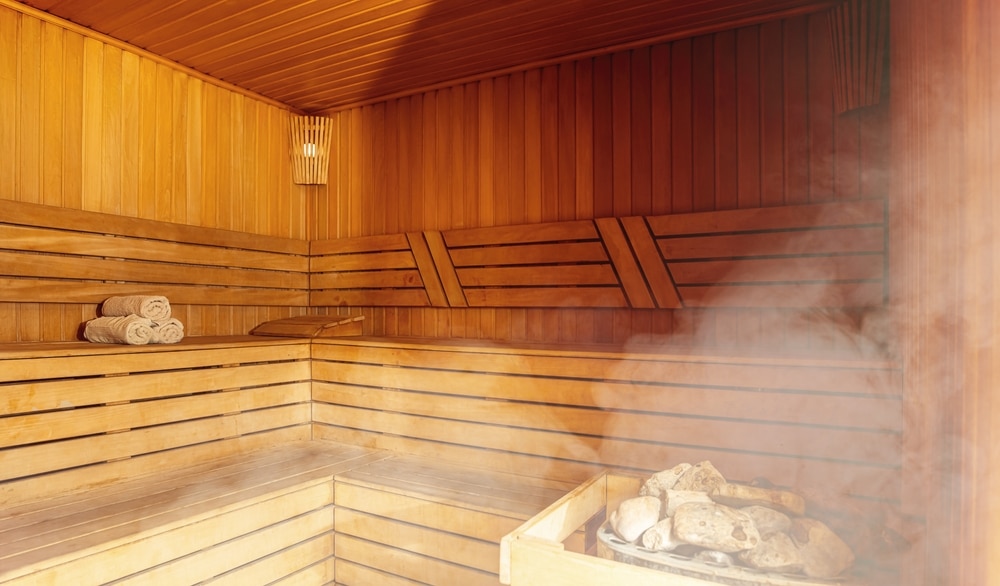 Although the rise of hookup apps like Grindr and Scruff, along with greater societal acceptance of the LGBT+ community, has led to a decline in gay saunas worldwide, many men still appreciate the anonymity, social atmosphere, facilities, and convenience these venues offer.

Unlike your first time at a Gay Camping resort, the focus is a bit more sexual here and if you are in the US you can find the top Gay Sauna's.
Interestingly, in some regions, especially Western Europe and Asia, new upscale gay saunas are emerging, and their popularity seems to be on the rise once more!

This trend has sparked curiosity in a new generation of gay individuals, who are now asking: what exactly goes on inside a gay sauna?
If you've found yourself on this page, it's likely that you're considering your first gay sauna experience or simply want to brush up on gay sauna etiquette. We support sex-positive attitudes and encourage everyone who's curious to visit a gay sauna and discover what they're all about.
It might be your thing, or it might not be – but at least you'll know for sure!
Don't stress too much; most people at these establishments are quite welcoming to newcomers, and you'll never be pressured to do anything you're uncomfortable with. If you're unsure about anything, feel free to ask the attendant or bring a friend along. To find the best gay sauna in your area, check out our gay city guides!
Now, let's prepare you for what to expect during your visit!
There is a gay sauna in almost every corner of every country and every city in the world (yes, even those places where being gay is illegal). They also provide a safe haven for bi-sexual men to satisfy their gay desires in a rather closed, protected environment.
Keep reading to find out what the difference is and, most importantly, how you should act inside gay saunas. Above all, please practise safe sex and have a great time.

What Happens In A Gay Sauna?

In a nutshell, gay saunas cater to men engaging in intimate encounters with other men, regardless of their relationship status, sexual orientation, or preferences.

While some men visit these establishments to unwind and relax, others seek a more thrilling and expedited experience. Your adventure will depend on the size and amenities of the sauna, as well as your own desires.
During your first gay sauna visit, you'll typically receive a towel to wear around your waist and a key for a locker or private room/cabin. Fees may vary depending on whether these items are charged separately or bundled into one entrance fee. For your first experience, we suggest opting for a locker.
Once inside, you'll undress, store your clothes, and explore the available facilities.

Popular amenities include jacuzzis, bars, open showers, and steam rooms. Then, the cruising begins. When you find a compatible partner, you can engage in intimate activities as openly or discreetly as you prefer.
Gay saunas often facilitate the exploration of erotic fantasies that may be risky or prohibited outside their walls. Towels harken back to high school gym experiences, steam rooms recall the cruisy atmosphere of YMCAs, and dark rooms replace public park bushes.
Some gay saunas even offer unique spaces like prison cell rooms, fetish dungeons, or orgy areas to cater to specific desires. Intriguing, right?
To enhance your experience, certain days may cater to specific categories of gay men, making it easier to find what you're looking for. Themes can include bear, leather, twink, jock, chub, and more. Additionally, themed nights and parties might feature full-nudity, gangbangs, lights-off, kink, and other exciting elements.
Visitors can spend as much or as little time as they want at these saunas, many of which are open 24/7, particularly on weekends. If things are quiet upon arrival or you need a break, you can always enjoy a drink at the bar, relax in the lounge, or detoxify in the steam room.
Ultimately, what transpires during your gay sauna experience is entirely up to you!



What Are The Facilities at Saunas



During the 1970s sexual revolution, a period when many gay men embraced a more liberated and adventurous lifestyle, gay saunas evolved from dim, cramped spaces hidden in obscure alleys to luxurious temples of indulgence and pleasure. This transformation marked the birth of the modern gay bathhouse experience.
This golden era brought about a variety of new amenities, many of which are now synonymous with today's gay sauna experience. The size and offerings of gay saunas can vary significantly, ranging from small, basic venues with just a few lockers to sprawling multi-story complexes featuring multiple steam rooms, 10-person jacuzzis, swimming pools, and gyms.
Nonetheless, these are some of the most common facilities you can expect to encounter:

Reception Area – This is where you'll be greeted upon arrival and usually pay the entrance fee. The staff can provide you with any necessary information and answer questions about the facilities.
Changing Room – This area allows you to store your clothes, don the signature white towel, and secure any personal belongings. Keys with stretchy bracelets are usually provided, which can be worn around your ankle or wrist. It's best to bring only essential valuables and your own supply of condoms and lube, as not all gay saunas provide them.
Shower Area – Taking a shower is a must before diving into the experience. Most saunas have a row of open showers where you can clean up and scope out potential connections. Although some steamy action might occur here, there's no need to rush.
Steam Room – A perfect spot to relax and sweat out toxins. While primarily meant for unwinding, discreet advances can sometimes be welcome in this space.
Shop – A convenient store offering a range of essentials such as condoms, lubricant, amyl/poppers, dildos, and cock rings, ensuring that patrons have access to everything they might need during their visit.
Cloakroom – A dedicated space for securely storing coats, bags, and larger personal items that you don't want to keep in your locker.
Showers and Toilets – Clean and well-maintained hygiene facilities for guests to use before entering the sauna area and after their experiences. Taking a shower beforehand is essential for maintaining a clean and pleasant environment for everyone.
Lockers – Personal lockers for storing clothes and smaller belongings. You'll typically receive a key with a stretchy bracelet to keep it securely attached to your wrist or ankle.
Sauna – The difference between a sauna and a steam room lies in the type of heat: dry versus moist. Both can open your pores, relax your muscles, and help you unwind. It's up to you to choose your preference. In some cases, you may even encounter traditional Finnish saunas, like those in Helsinki.
Whirlpool – A social, bubbly space where you can mingle and ease into the experience. While making out is acceptable, sex is prohibited for hygiene reasons.
Relaxation Lounge – Some patrons visit gay saunas for more than just the cruisy atmosphere. These venues may feature bars with alcoholic beverages, dance floors with DJs, or live shows. Typically, intimate activities are not allowed in these "dry areas," but follow the cues of others if unsure.
Dark Rooms – In this mysterious zone, anything goes. With minimal lighting, you'll only see the silhouettes of other men. While it may not be the best choice for a first-time experience, those intrigued by anonymity might give it a try. However, be cautious, as condom use tends to be less common in the dark. Remember, "no" still means "no" in this space.
Private Rooms – A key feature of any gay bathhouse experience, private rooms typically have a wipeable pad or a mattress on a bench. Open doors can be an invitation to watch or join the occupants. Depending on the establishment, these rooms may be included in the entrance fee or require an additional charge.


More Niche Facilities
Suckatoriums – As the name suggests, these are designated spaces for oral pleasure. Discreetly tucked away, they provide an environment for those seeking this specific type of encounter.
Open Cruising Rooms – General areas where patrons can mingle, socialize, and explore connections with others. These rooms are designed to facilitate meeting new people and engaging in intimate activities.
Video Viewing Room – A room equipped with screens playing adult films, creating an erotic atmosphere that encourages exploration and arousal among patrons.
Sling Rooms – Spaces featuring slings, which are used for a variety of sexual activities, particularly in the BDSM and fetish scenes. These rooms cater to guests with specific desires and interests.
BDSM Areas – Dedicated spaces for patrons interested in exploring BDSM and kink-related activities, featuring specialized equipment and furniture to accommodate various fantasies and preferences.
Pool – A swimming pool where guests can relax, swim, and socialize in a more laid-back environment. Depending on the sauna, this could be an indoor or outdoor pool.
Bar – A comfortable lounge area where patrons can take a break from the action, enjoy a drink, and chat with others in a more casual setting. The bar might offer alcoholic and non-alcoholic beverages, as well as light snacks, depending on the establishment.
Gay Sauna Etiquette
Yes, even in these palaces of pleasure, rules apply.

Brush up on your gay sauna etiquette to ensure you have a good time and don't ruin it for everyone else.

Gay sauna cruising involves learning a whole new language, but thankfully, it is pretty straightforward.

Condoms – Gay saunas customarily have an abundant supply of condoms located everywhere you might need them, and you will probably be handed a few when you check-in.

However, some countries do not make this a legal requirement, and far too many guys decide not to use them. Guys are not discussing their HIV status, recent tests, or PrEP through a glory hole, so simply insist on condoms.

There are other STIs to worry about as well, and if one guy says he only enjoys bareback, then move on to the next.

His loss, right?

Keys – Depending on the gay sauna, you will receive keys at check-in for your locker and private room if you have purchased one. If you get an elastic band, place it on your left side to indicate you are a top or your right hand to indicate bottom.

Not everyone uses this rule, but it can help you quickly identify potential guys.

Clothes – They have all got to go. A towel is provided on arrival for a reason, and while sexy jockstraps, tight thongs, or fetish underwear that show off your bubble butt might be acceptable – streetwear never is.

Go commando or check out these hot gay underwear ideas.

Noise – You'll notice pretty quickly the cardinal rule: Silence is golden in a gay sauna.

Communication is through eye contact and touching, and listening to guys chat away can be a massive turn-off.

Gay bars are for chatting, not gay saunas.

That Look – Since no one's talking, the other type of interaction besides touching is facial expressions.

If someone is interested, they will typically attempt to make eye contact and perhaps even offer a small smile, possibly slowing down as they cruise by.

Likewise, a lack of eye contact implies that they're not interested. Easy! Touching – In many places, randomly touching someone is a huge no-no.

But since you're not talking, you'll have to get used to communicating by other means. So don't be offended if a guy touches your butt, arm, or even your genitals.

If you're comfortable and sure you've been given 'the look,' don't hesitate to signal your interest in a similar manner. Above all, watch for hints. If the guy shakes his head, stop all touching and don't try again.

You can apply the same rule, and if someone is very persistent, clearly say 'no thanks.'

Fragrances – Showering is essential to ensure you smell good, but please, do not use perfumes, strong deodorant, or colognes during any gay bathhouse experience.

Many guys are sensitive to them, and the scent will linger in the sauna long after you've finished.

Top or Bottom? – One of the most challenging parts of gay sauna cruising is figuring out who wants to top and who wants to bottom.

Aside from the positioning of the keys or wrist bracelets in some gay saunas, it's hard to tell sometimes.

The trick? Guys will grab the part they're most interested in. If he grabs your genitals, he's looking for a top. An ass squeeze suggests he wants just that.

Dark Rooms – If you want some truly anonymous sex, this is where you go.

There'll generally be an orgy of men in there, sucking, groping, and perhaps having sex. The look won't work here, and touching is the only way to communicate.

Sadly, many guys head here for barebacking and to avoid using a condom. Since it's hard to tell, so be careful.
14 Top Tips At A Gay Sauna

As gay saunas are generally different depending on whether they are dry or wet, or in what kind of geographical and political environment they are located, handy hints and protocols will vary greatly.

Below however are some general dos and don'ts that will avoid you getting into any trouble.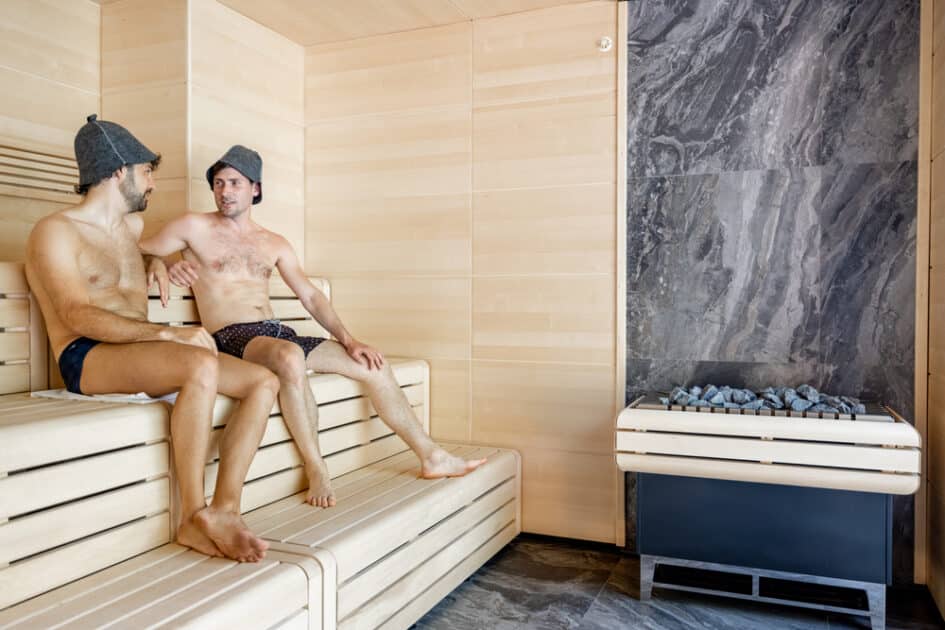 Keep your belongings organized – Bring a lightweight drawstring backpack or cinch sack to keep your clothes and other items together. This way, you can easily find them when you're ready to leave.


Bring your own supplies – Although most gay saunas provide lube and condoms, quality can vary. Pack a travel kit with your preferred supplies, and if you're a bottom, include a travel douche.


Use cash if you can – Many gay saunas operate on a cash-only basis, which helps protect customer privacy. Bring enough cash to cover entry fees, locker rentals, and any drinks or snacks you might want.


Where are your Flip Flops? – Many gay saunas will not allow you to go barefoot, and even if they do, why would you want to? Shoes are generally clunky – and a tad unsexy! Plus, are you prepared to get them wet? Beach flip flops are perfect for keeping your feet off the sometimes less-than-hygienic floors and are easy to get off in the heat of the moment.


Avoid sharing drinks – Refrain from accepting drinks from others, as they could be spiked with dangerous substances like GHB. Purchase your own drinks and keep an eye on them at all times.


Stay drug-free during your first visit – For your first gay sauna experience, avoid using drugs. Familiarize yourself with the environment and the risks associated with drug use before deciding whether to partake in the future.


Bring a trusted friend – If you're nervous, invite a friend who's familiar with gay saunas to accompany you. They can offer guidance, support, and make the experience more enjoyable.


Politely decline unwanted advances – If you're not interested in someone's flirtation or touch, let them down gently and clearly. Show kindness and understanding, as everyone is there to have a good time.


Remember that sex isn't mandatory – You don't have to engage in sexual activity if you're not comfortable. Enjoy watching or being watched, and explore other sauna amenities like pools, steam rooms, or lounges.


Be open to new experiences – Gay saunas offer a safe space to explore your sexuality. Don't limit yourself by sticking to what you're used to; try new things and see what you enjoy.


Be Careful With Other Drugs – While getting tricked into taking GBH is not unheard of, it is tougher to be duped into other illicit substances. For your first gay sauna experience, stay drug-free, and in the future, if you choose to do them, be sure you are aware of the risks. Most gay saunas have a zero-drug tolerance, and we prefer it this way.


Call A Friend – If you are nervous about your first-time gay sauna experience, take a mate who knows what they are doing. They will have your back, show you the ropes, and help you if you can't quite find your courage. Gay bars and clubs are better with a wingman, why wouldn't a sauna be the same?


Let them down gently – Everyone is just here to have a good time, just like you. If they feel, flirt or grope, and you're not interested, say so straight away. There is no need to be mean – one day, you won't be the most desirable guy in the club and will appreciate the kindness. Be clear and concise; don't lead them on, and most guys will quickly get the message.


You don't always have to have sex in a gay sauna – If you are anxious about the sex component of your first gay sauna experience, understand that you only have to do what you are comfortable with. Just indulge your voyeuristic side, watch, or be watched
Bottom Line
We have tried to give you an overview of what to expect from what kind of gay sauna. Self-exploration and research is always the best, but we hope we have given you a place from which to start. Please remember to always practise safe sex and be comfortable in the skin you are in. As our friends in Spain would say: Viva la vida.