What is BDSM?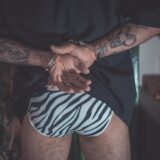 BDSM is a variety of often erotic practices involving Bondage, Discipline, Dominance, Submission and Sadomasochism. When someone mentions BDSM it can inspire, depending on who it is mentioned to, feelings of aversion, arousal, fear and even freedom. It was a common belief that those who practice BDSM were in some way mentally unwell however now it is agreed that those who do are no different from the general population, except in this regard.
BDSM also takes a great deal of trust between people and in some relationships it can actually be a highly bonding experience. By exploring boundaries in a safe and trusted environment people can actually feel like they can go beyond their self limiting beliefs and reach new realms of pleasure. There can also be a great deal of respect between couples who engage in BDSM on a regular basis, especially when both have designated roles of a dominant and submissive, both feel a sense of completeness from the other and a knowing that they would not want to take things too far in case they were to upset the balance.
BDSM can include name calling, inflicting pain and being restrained and as such some people feel an instant disgust at such actions and would question the sanity of those who do. Research however has often concluded that those who do engage in BDSM can be less neurotic, more conscientious and even have a greater sense of wellbeing.