20 Best Gay and Lesbian Wedding Ideas
Same Sex Wedding Ideas
Love is love, Best Gay and Lesbian Wedding Ideas and weddings are a beautiful occasion to celebrate two people's unique bond and commitment. For LGBTQ+ couples, a wedding is more than just a celebration – it is a powerful statement of love and equality.

The possibilities for creating an inclusive and unforgettable wedding are endless, and we are here to inspire you. In this blog, we will explore 20 inspiring ideas to add a touch of queer magic to your special day.

It's also important that you find that perfect romantic location for the wedding and you find the same when it comes to the honeymoon.

From rainbow-themed décor to personalized cake toppers, these ideas will help you create an authentic, meaningful wedding that reflects your love story. Let's dive in!


1. Rainbow-themed décor

Rainbow-themed décor celebrates love and LGBTQ+ pride through vibrant colors. Infuse your wedding with multicolored table settings, linens, and chair covers. Create stunning flower arrangements with colorful blooms or ombre centerpieces.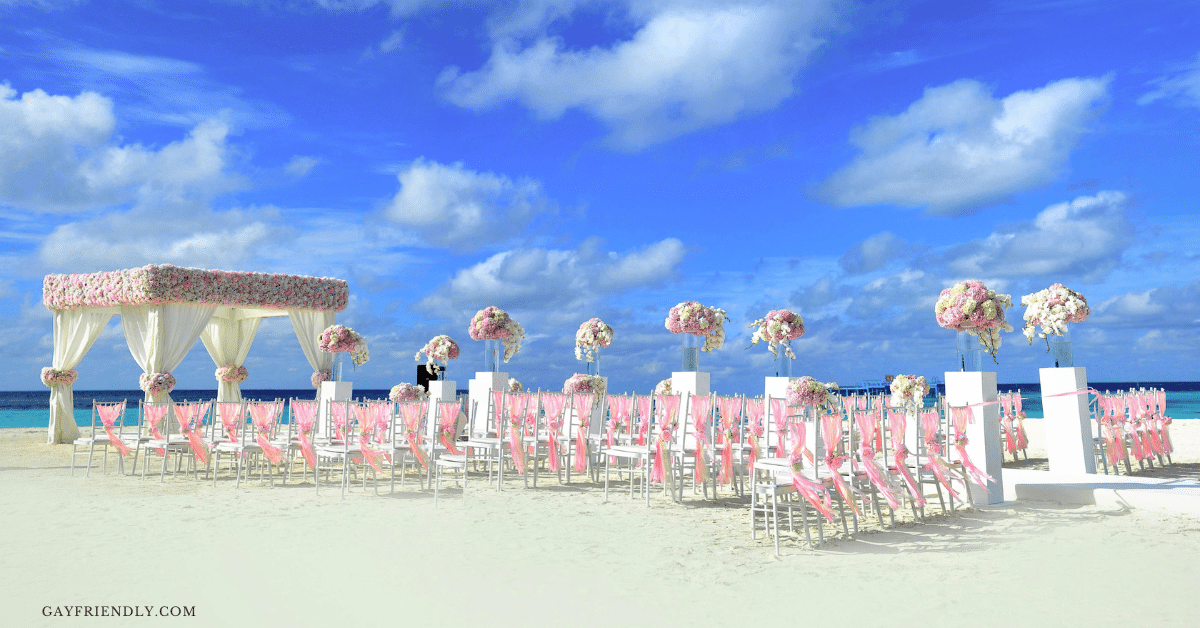 Enhance the atmosphere with rainbow-hued lighting, backdrops, and balloons. Thoughtfully integrating these elements into your wedding creates a meaningful and visually stunning celebration that reflects your love and pride as a couple.


2. Customized vows

Customized wedding vows allow you and your partner to express the depth of your love and commitment in a way that resonates with your unique relationship. Writing your vows enables you to share your journey, recounting your challenges and the growth you've experienced together.

Reflect on the moments that have shaped your bond, and celebrate the qualities you admire in each other.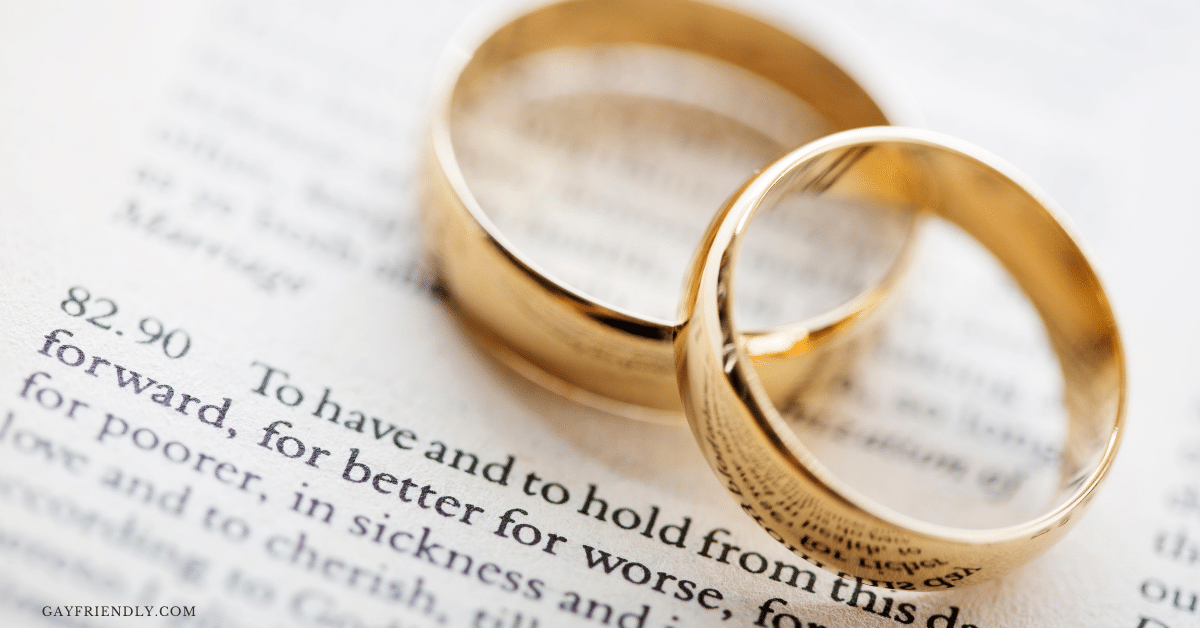 By personalizing your vows, you create an intimate and memorable ceremony that honors your shared experiences and solidifies your commitment to a future filled with love and support.


3. LGBTQ+ icons

Honoring LGBTQ+ icons and trailblazers at your wedding is a powerful way to celebrate the resilience and achievements of the community that has paved the way for your love to thrive.

Incorporate these inspirational figures into your wedding by naming tables after them or featuring their portraits as part of your décor. In your speeches or toasts, acknowledge their impact on your lives and the broader LGBTQ+ rights movement.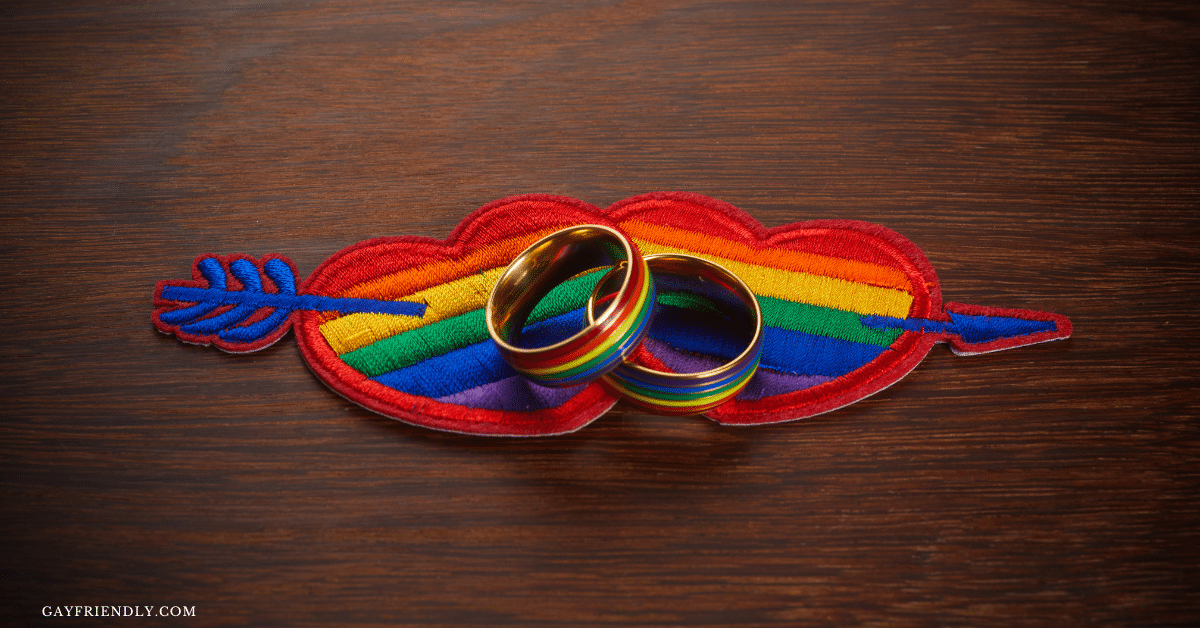 Thoughtfully curate a playlist that includes songs by LGBTQ+ artists or anthems that have become symbols of pride and empowerment. By paying tribute to these icons, you honor their legacy and create a meaningful connection to the community that has shaped your love story.


4. Gender-neutral wedding party

A gender-neutral wedding party is a modern and inclusive approach to celebrating the important people in your life.

Inviting your closest friends and family to join your wedding party without assigning gender-specific roles creates an environment that embraces diversity and acknowledges the unique bonds you share with each person. Instead of classic titles like bridesmaids and groomsmen, consider using terms like "wedding attendants" or "celebration crew."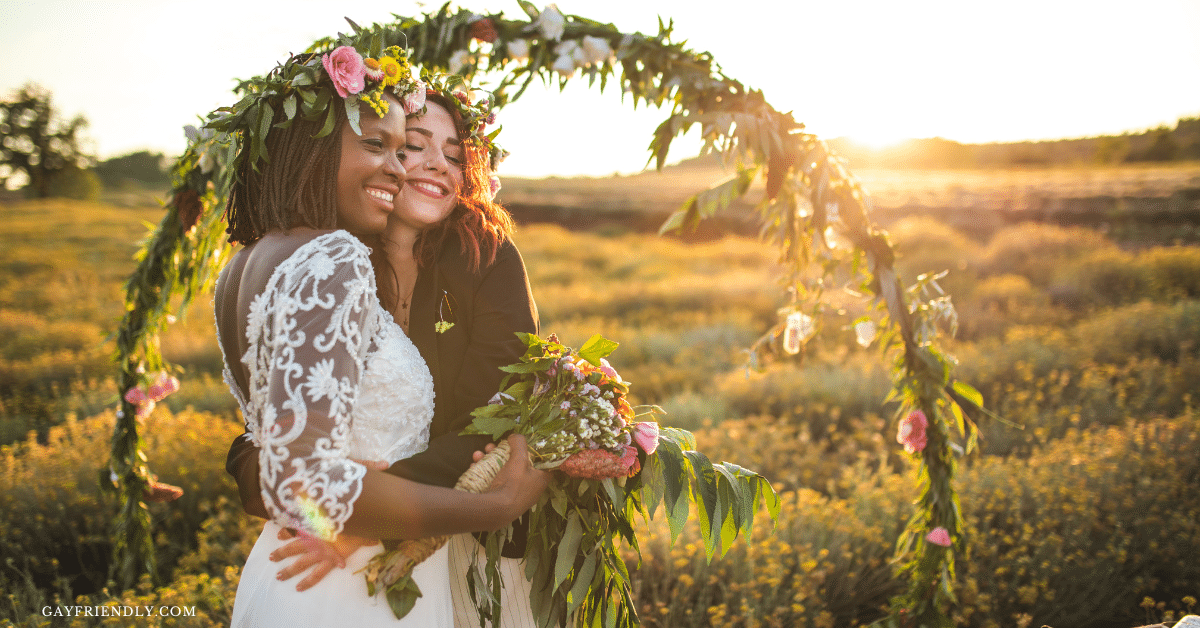 Encourage your wedding party to wear attire that makes them feel comfortable and reflects their style, whether suits, dresses, or a mix of both.

By fostering an inclusive atmosphere, you emphasize the importance of love, support, and individuality in your wedding celebration.


5. Unity Ceremony

A unity ceremony is a symbolic and meaningful way to represent the blending of your lives and loves during your wedding. By participating in a ritual like mixing sand or lighting a unity candle, you visually demonstrate the joining of your paths into a single journey.

Choose different colored sands or two separate candles to represent each partner, and then pour the sands together or light a central candle to signify the merging of your lives.

This poignant moment highlights the commitment you're making to one another and serves as a lasting reminder of the love and support that will continue to grow and strengthen your bond as you navigate life's adventures together.


6. Inclusive officiant

Selecting an inclusive officiant for your wedding is essential for ensuring a ceremony that authentically celebrates your love and reflects your values. When choosing an officiant, look for someone who is well-versed in LGBTQ+ issues and is committed to supporting the community.

This person should be open to working closely with you to create a ceremony that honors your unique love story and incorporates elements that resonate with both partners.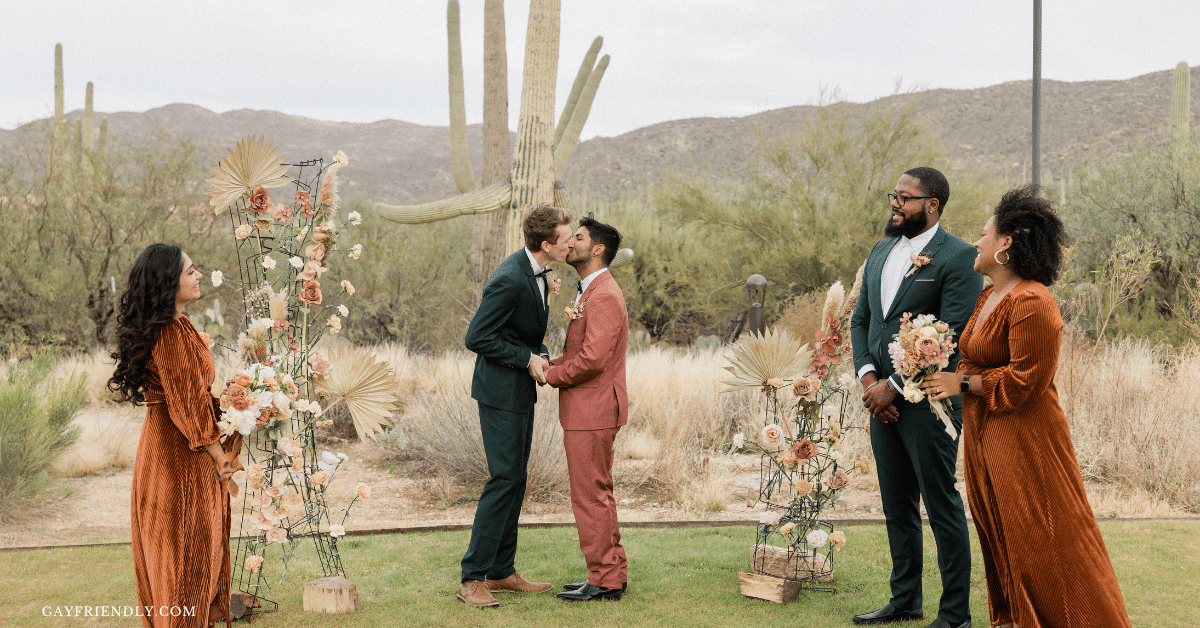 They should also be comfortable using gender-neutral language or tailoring the ceremony's wording to suit their preferences.

By choosing an officiant who embraces and supports the LGBTQ+ community, you create a heartfelt and meaningful ceremony that truly honors your love and commitment.


7. Drag queen performers

Hiring drag performers for your wedding reception introduces a fabulous element of glamour and entertainment that will delight your guests and create unforgettable memories.

Drag queens and kings are known for their mesmerizing stage presence, elaborate costumes, and exceptional talent, making them the perfect choice to elevate your celebration.

Work with the performers to plan a show reflecting your wedding theme or favorite moments from LGBTQ+ culture. You can even incorporate lip-sync battles, interactive games, or dance numbers to engage your guests and encourage them to enjoy the fun.

Adding drag performers to your wedding reception creates a lively atmosphere and celebrates the rich history and talent within the LGBTQ+ community.


8. Queer love songs

Crafting a playlist featuring queer love songs by LGBTQ+ artists adds a personal and meaningful touch to your wedding celebration. These songs can serve as the soundtrack for your first dance, parent dances, and other memorable moments during your special day.

By selecting tunes that resonate with your love story or highlight the diverse voices within the LGBTQ+ community, you create a unique and inclusive atmosphere for your guests.

From classic anthems to contemporary hits, the wide range of available music allows you to curate a playlist that reflects your taste and the emotion of your wedding day.

Embracing LGBTQ+ love songs enhances your celebration and showcases the beauty and diversity of queer love.


9. Two wedding dresses or suits

Embracing individuality through unique wedding attire ensures partners' personalities and tastes shine on their special day.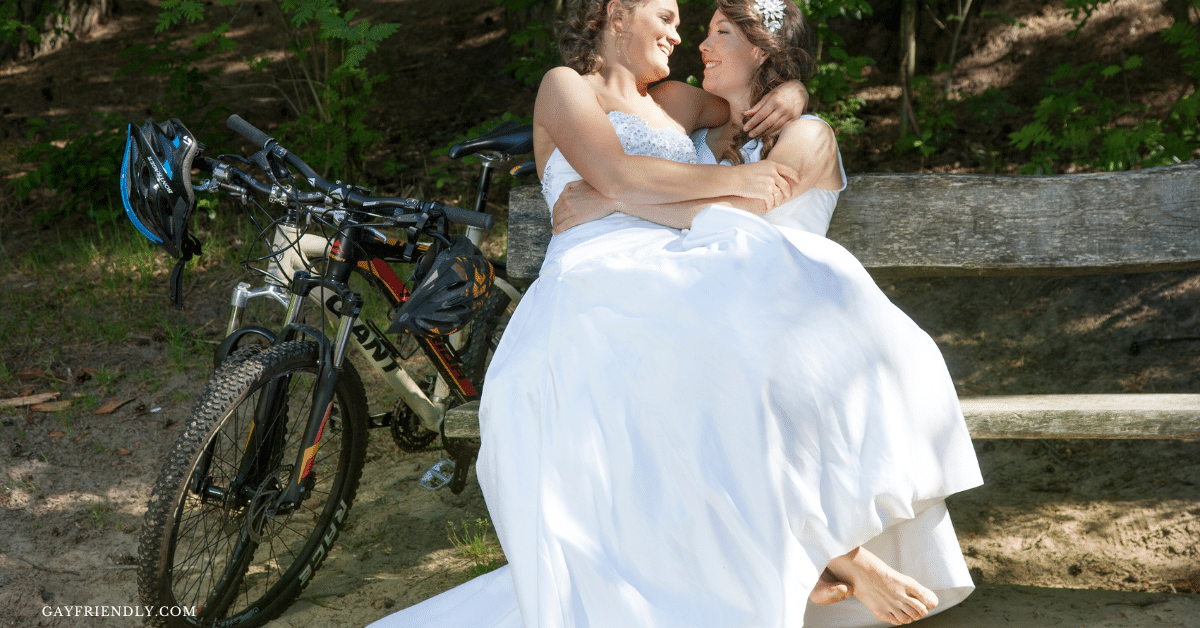 Opting for two wedding dresses or suits, or a combination of both, allows each person to showcase their style while complementing each other.

Thoughtful coordination of colors, fabrics, or accessories can create a cohesive look that celebrates your love and unity while still highlighting the distinct qualities that make your partnership extraordinary.


10. Ally guest favors

Offering pride-themed or LGBTQ+ supportive guest favors is a heartfelt way to thank friends and family for their support and allyship.

Choose tokens celebrating love and inclusivity, such as rainbow-colored keepsakes, custom pins, or bracelets with empowering messages.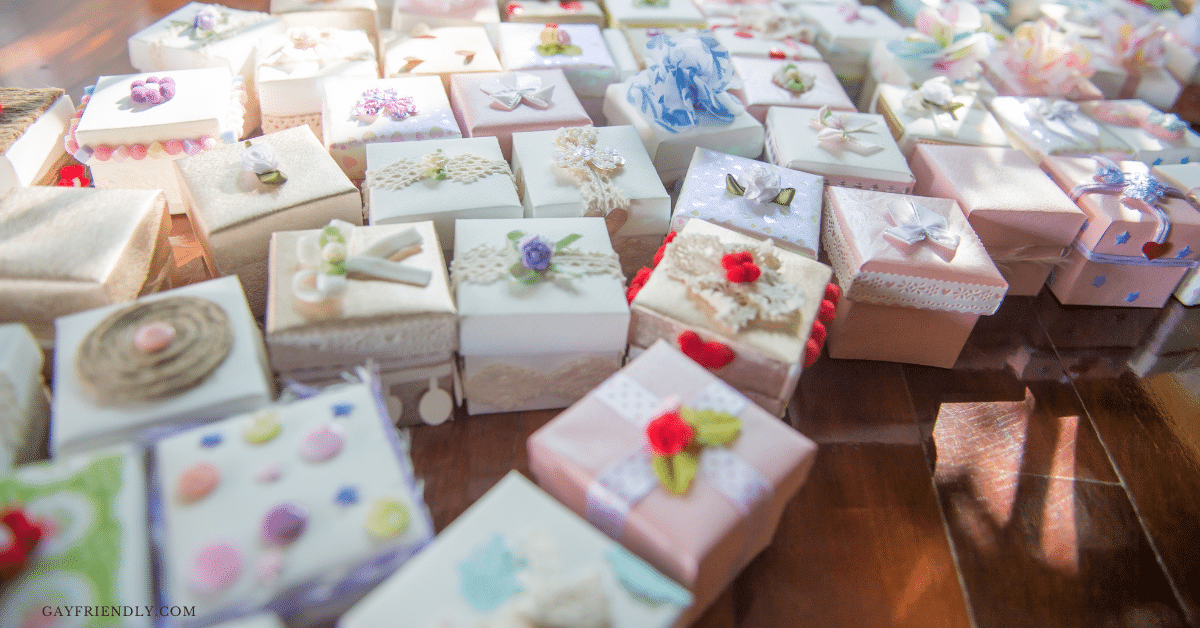 These favors serve as mementos of your special day and remind guests of the importance of love, acceptance, and unity in the ongoing journey toward LGBTQ+ equality and representation.


11. Charitable donations

Incorporating charitable donations into your wedding is a meaningful way to support the LGBTQ+ community. Instead of traditional gifts, request that guests donate to an LGBTQ+ charity or organization that holds special significance for you.

This gesture reflects your values and commitment to promoting equality and leaves a positive impact by supporting essential resources, advocacy, and education within the community.

By choosing this route, your celebration becomes an avenue for change and lasting goodwill.


12. Personalized cake toppers

Personalized cake toppers are a delightful way to showcase your love and celebrate your bond as a couple. By choosing cake toppers that reflect your identities, passions, or hobbies, you add a charming and memorable touch to your wedding cake.

From figures representing your favorite activities to custom designs incorporating your initials or symbols of your love story, these bespoke cake toppers are a visual reminder of the distinct qualities that make your relationship extraordinary.


13. Queer literature

Incorporating queer literature into your wedding adds depth and meaning to your celebration. Select quotes or readings from LGBTQ+ authors and poets that resonate with your love story, and include them in your ceremony or as part of your wedding décor.

These excerpts can be displayed on signs, table settings, or in your wedding program. By embracing queer literature, you pay homage to the rich legacy of LGBTQ+ voices and share the profound expressions of love that connect us all.


14. Celebrate local LGBTQ+ businesses

Celebrating local LGBTQ+ businesses supports the community and adds an authentic touch to your wedding.

By hiring LGBTQ+-owned companies for services like planning, catering, photography, and more, you invest in the talent and passion of entrepreneurs who understand your unique needs and values.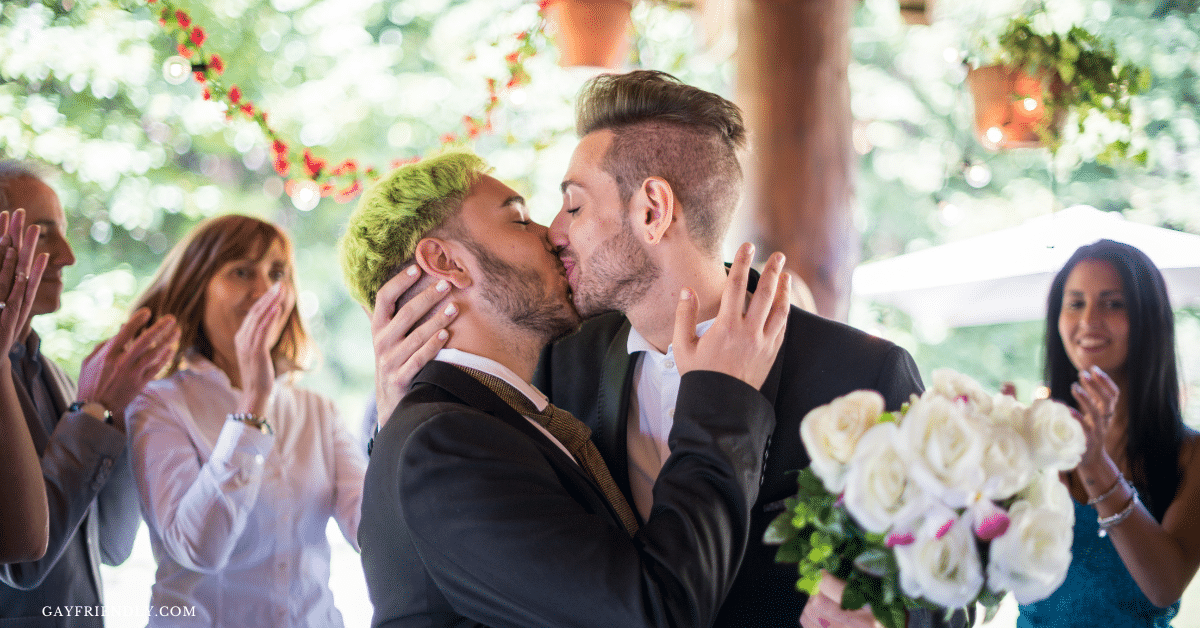 This collaboration fosters a sense of camaraderie and empowerment while ensuring your celebration is infused with the love and dedication that drives the LGBTQ+ community forward.


15. Pronoun place cards

Pronoun place cards are a simple and powerful way to promote inclusivity and respect for gender identity at your wedding.

By allowing guests to include their preferred pronouns on their place cards or name tags, you create a welcoming atmosphere that acknowledges and affirms the diverse identities within the LGBTQ+ community.

This small but significant gesture also sets a positive tone for your celebration and reinforces your commitment to creating a safe and inclusive space for all guests.


16. Family photo display

Creating a family photo display that includes weddings of LGBTQ+ relatives is a beautiful way to honor the love stories that came before you. This display can feature traditional and non-traditional wedding photos, showcasing your families' unique and diverse histories.

Displaying these photographs is a heartfelt way to acknowledge the challenges and triumphs of the LGBTQ+ community and celebrate the progress made toward marriage equality.

It also reminds guests of the critical role of love and commitment in shaping your love story.


17. Same-sex wedding traditions

Incorporating LGBTQ+ wedding traditions worldwide adds a unique and meaningful touch to your celebration. From the Polynesian tradition of the two-male hula dance.

In the Chinese custom of the double happiness symbol, countless rituals and symbols represent love and commitment within the LGBTQ+ community.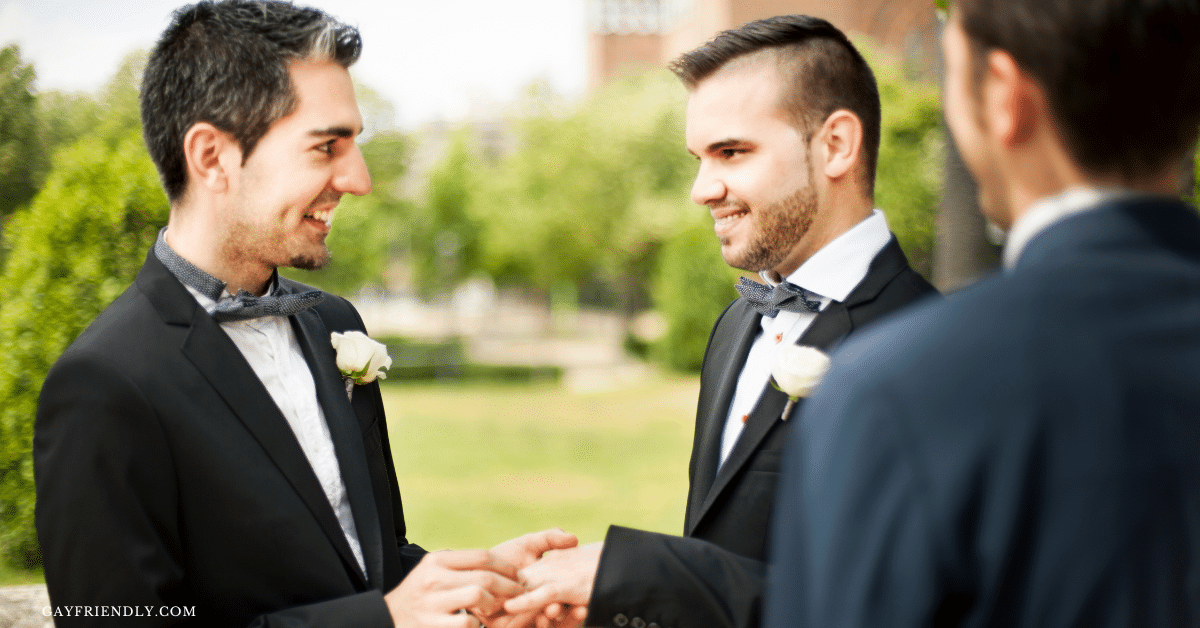 Researching and incorporating these traditions into your ceremony or reception honors the diversity and richness of queer culture while creating a memorable and inclusive experience for you and your guests.


18. Queer-friendly honeymoon destinations

Choosing a queer-friendly honeymoon destination ensures you can celebrate your love in a safe and welcoming environment.

Research locations are known for being inclusive and supportive of LGBTQ+ travelers, such as cities with vibrant queer communities or countries with progressive laws and policies.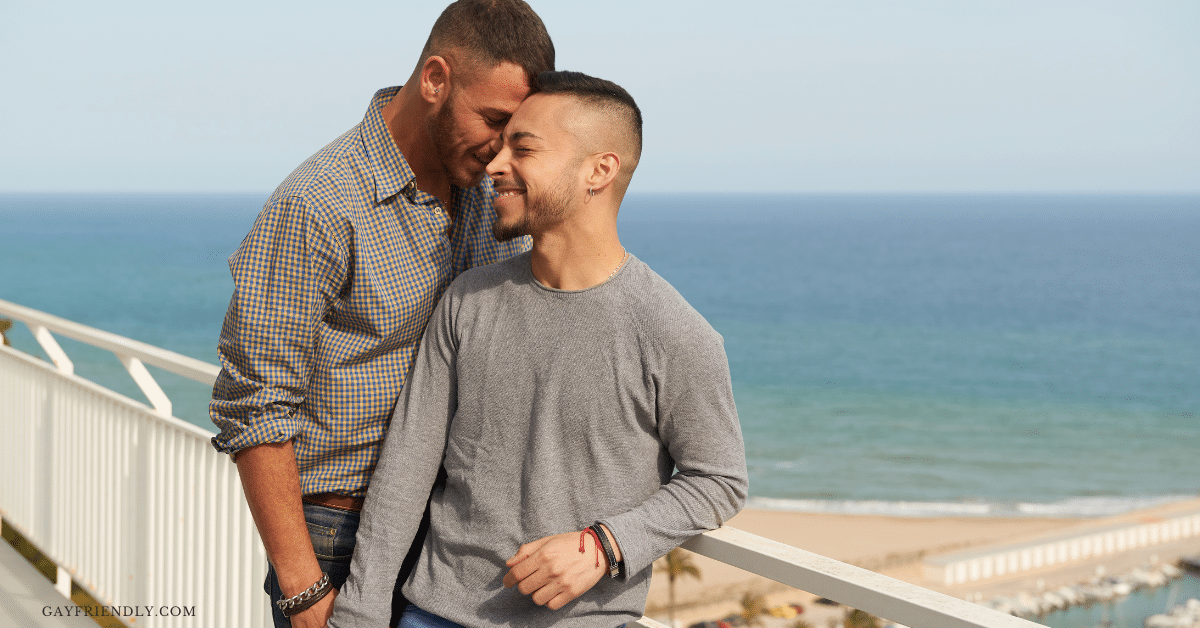 These destinations offer a range of activities and experiences that cater to the LGBTQ+ community, from LGBTQ+ nightlife to guided tours that explore queer history and culture.

By selecting a queer-friendly honeymoon destination, you can relax and enjoy your newlywed bliss, free from discrimination or prejudice.


19. Share your love story

Sharing your love story with guests adds a personal and intimate touch to your wedding celebration. Including a brief history of your relationship in your wedding program or on your wedding website allows guests to connect with your journey and feel a part of your love story.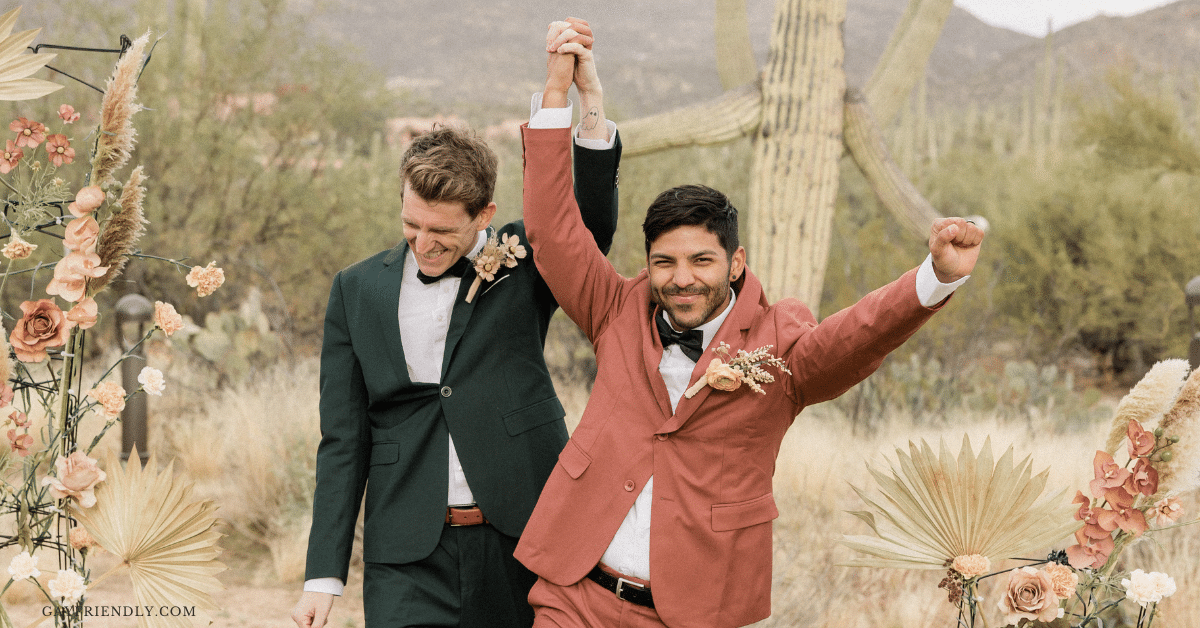 You can highlight key moments, such as your first date or the moment you knew you were in love, and share milestones, such as moves, career changes, or significant personal growth.

This gesture celebrates your partnership, deepens your connection with your guests, and creates a more meaningful and memorable wedding experience.


20. Community involvement

Involving your local LGBTQ+ community in your wedding celebrations creates a sense of belonging and solidarity and highlights the importance of supporting and uplifting marginalized voices.

Collaborating with community organizations or hiring LGBTQ+ performers can add a unique and authentic touch to your wedding while amplifying the voices of underrepresented artists and activists.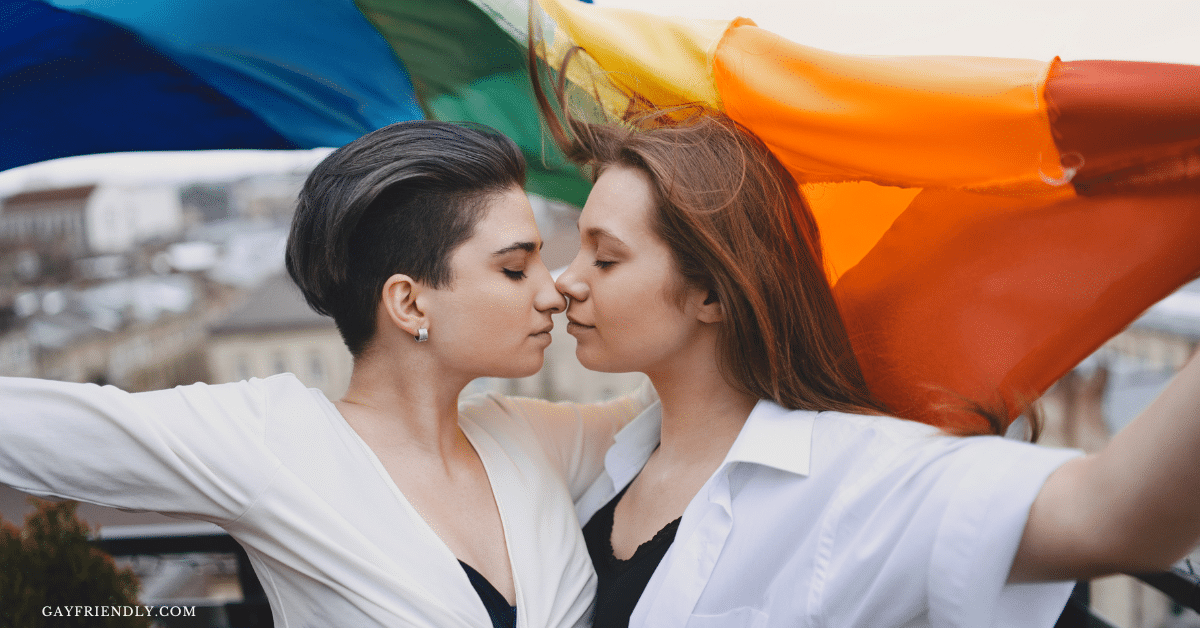 You can also donate a portion of your wedding budget to a local LGBTQ+ charity or volunteer with organizations that serve the community.

These gestures demonstrate your commitment to social justice and celebrate the diversity and resilience of the LGBTQ+ community.


The Bottom Line

Love comes in all shapes, sizes, and colors; weddings are the perfect opportunity to showcase that. Incorporating queer elements into your special day is a beautiful way to celebrate and honor your love while promoting inclusivity and acceptance.

From supporting local LGBTQ+ businesses to incorporating queer literature, there are countless ways to make your wedding reflect the unique bond you share as a couple. We hope that this blog has provided you with inspiring ideas that will help you create a wedding that is as special and unique as your love story.

Congratulations, and cheers to a lifetime of love and happiness!