How to Get Rid of Strawberry Legs? Tips and Tricks for Strawberry Skin
Smooth and Radiant: Unlocking the Secrets to Strawberry Leg-Free Skin
Have you ever shaved your legs and observed a cluster of little black spots? It's not just you. It's a typical sign of various skin disorders called "strawberry legs."

Strawberry legs are blocked pores, which you can quickly cure and avoid despite how annoying or embarrassing they may make you feel. Tiny black dots that appear on the legs are known as strawberry legs. These specks mimic the seeds of strawberries.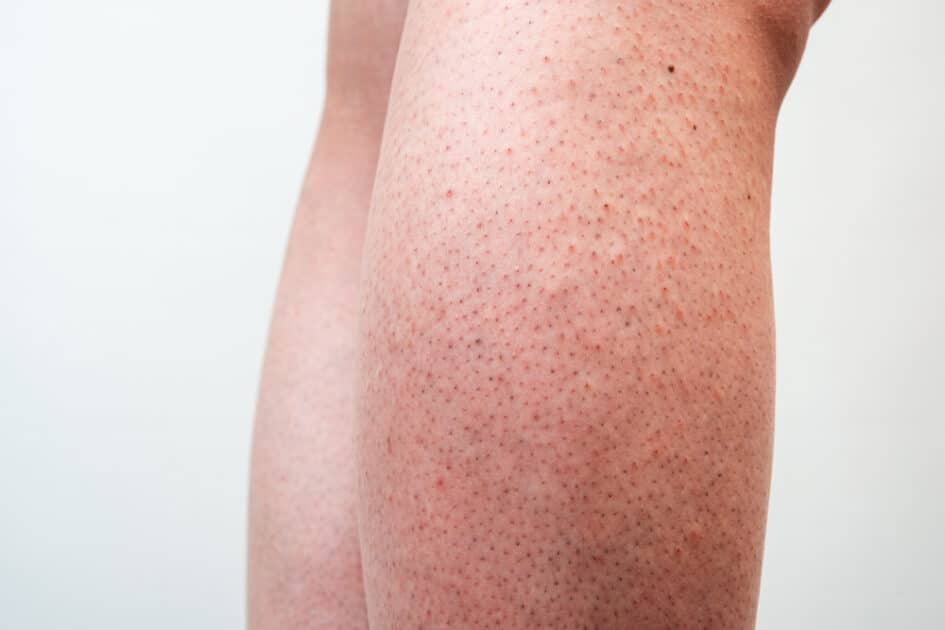 Generally, using moisturizing shaving cream and experimenting with various self-care techniques can help people avoid developing strawberry legs.


Why Do Strawberries Get Legs?

Despite referring to a specific look, "strawberry legs" is a general word.

The distinctive look of strawberry legs can be brought on by many different disorders, some of which may overlap.


Shaving improperly, using old or dull razors, or not using shaving cream can contribute to the occurrence of strawberry legs. Razor burn and folliculitis can result from shaving, leading to ingrown hairs and the appearance of strawberry legs. Thick body hair is often associated with the development of ingrown hairs. Shaving irritation can cause the skin around the hair follicle to darken, further enhancing the appearance of strawberry legs.


Clogged pores, known as open comedones, can occur on the skin of the legs due to the accumulation of bacteria, dead skin, and debris. When the oil in these clogged pores is exposed to air, it oxidizes and turns black, becoming more noticeable, especially in individuals with more prominent pores or thick body hair.


Folliculitis is characterized by inflammation and sometimes infection of the hair follicles. It can be triggered by shaving, waxing, or other hair removal methods that leave the follicles vulnerable to exposure. Additionally, in hot tubs, folliculitis can be caused by bacteria, yeast, fungus, or improper regulation of pH and chemicals. Ingrown hairs associated with folliculitis can contribute to the darkened appearance of strawberry legs.


Keratosis pilaris is a common and benign condition that manifests as small bumps on the skin of the thighs and upper arms. These bumps, often called "chicken skin," are rough and rugged to the touch. They result from the accumulation of keratin and dead skin cells. Keratosis pilaris tends to be more prevalent during dry winters or in low-humidity climates. Swimming frequently in pools with drying chemicals can also lead to keratosis pilaris.


Excessively dry skin can worsen the symptoms of strawberry legs and other conditions resembling them. While dryness does not cause the pores' darkening, it can increase the likelihood of developing razor burn, folliculitis, and strawberry legs. Dry skin also accentuates the visibility of keratosis pilaris, folliculitis, open comedones, and razor burn. Moisturizing the skin can help alleviate these symptoms.


Typical Strawberry Legs Signs and Symptoms Include


open pores with a darker appearance

after-shave dark or brown marks on the person's legs

a pattern of dots or pits on the legs

Although they might embarrass a person, strawberry legs are often neither unpleasant nor irritating. If someone feels discomfort or itching, they should contact a doctor since it could indicate an underlying problem.

When dead skin, oil, and germs are trapped in expanded pores or hair follicles, strawberry legs develop.

After shaving, one frequently gets strawberry legs. Strawberry legs can also be caused by folliculitis, dry skin, blocked pores, and keratosis pilaris.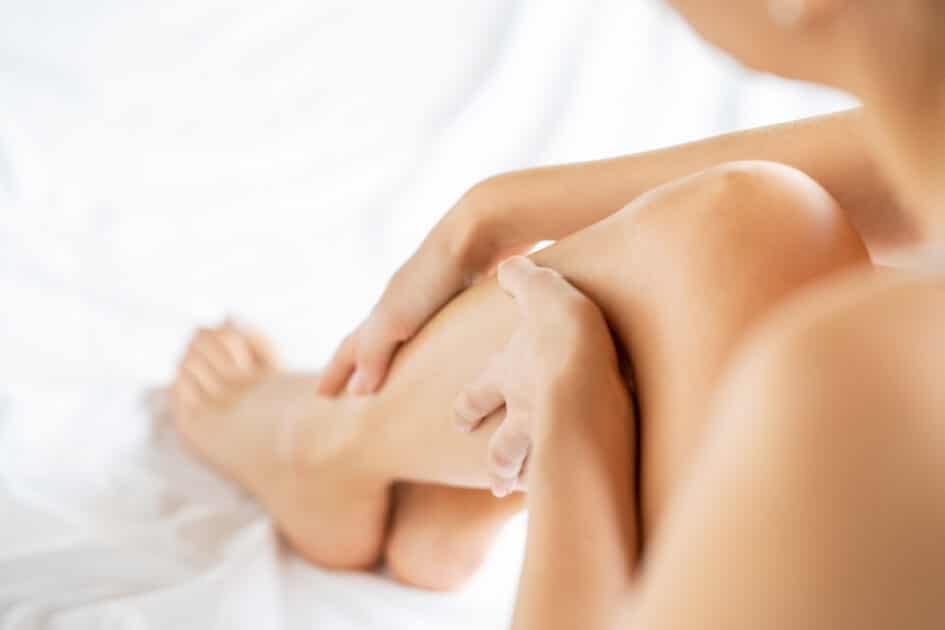 Preparing the Skin

To effectively address strawberry legs, it is crucial to prepare the skin properly. Here are two essential steps to incorporate into your skincare routine:


Exfoliation

Regular exfoliation plays a vital role in removing dead skin cells and unclogging pores, helping to improve the appearance of strawberry legs. Consider the following tips for effective exfoliation:


Use gentle scrubs: Opt for exfoliating products specifically designed for the body, preferably with tiny granules that won't be too harsh on the skin. Gently massage the scrub onto damp legs using circular motions, focusing on areas with strawberry-like pores.

Exfoliating brushes: Alternatively, you can use a soft-bristle exfoliating brush. Before showering, lightly brush your legs upward to slough off dead skin cells and stimulate circulation.

Frequency: Exfoliate your legs 2-3 times a week to avoid overdoing it and potentially irritating the skin.

Remember, moderation is essential when it comes to exfoliation. Being too aggressive or exfoliating too frequently can cause irritation and dryness, exacerbating the appearance of strawberry legs.


Moisturization

Daily moisturization is essential to maintain skin hydration and prevent dryness, which can contribute to the development of strawberry legs. Consider the following tips for moisturizing your legs effectively:


Choose non-comedogenic products: Opt for lotions or oils specifically formulated for the body and labeled as non-comedogenic. These products are less likely to clog pores, reducing the risk of further exacerbating strawberry legs.

Apply after showering: Moisturize your legs immediately while the skin is still slightly damp. This helps to lock in moisture and enhance the effectiveness of the moisturizer.

Massage gently: Use gentle, upward strokes to massage the moisturizer into your skin. This promotes better absorption and stimulates blood circulation.

Consider specialized ingredients: Look for moisturizers that contain hyaluronic acid or glycerin, which help attract and retain skin moisture.


Consistency is key when it comes to moisturization. Make it a part of your daily routine to maintain hydrated, supple skin and minimize the appearance of strawberry legs.

Following these preparatory steps, including regular exfoliation and daily moisturization with non-comedogenic products, you can create a solid foundation for addressing strawberry legs and promoting healthier-looking skin.


Recommended:

How to Get Rid of Wax on Skin? Tips and Tricks
Seeking Professional Help

While home remedies and lifestyle changes can be effective for many individuals in improving the appearance of strawberry legs, it's essential to recognize that some cases may require professional intervention.

Here's what you need to know about seeking dermatological assistance: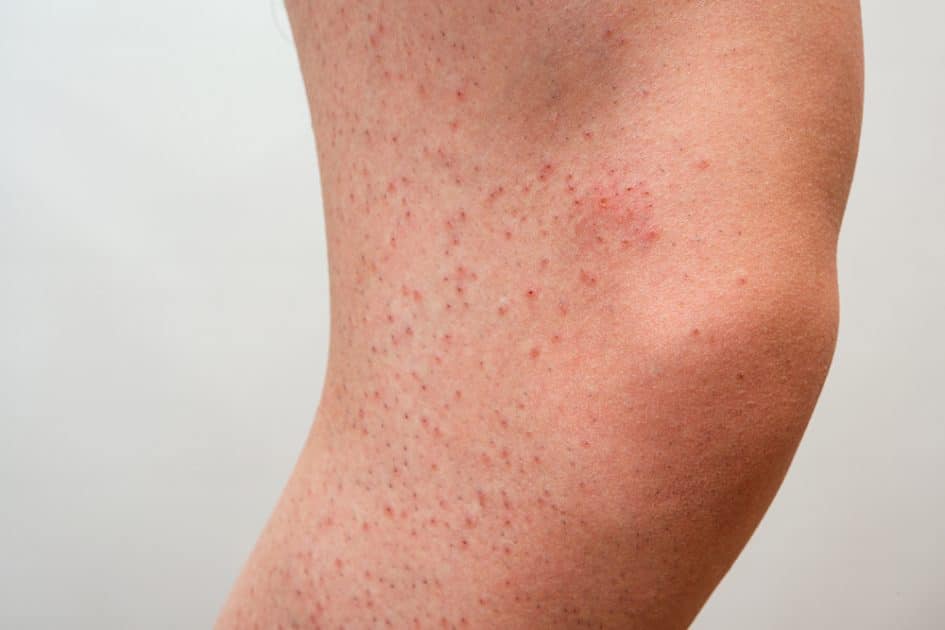 When to Consult a Dermatologist

If you've diligently followed home remedies and made necessary lifestyle changes but still haven't achieved satisfactory results in reducing the appearance of strawberry legs, it's advisable to consult a dermatologist. They are medical professionals specializing in skin health and can provide personalized advice and treatment options based on your needs.


Personalized Advice and Assessment

Dermatologists can comprehensively evaluate your skin and assess the underlying causes of your strawberry legs. They can help identify potential skin conditions, such as folliculitis or keratosis pilaris, which may require specific treatment approaches.


Professional Treatments

In cases where home remedies have not produced the desired outcome, dermatologists may recommend professional treatments for persistent strawberry legs. These treatments can include:

Laser Hair Removal: Laser therapy targets the hair follicles, reducing hair growth and preventing ingrown hairs. By addressing the root cause, this treatment can significantly improve the appearance of strawberry legs over time.


Chemical Peels: Dermatologists may suggest chemical peels to exfoliate the skin more deeply, promoting removing dead skin cells and unclogging pores. This procedure can help reduce the visibility of dark pores and smooth the skin's texture.

These professional treatments are typically performed by trained dermatologists and require multiple sessions to achieve optimal results. The dermatologist will determine the most suitable treatment option based on your situation.

Remember that professional treatments may involve some risks and potential side effects. Before proceeding with any treatment, it's essential to thoroughly discuss with your dermatologist, understanding the benefits, potential risks, and expected outcomes.

If home remedies and lifestyle changes haven't improved the appearance of your strawberry legs, consulting a dermatologist is a wise step. They can offer personalized advice, assess your skin condition, and recommend professional treatments like laser hair removal or chemical peels to address persistent strawberry legs effectively.


Recommended:

How to Remove Skin Tags? What Causes Them and Getting Rid in One Night
Lifestyle Tips for Healthy Skin

If you want to achieve healthy, glowing skin and keep those strawberry legs at bay, it's not just about what you do externally but also how you care for yourself from the inside out. Here are some lifestyle tips to help you promote overall skin health:


Eat a Balanced Diet: You've heard it before, but it's worth repeating: you are what you eat! Including various nutrient-rich foods in your diet can work wonders for your skin.

Focus on incorporating fruits, vegetables, whole grains, lean proteins, and healthy fats into your meals. These foods provide essential vitamins, minerals, and antioxidants that nourish your skin and support its natural radiance.


Stay Hydrated: Drinking enough water is like giving your skin a refreshing sip of vitality. Proper hydration helps to flush out toxins, keep your skin cells plump and moisturized, and maintain a healthy complexion.

Aim to drink at least eight glasses of water per day, and if you're active or in a hot climate, you may need even more hydration to keep your skin looking its best.


Get Moving with Regular Exercise: Exercise benefits your overall health and gives your skin a healthy boost. When you sweat, you help cleanse your pores by flushing out impurities.

Increased blood flow during exercise also nourishes your skin with oxygen and nutrients, giving it a natural, healthy glow.

Find activities you enjoy, whether jogging, yoga, dancing, or anything that gets you moving, and your skin will thank you.


Don't Forget the Sunscreen: Wearing sunscreen is one of the most straightforward yet crucial steps in protecting your skin.

Before you head out, apply a broad-spectrum sunscreen with an SPF of 30 or higher on all exposed skin, regardless of the weather or season.

This shield will protect your skin from harmful UV rays that cause sunburn and lead to premature aging, dark spots, and other skin damage.

So, grab that sunscreen and make it your skin's new best friend. Remember, healthy skin is a reflection of a healthy lifestyle. So, embrace these lifestyle tips and let your skin radiate with health and confidence!


Recommended:

Tips and Tricks How to Remove Dead Skin from Your Feet? Tips and Tricks
FAQs
Is it possible to remove strawberry legs?
Yes, you can improve the appearance of strawberry legs with proper care and treatments.
How long to remove strawberry legs?
The timeline varies, but consistent care and treatments can lead to visible improvement over time.
Should I scrub strawberry legs?
Gentle exfoliation can help, but avoid over-scrubbing to prevent irritation.
What soap gets rid of strawberry legs?
Use mild exfoliating soaps with ingredients like glycolic acid or salicylic acid for strawberry legs.
What is best for strawberry legs?
Regular exfoliation, moisturizing, and using products with alpha hydroxy acids can be beneficial for strawberry legs.
The Bottom Line

Addressing strawberry legs and achieving smoother skin is within your reach. By implementing the tips and tricks outlined in this guide, you can effectively tackle this common cosmetic concern and regain confidence in your legs' appearance.

Start by understanding what strawberry legs are and identifying the underlying causes specific to your situation. From there, focus on preparing your skin through regular exfoliation using gentle scrubs or brushes.

This helps remove dead skin cells and unclog pores, reducing the visibility of dark pores on your legs. Also, adopting a healthy lifestyle plays a significant role in promoting overall skin health.

This includes eating a balanced diet, staying hydrated, and exercising regularly. Remember to shield your skin from UV radiation and stop more skin damage by applying sunscreen to exposed regions of your body.