How to Remove Skin Tags? What Causes Them and Getting Rid in One Night
Natural and Medical Methods to Remove Skin Tags, Understanding the Causes and Tips for Quick Removal in One Night
We're glad you stopped by to learn more about a common yet often misunderstood skin condition – skin tags.

Whether you're curious about what causes these little nuisances or eager to discover effective ways to get rid of them quickly (even in just one night!), you've come to the right place.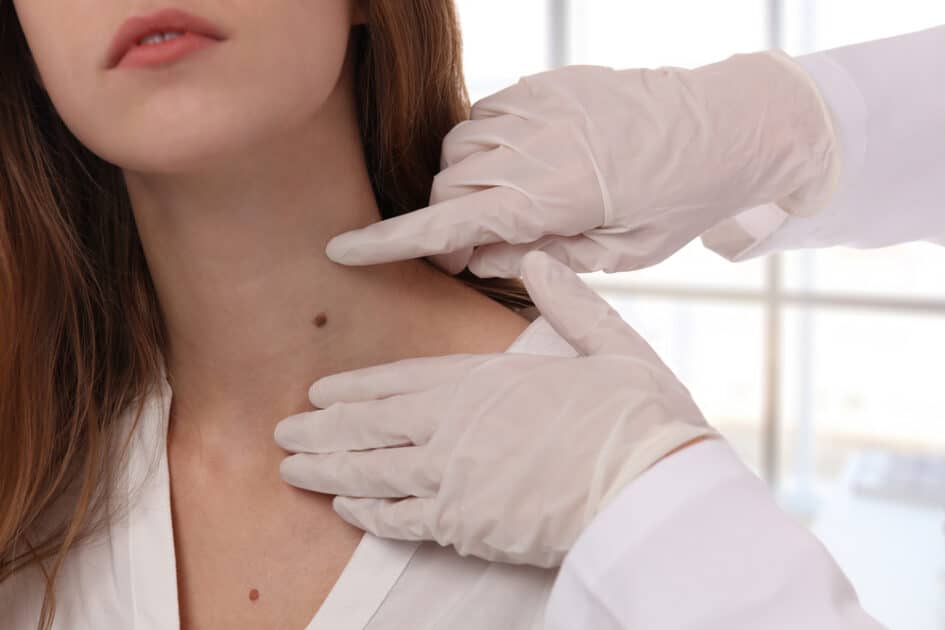 This comprehensive guide will explore the factors contributing to developing skin tags and provide some tried natural remedies to help you remove them swiftly and safely.

So, sit back, relax, and dive into the world of skin tags – what they are, why they happen, and most importantly, how to say goodbye to them for good!


How to Remove Skin Tags

Skin tags are small, benign growths commonly appearing in areas where skin rubs against itself, such as the neck, armpits, groin, and under the breasts.

While they are harmless and painless, some people may find them bothersome or want to remove them for cosmetic reasons. Let's explore various methods to safely and effectively remove skin tags.

Consult a Medical Professional

Before attempting to remove skin tags, it's essential to consult a doctor or dermatologist. They can confirm the diagnosis, rule out potentially harmful growths, and recommend the most suitable removal method.

Cryotherapy

In this procedure, a healthcare professional applies liquid nitrogen to the skin tag, freezing and destroying the tissue. This method is quick and relatively painless, and the skin tag usually falls off within a few days to a week.

Excision

A doctor can remove the skin tag by cutting it off with surgical scissors or a scalpel. They may use a local anesthetic to numb the area beforehand. This method instantly removes the skin tag but may cause minor bleeding, which can be managed with a bandage or sterile dressing.

Electrocautery

This technique involves using an electrical current to burn off the skin tag. To minimize discomfort, a healthcare professional will apply a local anesthetic before the procedure. The skin tag will be removed immediately, leaving the area with a small scab that heals within a few days.

Ligation

Ligation involves tying a thin thread or suture around the base of the skin tag, cutting off its blood supply. Over time, the skin tag will wither and fall off. This method can take a few days to a week to show results.

Over-The-Counter Treatments

Over-the-counter cryotherapy kits are available at pharmacies and online retailers and can be used for at-home skin tag removal. These products work similarly to professional cryotherapy but may be less potent. Follow the instructions carefully, and consult your doctor if you experience any adverse reactions or complications.

Natural remedies

Although there is limited scientific evidence supporting the effectiveness of natural remedies like tea tree oil, apple cider vinegar, or garlic, some people claim success with these methods. It's crucial to consult your doctor before attempting any at-home treatments, as they may cause irritation or other adverse effects.
Remember, it's essential to consult a healthcare professional before attempting any skin tag removal method to ensure safety and prevent complications. Avoid removing skin tags without guidance, leading to excessive bleeding or infection.


Recommended:

How to Shrink Hemorrhoid Skin Tag? Tips and Tricks
How Can Skin Tags Be Removed Naturally?
5 Simple Methods You Can Try Today

Skin tags are small, benign growths of skin that are usually harmless. While they are not dangerous, many people find them unsightly and want to remove them. There are a variety of natural methods that can be used to remove skin tags without the need for medical intervention.

Here are five simple and effective methods that you can try today.


Utilize Tea Tree Oil: Clean the skin around the skin tag. Then, gently apply tea tree oil onto the affected area using a cotton swab. Wrap the area with a clean cloth and let it sit overnight. Tea tree oil's antimicrobial properties will work to remove skin tags effectively.


Employ Crushed Garlic: A tiny bit of garlic should be chopped precisely and made into a paste. Directly apply this paste to the skin tags, then bandage the region. Overnight, let the potent garlic extract do its thing. Garlic's anti-inflammatory qualities will assist in getting rid of the skin tags that are sticking out.


Leverage Apple Cider Vinegar: Apply gentle pressure on the skin tags after dipping a cotton ball in vinegar. After leaving the area covered with a fresh towel for 30 minutes, rinse it with warm water. Apple cider vinegar's acidity aids in removing skin tags from the skin's surface.


Use Banana Peels: They are excellent for treating skin tags since they include several anti-aging ingredients. Use a bandage to hold a banana peel over the skin tag. Repeat this procedure every day for a week, then let it rest overnight. The skin tag will ultimately slip off the skin's surface due to drying out.


Apply Vitamin E Oil: Skin tags that appear as people age can be efficiently treated by vitamin E's potent antioxidant effects. Each day, generously massage vitamin E oil over the skin tags and leave them on the night. Skin tags will progressively shrink in size throughout this procedure until they vanish, leaving the skin clear and flawless.

These natural remedies can effectively remove skin tags and achieve a flawless appearance. Always consult a dermatologist if you have any concerns or if the skin tag shows signs of infection, pain, or bleeding.


What Leads to the Development of Skin Tags?

Skin tags arise due to an overgrowth of cells in the skin's upper layers. They often appear when skin rubs against itself, making them more prevalent in individuals who are overweight and have excess skin folds.

Both men and women can develop skin tags, with older individuals and those with type 2 diabetes being more susceptible. Pregnant women may also experience an increased likelihood of skin tags, though these typically disappear after giving birth.

How can skin tags be addressed? Over time, skin tags may naturally fall off on their own.

Consult your doctor if you remove a skin tag for discomfort or cosmetic reasons.

Your doctor can eliminate skin tags through:

Using liquid nitrogen to freeze them

snipping them off with surgical scissors or a scalpel

employing electrical energy to burn them (cauterization)

Over-the-counter solutions can be purchased from a pharmacy or online to freeze skin tags, similar to at-home wart removal. Natural remedies, such as tea tree oil or apple cider vinegar, have been suggested online for skin tag removal.

However, there is no scientific evidence supporting the efficacy of these methods. Always consult your doctor before trying any alternative treatments.


Can You Get Rid of Skin Tags in One Night?

The prospect of quickly removing skin tags in just one night is undoubtedly appealing. However, examining whether such rapid results are feasible and safe is essential.

Here, we discuss the likelihood of eliminating skin tags within a single night and provide an overview of the various removal methods and their respective timeframes.


Professional Treatments

Procedures such as cryotherapy, excision, and electrocautery, performed by healthcare professionals, can yield relatively fast results.

However, even though the skin tag may be removed immediately, the healing process may take several days to a week. A scab or minor wound might be present at the site, requiring additional time to heal fully.


Over-the-counter options

At-home cryotherapy kits and other over-the-counter treatments are less potent than professional treatments and usually require multiple applications over an extended period.

These products are unlikely to produce results in just one night, and it may take several days or weeks before the skin tag falls off.


Natural Remedies

Natural remedies, such as tea tree oil, apple cider vinegar, and garlic, typically require consistent use over a prolonged period to show any noticeable effects.

These methods need strong scientific evidence to support their efficacy and are improbable to yield results within a single night.


Ligation

Tying a thread or suture around the base of the skin tag to cut off its blood supply is known as ligation. This technique causes the skin tag to wither and eventually fall off, but it usually takes several days to a week to see results.

While some professional skin tag removal methods offer relatively fast results, completely removing skin tags and allowing the affected area to heal within one night is unrealistic.

It's crucial to consult a healthcare professional to determine the most appropriate and effective method for your specific situation and establish reasonable expectations for skin tag removal.


FAQs

How do you get rid of skin tags overnight?
It's not recommended to remove skin tags overnight. Safe and effective removal takes time and professional methods.
What causes a skin tag to disappear?
Skin tags may naturally fall off on their own, but this process can take weeks or longer.
How do you get rid of skin tags in one night naturally?
There is no natural method to remove skin tags overnight. Consult a dermatologist for safe removal options.
How do you get rid of skin tags fast and easy?
The fastest and safest way is to have a dermatologist remove skin tags using methods like cutting, freezing, or cauterizing.
What is the best treatment for skin tags?
The best treatment is to have a dermatologist remove skin tags using professional techniques for safe and effective results.
The Bottom Line

While hoping for a one-night solution to remove skin tags is tempting, achieving such rapid results is unrealistic. Professional treatments, over-the-counter options, and natural remedies all require time for the skin tag to be effectively removed and for the affected area to heal correctly.

It's essential to consult a healthcare professional to determine the most suitable and effective method tailored to your specific needs. Patience and realistic expectations are key regarding skin tag removal and healing.
Recommeneded:

How to Spot Skin Cancer?