Gay Massage in New Orleans
If you are a Masseur and want to get listed in New Orleans, you can sign up to offer gay massage.

New Orleans, fondly referred to as "The Big Easy," is a bustling city known for its rich history, jazz music, and iconic Mardi Gras festival. With its unique blend of French and Spanish Creole architecture and the famous French Quarter, the city offers a cultural experience unlike any other

New Orleans is also a proud supporter of the LGBTQ+ community, making it a preferred destination for gay massages.

Gay Massage in New Orleans, Man indulging in a peaceful massage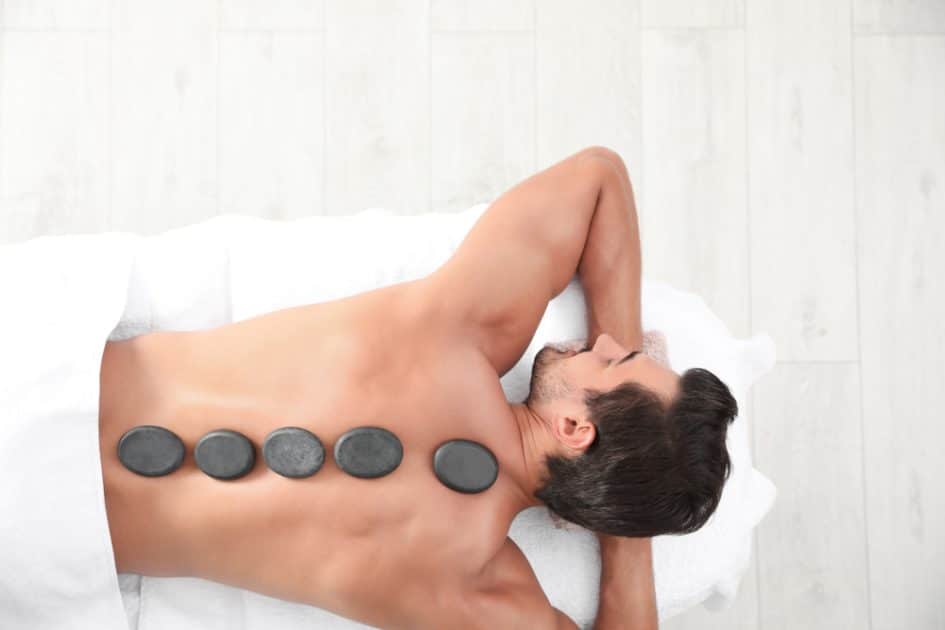 The inclusivity that New Orleans displays guarantees a safe environment for everyone. When searching for a massage in the city, it's crucial to find a licensed and seasoned massage therapist to ensure a fulfilling and rejuvenating experience.

Our guide directs you to the best therapists in the city, assisting you in experiencing the healing wonders of New Orleans. From luxurious spa settings to intimate home-based studios, the perfect relaxation spot awaits you.
Best Gay Massage in New Orleans

NOLA Massage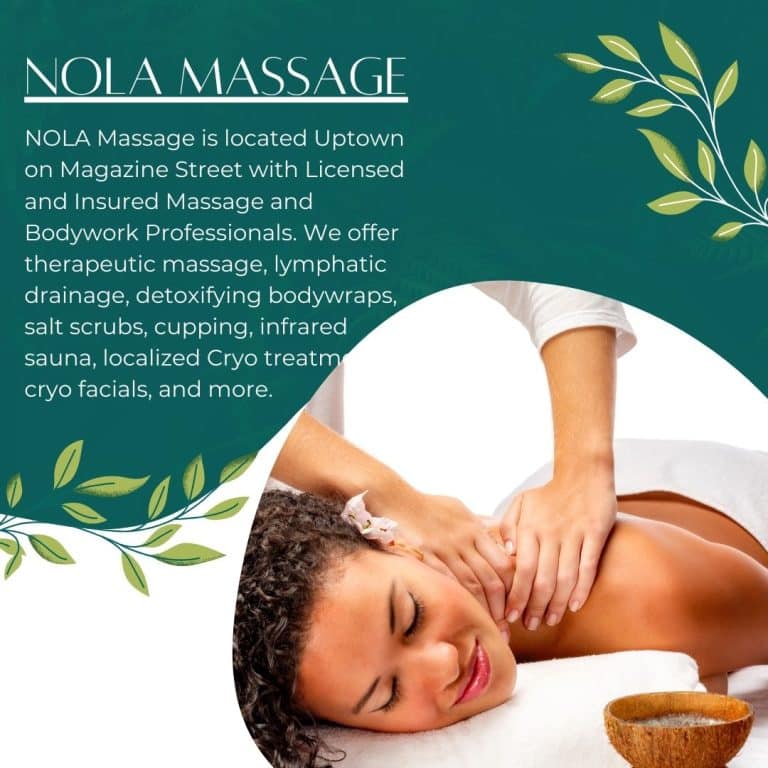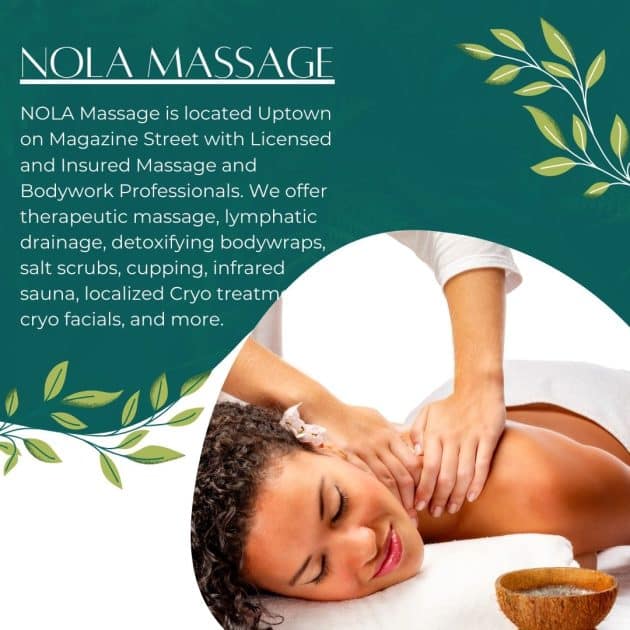 Situated in the prestigious Uptown district on Magazine Street, NOLA Therapeutic Solutions houses licensed and insured massage and bodywork experts.

Our services encompass therapeutic massage, lymphatic drainage, detoxifying wraps, exfoliating salt scrubs, modern cupping techniques, advanced infrared sauna sessions, targeted cryotherapy, and rejuvenating cryo facials, among others.
Areas of Expertise
Lymphatic Drainage Massage, Swedish Massage and Deep Tissue Massage
Exclusive Gay Massage
No
Experience
20 years
In-Studio Amenities
Aromatherapy, Hot Towel, Free Parking and Hot Shower
Mobile Extras
Not Indicated
Rates for 1 Hour
$120
In Call/Out Call
In Call/Out Call
License
(Yes)
Affiliations
No Affiliations Indicated
Hours
Monday-Friday 8am-8pm
Saturday-Sunday 8am-6pm
Address
5207 Magazine Street New Orleans, LA 70115
Contact Tel:
504.777.4030
Website:
NOLA Massage
Wobbe Massage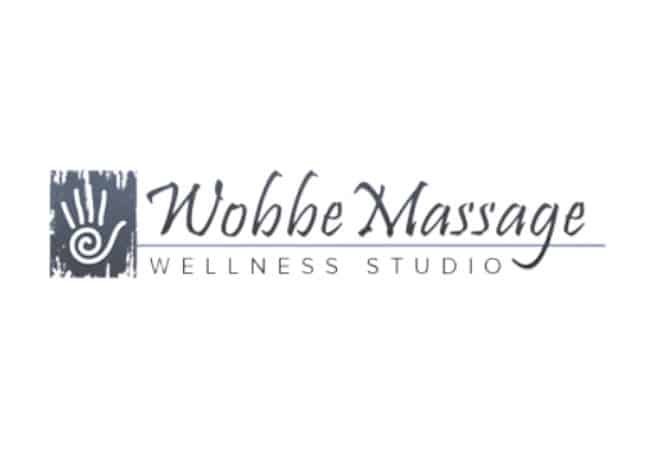 With each session, you're not just experiencing a massage; you're embarking on a path to holistic healing, marked by tranquility, efficacy, and invigoration.

Your well-being is our mission, and in our skilled hands, you'll find respite, recovery, and renewal.

| | |
| --- | --- |
| Areas of Expertise | Couples Therapy, Chair Massage and Deep Tissue |
| Exclusive Gay Massage | No |
| Experience | 15+ |
| In-Studio Amenities | Not Indicated |
| Mobile Extras | Not Indicated |
| Rates for 1 Hour | $99 |
| In Call/Out Call | In Call |
| License | (Yes) |
| Affiliations | No Affiliations Indicated |
| Hours | Not Indicated |
| Address | 2940 Canal Street, Shantih Room New Orleans, LA 70119 |
| Contact Tel: | 720-988-8856 |
| Website: | Wobbe Massage |
Find Gay Massage by Type
Deep Tissue Massage
Deep Tissue Massage is a method used to treat chronic muscular stress and knots. Therapists access deeper levels of muscle and connective tissues by delivering deeper pressure and employing gentle strokes, bringing relief from long-standing tensions.
You can get a Deep Tissue Massage at NOLA Massage and Wobbe Massage
Swedish Massage
Swedish massage, one of the most well-known massage techniques, uses a variety of strokes such as effleurage (gliding), petrissage (kneading), tapotement (rhythmic tapping), friction, and vibration/shaking to relax muscles, enhance circulation, and impart a sense of well-being.
You can get a Swedish Massage at NOLA Massage
Lymphatic Drainage Massage
This massage method is designed to stimulate the lymphatic system, assisting in the evacuation of toxins from the body and improving the immune system. To direct waste into the lymph nodes, gentle, rhythmic strokes are performed.
You can get a Lymphatic Drainage Massage at NOLA Massage
Chair Massage
The techniques employed can provide rapid relief from tension and stress, making it a favorite in office settings or high-energy environments. Its accessibility and effectiveness have popularized it at events, workplaces, and public spaces, offering a quick reprieve and rejuvenation.
You can get a Lymphatic Drainage Massage at Wobbe Massage
Couples Therapy
Guided by experienced therapists, couples delve into their patterns, beliefs, and emotions, working collaboratively to rejuvenate their relationship and carve pathways to mutual understanding and harmony.
You can get Couples Therapy at Wobbe Massage
FAQ
Are there specialized gay massage services in New Orleans?
Yes, New Orleans boasts a variety of massage therapists who cater specifically to the LGBTQ+ community, ensuring a comfortable and tailored experience.
Is New Orleans gay-friendly?
New Orleans is renowned as a welcoming city, celebrated for its LGBTQ+ inclusivity and vibrant queer community.
Is New Orleans ideal for single men?
Absolutely! With a thriving nightlife, iconic Mardi Gras festivities, and a dynamic job market, New Orleans is a prime location for singles and young professionals.
Is there a specific neighborhood in New Orleans known for its LGBTQ+ community?
While New Orleans is generally inclusive, the French Quarter and Marigny are especially known for their LGBTQ+ friendly establishments and events.
Where can I find gay massage services in New Orleans?
Gay massage services can be found throughout the city, with many therapists advertising online, in local directories, or through LGBTQ+ community centers.
Are gay massage therapists in New Orleans licensed?
---