Watsu Massage
Submerging into Serenity: Exploring the Healing Power of Watsu Massage
Have you ever wished for a one-of-a-kind therapeutic experience that goes beyond the usual, one in which you're warmly engulfed by the comfortable warmth of the water as experienced hands lead you through stretches and massages while calming tunes play in the background? If this beautiful setting offers you calm, you have unintentionally stumbled across the transformational realm of Watsu Massage.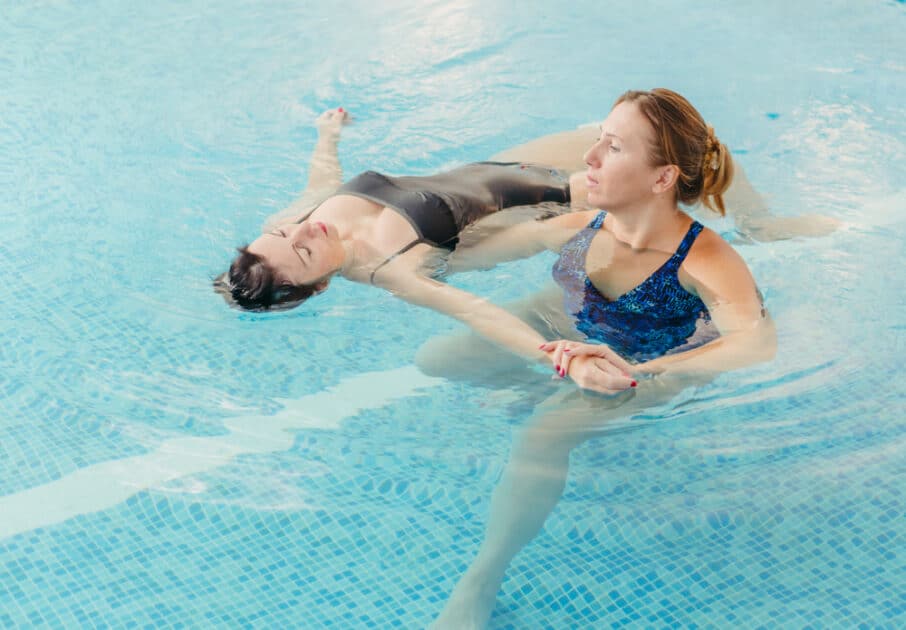 Watsu Massage is a unique relaxing method derived from water components and traditional Japanese shiatsu massage. It's a world unto itself, where the therapeutic power of touch combines with the calming powers of water to create a deeply peaceful and renewing experience. So, whether you're ready to dive into an ocean of tranquillity or simply interested in this relatively unknown therapeutic terrain, you've come to the perfect spot.

Allow me to take you on a thorough tour through the core of Watsu treatment. We'll look at its history, methodology, numerous benefits, and potential drawbacks. This comprehensive book will teach you all you need to know about this fascinating kind of water treatment. Let us dive immediately into the enthralling realm of Watsu Massage.


The Origin of Watsu

Before delving into the creation of Watsu massage, it's pivotal to grasp the essence of Shiatsu. Originating from Japan, Shiatsu is more than just a massage. It's an age-old holistic healing approach that employs the art of finger and palm pressure on specific points throughout the body.

These pressure points, known as meridians in Traditional Chinese Medicine, are believed to be channels of life energy, or 'qi' (pronounced 'chi'). By applying pressure on these meridians, Shiatsu aims to balance the body's energy flow, alleviate stress, and promote overall wellness. It's a dance of pressure and release, executed with the precision and care that only centuries of refined practice can achieve.


Why Should You Try Watsu Massage?

Watsu Massage might initially appear to be just another water therapy method to add to the increasing array of holistic healing techniques. But because of the special way water and Shiatsu are combined, it becomes something deeper. Here are some reasons why you might want to give Watsu a try.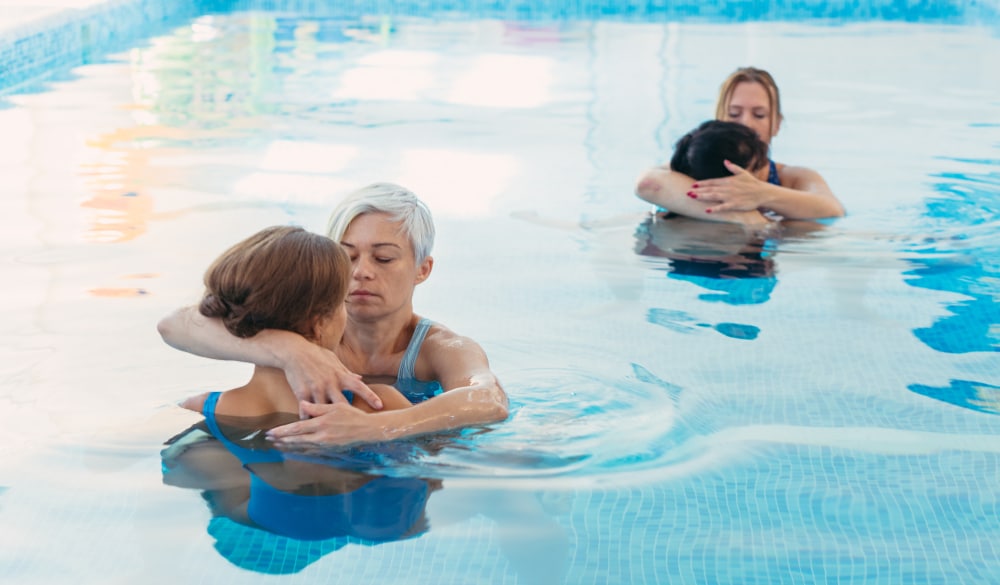 Harnessing the Healing Power of Water

Water has long been connected with healing and renewal across civilizations. Watsu converts water into a therapeutic instrument by utilizing its natural features such as buoyancy, resistance, and warmth. Watsu is, at its foundation, a specialized kind of hydrotherapy that uses the healing power of water to:

Dissipate Physical Tension: The weightlessness experienced in water allows your muscles to relax. This, coupled with the therapist's gentle stretching and massaging movements, helps to relieve physical tension effectively.

Foster Deep Relaxation: The warm water environment, the gentle undulating movements, and the soothing rhythms of Watsu Massage all work together to induce a state of profound relaxation. This relaxation goes beyond just the physical, permeating the mental and emotional layers of your being.

Augment Overall Well-being: By easing tension and fostering relaxation, Watsu Massage helps to restore a sense of balance and harmony in the body, enhancing your overall sense of well-being.


A Treatment for a Wide Range of Illnesses

Watsu's therapeutic potential, however, extends beyond the relief of achy muscles and anxious minds. Its mild yet powerful techniques make it a good treatment for a wide range of ailments:

Muscle Tension and Chronic Pain: Watsu's combination of gentle stretches, massage, and acupressure in warm water can help to relieve muscle tension and chronic pain effectively.

Pregnancy Discomforts: The buoyancy of water can provide relief from the weight and discomforts associated with pregnancy. Watsu's gentle movements can also help ease aches and pains common during this period.

PTSD and Anxiety Disorders: The calming and grounding effects of Watsu can provide a sense of safety and relief to those dealing with Post-Traumatic Stress Disorder (PTSD) and anxiety disorders.

Depression and Sleep Disturbances: By promoting deep relaxation and well-being, Watsu can help alleviate symptoms of depression and improve sleep quality.

Neurological Conditions: People living with conditions such as Multiple Sclerosis (MS) might find Watsu helpful in managing symptoms like muscle stiffness and pain.

Watsu's potential is even greater, with potential advantages for persons suffering from stress-related disorders, spinal cord injuries, and those in the rehabilitation period following an accident. Individual experiences may vary, as with any therapy, and it's always a good idea to visit a healthcare expert before beginning a new treatment.

In essence, Watsu Massage is about more than simply the physical advantages. It's a therapeutic immersion that promises relaxation, relief and a route to greater overall health and well-being. Watsu is as unique as the people who try it, and its potential advantages make it an appealing alternative for anyone looking for a holistic approach to rehabilitation.


How Does Watsu Work?

Navigating the realm of holistic therapies may often feel like an adventure into the unknown, especially when it comes to therapies like Watsu Massage that defy conventional wisdom. So, let's take a deeper look at the Watsu process to better understand how it works and what to expect from a session.

Setting the Scene for a Relaxing Journey

Consider entering a tranquil setting, such as a softly lit room or an open-air location with a pool or hot tub. The water is heated to 95°F (35°C), a temperature designed to equal that of human skin, decreasing the feeling of a border between body and water. This temperature'sameness' allows your body to relax and melt into the warm aquatic environment.

Calming music plays in the background, with each note carrying an encouragement to let go of problems and tension. This serene atmosphere is more than simply an aesthetic decision; it is part of the therapy, meant to calm your senses and prepare you for the healing process ahead.


The Watsu Dance

The stage has been set for the major event. You and your therapist both enter the water. Once there, your therapist will gently guide your body through a sequence of motions that are best characterized as a dance – a slow, rhythmic, and soothing dance that takes place in water. This is referred to as passive hydrotherapy. You are not needed to actively do these motions, but rather surrender and allow the therapist to guide your body through this water ballet.


Recommended:

Hilot Massage: Discover the 13 Benefits of Hilot
The Choreography of Healing: Movements and Techniques

Your therapist will lead you through the following 'dance':
Gentle Twisting

This helps to gently stretch and release any tension held in your muscles, facilitating the smooth flow of energy throughout your body.


Cradling and Rocking

Like a mother would cradle her baby, your therapist will hold you, allowing the water to gently rock you back and forth. This can create a sense of comfort and safety, facilitating deep relaxation.


Stretching Exercises

The therapist will guide your body through a series of stretches, carefully calibrated to your comfort level, to further alleviate muscle tension and enhance flexibility.


Acupressure Massage

Drawing from the principles of Shiatsu, the therapist will apply pressure to specific points on your body, helping to unblock energy pathways and promote healing.

Each movement, each touch, each twist, and turn is guided by the therapist's deep understanding of your body's needs. Their ultimate goal is to ease tightness in your muscles and fascia tissues, thereby promoting the healthy flow of life energy, or 'qi', within you. This harmony between energy and physicality is key to Watsu's healing potential.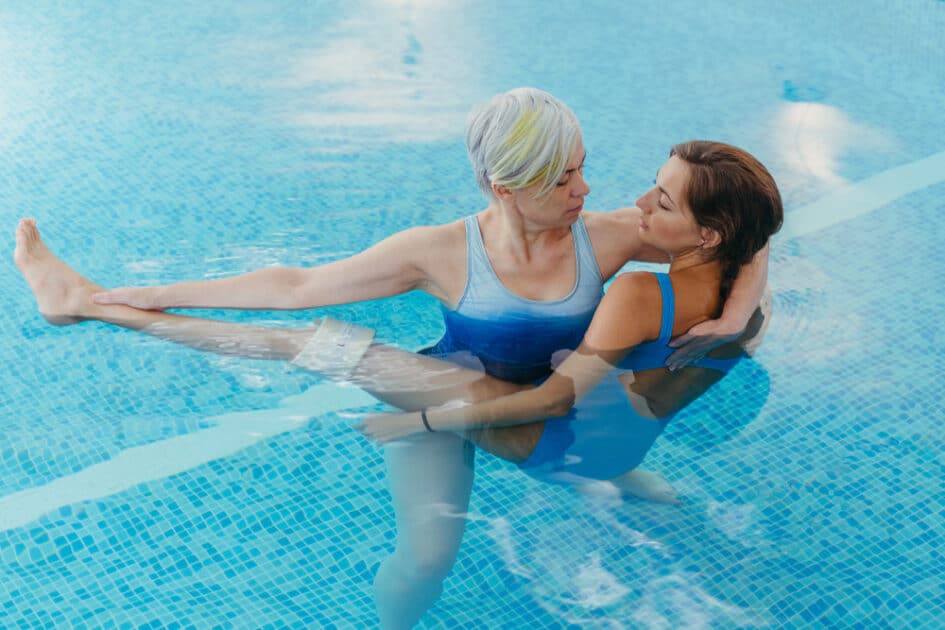 Watsu Benefits

Yes, Watsu Massage provides relaxation and a unique experience, but its advantages are far-reaching:
Pain Alleviation: Studies have shown promising correlations between Watsu and pain relief, particularly for conditions like fibromyalgia and juvenile arthritis.

Anxiety Reduction: By mitigating pain, Watsu Massage indirectly curtails anxiety. However, its direct soothing properties also play a pivotal role.

Enhanced Joint Mobility: Preliminary findings suggest that Watsu Massage may be as effective as traditional hydrotherapy in improving joint range of motion.


Considerations Before Diving In

Watsu is fantastic, but it may not be for everyone. Here are some things to think about:
Intimacy Level: The therapy is highly intimate. Prepare to be in close contact with the therapist.

Medical Conditions: Certain conditions, like serious cardiac issues or open wounds, may render Watsu unsuitable.

Pregnancy: If you're expecting, do have a chat with your healthcare provider before immersing yourself in a Watsu Massage session.


Benefits of Watsu Therapy

Watsu treatment, a novel combination of water-based relaxation and healing techniques, has been shown to provide a wide range of potential health advantages. It not only relieves bodily discomfort but also increases mental well-being as a therapeutic treatment.

Let's take a closer look at the plethora of ailments and circumstances where Watsu treatment has made a major effect.

1. Soothing Muscle Tension

Muscles can become tense due to a variety of factors such as poor posture, stress, overuse, or even underlying medical conditions. This can lead to pain and reduced mobility. Watsu therapy uses the water's natural resistance and buoyancy to gently stretch and massage tense muscles, promoting relaxation and increased range of motion.


2. Alleviating Chronic Pain

For those struggling with chronic pain conditions like fibromyalgia, traditional forms of treatment can often fall short. Watsu therapy offers an alternative, using warm water as a medium to enhance the pain-relieving effects of massage and acupressure techniques. The feeling of weightlessness in the water reduces the strain on the body, potentially leading to long-lasting pain relief.


3. Mitigating Low Back Pain

Back pain, particularly in the lower region, is a common ailment. The gentle movements and stretches involved in Watsu therapy can help alleviate back pain by promoting flexibility and strength in the spinal muscles and ligaments.


4. Comforting Pregnancy Discomfort

The physical changes during pregnancy can often cause discomfort and pain. The weightlessness provided by the water during a Watsu session can provide much-needed relief from the physical strain of pregnancy. Additionally, the calming effects of the water can help reduce stress and anxiety often associated with pregnancy.


5. Addressing Post-Traumatic Stress Disorder

Watsu therapy's calming, holistic approach has been found to provide significant relief for individuals dealing with post-traumatic stress disorder (PTSD). The soothing environment and physical release that Watsu Massage provides can help reduce symptoms such as anxiety, depression, and insomnia.


6. Easing Anxiety and Depression

Through its combination of physical relaxation and emotional soothing, Watsu Massage therapy can help individuals dealing with mental health conditions such as anxiety and depression. The calming effects of the warm water, combined with the therapeutic touch of a skilled practitioner, can lead to significant improvements in mood and overall mental well-being.


7. Improving Sleep Disorders

People struggling with sleep disorders can find relief through Watsu Massage therapy. The deep relaxation state achieved during a session can improve sleep quality and help reset the body's natural sleep-wake cycle.


8. Combating Stress-Related Conditions

In today's fast-paced world, stress-related conditions are prevalent. Watsu Massage therapy offers a serene and tranquil environment where one can truly relax and decompress, helping alleviate symptoms associated with these conditions.


9. Supporting Neurological Conditions

Neurological conditions like multiple sclerosis can benefit from Watsu Massage therapy. The buoyancy of the water can make movement easier, and the warm water can soothe muscle stiffness, a common symptom of such conditions.


10. Assisting Spinal Cord Injury and Rehabilitation

For individuals recovering from a spinal cord injury or undergoing rehabilitation, Watsu Massage therapy can be an effective adjunct treatment. The supportive nature of water allows for easier movement, while the relaxing effect can aid in reducing pain and increasing mobility.
With its diverse uses, Watsu treatment provides a therapeutic experience that treats both physical and emotional health difficulties. It's a powerful, all-encompassing approach to well-being that's worth investigating.


Recommended:

Understanding Hydromassage: What You Should Know
The Bottom Line

Whether you're dealing with muscle tension, chronic pain, neurological conditions, or mental health issues such as anxiety or depression, Watsu Massage can offer significant relief. Its gentle techniques made more effective by the buoyancy and resistance of water, have the potential to alleviate physical discomfort and improve mobility.

But the power of Watsu Massage goes beyond its physical benefits. This therapy creates a peaceful environment that facilitates a deep state of relaxation, promoting mental well-being. It's been found to alleviate symptoms of stress and anxiety, improve sleep quality, and provide an overall sense of tranquility.

Moreover, Watsu Massage therapy is not just a passive treatment but an interactive healing process. The close interaction between the therapist and the client allows for a personalized approach, adjusting to the specific needs of the individual for optimal results.


FAQs
Do you get wet in a HydroMassage?
No, you don't. HydroMassage involves the use of pressurized water directed at the body, but you stay dry as it is done through a waterproof barrier.
Why is water therapy good for you?
Water therapy, or hydrotherapy, offers numerous benefits. It helps in relieving pain, reducing stress, improving circulation, and enhancing flexibility. The buoyancy of water also supports the body, making exercises easier and safer.
What is the difference between Watsu and Shiatsu?
Watsu and Shiatsu are both forms of therapeutic massage, but the main difference lies in the medium. Watsu is performed in warm water and involves elements of stretching and floating, while Shiatsu is done on a mat and involves applying pressure to specific points on the body.
Which massage style is best?
The "best" massage style largely depends on individual needs and preferences. Some might prefer the deep pressure of a Swedish massage, while others might benefit from the targeted pressure points in Shiatsu. Watsu could be a great option for those seeking a holistic and relaxing experience.
What are the benefits of Watsu?
Watsu offers a host of benefits, including relief from pain and muscle tension, improved joint mobility, stress reduction, and enhanced relaxation. It can also support mental well-being by alleviating symptoms of anxiety and depression.