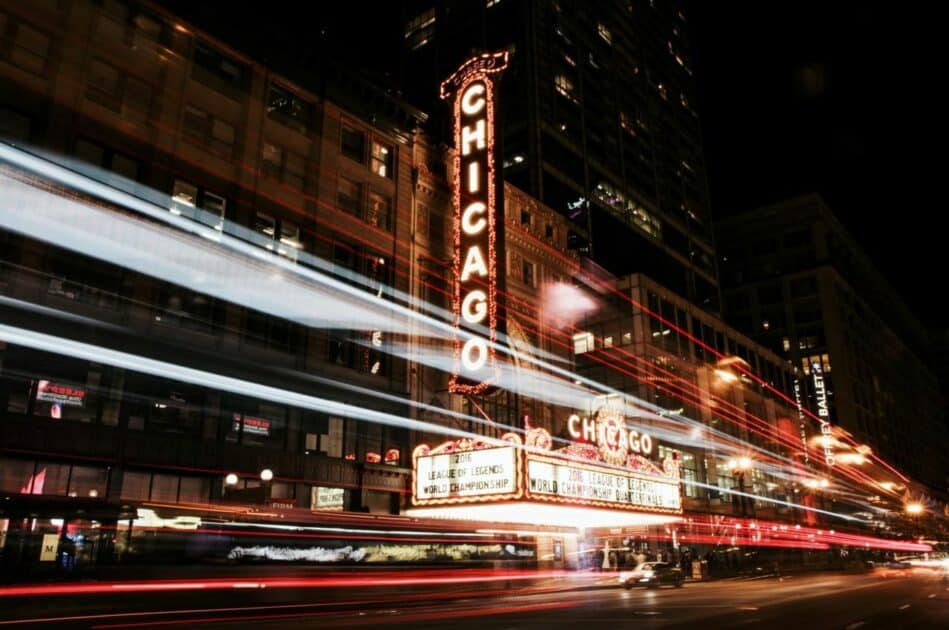 If you are one of the gay travelers strolling through the windy roads of Chicago, Illinois, do not miss out on the city's popular gay massage parlors.

Aside from the world-renown Chicago-style hotdog, the city is also filled with hundreds of masseurs ready to give you the best of what Chicago offers.

Getting a massage when traveling has many wonderful effects on one's body and mind. Getting a pre-travel massage will help relax your muscles and increase blood circulation, while a massage during travel will release tensions and stresses from the body gotten from travels.
History of Gay Massage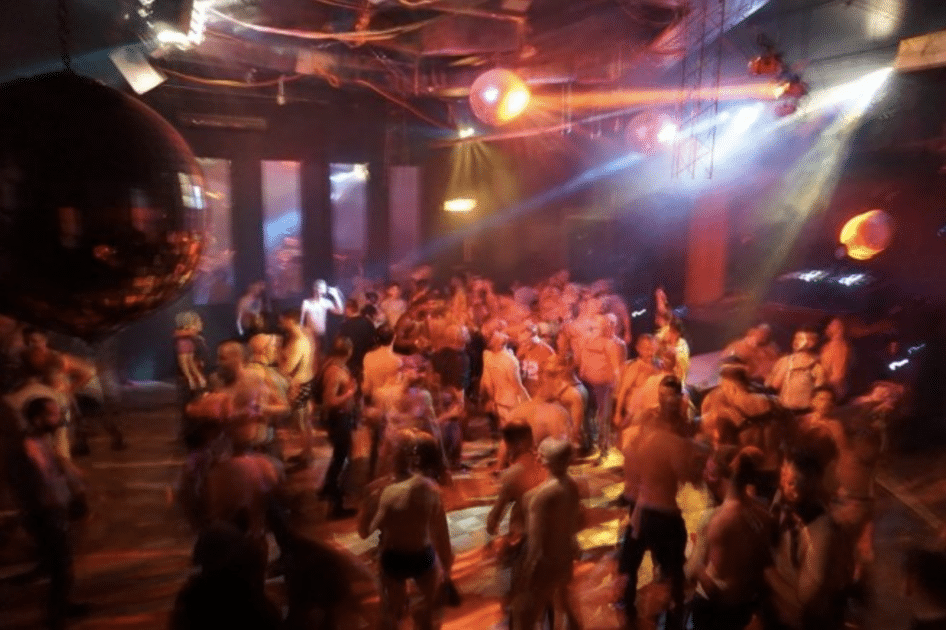 On the New Year's Eve of 1973 at Man's Country, a Chicago bathhouse opened welcoming hundreds of men, women, transgender, and nonbinary folks to a dance party celebrating the last hours of a queer American landmark

It was both a celebration and a funeral of the venue's pinnacle moments before the dawn of the internet when bathhouses still thrive. Up until now, it is known as a former mecca for generations of aging gay men.

However, even years after this event, Man's Country still proudly showcases its history on its walls, with huge portraits of famous patrons, nude men, and other artworks.

Man's Country was only the beginning of gay establishments and businesses in the city.

In the modern world, hundreds of gay establishments have filled the busy streets of the city where queer people can enjoy their travel without the fear of being discriminated against.
Best Gay Massage in Chicago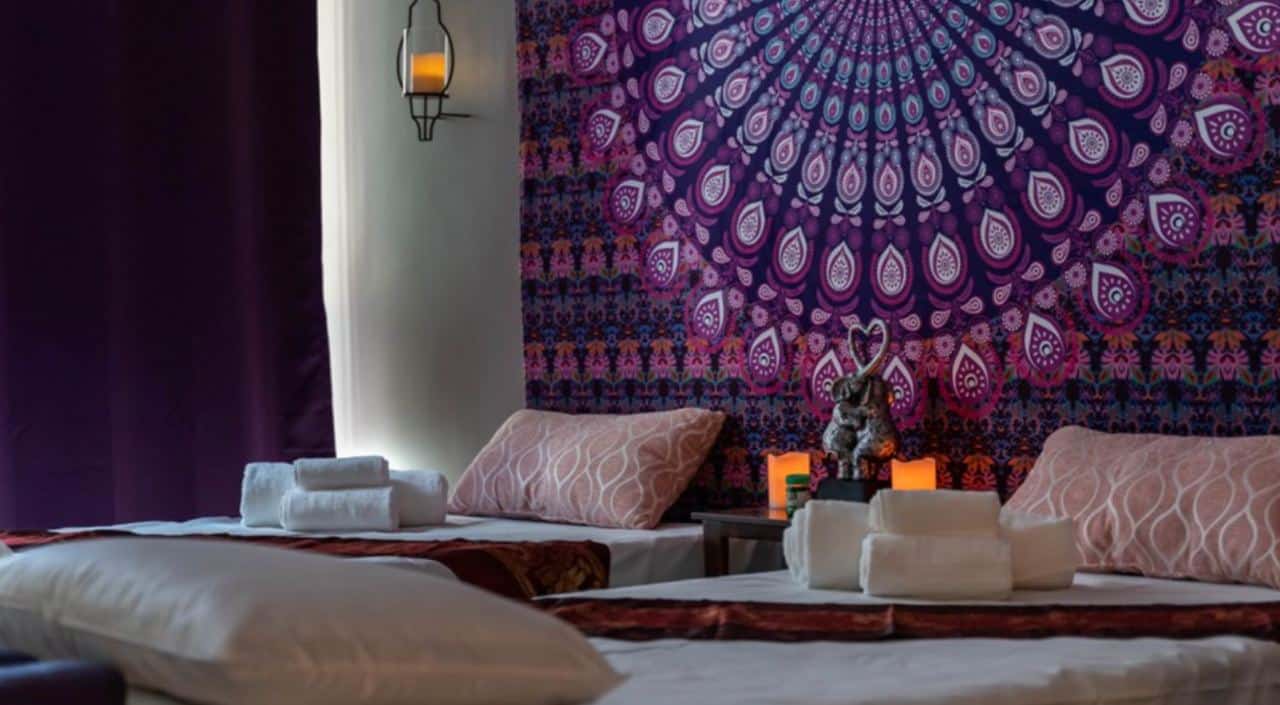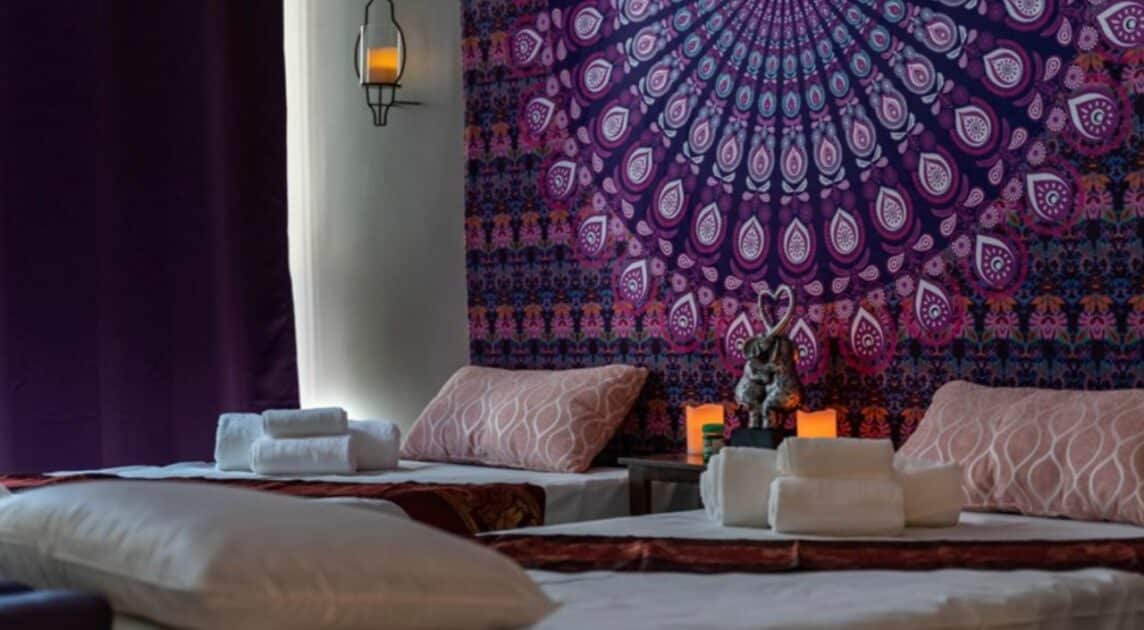 Thai Lotus Bodywork boasts itself with its different Thai rituals that will definitely relax your stressed and aching body. Every visitor is welcomed with a cup of coffee or a glass of cold water.

Warm aromatic towels, stress-relieving scalp, and a Pure-Fume application are offered to remind you of your best massage therapy experience!

Massage therapies are given by members of their professional team who continuously learn new techniques and the latest methods in the massage world. Most of their masseurs also graduated from Thai massage schools in Thailand so you will be assured that you are handled by the best of the best.

Their masseurs offer bodywork from therapies like deep tissue massage Chicago Illinois, Thai sports massage Chicago, couples massage Chicago Illinois, and yoga stretching.

If you are a fan of organic and essential products, Thai Lotus Massage has a complete line of them to improve and re-create your massage experience.

Additionally, they also donate 100% post-customer recycled material in their packaging to different charities so you can go home with peace of mind. Availing of their services will make you part of their noble cause!

If you are in the area, make sure to book in advance to secure your slot. If you are new to the city, also keep in mind that it is common in Chicago to pay a tribute to the masseur after the session by giving a tip. Do not worry, because they welcome all tips!

Contact: 773-677-9889
Website: https://thailotusbodywork.com/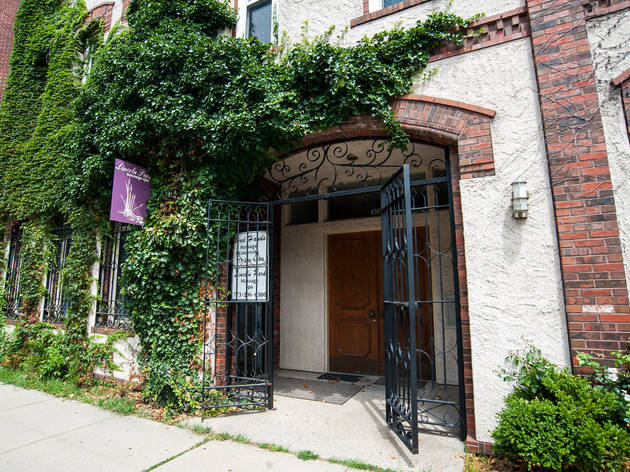 This massage parlor is one of the most respected and in-demand spas in Chicago. The massage therapies they offer involve working on different parts of the body with pressured-structured and unstructured.

They also make sure that all guests are in good hands since all of their masseurs are the finest in the city, offering 45 years of experience and pioneering new techniques.

They offer Deep Tissue Massage, Swedish Massage, Hot Stone Massage, Chair Massage, Deep Tissue Massage, Expectant Mother Massage, Neck Back and Shoulder Massage, Relaxing Foot Massage, and Sports Massage.

Aside from this, they also offer other exclusive services such as their LP Aromatherapy Sea Salt Grow Scrubs.

If your body needs a bit more attention, you can also avail of their other services like foot facial, LP Express Facial Massage, LP Facial Massage, total body massage, and couples package.

If you have $5 to spear, you can add your chosen aromatherapy to any massage!

Contact: 7732966300 or lincolnparkmassagespa@gmail.com
Website: https://www.lincolnparkmassage.com/about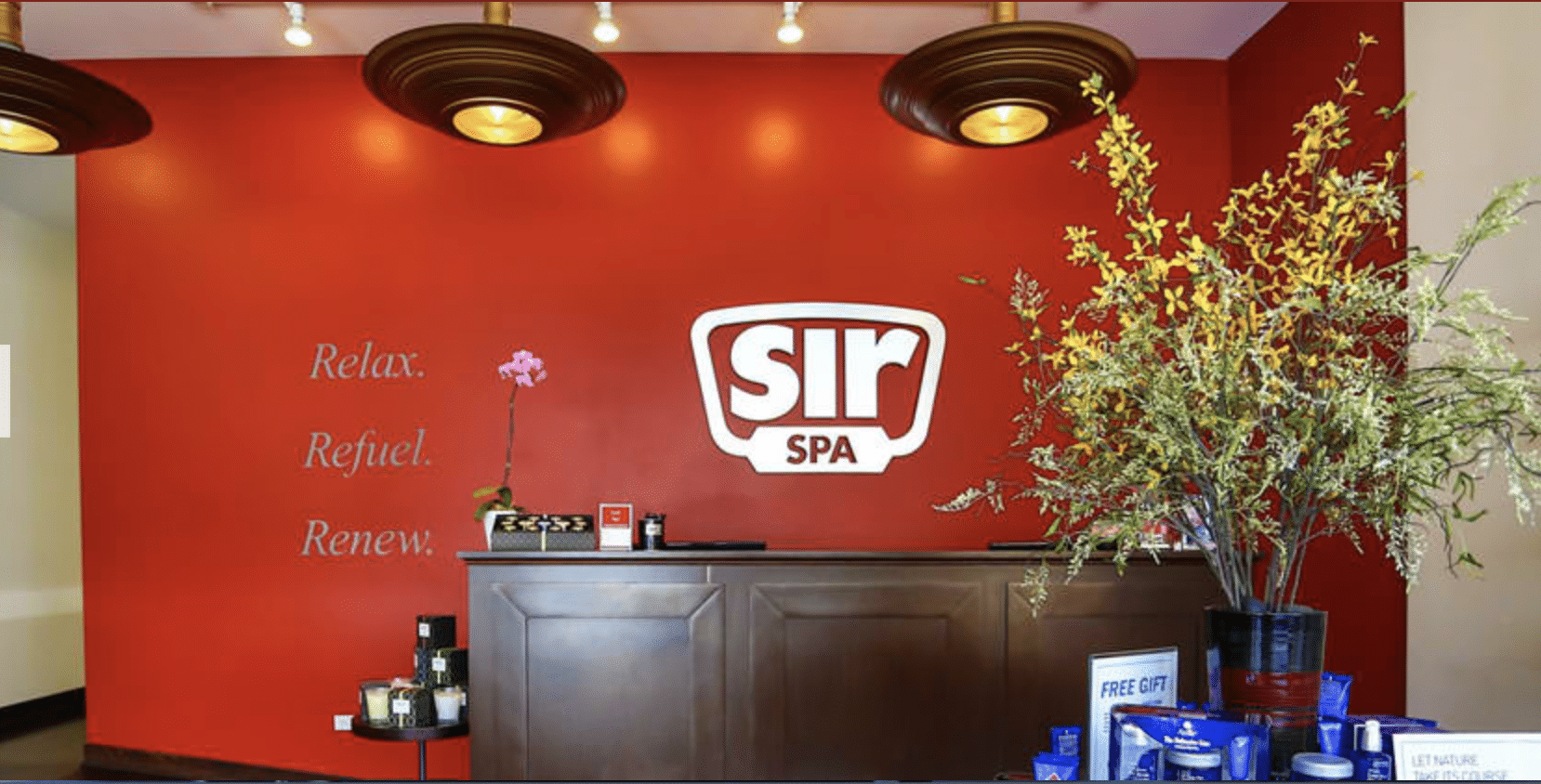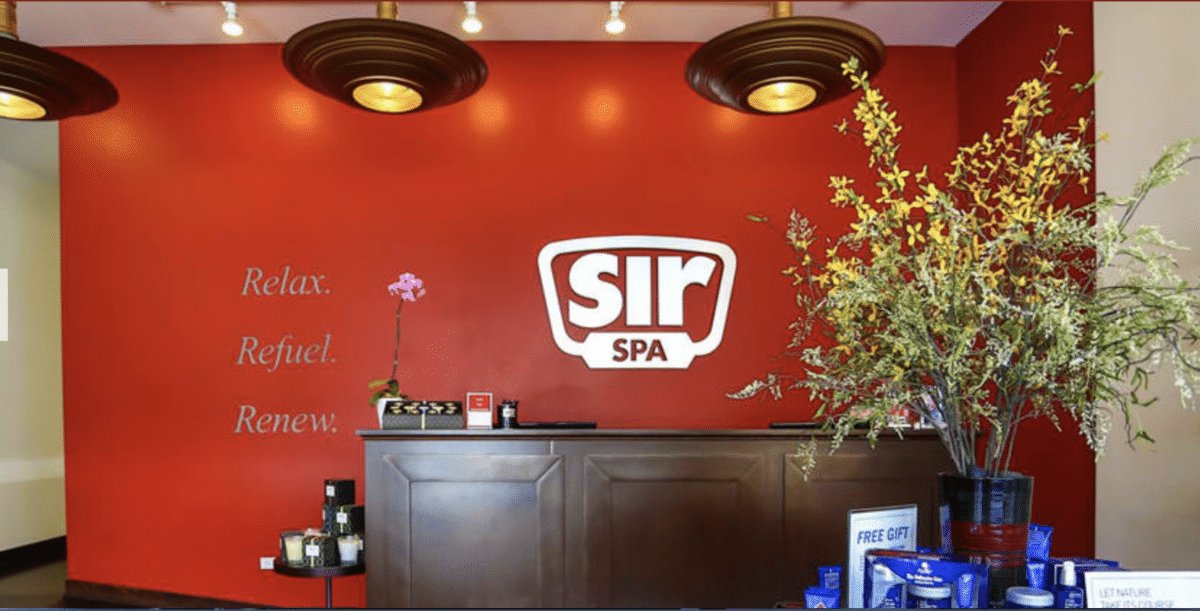 Sir Spa boasts itself as the leading men's spa in Chicago. They offer full-service day spa treatment and is located in the heart of the Chicago neighborhood of Andersonville.

If you want to go with other people, worry not because they also accept women guests and even have couples massages.

Sir Spa has its own customized massage where your masseurs will customize your treatment by employing a variety of techniques to achieve relaxation, rejuvenation, and results.

If you are looking for relief from overexerted muscles or want to ease your bodily and mental stresses, you should try this one out. Other massage therapies offered are hot stone massage, tune-up massage, reflexology, and scalp massage add-ons.

Aside from having comfortable and clean massage rooms, all of their locker room, relaxation lounge, and steam rooms are open to all guests. Just make sure to bring your masks whether you are vaccinated or not!

Contact: 773-271-7000
Website: https://sirspa.com/treatments/massage/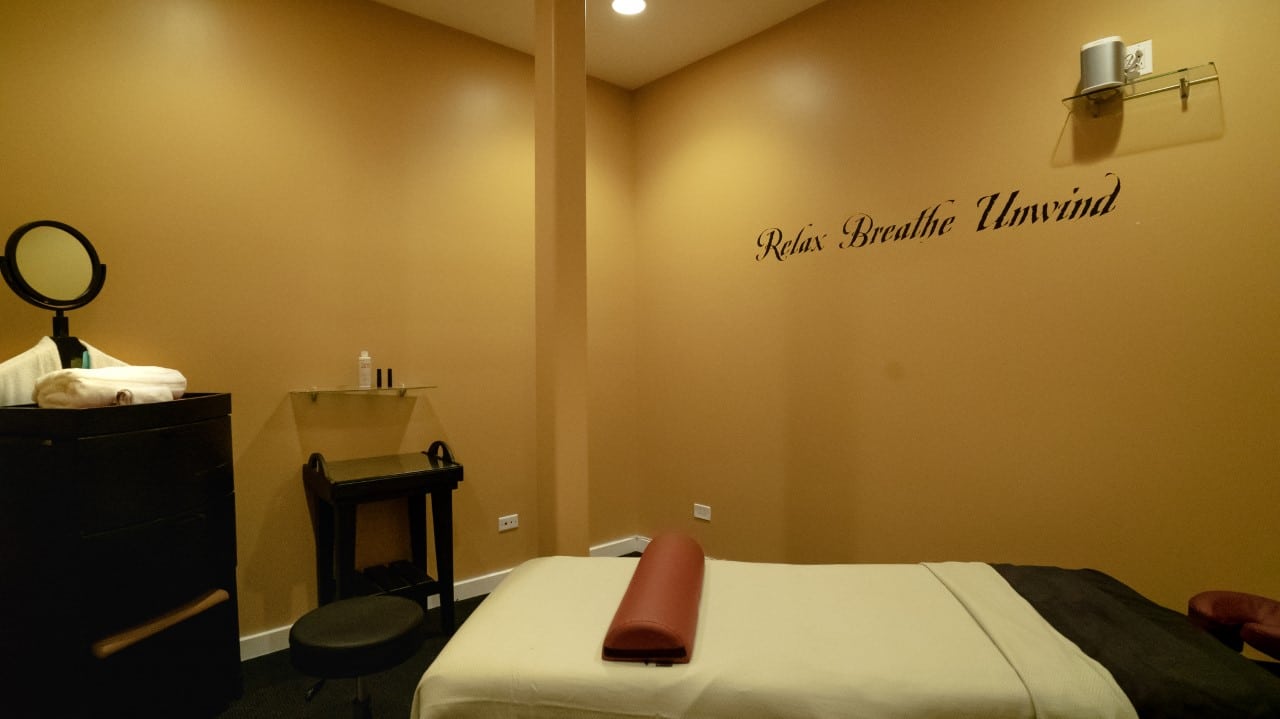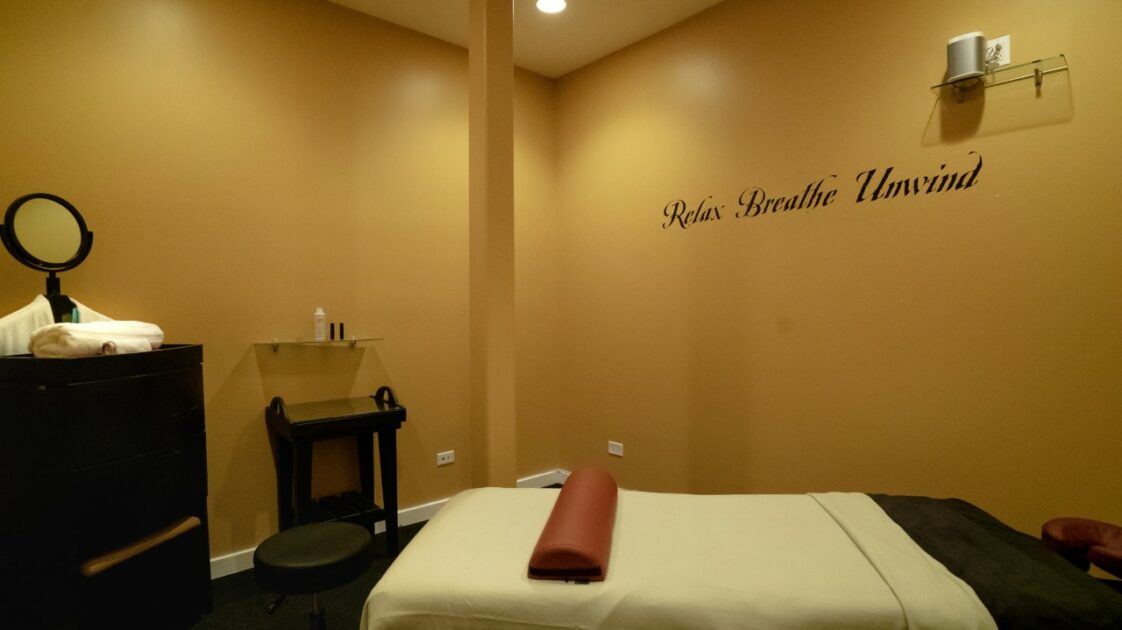 Next Man Up Day Spa will give you the man's ultimate experience with their full-service spa crafted to cater to all of your relaxation and clinical needs.

This massage parlor is distinct in the city with the unique types of massage they offer. Before getting your massage and when it is appropriate and required, guests will go through an assessment to address their needs, contraindications, and desired outcomes.

You can get clinical, lymphatic drainage, relaxation, sports, and prenatal massage here! NMU Day Spa is designed to reduce and alleviate your pain and improve your range of motion.

It specifically targets relaxing one's head, feet, neck, lower back, wrist/hands, and shoulders. It also involves moist heat, ice, and/or steam.

Do you have any man-related health questions? You can go to NMU Day Space since they have a Man Cave– a source of information for men's health.

It is a safe space for all guests to talk about sensitive or taboo subjects and provide answers to any health questions or concerns that may affect them. All resources are sourced and written by licensed health care providers.

Contact: 773-966-5268
Website: https://www.nextmanupspa.com/the-man-cave/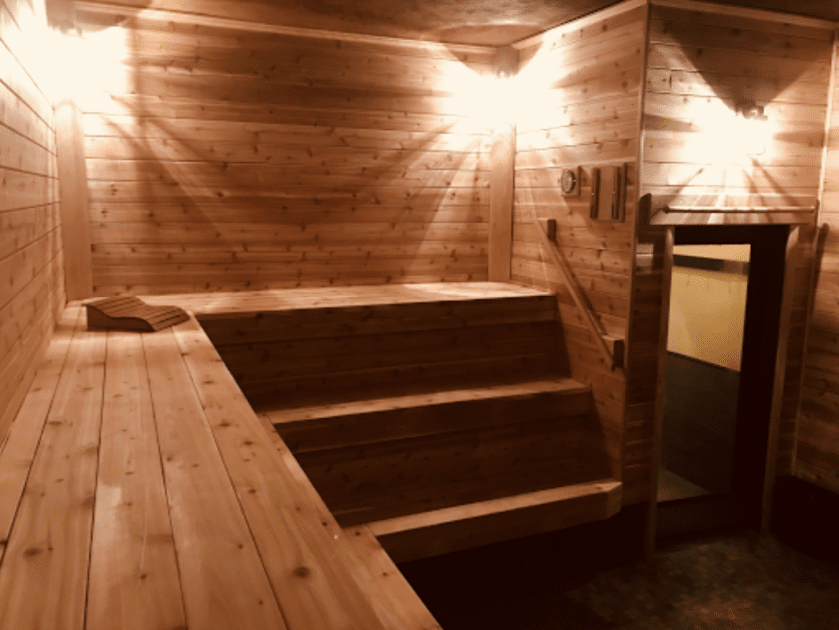 Chicago Sweatlodge is popular among the community for its huge range of facilities. They have a dry Russian sauna, a wet Turkish sauna, a cold pool, a comfortable lounge, professional massage services, and a restaurant!

The second best thing is that you can get admission to these facilities for only $35. It is a distinctive destination for travelers looking to experience the best sauna and massage in the city.

Your body is not the only one celebrating these body works, your tummy will also jump with joy from their gastronomical Eastern European cuisine.

Contact: 773-202-1777
Website: https://chicago-sweatlodge.business.site/#details
Type of Massage in Chicago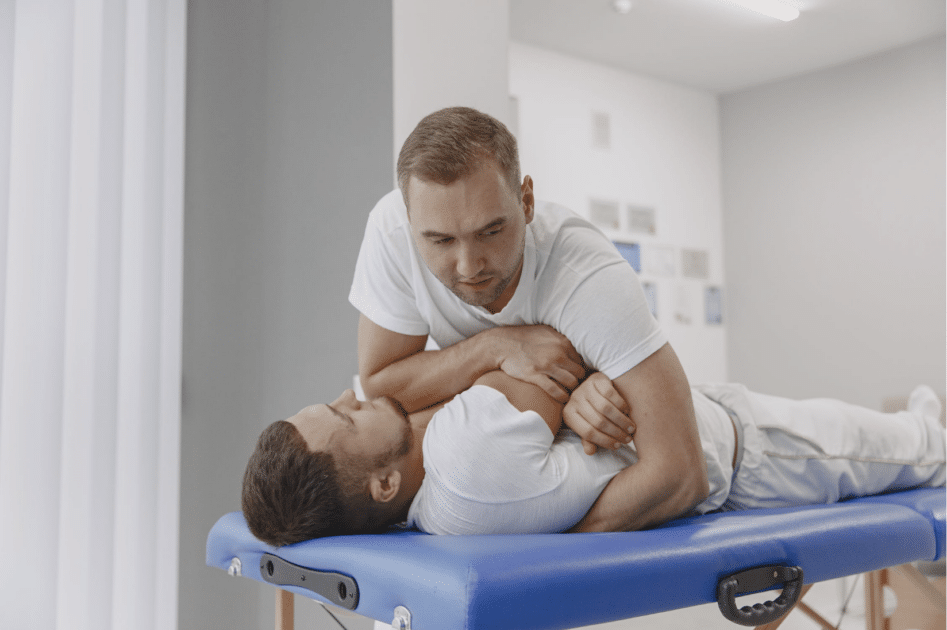 Halotherapy – Halotherapy is famously called salt therapy since the massage involves inhaling air with tiny salt participles to improve your breathing.

It is also appraised as an alternative treatment for lung problems such as asthma, bronchitis, and cough. This is also an ideal type of therapy if you are looking for an upgrade with its spa-like salt rooms that will you relax and help skin conditions and allergies.


Ashiatsu – Ashiatsu is a Japanese type of massage that focuses on putting pressure on the body using bare feet. Ashiatsu massage therapists use their bare feet to deliver deep compression, deep gliding strokes and assisted stretching.

The deep tissue technique used in this massage helps improve blood circulation while relieving stress and aches which cause muscle spasms.


Sensual massage – It is also known as erotic massage, where a masseur uses different massage techniques to achieve or enhance sexual arousal.

While erotic and tantric massages aim at relaxing the muscles and breaking cultural sex blocks, what sets the latter apart is that its goal extends to ejaculation. This is why, aside from sensual massage, it is also well-known as the type of massage with a "happy ending," as it refers to the manual stimulation to reach the climax.

And in a society where sexual repression is rampant, especially in conservative places, erotic massages are essential to educating people regarding sex.


Thai Massage – This massage therapy is loved by many people for its many health benefits such as increased range of motion, helping with back pain, reducing the intensity of back pains, lowering tension and stress, and even helping stroke patients.

Other than these, studies show that it also improves sleep, betters relaxation, enhances digestion, calms mental state, and increases mindfulness.

Instead of getting the massage on a normal massage table, you will lie on a mat on the floor while the masseur controls your body in certain ways that will stimulate your organs and enhance flexibility.


Deep tissue massage – Deep tissue massage is probably one of the most famous types of massage in the entire world. It breaks up scar tissues and muscles known to improve circulation and heal pain and inflammation.

While you may feel a little bit of discomfort during the process, most people describe this as "good pain" since it hurts but feels good at the same time.



FAQ
How old do I have to be to get a gay massage in Birmingham?

Most gay massage parlors only accept 18 years old and up, but make sure to call the parlor in advance to inquire about their guidelines.

Do I have to leave my house to get a gay massage?

Gay massages are very accessible and affordable in the city! You can simply go to the world wide web and look for the best masseurs near you.

Should I feel safe getting a gay massage in Birmingham?

Most gay parlors strictly follow COVID protocols to ensure everyone's safety. Some only accept vaccinated guests to ensure everyone's safety so do not forget to bring your proof of vaccination.

What is the easiest way to find a gay massage in Birmingham?
If you are in your favorite gay bar, you can also ask Chicago residents for their recommendations. But the easiest way to look for one is to simply go to the internet and search for masseurs or parlors.