BDSM: 5 Basics
How to safely participate in BDSM.
People don't usually know that they have practiced BDSM until they start to read about it. If you've ever tickled your partner until they can barely breathe, you held down their arms for a moment during sex, or you simply tried some pinching, biting, or spanking, then you've already tried "light" BDSM.
Why does anyone want to learn more? Too much of our culture revolves around holding things inside or repressing our true nature. BDSM is an opportunity to let go of all that pressure and any expectations that others might have of you. It's your chance to be the person you can't be in other environments. Take a moment for yourself and just let go if you're interested in pursuing BDSM. What would you like to do with your partner if you didn't have any fears? It isn't even necessary for this to be sexual. Start with the basics. Slowly and compassionately work your way to your deepest desires.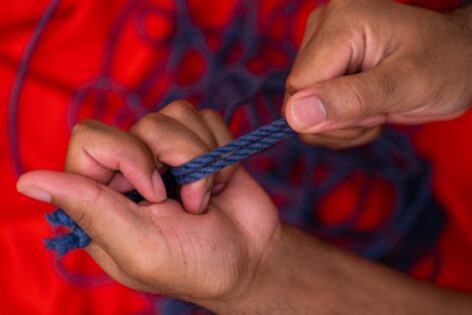 Let's Start With The Basics About BDSM:
If you're going to pursue a sexual fetish with a partner, your first priority, like anything else in the BDSM scene, should be consent and protection. There should always be a safe word, and you should always speak about boundaries and limitations ahead of time to protect yourself and your partner. Go easy on yourself at first because you can still do more. Be patient with yourself and your partner.
It might seem ridiculous for BDSM, but this is a very important aspect. It's terrifying to discover kinks and desires. Remember the first time you experienced sex. It was like leaping off a cliff into the unknown. The situation with BDSM is the same. Spend some time with your partner making lists of things that you are open to trying. Begin slowly. Start with a feather on the body or blindfolding your companion as you try new stuff. It is not necessary to be tied to incorporate BDSM. It's as accessible, inviting, lovely, and expansive as the intimacy, consent, and affection we share with the rest of the world.
Necessary Tips When Trying BDSM For The First Time:
Here are very important pointers to bear in mind when trying BDSM:
Read some steamy novels or watch movies. You will know what to expect and what things to try when you read erotic novels or watch erotic films. Also, reading about other people's experiences will help you develop your own personality.
Try paying a visit to a sex shop. Have fun looking around to see what appeals to you. Sex shops see their goal as educating consumers about how to fulfil their passions and curiosities, in addition to selling dildos, vibrators, and other kinky accessories. It's important to note, though, that there's no need to stock up on supplies. It's fun to pick out stuff like handcuffs, whips, and paddles, but it's not important.
Look for kink events in your region. Every major city hosts a 'munch,' which consists of food and drink, people dressed in everyday streetwear, and the opportunity to ask questions about BDSM.
Come up with a safe word. A safe word is very necessary when you are just diving into the world of BDSM. It doesn't have to be anything in particular but it needs to meet a very important purpose: whenever either one of you says it, the other partner must stop immediately whatever he/she is doing. It is as simple as that, but it goes a long way into establishing trust and trying new things whenever you want as long as you feel certain that you can stop.
For more information, please visit this page.