20 Best Lesbian Movies You Need To Watch
Best Lesbian Movies That Came Out in The Last Two Decades
It's difficult to choose the "best" Lesbian movies due to both an abundance, and lack, of choice – but we gave it a good shot. Categorised by plot, visuals, romance and sex appeal, here are our 10 best Lesbian Movies of the last two decades, and what made them stand out. We hope you enjoy our picks.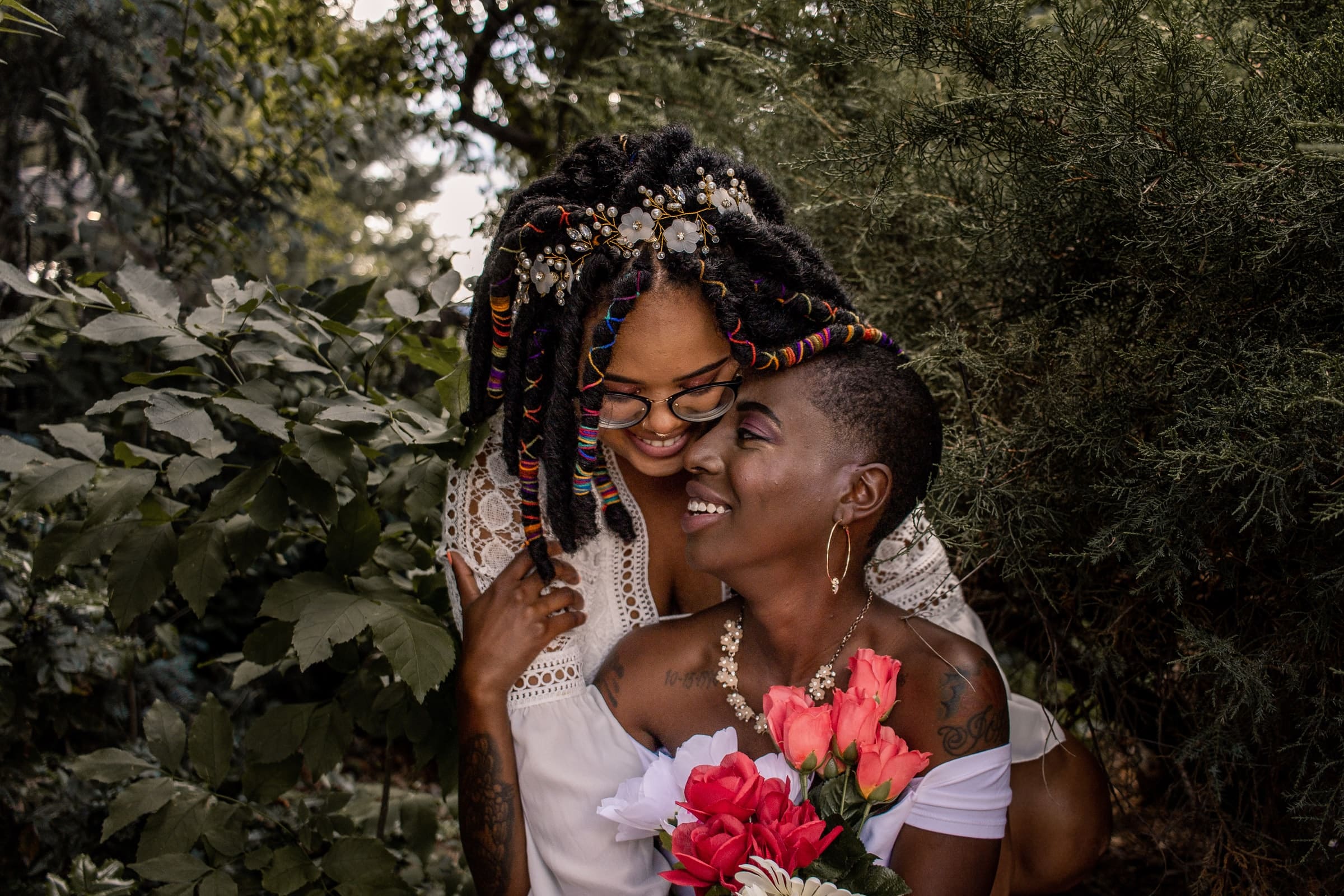 Quick List:
Mulholland Drive [2001]
Carol [2015]
The Handmaiden [2016]
Cloudburst [2011]
Blue is The Warmest Colour [2015]
Saving Face [2004]
The Hours [2002]
The Secrets [2007]
Portrait of a Lady on Fire [2019]
Fingersmith [2005]
Gia [1998]
Go Fish [1994]
Room in Rome [2010]
The World Unseen [2007]
Elena Undone [2010]
Daphne [2007]
I Love Her [2016]
With Every Heartbeat [2011]
Lovesong [2016]
Mosquita y Mari [2012]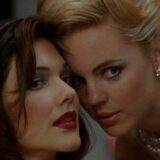 Mullholland Drive [2001]
One of David Lynch's greats staring Laura Harring and Naomi Watts. A mysterious and surrealistic thriller you won't easily forget. Despite the healthy helping of lust, the story is one of unrequited love. If you are looking for strict romance you are not going to find it here, but if you want a tale that will excite and entertain, this is the one for you.
Romance 1/5
Plot 4/5
Visuals 4/5
Sex Appeal 4/5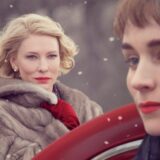 Carol [2015]
Romance and drama a plenty from leading ladies, Cate Blanchett and Rooney Mara. Set in the 1950's, when Lesbian love was taboo, the film takes us on a subtle and classy journey. Combining the once stifled strong desires of Carol (Cate Blanchett) and the newly discovered ones of Therese (Rooney Mara), the ending will leave a lasting impression.
Romance 4/5
Plot 5/5
Visuals 4/5
Sex Appeal 3/5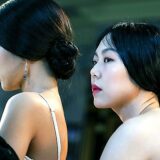 The Handmaiden [2016]
Combining drama and romance, this Chan-Wook Park emotional psychological thriller follows actresses Kim Min-hee and Kim Tae-ri, and their chemistry, in a tight, fast-paced story where even the most silliest moments become fun and beautiful. The viewer is fed amply on beauty and extreme yet tasteful romp – so captivating, you won't realise it's two hours long.
Romance 4/5
Plot 5/5
Visuals 5/5
Sex Appeal 4/5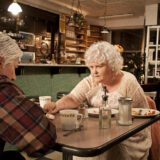 Cloudburst [2011]
A fun story from Thom Fitzgerald starring Olympia Dukakis, Brenda Fricker and Kristin Booth about a lesbian couple who escape to Canada to get married. The film is hilarious with some excellent performances all round. Come along for a road trip that you will not forget any time soon.
Romance 4/5
Plot 3/5
Visuals 2/5
Sex Appeal 2/5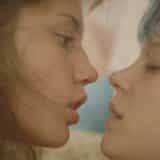 Blue Is The Warmest Colour [2015]
A master stroke from Abdellatif Kechiche which, as the title suggests, uses a wonderful colour pallet. This Drama Romance starring Lea Seydoux and Adele Exarchopoulos is a tale of self-discovery through love, desire and loss. A constant negotiation between the phycological and the physical, the acting feels real and you can tell there is sacrifice for the end result – which is totally worth it.
Romance 4/5
Plot 3/5
Visuals 4/5
Sex Appeal 4/5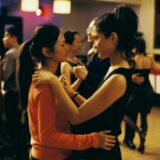 Saving Face [2004]
Equally featuring comedy, drama and romance, this Alice Wu film is a smart, fun, and funny movie which is as much a story about the relationship between two women as it is about the one between a mother and daughter. Wonderfully portrayed by Saving Face stars Michelle Krusiec and Joan Chen.
Romance 4/5
Plot 3/5
Visuals 2/5
Sex Appeal 4/5
The Hours [2002]
Featuring a star-studded cast of Meryl Streep, Nicole Kidman, and Julianne Moore, this flick tackles the very heavy subject matter of how Mrs Dalloway effected three generations of women, all of whom are dealing with suicide. It is a romance and drama about time and explores lesbianism, liberation and death. Bound to remain in your memory for a long time, the spirit of Virginia Wolf is present in all three timelines as they use Mrs Dalloway's story as commentary throughout.
Romance 3/5
Plot 4/5
Visuals 3/5
Sex Appeal 2/5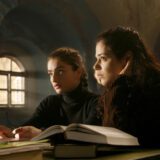 The Secrets [2007]
Superbly directed by Avi Nesher, this romance / drama features some great performances from Fanny Ardant and Ania Bukstein. Not for the feint-hearted, The Secrets takes you on a journey where forbidden desires and tragedy are well explored.
Romance 4/5
Plot 4/5
Visuals 3/5
Sex Appeal 2/5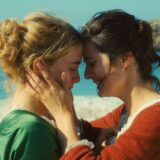 Portrait of a Lady on Fire [2019]
A stunning movie with little dialogue but plenty of emotional expression. This is a beautiful lesbian period drama that sweats style and class. Yet another forbidden love tale, it is a journey of discovery that both characters must explore as the day of their wedding looms ever closer. Starring Noemie Berlant and Adele Haenel, this is one to savour.
Romance 5/5
Plot 4/5
Visuals 5/5
Sex Appeal 2/5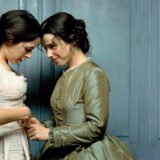 Fingersmith [2005]
Strictly speaking, this is a mini series but, at just over three hours, it feels more like a film. There is crime, drama and a romance that will leave you on the edge of your seat. Beautiful choices of costume, setting and direction make this period piece well worth watching. Try it as a series, but you are more likely to binge watch the whole thing.
Romance 4/5
Plot 5/5
Visuals 3/5
Sex Appeal 2/5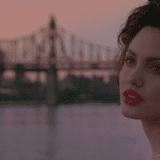 Gia [1998]
Gia Carangi (Angelina Jolie) is a woman moving from Philadelphia to New York to fulfil her dreams of becoming a fashion model. She becomes an instant star in the eyes of her new agent Winhelmina Cooper (Faye Dunaway). After Winhelmina's death, however, Gia finds herself in a downward spiral of drugs and sex, including a lesbian relationship with a makeup artist Linda (Elizabeth Mitchell).
Romance 2/5
Plot 4/5
Visuals 4/5
Sex Appeal 2/5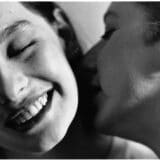 Go Fish [1994]
Rose Troche and Guinevere Turner's black and white story uses a Chicago coffee shop as the backdrop for this lesser-known lesbian flick. As with some other low-budget films, it is an honest portrayal of lesbian life and community. Max (Guinevere Turner), a young college student, meets Ely (V.S. Brodie) at the aforementioned coffee shop. Following a brief fling after a movie, Max discovers Ely has been in a long-distance relationship with Kate. After being thrown out by her mother upon discovery of her sexuality, Ely moves in with Max and her roommate, and romance ensues.
Romance 2/5
Plot 4/5
Visuals 2/5
Sex Appeal 1/5
Room in Rome [2010]
What a better film to include than one set in the most romantic cities: Rome. Covering only one night in a hotel room, this flick shows the development of a connection between Alba (Elena Anaya) and Natasha (Natasha Yarovenko). It's intimate, it's passionate and it's also pretty darn erotic.
It's a powerful and intense portrayal of how love can surprise us at the unlikeliest of times and in the most unexpected of places. The journey through the night brings them to a sense of freedom within their secret tryst. Expect to still be thinking about it long afterwards.
Romance 2/5
Plot 3/5
Visuals 3/5
Sex Appeal 5/5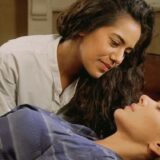 The World Unseen [2007]
Set in the 1950s, during the apartheid in South Africa, this film focuses on relationships that are banned by the racist and homophobic state. One of these is the deepening attraction between Miriam (Lisa Ray) and Amina (Sheetal Sheth), and the lengths to which they go to spend time together. The inescapable social distance between them makes them question their feelings, but, in the midst of hatred and oppression, their only refuge is love.
The landscape in which the film is set is stunningly beautiful, with the addition of a retro soundtrack, the film explores Miriam's relationship with Amina and how it empowers her to make personal choices that change her world.
Romance 4/5
Plot 4/5
Visuals 5/5
Sex Appeal 3/5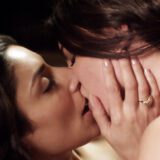 Elena Undone [2010]
Peyton (Traci Dinwiddie) and Elena (Necar Zadegan) are, on the surface, diametrically opposed – one, a well-known lesbian writer, the other a mother and wife of a pastor – but when their paths cross, several times over, they feel compelled to connect. What begins as friendship quickly blossoms into something deeper. Peyton tries to extricate herself before her heart wants what it can't have.
Elena can't imagine not having Peyton in her life. And despite the fact that she has never even considered kissing a woman, Elena is overwhelmed with a desire to do just that. Despite Peyton's reservations, Elena pushes the relationship into a full-blown affair. The two women fall deeply in love, both keenly aware a future together might be little more than a dream.
Romance 4/5
Plot 4/5
Visuals 4/5
Sex Appeal 4/5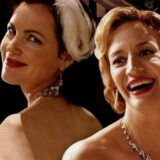 Daphne [2007]
As is well-known and frequently discussed, the gothically-inclined English woman of letters, Daphne Du Maurier, also happened to be a lesbian, but virulently suppressed these inclinations given her beloved father's abhorrence to her behaviour – attitudes that Du Maurier imbibed and that gave her lifelong pangs of guilt and self-denial.
She experienced two life-altering loves, however: an irreciprocal one for straight Ellen Doubleday, the wife of her publisher Nelson Doubleday, and another for bisexual actress Gertrude Lawrence, which Lawrence purportedly helped her consummate.
As created for Du Maurier's centenary, Claire Beavan's BBC production Daphne dramatizes the connection between these two relationships; Beavan pulls from private letters and memoirs to depict the series of events by which Du Maurier (Geraldine Somerville) fell into an impassioned love for Doubleday (Elizabeth McGovern), and how the unrequited nature of that love spurred her on to author a play about forbidden romantic longings, September Tide – a play that, ironically, introduced her to the second great love of her life, Lawrence (Janet McTeer).
In so doing, the film not only resurrects a long-buried and hidden part of Du Maurier's life but explores the connection between life experiences and highly personalized artistic expression
Romance 3/5
Plot 4/5
Visuals 3/5
Sex Appeal 2/5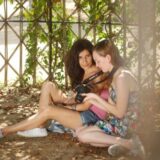 I Love Her [2016]
Based on a 2013 Ukrainian short film, this story by Darya Perelay is about a musician, Natalie (Natalie Ivanchuck), who moves to a big city and tries her luck at becoming famous. And here she finds not only a great opportunity for her career but also a new love with another girl, Anna (Clare Durant). The two are very different: one poor, the other one is rich, one of them writes music and sings, the other one cannot hear or speak. They are united by a love for each other, but their own fears stand in the way of their happiness. They both go through doubts and pain. When they finally find courage in their hearts, it seems like it's too late… But does true love have time limits?
Romance 5/5
Plot 3/5
Visuals 4/5
Sex Appeal 1/5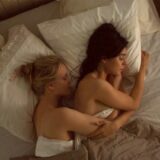 With Every Heartbeat [2011]
A runaway hit at the London Lesbian and Gay Film Festival, With Every Heartbeat is a stunningly rendered and honest love story about what happens when you follow your heart. Also released as Kiss Me (Swedish: Kyss Mig) this Swedish Film follows the entanglement between Mia (Ruth Vega Fernandez) and Frida (Liv Mjönes). When Mia and Frida meet for the first time at a party, the attraction is instant, however, Mia is engaged to be married to a man she believes she loves, so acting on anything seems out of the question.
When subsequent circumstances throw the two women together, openly gay Frida finds it impossible to resist seducing Mia, and Mia finds it impossible to resist. Soon, Mia must choose between following her heart or fulfilling everyone else's expectations of her. A candid and beautiful film, 'Kiss Me' is a classic lesbian movie in the making.
Romance 4/5
Plot 4/5
Visuals 3/5
Sex Appeal 3/5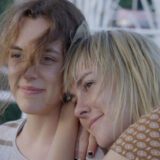 Lovesong [2016]
Neglected by her husband Sarah (Riley Keough) embarks on an impromptu Road trip with her young daughter and he best friend, Mindy (Jena Malone). Along the way, the dynamic between the two friends intensifies before circumstances force them apart. Years later, Sarah attempts to rebuild their intimate connection in the days before Mindy's wedding
Romance 4/5
Plot 5/5
Visuals 4/5
Sex Appeal 3/5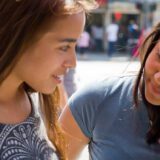 Mosquita y Mari [2012]
Written and directed by Aurora Guerrero. When Yolanda Olveros (Fenessa Pineda) meets her new neighbour Mari Rodriguez (Venecia Troncoso), all they see in each other are their differences. An only child, sheltered Yolanda's sole concern is fulfilling her parents' dream of a college-bound future. With her father's recent death, street-wise Mari, the elder of two, carries the weight of her sister as their mother works to keep them above water. But despite their contrasting realities, Yolanda and Mari are soon brought together when Mari is threatened with expulsion after saving Yolanda from an incident at school.
The girls forge a friendship that soon proves more complex than anticipated when the girls unexpectedly experience a charged moment between them. At a loss for words, the girls ignore their moment and move on to become best friends, unaware they have set in motion an unstoppable journey of self-discovery.
As Yolanda and Mari's feelings reach new depths, their inability to put words to their emotions leads to a web of unspoken jealousy, confusion, and a sudden betrayal that ultimately rattles them at their core.
Romance 5/5
Plot 4/5
Visuals 5/5
Sex Appeal 2/5
Read Next