45 Inspiring and Uplifting Travel Alone Quotes for Solo Travel
Embrace the Adventure of Solo Travel with these Inspirational Quotes.
Are you considering embarking on a Travel Alone Travel Alone adventure but feeling uncertain or apprehensive? Well, you're not alone.

Many people feel anxious about traveling alone, but the truth is that it can be one of the most liberating and empowering experiences of your life.

To help you gain some inspiration and confidence, we've compiled a list of 45 inspiring and uplifting travel-alone quotes that highlight the beauty and value of solo travel.

These Travel Alone Quotes will remind you of the incredible potential ahead when you take the leap and explore the world solo.

So, sit back, relax, and let these quotes inspire you to take on your next adventure with courage and excitement.


Quotes for Starting a Solo Adventure:
1. "The journey of a thousand miles begins with a single step." – Lao Tzu

2. "Travel far enough, you meet yourself." – David Mitchell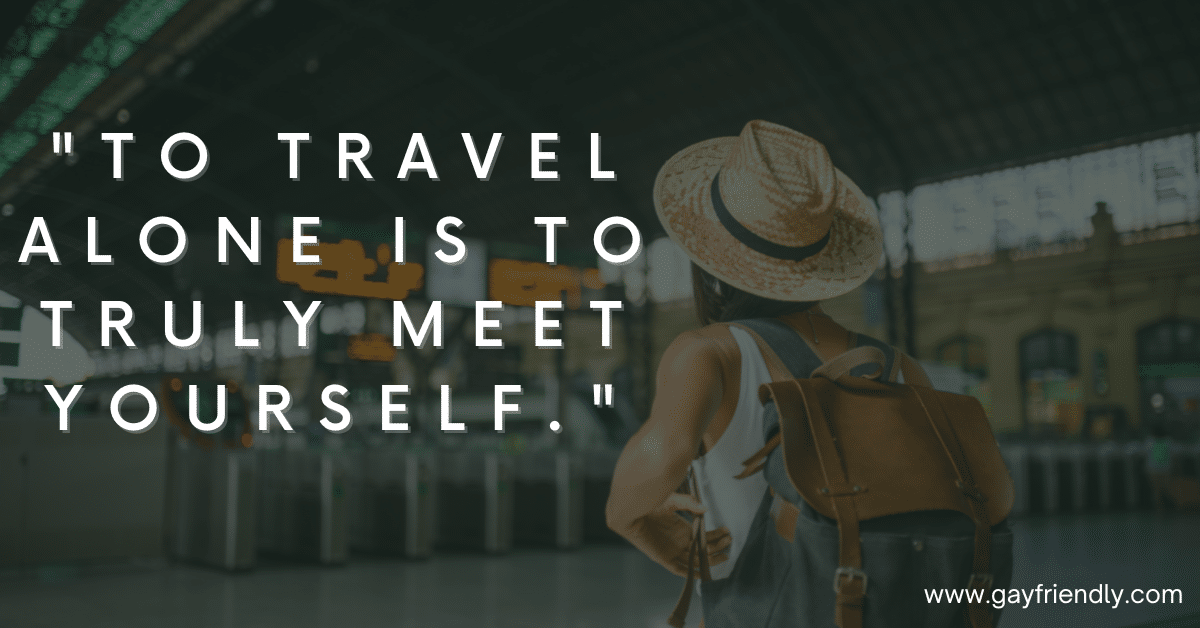 3. "A person susceptible to wanderlust is not so much addicted to movement as committed to transformation." – Pico Iyer


Quotes on Finding Peace in Solitude:
4. "I never found a companion that was so companionable as solitude." – Henry David Thoreau

5. "The man who goes alone can start today, but he who travels with another must wait until that other is ready." – Henry David Thoreau
6. "Some journeys in life can only be traveled alone." – Ken Poirot
7. "Travel only with thy equals or thy betters; if there are none, travel alone." – The Dhammapada
8. "The first rule of travel is that you should always go with someone you love, which is why I travel alone." – Andrew O'Hagan


Quotes on Personal Growth through Travel Alone Quotes:
9. "Solo travel not only pushes you out of your comfort zone, but it also pushes you out of the zone of others' expectations." – Suzy Strutner

10. "You are the one that possesses the keys to your being. You carry the passport to your own happiness." – Diane von Fürstenberg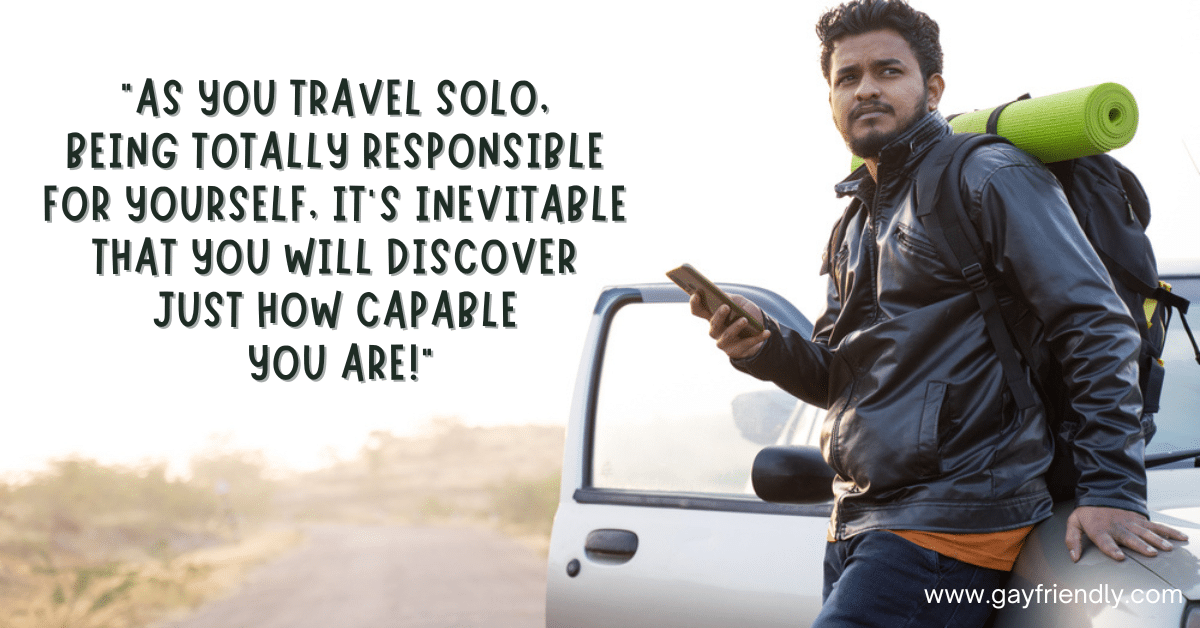 11. "You do not travel if you are afraid of the unknown, you travel for the unknown, that reveals you with yourself." – Ella Maillart
12. "The inner journey of travel is intensified by solitude." – Paul Theroux
Quotes on Excitement of New Discoveries:
13. "To awaken alone in a strange town is one of the pleasantest sensations in the world." – Freya Stark

14. "The greatest reward and luxury of travel is to be able to experience everyday things as if for the first time, to be in a position in which almost nothing is so familiar it is taken for granted." – Bill Bryson

15. "To roam the roads of lands remote, to travel is to live." – Hans Christian Andersen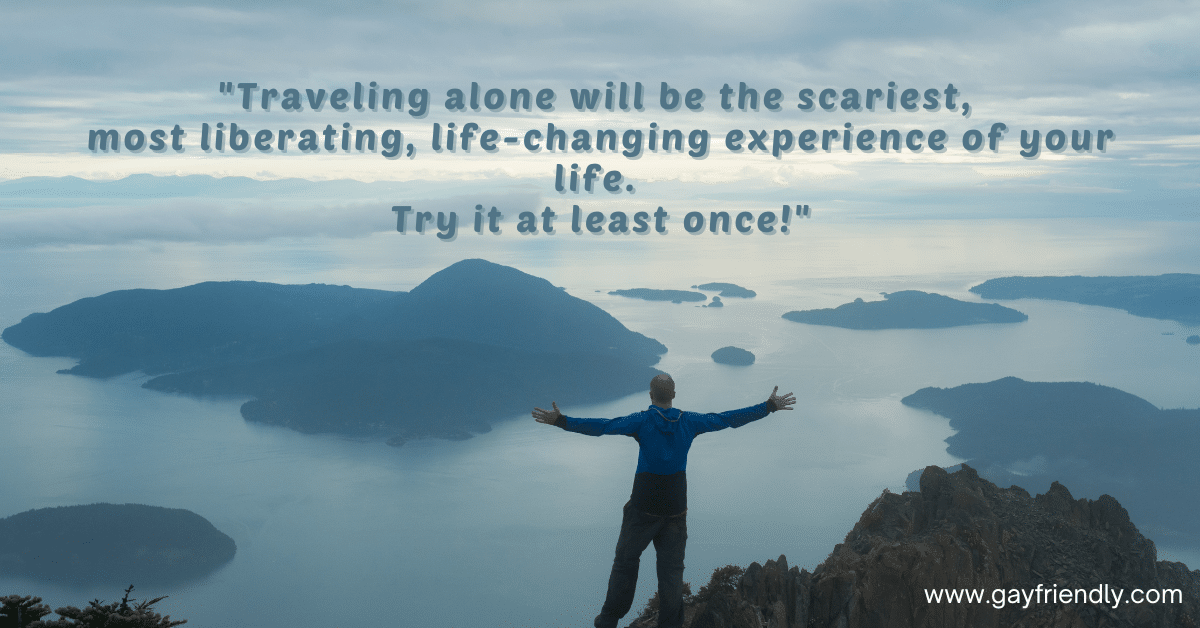 16. "Every dreamer knows that it is entirely possible to be homesick for a place you've never been to, perhaps more homesick than for familiar ground." – Judith Thurman
17. "One's destination is never a place, but a new way of seeing things." – Henry Miller
18. "All journeys have secret destinations of which the traveler is unaware." – Martin Buber
19. "The world is a book, and those who do not travel read only one page." – Saint Augustine
20. "The journey itself is my home." – Matsuo Basho
21. "You must go on adventures to find out where you truly belong." – Sue Fitzmaurice
22. "Blessed are curious for they shall have adventures." – Lovelle Drachman


Quotes on Overcoming Fears and Embracing Challenges:
23. "The more I traveled, the more I realized that fear makes strangers of people who should be friends." – Shirley MacLaine

24. "I am never happier than when I am alone in a foreign city; it is as if I had become invisible." – Storm Jameson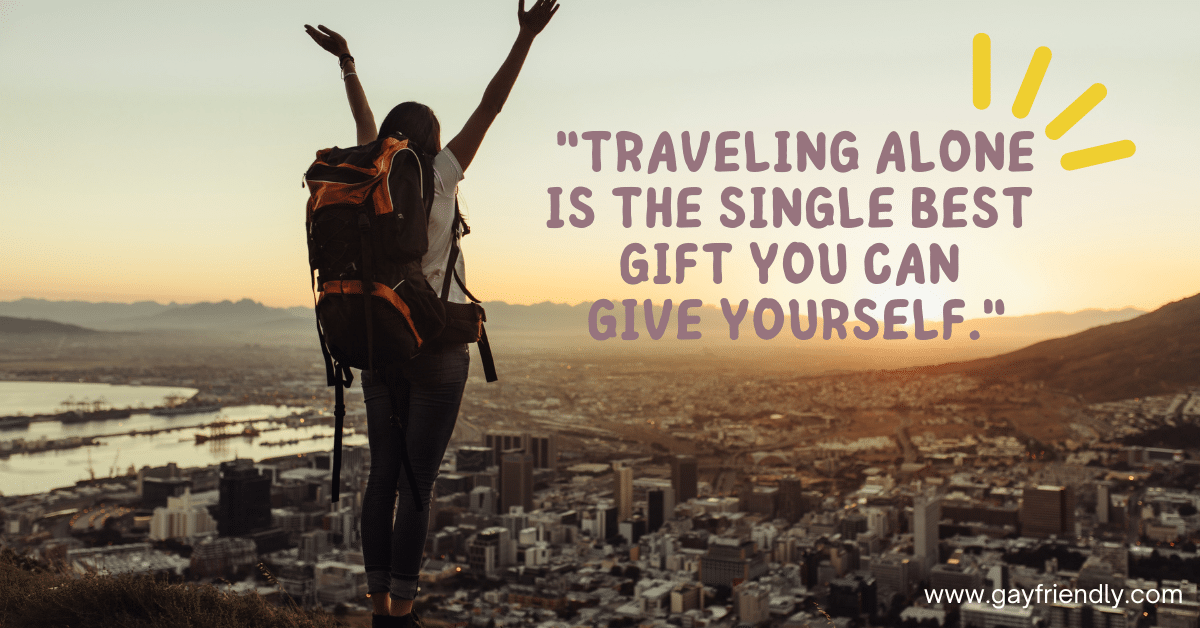 25. "The question isn't who is going to let me; it's who is going to stop me." – Ayn Rand
26. "Life begins at the end of your comfort zone." – Neale Donald Walsch
Quotes on Independence and Empowerment through Travel:
27. "The woman who follows the crowd will usually go no further than the crowd. The woman who walks alone is likely to find herself in places no one has ever been before." – Albert Einstein

28. "Don't be scared to walk alone. Don't be scared to like it." – John Mayer

29. "The most effective way to do it is to do it." – Amelia Earhart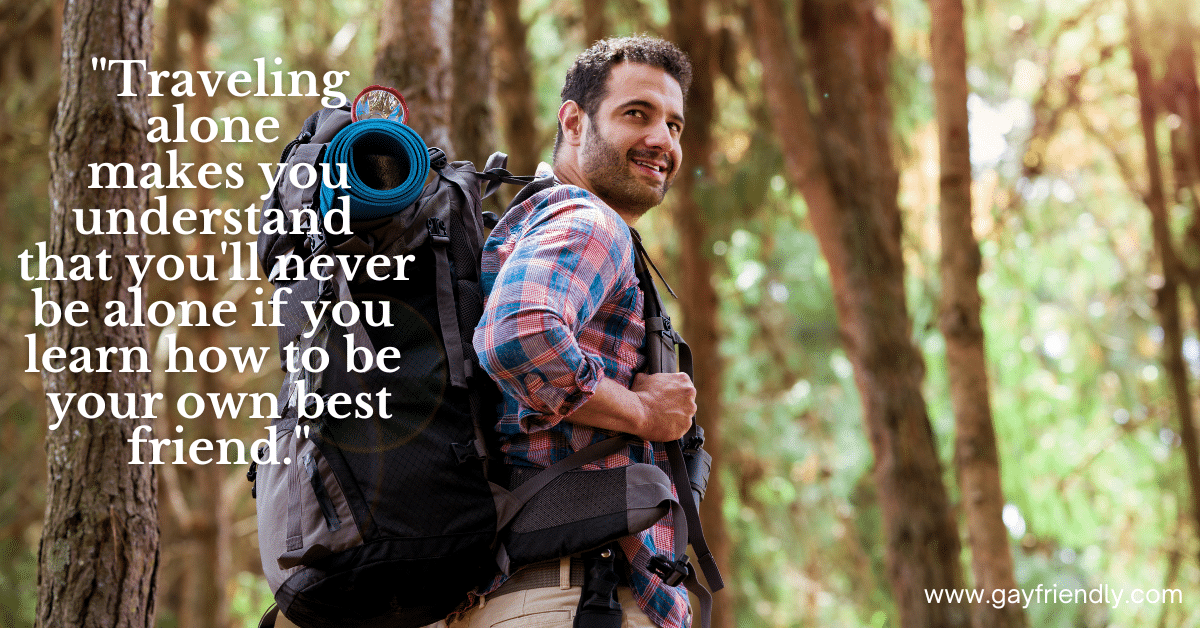 30. "The purpose of life is to live it, to taste experience to the utmost, to reach out eagerly and without fear for a newer and richer experience." – Eleanor Roosevelt
31. "I always wonder why birds choose to stay in the same place when they can fly anywhere on earth, then I ask myself the same question." – Harun Yahya
32. "As a woman, I have no country. As a woman, my country is the whole world." – Virginia Woolf
Quotes on the Enchantment of Traveling Alone:
33. "Traveling solo does not always mean you're alone. Most often, you meet marvelous people along the way and make connections that last a lifetime." – Jacqueline Boone

34. "Travel is not a reward for working, it's education for living." – Anthony Bourdain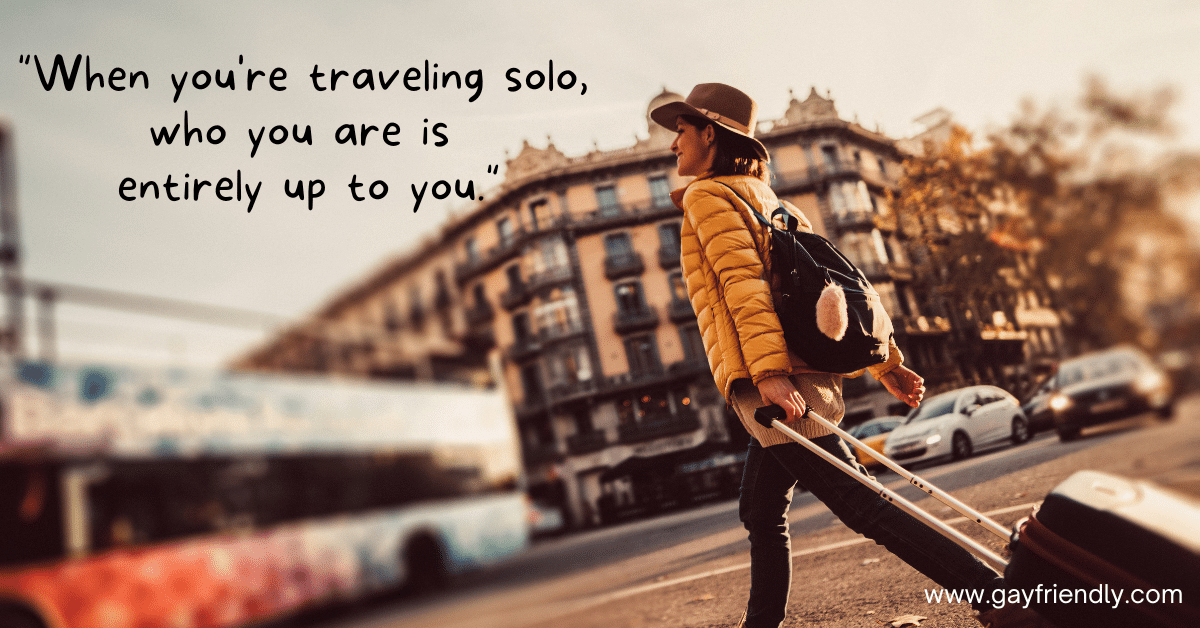 35. "Adventure can be an end in itself. Self-discovery is the secret ingredient." – Grace Lichtenstein
36. "A ship in harbor is safe, but that is not what ships are built for." – John A. Shedd


Quotes Reflecting on Solo Adventures:
37. "The impulse to travel is one of the hopeful symptoms of life." – Agnes Repplier

38. "No one realizes how beautiful it is to travel until he comes home and rests his head on his old, familiar pillow." – Lin Yutang

39. "I am not afraid of storms, for I am learning how to sail my ship." – Louisa May Alcott

40. "The gladdest moment in human life, methinks, is a departure into unknown lands." – Sir Richard Burton

41. "Traveling solo took away my irrational fears!" – Alice Stein

42. "I travel not to go anywhere but to go. I travel for travel's sake. The great affair is to move." – Robert Louis Stevenson

43. "I haven't been everywhere, but it's on my list." – Susan Sontag
44. "The real voyage of discovery consists not in seeking new landscapes, but in having new eyes." – Marcel Proust

45. "The biggest adventure you can take is to live the life of your dreams." – Oprah Winfrey


The Bottom Line
Traveling solo can be an enriching experience. It can push us out of our comfort zones, help us gain a more profound, better understanding, and create unforgettable memories.

As the quotes highlighted in this conversation show, solo travel allows us to see the world in a new light, meet new people, and discover hidden treasures within ourselves. It can be scary initially, but it's a journey worth taking.

So, whether you're an experienced solo traveler or just starting, remember that the world is waiting for you to explore it, and the only limits are the ones you set for yourself. Just dare to step out of your comfort zone, embrace the unknown, and create your unique journey.