24 Gay Furry Comics/Art You Must See
A furry is typically an animal that anthropomorphizes into a human being. Characters are able to convey stories in a human-like manner, wear clothing, move around, speak, and show emotion. They may also possess a variety of personalities. As the name implies, gay furries are furries who identify as homosexual.

Furries are indeed a tremendously popular subculture within the LGBTQ+ community since gay people commonly dress up in costumes and hang out at furry events. Furthermore, even though it isn't intrinsically sexual, homosexual kink culture regularly makes use of it.

As an example, LGBTQ+ comics have given readers a place to live out their dreams about furry characters, with many readers expressing affection for them.

When it comes to producing furry art, whether it be a cartoon, a comic book, or a doodle, furry fans are eager beavers. It's amazing how diverse homosexual furry art is. Online, there are tens of thousands of professionally produced furry comics as well as far more amateurish ones.

The more furry art there is, the better. Gay furry art primarily concentrates on telling stories about furries. Additionally, there is a ton of content out there for you to choose from, whether you're looking for a passionate love story or simply the standard sexual furry narrative.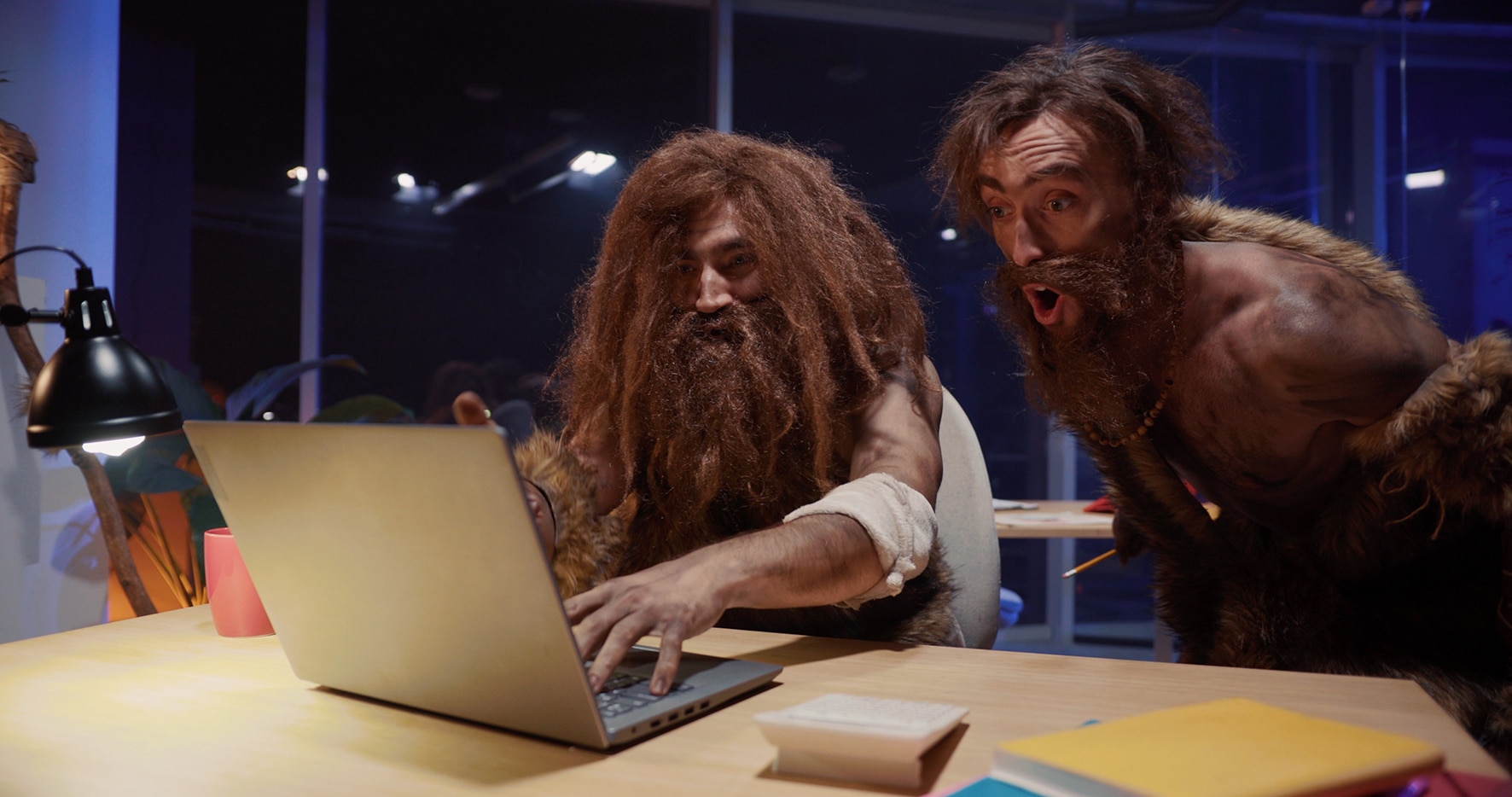 Gay Furry Comics
24.FANG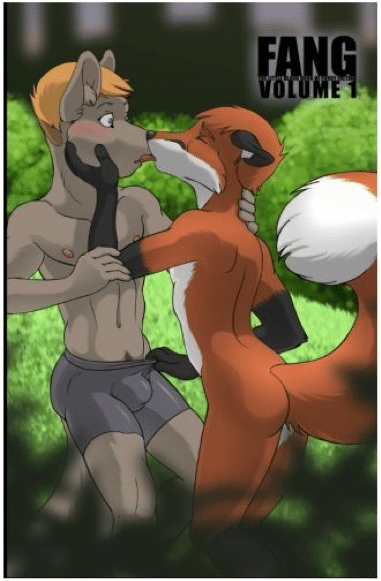 With its more than a dozen short pieces, the "FANG" collection revolutionized homoerotica in the furry community. It is considered to be the "little black book of furry fiction" and is an absolute necessity for any connoiss(f)ur. Hardcore yiff to gentler tales of bros discovering new ways to "connect" are both included in the stories.


It contains the works of legendary furry gay comic creators like Kyell Gold (renowned for his "Volle" novels), and it also introduces Mikori, Kohai, and Stormacatcher. It serves as an illustration of the beauty that may result when a group of queer writers and artists band together to produce content specifically for gay viewers (no pun intended).


Read this comic at: FANG Volume 1 (furplanet.com)

23.Only if you Kiss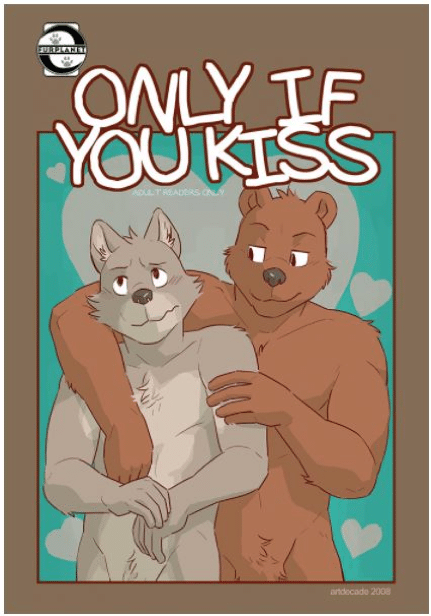 These two brothers enjoy watching movies, drinking beer, and relaxing on the couch. The two explore a whole new level of bro-bonding time when one of them begins to, well, engage in some pleasure time. But everything is OK! It's not gay as long as there is no kissing involved! It's hot, hot, hot in this gay furry comic!

This cartoon will appeal to anyone who like yiff or has ever dreamed about having sex with their closest buddy. Additionally, the wolf and bear characters are very muscular and ripped, if you get what we mean.


Read this comic at: Only if You Kiss (furplanet.com)
22. My Husband's a Werewolf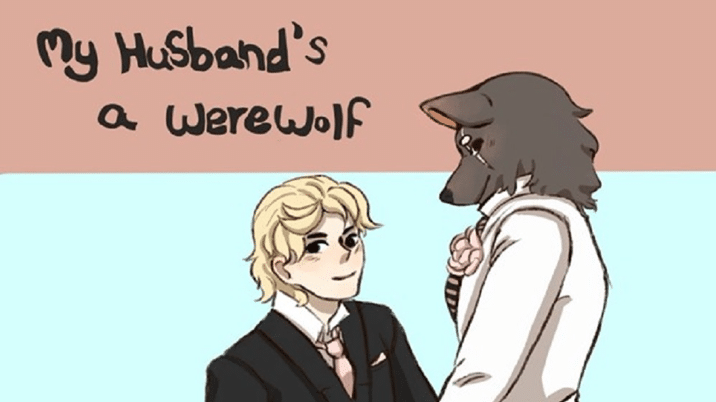 A brand-newslice-of-life webcomic by Ko&Atari called My Husband's a Werewolf follows Jay, a human, and Lake, his werewolf husband, as they go about their daily lives. The duo is followed as they negotiate the complex world of human-werewolf relationships.


Sadly, the gay couple must deal with relatives that find their relationship strange just because it is unique. The werewolf in this instance has cats for parents, and they are unable to comprehend his lycanthropy. However, it is obvious from the context cues that they are making an effort.


Read this comic at: Read My Husband's a Werewolf | Tapas Web Comics
21.Finding Family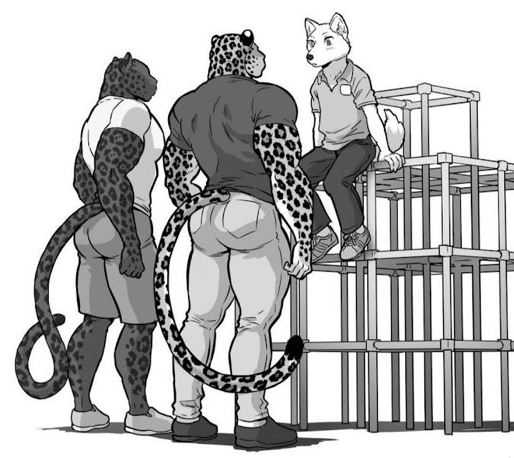 Gay people, has the freedom to select their own family, to paraphrase Mama Ru. And the theme of this furry comic is discovering your soul mate in the most unexpected of ways. In "Finding Family," a leopard named Tobias and a jaguar named Tyson, who meet in class and fall in love, are followed on their adventures.

As we see the lovebirds, experience making love for the time together, meet one another's families, and apply for colleges, readers go on an amazing friends-to-lovers adventure.

You might observe their bond deepen throughout the gay manga, to the point that they eventually decide to adopt an Arctic wolf named Elias.

Read this comic at: Read Finding Family – MangaPum (mangapuma.com)
20.The Wolves Outside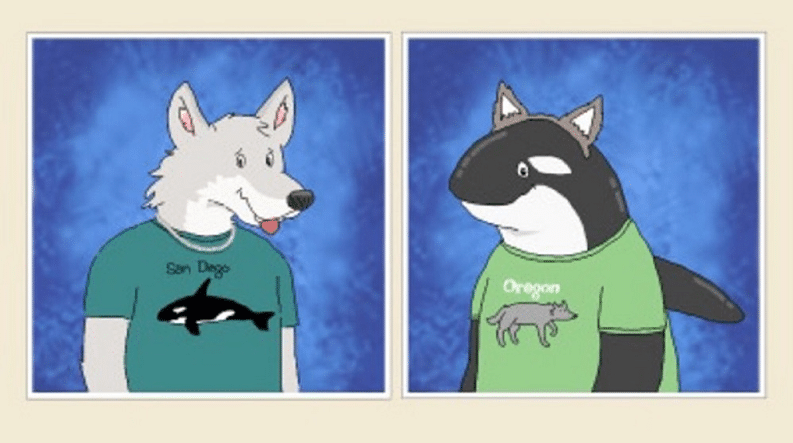 The Wolves Outside, also known as Outsidewolves online, is a collection of humorous animal comics created by Jesse England that portray shifting media landscapes and consumer culture as society moves from analogue to digital. Through the eyes of "anthropomorphic ligne-claire animals," the brief webcomics investigate technological mediation, semiotics, and queer sexuality.
Read this comic at: The wolves outside (tumblr.com)
19.Weekend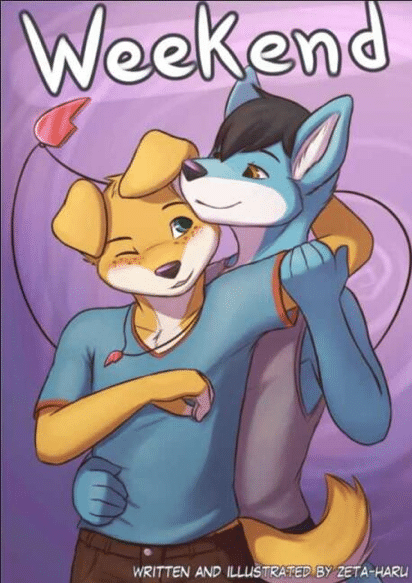 Weekend gives a whole new meaning to the expression "puppy love." When two puppies show their undying love for one another, they discover the ideal way to do so.

Zeta Haru, the author, comes up with fresh and creative ways to depict what we like to refer to as "mattress dance." They seem to be a match made in heaven, in our opinion. We witness their growing infatuation and affection for one another throughout the gay furry comic, which makes us value our own union all the more.

The pair snuggles up for a cabin getaway in the follow-up gay furry comic, "Weekend 2," where they get up to even more adorably romantic mischief.

Both vividly sensual and utterly romantic, Weekend.
Read this comic at: Weekend : Free Download, Borrow, and Streaming : Internet Archive
18.Pay Me Back, Mr. Cat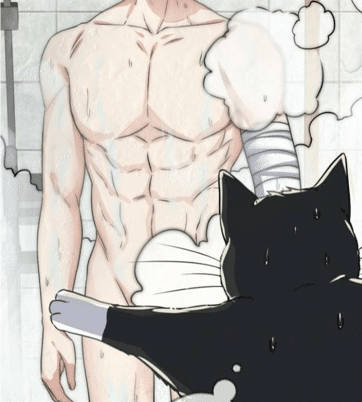 A passionate following has grown up for "Pay Me Back, Mr. Cat."

After falling from a planet inhabited primarily by cats, Lin, a cat residing in a human body, has been a resident of Earth for two years when we first meet him. Although it's still challenging to live as a human. Heck, even we struggle with it!

He must manage a hard business career, handle friendships, and behave honorably in public. When you can hardly cross the street without getting into an accident, it is difficult to do. Why do the majority of nations drive on the right (wrong) side of the road, even though, to be fair, it occurs to us everytime we travel outside our own London borough?

This comic is delightfully written, beautifully illustrated, and full of adorable, heartwarming moments.

Read this comic at: Pay Me Back, Mr. Cat – Chapter 1 – Manga – Manhwa Read Free! (mangastic.me)
17.Foxes in Love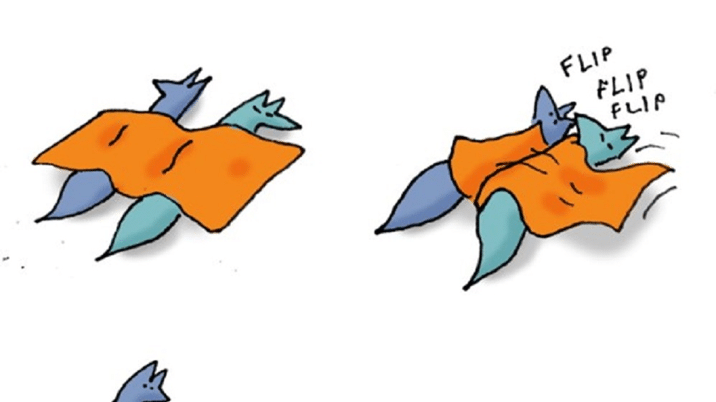 A simple comic about simple foxes, Foxes in Love by Toivo Kaartinen is based on the author's own endearing and hilarious experiences. Two gay male foxes (of which, the creator claims, only one is cis) navigate the ups and downs of love in this slice-of-life comic.

Even though the two foxes are illiterate, they are aware that love is love.

Read this comic at: Foxes in Love (tumblr.com)
16.The Internship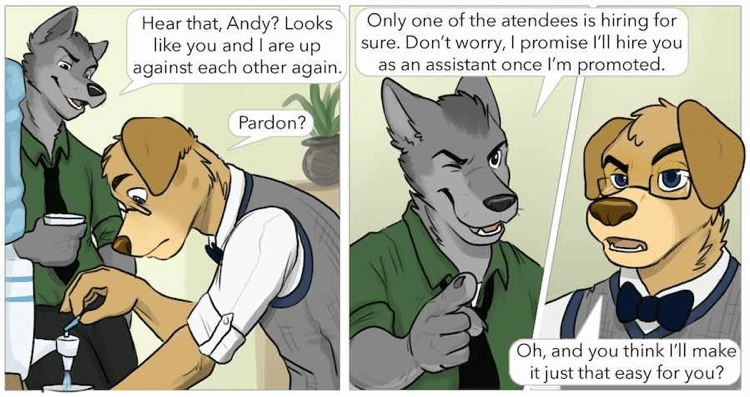 What more could you possibly want from a story of friendship, love triangles, treachery, and sex like "The Internship"?

Andrew, 25, is eager to advance professionally at his job. Therefore, he is at a loss for what to do when his love for Cooper, a lifelong friend, and his fondling of the company CEO, Emery, become entangled.

This gives the clichéd question, "Is it love or is it career?" a gloriously queer spin. He must decide whether to follow his heart and spend his life with the one he truly loves or to do everything it takes to realize all of his wildest goals.

It combines humorous aspects with intricate and well-developed characters. Nevertheless, those bedroom scenes.

Read this comic at :The Internship – page 1 by Jackaloo — Fur Affinity [dot] net
15.Paw Prints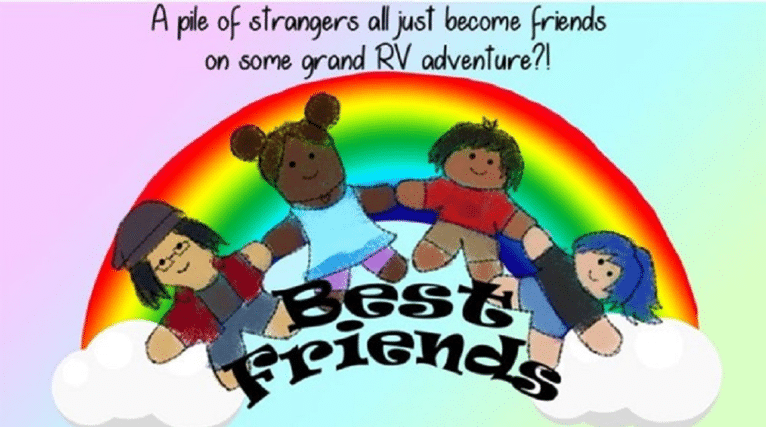 In her book Paw Prints, Sarah McSquish chronicles the exploits of two shapeshifter siblings, Mae and Dante Rojas, as they travel cross-country with Bear and Asuka. Even though the webcomic has only been published since June 2020, the artist's style has already matured and is adorable.

Additionally, Mae, a feisty platinum fox who can transform into Dante, is based on the designer herself. Dante is also based on the creator's former pet dog, a wolf/malamute mix.

Read this comic at: Read Paw Prints | Tapas Web Comics
14.Lost and Found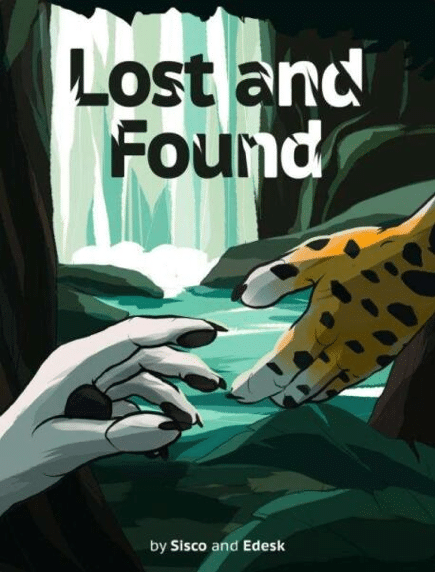 The only person to survive the shipwreck is Stephen. He is left feeling hungry and fatigued after making it to a deserted island. As it turns out, he won't be alone for very long since he runs into a tribesman who is entirely naked!

The tribesman, whose name is revealed to be Aikan, and Stephen manage to converse despite not speaking the same language. It is Aikan's responsibility to teach Stephen how to live on an island once he persuades his fellow tribe members to accept the lost soul. An epic romance is the only thing left to take place.

The relationship that develops between the two is one of the most thrilling, sensual, and steamy representations of male-to-male romance we've seen in a gay furry comic, from sleeping under the stars to having heart-to-hearts. The sequence with the waterfall in particular is compelling reading.

Read this comic at: [Lost and Found] Furry Yiff Comic (welqum.com)
13.Virtual Pet Planet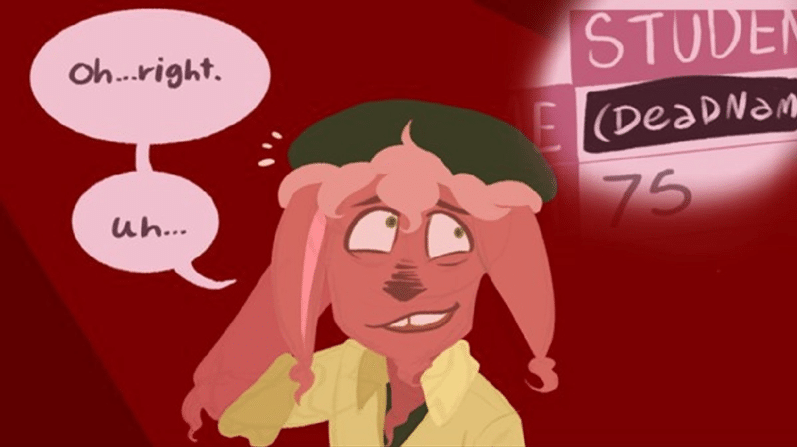 Snailienz is the creator of Virtual Pet Planet. It follows a group of LGBT virtual pets as they struggle with typical teen issues like trying out for a role in a school play or coming out to friends and family while also having to contend with evil supernatural forces that threaten the fate of the universe.

Read this comic at: Virtual Pet Planet – Overview (thecomicseries.com)
12.Little Buddy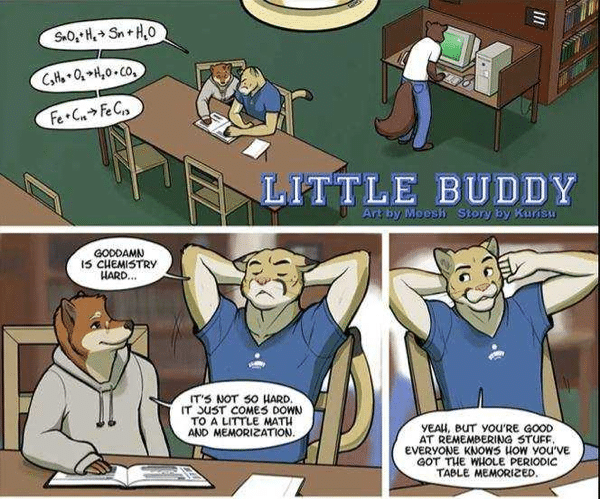 John and Chris are close buddies. John is more than a little curious to find that Chris is gay. He has never interacted with another gay person. He ponders the mechanics of male-to-male hanky-panky. Even asking if he may play about with him or not shows how at ease he is. Of course, not for any 'homosexual' reasons. Simple curiosity.

Well, their relationship quickly develops into much more as a result of that interest. The main issue is that Chris hasn't popped his own cherry and is even reluctant to get completely nude with John, which makes their activities' more lighthearted aspects feel quite one-note.

This tale has it all. It's romantic. It's dramatic. However, it is a coming-out story at its very core. It deals with the issues gay men encounter with body image, nocturnal fondling without much knowledge of sex, and coping with "straight-identifying" guys who see them as their (s)experiment.

This section of the book covers the more mature aspects of the coming-out process. In other words, topics that are rarely, if ever, discussed in the mainstream media.

Read this comic at: Little Buddy (Parts 1-3) – By: Meesh [M/M] : yiffcomics (reddit.com)
11.Motion of the Ocean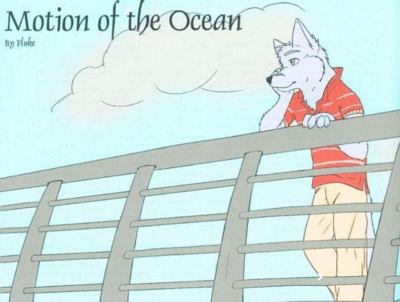 This gay furry comic is the realization of every homosexual boy's fantasy. While on vacation on a cruise ship, Ryan draws the attention of handsome lifeguard/DJ Elliot.

Elliot is a hottie with a hot personality, a ripped body, and a ton of pals. He embodies cool to the extreme. While Ryan is uncomfortable, reserved, and relatively inexperienced in the LGBT community, but we watch as Elliot takes Ryan under his wing, teaches him the ropes, and helps him grow into a contented, whole gay man.

With its candlelit dinners, dance parties, and hot tub canoodling, "Motion of the Ocean" is what would occur if the Titanic's set was invaded by Queer as Folk, without the iceberg and early 20th-century misogyny.

We adore this comic because it manages to feel family-friendly despite being rather dirty. The portrayal of consent is superb, and the individuals have a genuine affection for one another.

Read this comic at: Comics / Gay / 2011 / Motion of the Ocean | The Yiff | Gallery – We keep your paws moving! (theyiffgallery.com)
10.Burning Curiosity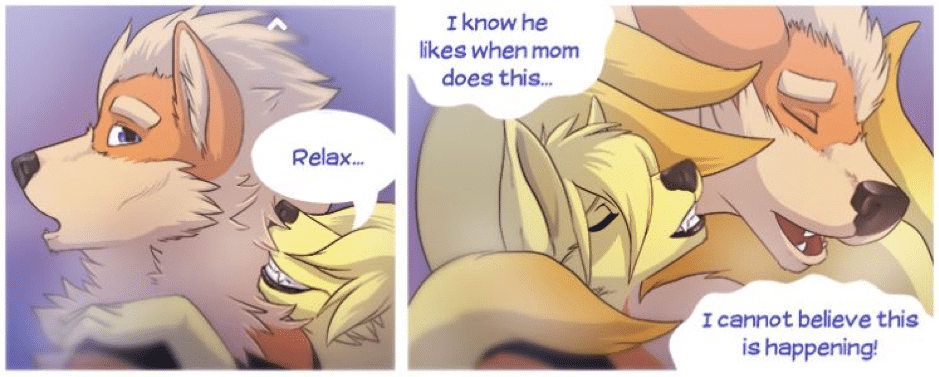 We think that this comic is the most staunchly gay furry we've seen. And although while it's undoubtedly not for everyone, it's worth praising for its wonderful tale and artwork.

In "Burning Curiosity," a father and son discover new ways to connect while Mom is away from the home. And if that doesn't make this comic's NSFW nature clear to you, we don't know what will.

It's a tale that combines role-playing, suspense, and the dangers of temptation.

The majority will feel confused, outraged, and contaminated after reading "Burning Curiosity" .

Read this comic at: Burning Curiosity – Yiffer.xyz
9.Associate Student Bodies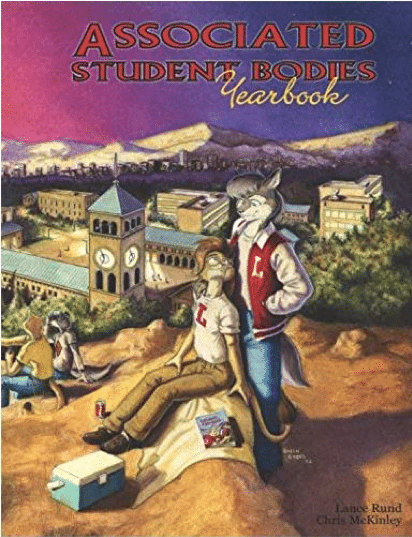 If you don't know what "Associated Student Bodies" are, you won't get very far in the gay furry community. A gay furry may find all they could want in it, including plenty of poignant situations that will hit you square in the emotions.

From 1998 to 2000, an eight-part series, when life was unquestionably better, was produced.

The show centers on Daniel, a lion who lives in a hostel at a university with Marcus, a wolf. Over the course of the year, Daniel investigates his identity and befriends a group of LGBTQ+ residents of his building, but be prepared to cry as Daniel struggles to balance his desire to make his traditional parents pleased with his desire to put his own happiness first.

Read this comic at: Associated Student Bodies Yearbook: Rund, Lance, McKinley, Chris + Free Shipping (amazon.com)
8.Out of Position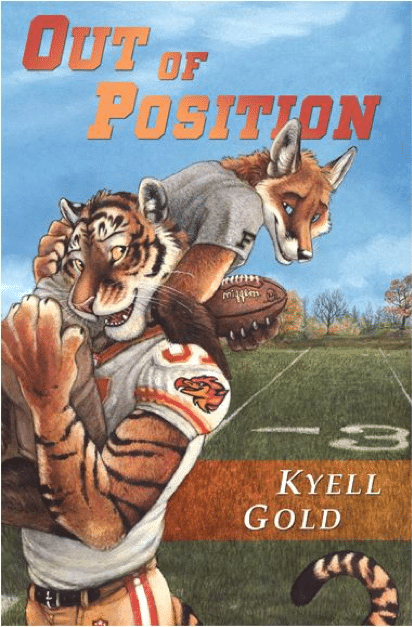 Dev, a dashing tiger, is completely torn apart as he falls for Lee, a quirky fox – a university football team's star player.

This would be it if Heartstopper had been written with furries in mind. It features covert relationships, moving self-discovery moments, and a spunky BFF like Tao who despises jocks. But one thing you definitely get in "Out of Position" is a ton of steamy, private action.

The renowned artist Kyell Gold creates extremely intricate and detailed artwork that doesn't leave much to the imagination.

We were unable to help but identify with Dev, who felt the need to conceal their identity out of concern that their teammates would reject them. We felt so bad for Lee though, who just wants a boyfriend!

Out of Position is a riveting read that will have you reaching for Kleenex for a variety of reasons, from the steamy scenes to the heartbreaking ones.

Read this comic at: Titles (Dev and Lee Book 6) – Kindle edition by Gold, Kyell, Croax, Rukis, Omega, Amon. Romance Kindle eBooks @ Amazon.com.
7.Two Kinds

The gripping webcomic "Two Kinds" is set in a universe where tensions between humans and animal-like beings, known as Keidran, are constantly rising. The comic examines a manipulative world in which a variety of amazing personalities are all attempting to live.

Without a doubt, this is one of our favorite gay furry pieces of art. It's amazing to watch it develop from its, ahem, rough beginning to the present while still following the masterfully written plot! Their representation is excellent, particularly because Natani is a trans person.

He is a forest wolf who, together with his brother, joins a street gang in order to survive.

Read this comic at:Archive – Twokinds – 18 Years on the Net! (keenspot.com)
6.My One and Only Cat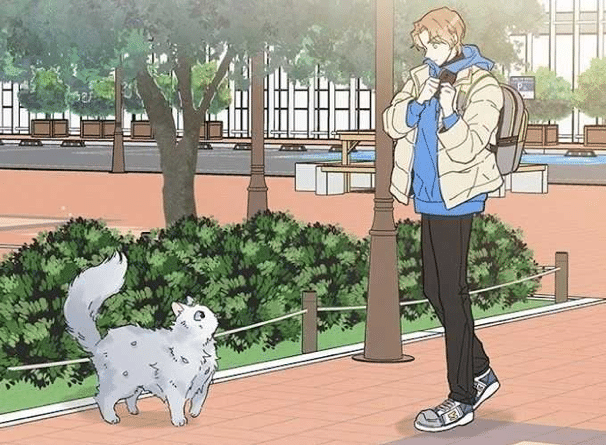 In the story "My One and Only Cat," a hairy feline mysteriously transforms into a human in order to pursue their true love romantically. Similar to The Little Mermaid and Cats. Social outcast Yeoul adopts Baeksu, a white fluffy cat, after running across him on a college campus.

Since there is nothing quite like a gay boy's relationship with his pussy, the two rapidly get close. Then one night, Baeksu transforms into the man of Yeoul's dreams: a handsome, long-haired, godlike specimen.

This gay cartoon is a sweet tale about falling in love with your own body as well as another person. Reading about Baeksu's transformation from an unhappy street cat into a self-assured stud is incredibly heartwarming. And, the private moments are warming in a different way.

Read this comic at: My One And Only Cat Manga Online Free – Manganato
5.The Moon and The Wolf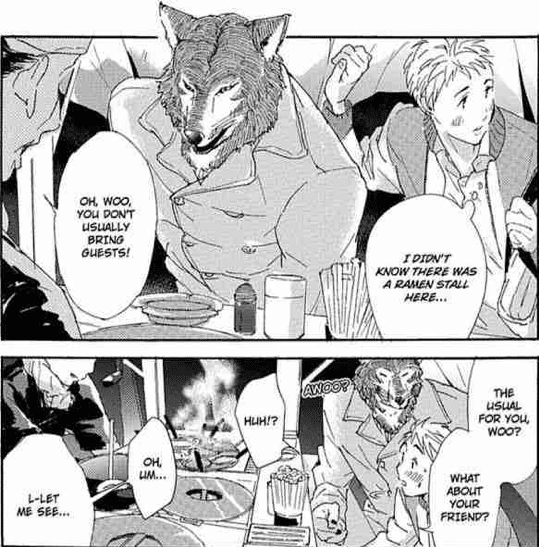 Aoi is eager for a new beginning when he moves into a brand-new apartment. When he comes to know Woo, a Wolfling who lives next door, things get even better.

As the two get to know one another, they get above their language differences and start a passionate, sensual romance. The lovers' relationship isn't entirely trouble-free because they both have issues with themselves that they really need to work through.

A young, fresh-faced man moving to a busy new city and finding his way there is a timeless narrative. It gets even better when you add the boy who is in love with another man who has a real tail.

Keep your eyes open for those passionate scenes, since they can be quite intense.

Read this comic at:Read The Moon and the Wolf – MangaPum (mangapuma.com)
4.Ookami-sama no Ichizu na Bouai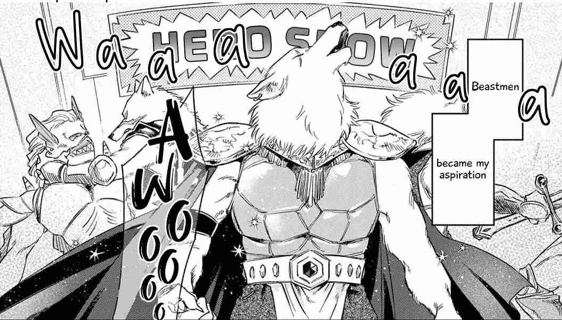 You are warned that the main character in this comic is "railed by a beastman" even before you open it, so you already know it's going to be good!

Gender as we know it is disregarded in this Omegaverse setting. Instead, individuals are divided into three groups: Alpha, Beta, and Omega. Everyone has the right to their own expression, even men who give birth and women who become pregnant.

Omegas are the least common genders, have reproductive organs in the back, emit pheromones (a season nine Drag Race fave), and are subject to prejudice.

This popular gay furry comic centers on the omega who is drawn to animals, Sakutarou. He gets overheated one day while frolicking around the city and urgently needs assistance in cooling off.

Read this comic at: Read Ookami-sama no Ichizu na Bouai – MangaPum (mangapuma.com)
3.Tiger & Carpenter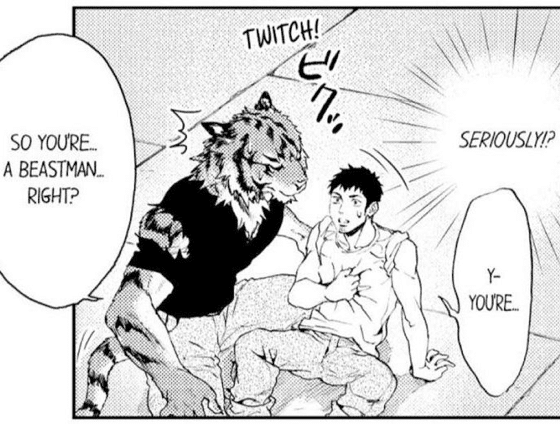 Mr. Fujimiya has a rather intimidating appearance. He looks like the bouncer at a homosexual techno club. Mean eyes, a square jaw, and biceps, but on the inside, he is a complete softie who craves a friend.

He returns home every day to a house full of cats who adore him. He even claims he wouldn't be able to survive without them. I suppose he just craves pussy, but when he falls for a big tiger, everything changes, and after seeing his abs, you won't blame him.

Readers will feel like a cat in heat as their love life intensifies throughout the course of the narrative.

Read this comic at: Read Tiger & Carpenter – Chapter 1 | MangaPum (mangapuma.com)
2.Hard Blush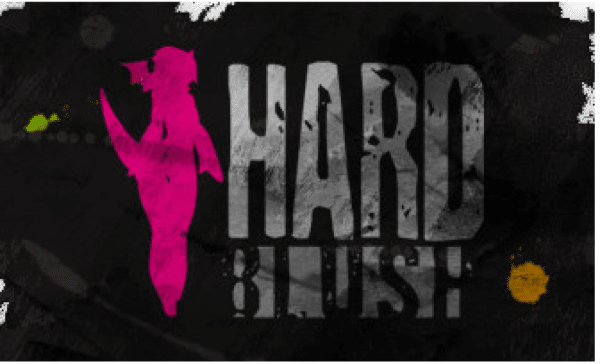 The world in the amazing furry universe would be called "HardBlush" if furrycons were a city.

It's a huge platform where artists can post their furry comics and artwork, interact with fans, and connect with other furry aficionados on the "role-play" forum.

Four times every week, fresh content is added to the subscription-based website. Think OnlyFans, but for animal lovers! By signing up, you firmly establish your place in the furry world and feel good about yourself for supporting the dreams of furry artists.

In order to allow users to see how the furry magic is created, they also offer a live drawing session every Sunday.

Peaches and Cream, a charming lesbian furry couple and their friends P.B., are created by one of their most well-known artists, Miu, who is also one of our all-time favorite gay comic book characters plus Jay, Anoki, Kayiko, Lucah, Peacock, and Red Rusker are some other well-known artists.

Read this comic at:Hardblush – Gay Furry Porn and Furry Comics by Onta and more
1.Cruelty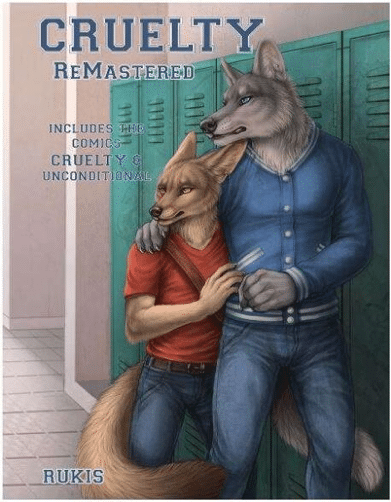 What was originally intended to be a solitary drawing evolved into a gay furry comic book series in two parts that won the hearts of comic book enthusiasts all around the world. Reis and Marcus, who are best friends, couldn't be more different from one another.

Marcus is quiet, athletic, and straight, but Reis is out, proud, and loud. Through the course of the academic year, the two become closer, and Marcus starts to doubt himself when feelings for his friend start to build. He already has personal issues at home to deal with; he doesn't need to worry about his crush.

Author Ruki has done a superb job of weaving a heartbreaking tale while yet leaving room for some awesome purr-nographic content. It's passionate. It is thrilling. It is stunning.

Read this comic at: Cruelty Remastered (Hardcover) (furplanet.com)

If you're questioning your sexuality or simply want to know more, take a read of our insights here.